Take an Exclusive First Look at Katharine Hamnett's Relaunched Menswear Collection
The acclaimed designer tells us how Kanye West helped her realize the relevance of her work, and much more.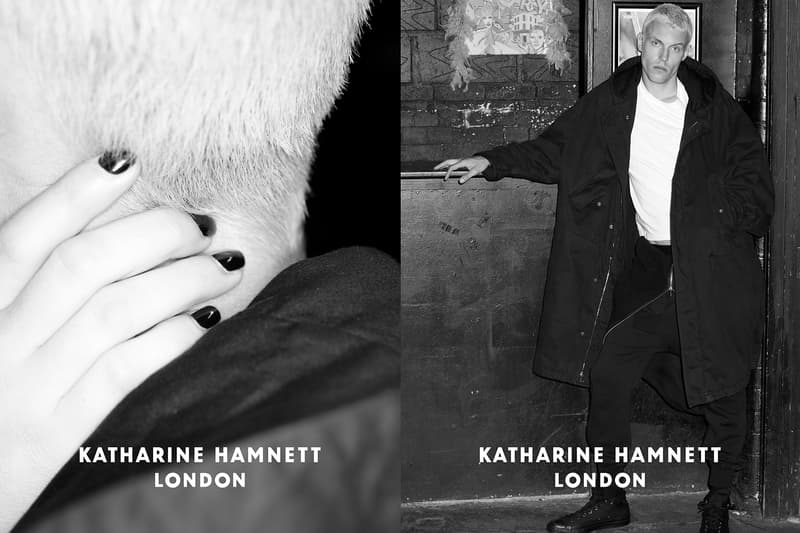 1 of 3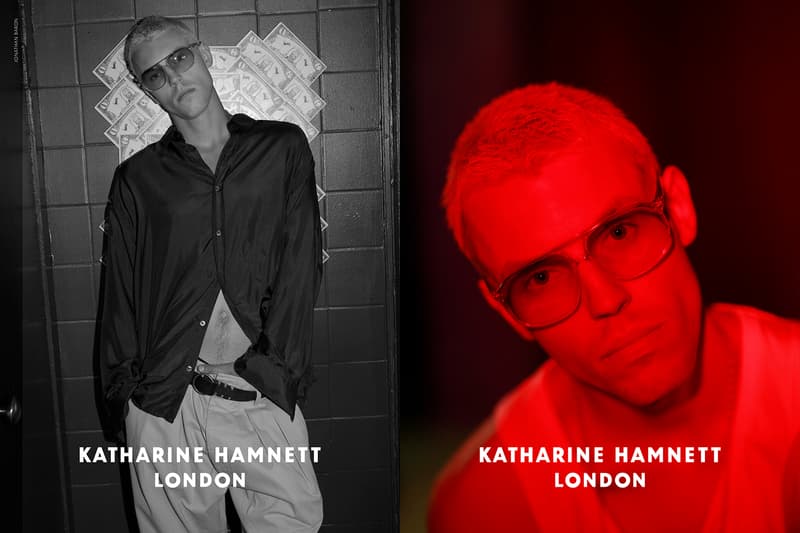 2 of 3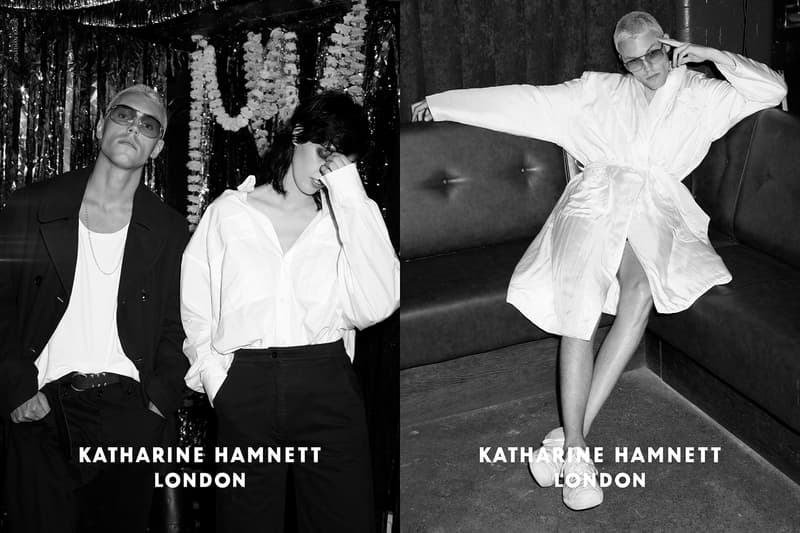 3 of 3
Katharine Hamnett is a designer's designer. Or, to be more accurate, she's a designer's designer whose legacy has become unfairly distilled into one item, the slogan T-shirt. But one look into her archives will let you know that Hamnett's influence is one that reigns supreme over the current menswear landscape. If you need proof, look no further than Kanye West.
In 2015, West spoke to Vogue and — when speaking about his influences — said "You see Raf Simons right there, you see Helmut, you see Margiela, you see Vanessa [Beecroft], you see Katharine Hamnett." Yet, where the first three have seen a host of acclaim and retrospectives, Hamnett has remained relatively under the radar by comparison. While, to some degree, this is definitely by design of the designer herself, it's hard not to consider the fact she has become known mostly for the creation of a singular item.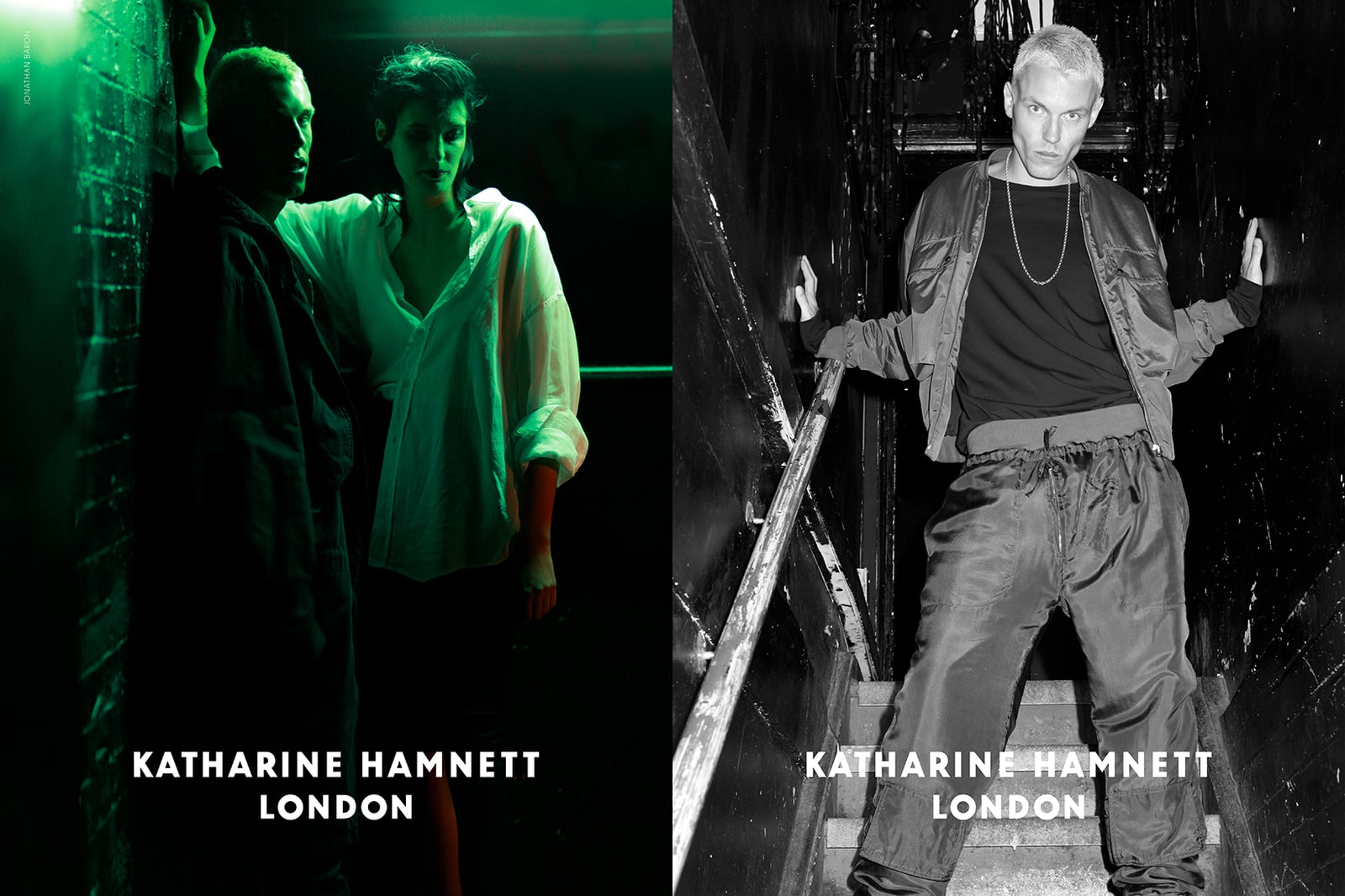 When you think of Hamnett, most people's thoughts go immediately to the slogan T-shirt. She first launched the tees in 1983, which were signified by activism-based messages in large block lettering. They were quickly picked up by musicians, with George Michael wearing the "CHOOSE LIFE" top for Wham's "Wake Me Up Before You Go Go" video, while Queen's Roger Taylor wore one in the "Hammer To Fall" video. But despite these pop culture moments, it was Hamnett herself who would create the most iconic moment for her slogan T-shirts: during a meeting with Margaret Thatcher, she wore a "58% DON'T WANT PERSHING" tunic, which Vogue has since voted one of the most iconic moments in fashion.
But despite the rich history of her T-shirts, there's still far more to the brand — which is why Hamnett has decided to relaunch her namesake label, without a slogan tee in sight. We spoke to the designer about why she brought menswear back, key pieces from the collection, and what happened when she worked with Kanye West.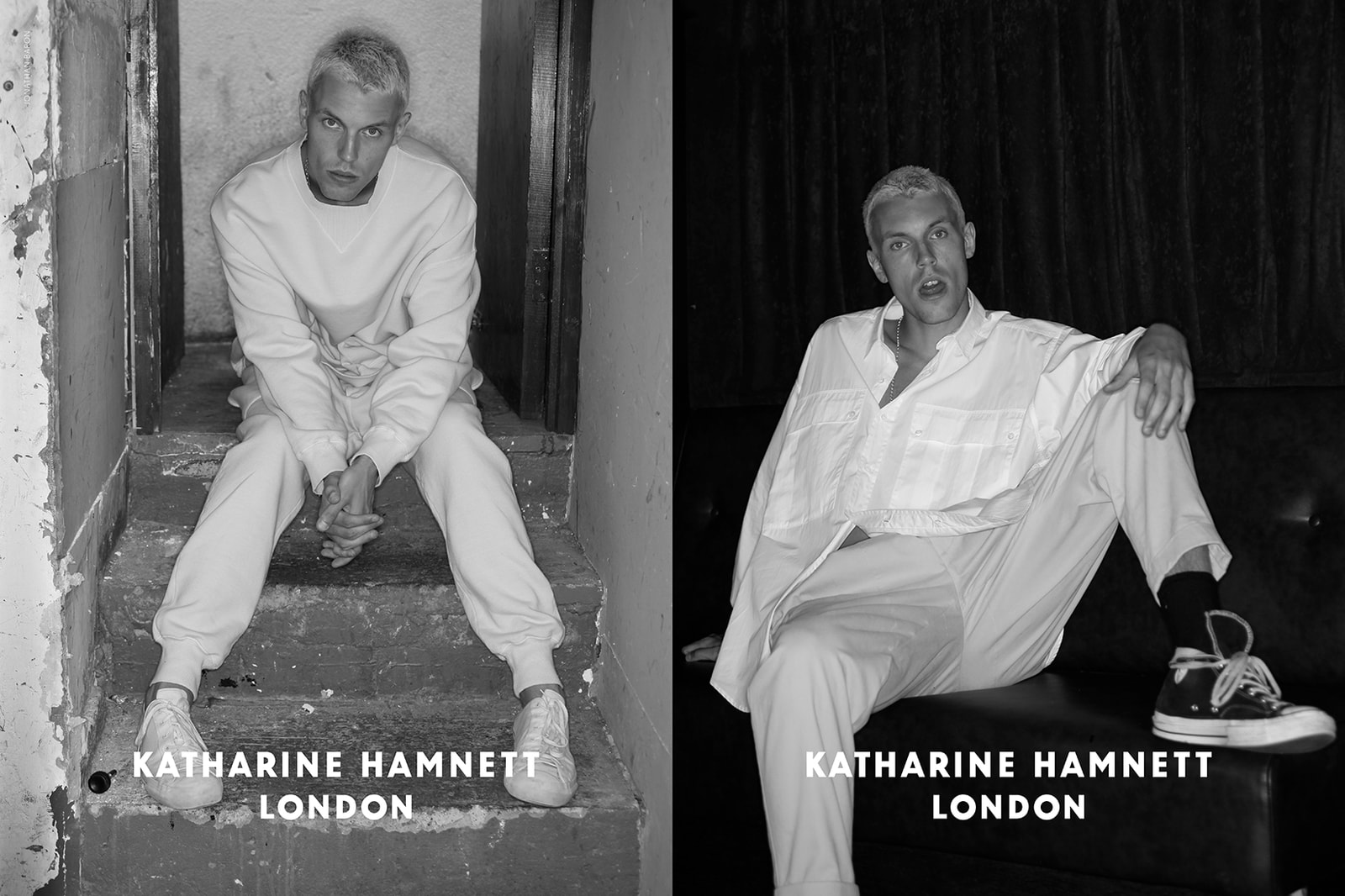 Why did you decide to bring back your mainline collection now?
Consumers, especially young consumers, want ethically-produced clothing. We are the pioneers of that. Brands nowadays, as well as being ethical, are trying to appear politically-concerned, it's demo time in the industry.
This is central to our brand's DNA: from the accursed "58% DON'T WANT PERSHING" picture of me and Margaret Thatcher in 1984, there is an endless list of campaigns we have worked on, some at a heavy cost. So, in a way, we are the dream team; the perfect zeitgeist moment to bring the brand back to market. I never wanted to go back into manufacturing — I did it for years and know the pitfalls — but I realized that we are in the enviable, even almost unique position of having brand recognition in many countries, without the baggage of bricks and mortar stores, and huge overheads. We're perfectly positioned to reactivate the brand via an online store that can service all those.
What are the main differences between the collection before it shuttered and the relaunched version today?
I suppose it's an evolution. I have mined the archive for shapes and silhouettes, so it has a KH 1980's feel but at the same time tweaked to be modern and right for now.
I am being bombarded with requests to reissue iconic styles and reissue archive pieces. People have been driving me nuts. So this collection is based on archive reissues to keep them happy.
Can you talk through the key pieces from this collection?
There is a selection of my favorite pieces from the past, from Anna Wintour's favorite wide-leg trouser from the 1970's, when she was a fashion editor on Harpers & Queen (now called The Anna), to the most popular men's pants from the 1980's — which we've done in an organic cotton reproduction of a 19th century British twill construction produced for officers' uniforms that we used at the time. There is a group of reissue '80s sweatshirts and pants, and a selection of padded silk garments, which people always seem to love. Parkas, bombers, pants and a padded silk onesie, updated with a drawstring waist and a padded silk dressing gown that you never want to take off because it feels so heavenly. A selection of archive-inspired shirts and some modern ones in Swiss organic cotton and silk.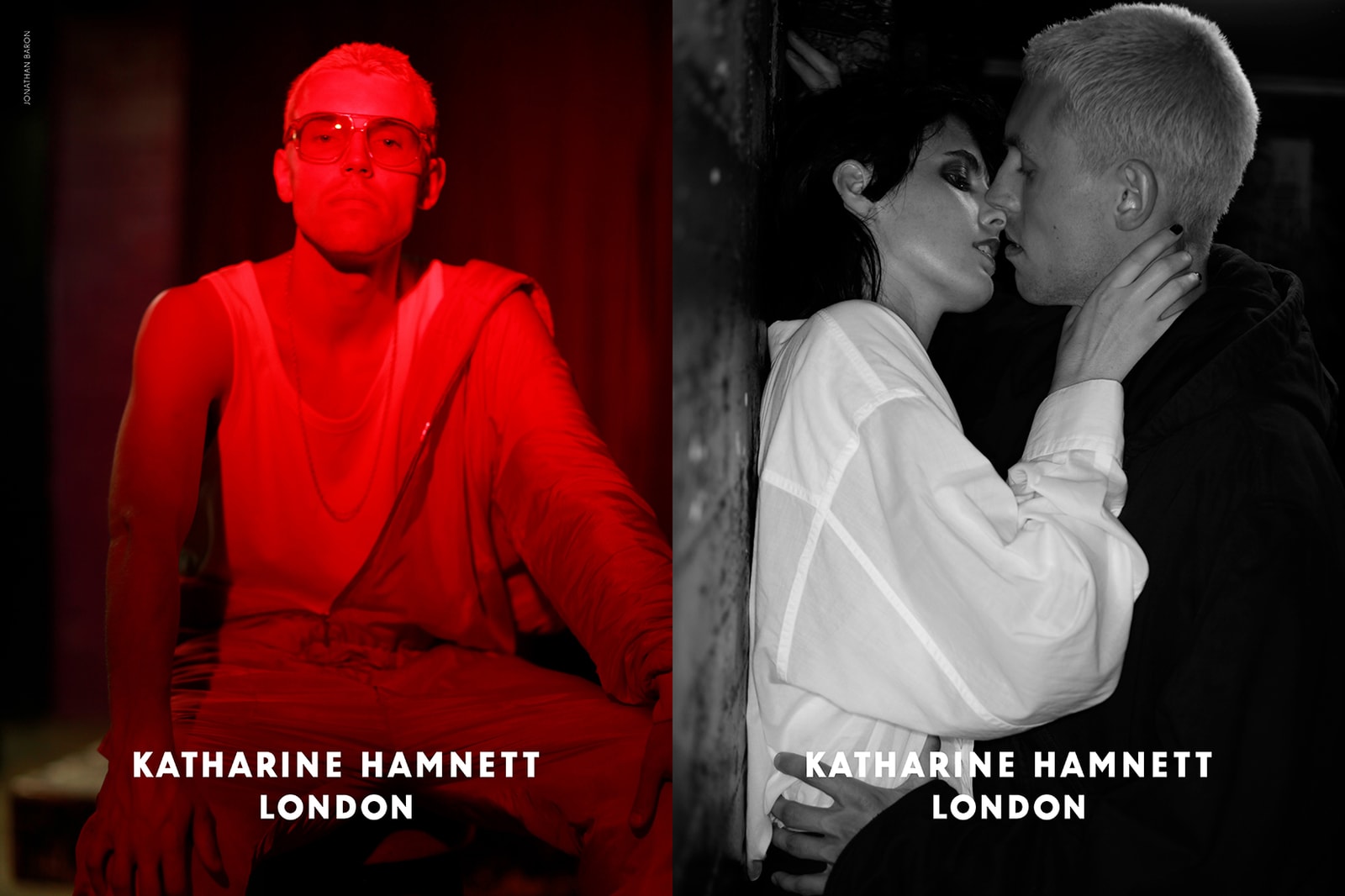 What happened with Kanye West using pieces from your archive?
I am not allowed to say much about Kanye West as I signed an NDA with a $10 million USD penalty clause. But working with him was a bit of a lightbulb moment — it made me realize the modern relevance of a lot of my archive styles.
Throughout my career I have always tried to produce archetypes, clothes that have a reason for being, that have a kind of soul, that are fashionable now but never go out of fashion, that you keep in your wardrobe forever.
These were the styles he picked and these are the styles that people are driving me mad about to reissue, so here they are.
Image Credit

Jonathan Baron
Join Our Discussions on Discord
The HYPEBEAST Discord Server is a community where conversations on cultural topics can be taken further.