Garbstore & Surf Is Dead Collide for Politically-Charged 10-Year Anniversary T-Shirt
"MORE SURF, LESS WAR."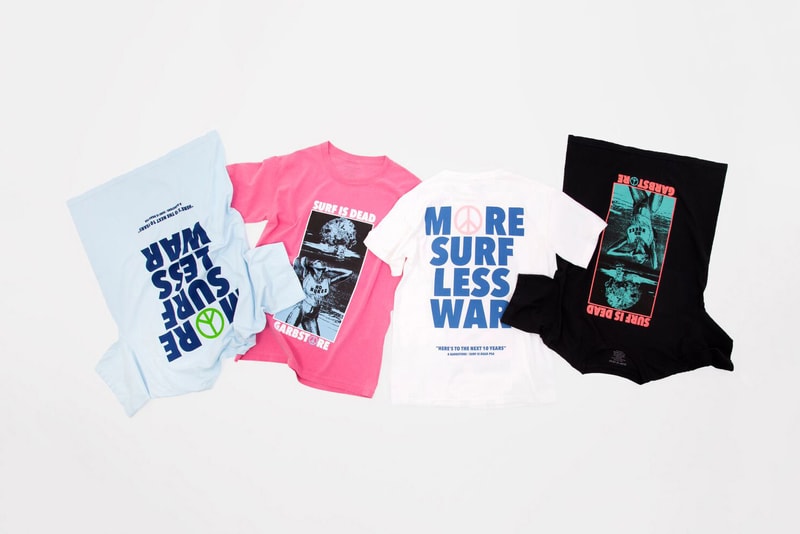 Earlier this week, we profiled UK institution Garbstore and its talented founder Ian Paley. Both a shop and a museum, Garbstore now has a new spot — known as Garbstore.Ten — in London's bustling Covent Garden. Commemorating that major move, the UK outfit has linked up with Surf is Dead for a special collaboration.
Producing a ten-year anniversary T-shirt line, Garbstore and Surf is Dead deliver politically-charged messages through a straightforward streetwear lens. "MORE SURF, LESS WAR," reads the shirt's statement in bold, authoritative print. As evidenced by recent drops, Surf is Dead is pretty comfortable with using fashion to send a message.
Celebrating the opening of the new Garbstore.Ten store, Garbstore and Surf is Dead will sell their ten-year anniversary T-shirt at the location and online. You can view the address for the new shop below.
Earlier this year, Garbstore also teamed up with RFW and Oshman's for the O.R.G. collection.
GARBSTORE.ten
9 Earlham Street
Covent Garden
London WC2H 9LL
United Kingdom