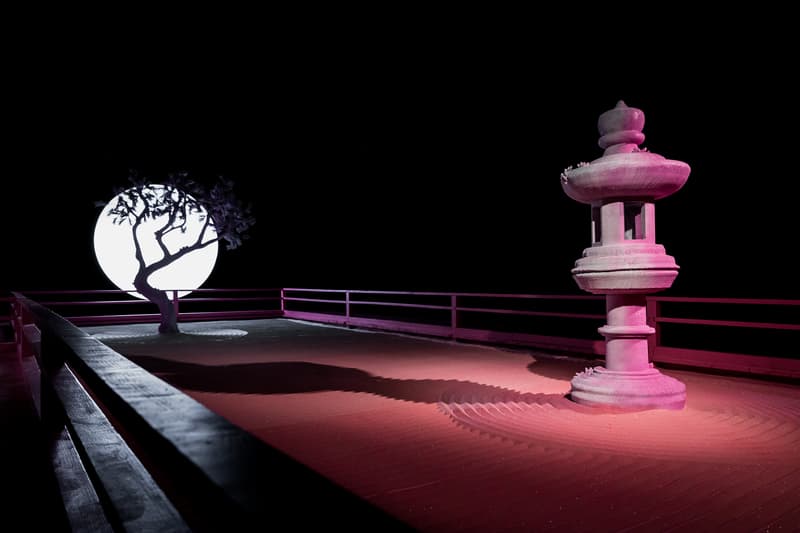 Daniel Arsham Unravels the Mystery Behind His 'Lunar Garden' Installation
A mystical world hidden in the concrete labyrinth of NYC.
---
Tucked in the back section of New York City's Cadillac House is Daniel Arsham's new Lunar Garden installation, made in collaboration with the multimedia company, Visionaire. One step inside the space and you're immediately transported into a mystical world where time is an illusion and ambient sounds lull you into a state of calm. A 9-foot-diameter light orb commands the attention of visitors which is actually a stand-in for the moon to create a one directional light source. A decaying, crystallized tree and a pagoda lantern are also observed in the presentation.
The sprawling artwork marks Arsham's second reinterpretation of a traditional Japanese dry garden. It's also the first time that the artist has used a pink gradient in his extensive work. The only color which he has utilized aside from pink is blue which is found at his "Hourglass" exhibit at the High Museum of Art in Atlanta earlier this year.
Clad in all white with his hands folded behind his back, Arsham ambles around the sizable installation to make sure everything is prim and proper. We stroll along with the renowned artist to unravel the mysteries behind his rock gardens, why he's so obsessed with using crystal materials in his Fictional Archaeology series, and if color blindness affects his work output.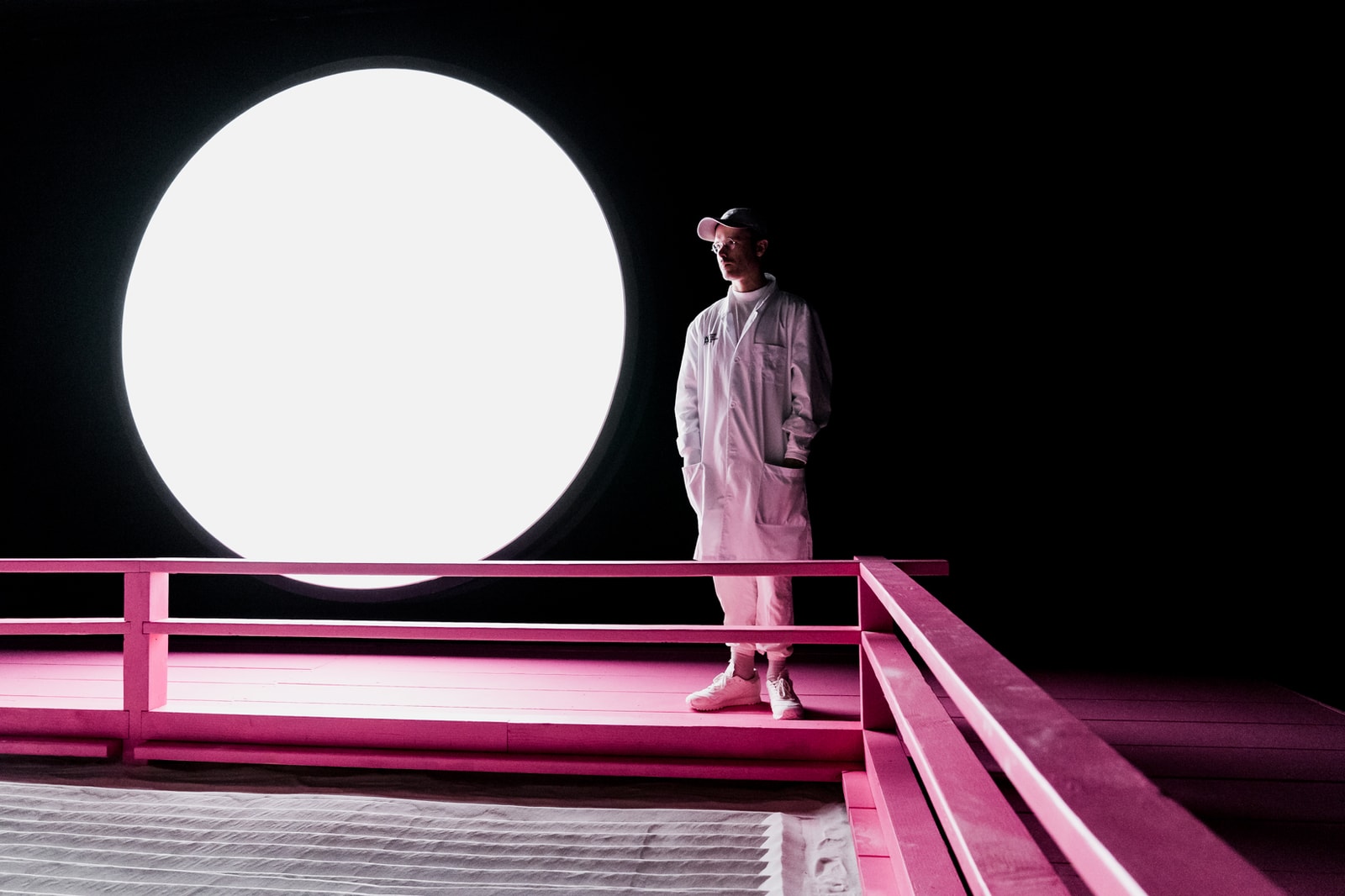 What's your fascination with traditional Japanese zen gardens?
I spent a lot of time in Japan over the last 10 years. My wife is Japanese and it's been a place that has fascinated me. In 2016, I was working on a film in Kyoto and had the opportunity to work with some of the monks in the temples, actually raking the sand and having this amazing understanding that the gardens, when you see them, they appear the same every day throughout the last hundreds of years. Yet, they're actually remade each day. They're raked and all of the debris and leaves are removed and the process of actually keeping them consistent is a kind of reiteration each day.
Tell us about the themes behind these immersive installations.
There is this sort of place between permanence and impermanence that I found fascinating and it's also something that is a kind of recurring motif within a lot of my work. These objects that are somewhere between construction and demolition. Even the objects inside, you have these crystal growth coming off of them yet the tree looks dead, right? Crystal is something that we associate with growth, so there are these questions: Are they growing to a kind of fruition and completion? Or, are they actually falling apart and decaying?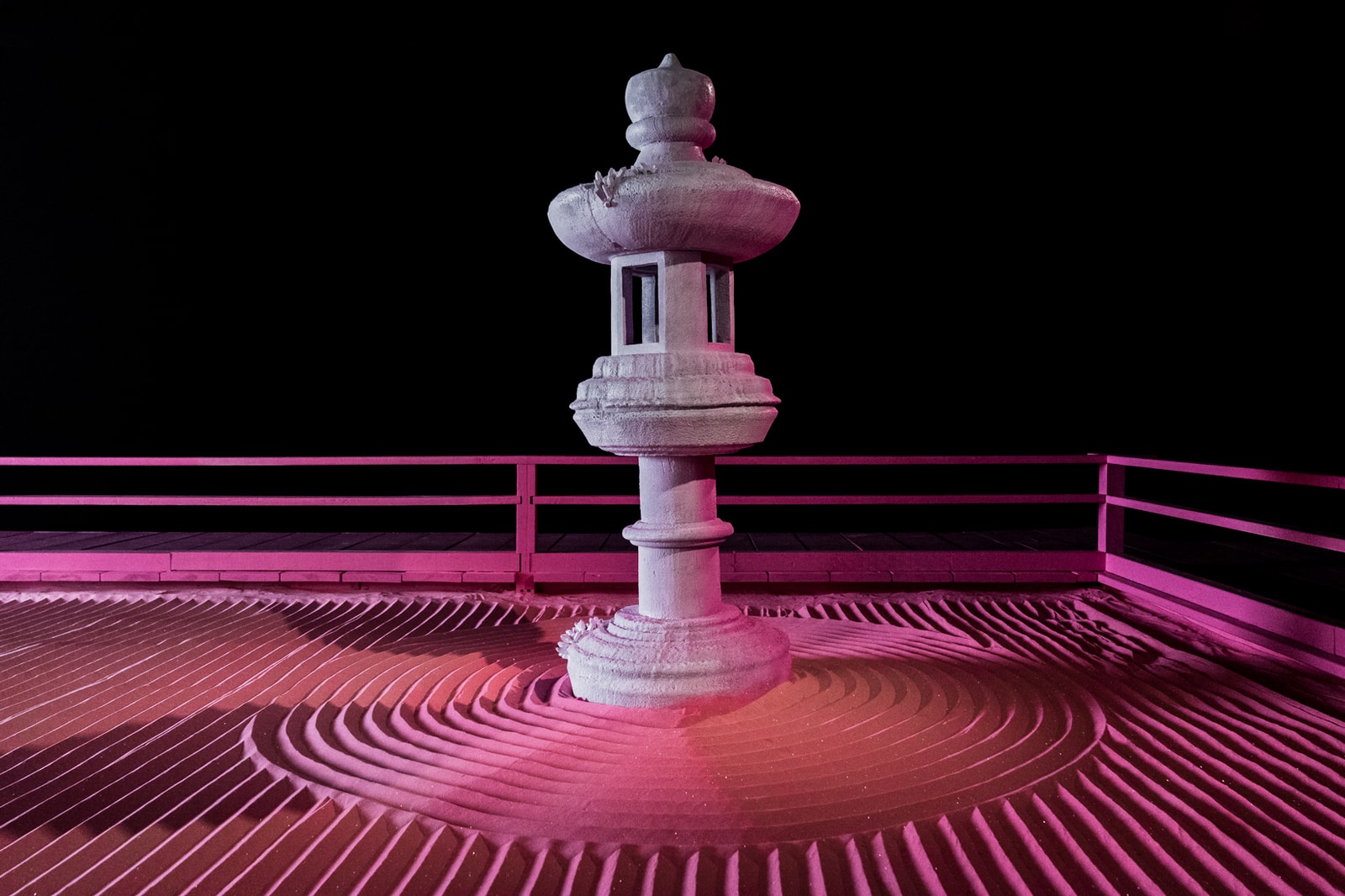 What made you decide to use the color pink?
The choice of color, both for this work and the other work, actually derives from the crystal material itself. In the studio when I'm playing with different materials for these works, I'm looking at not only the color that can be in some of these objects but the sort of the functionality of how I can cast them. Not every crystal material works for these pieces. This pink selenite, pink calcite, and the case of the blue garden, it was all blue calcite. That was the origin of the material, the origin of the color. So it really comes from the crystal itself.
Does colorblindness have any effect on your work?
I have some special lenses by Enchroma that are supposed to correct my color vision. I often use them in the studio to find a kind of objective view of color and I can take them off once I've seen that. It's not only the color, but the other thing that this garden has is if you walk across it is this gradient. The light kind of shifts as you move across it.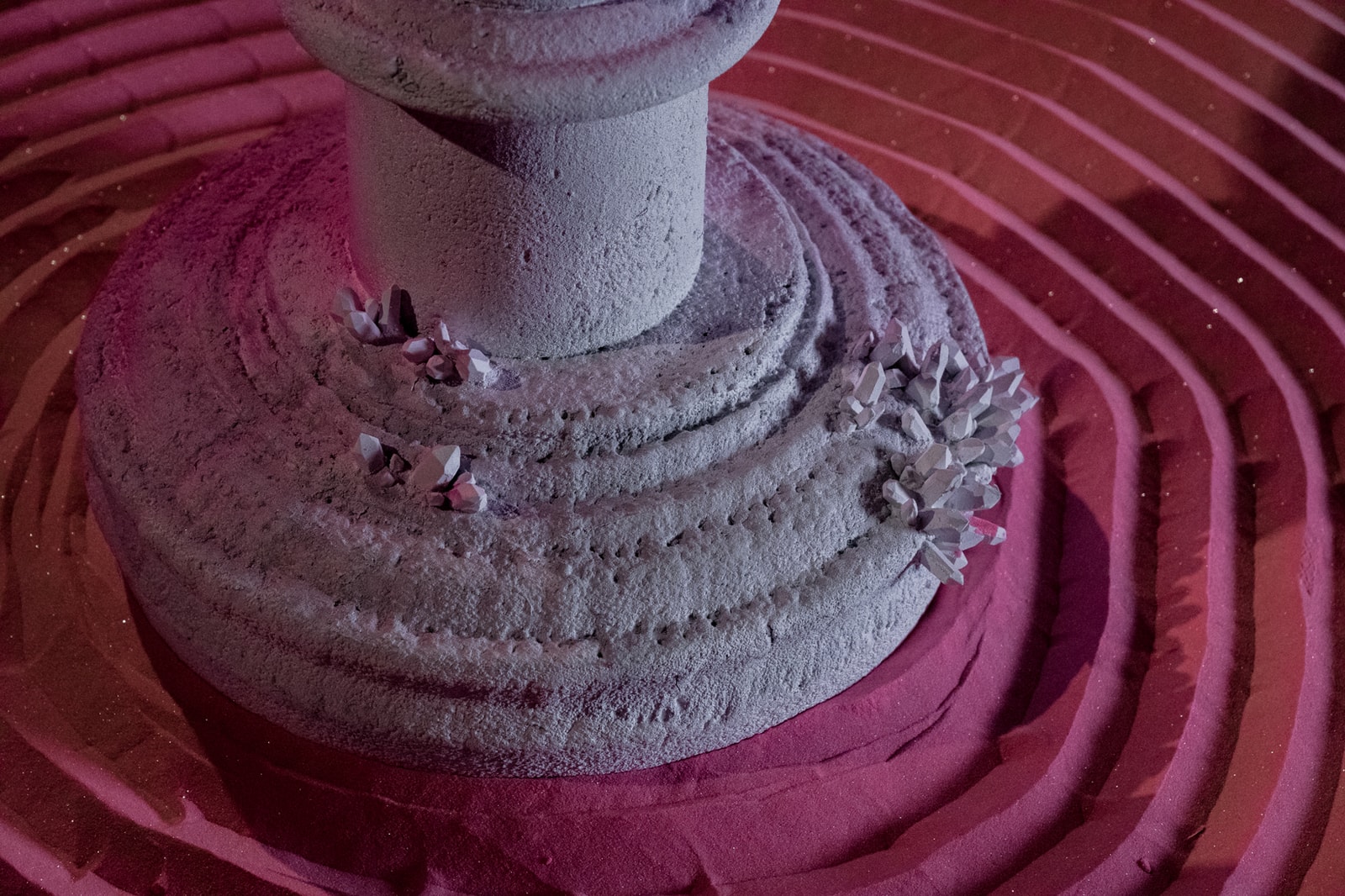 How do you select the objects that you want to make sculptural casts with?
Whenever I'm looking for objects to create my work with, I am always looking for things that are iconic. Things that speak to a wide swathe of people and that, in many ways, cross cultural boundaries. Most of the things that I've selected, not only in the Future Relic series but in my own other cast works are things that are immediately recognizable. They are almost icons of themselves. The same is true for this ongoing series that I've started with these color gradients or this color chiaroscuro.
What do you have going on next with the crystal gardens?
I'm working on another version of this garden. Both of the iterations have been interior and I've always wanted to do one that was real and outside. I'm currently in the process of constructing one in Brazil that will be part of a large museum exhibition that I have, which opens on September 11. It's about five times the scale of this and it's a gradient that is similar to the blue I used in Atlanta, but it starts with a slightly lighter crystal and it's a gradient from blue to white.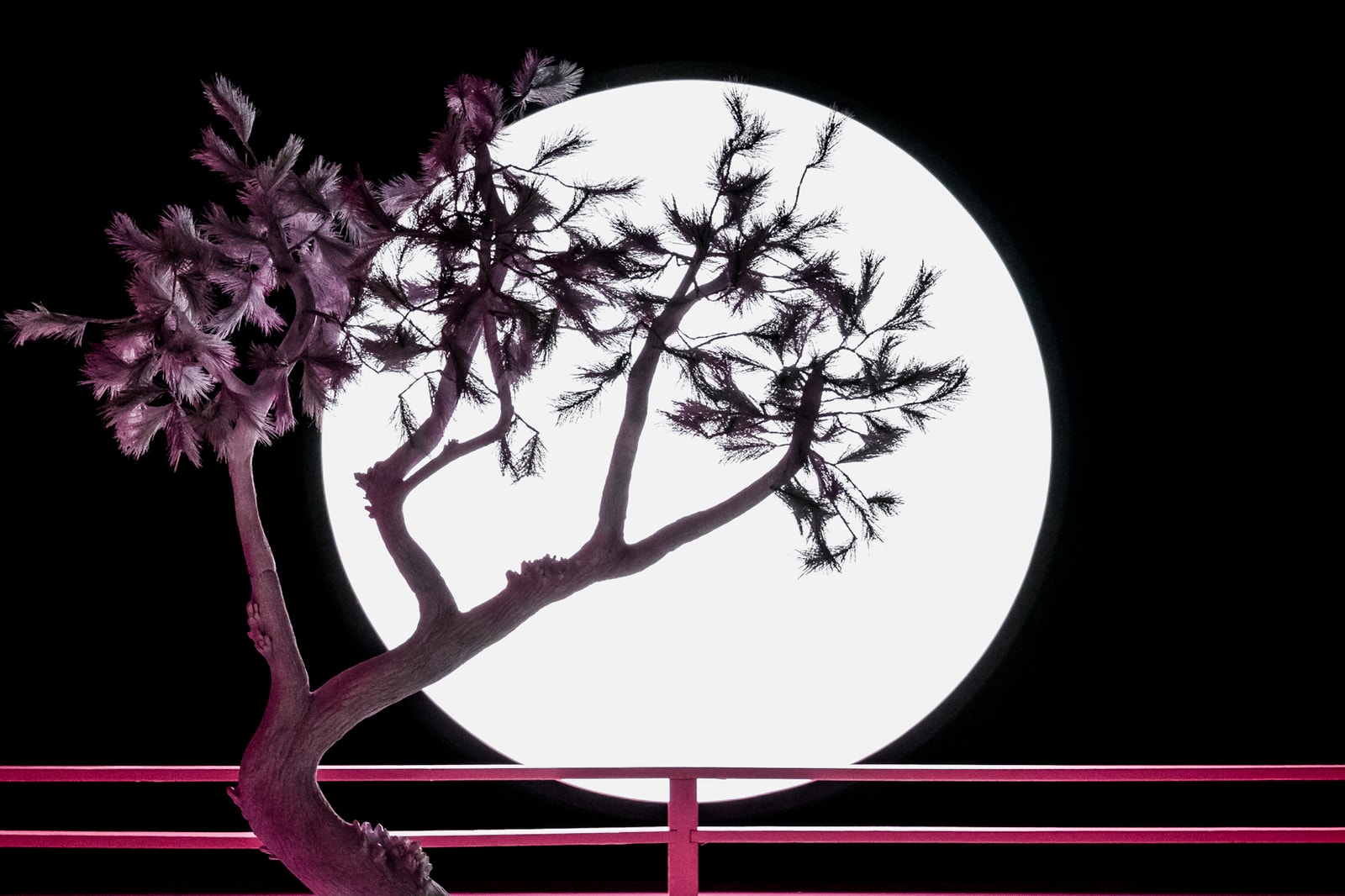 Lunar Garden is currently on view until November 5. Also, look out for the long-anticipated Future Relic 08 to release on September 8 at Daniel Arsham's newly revamped website.
The Gallery at Cadillac House
330 Hudson St.
Manhattan, NY 10013