NBA Fans React to Carmelo Anthony's Trade Over to the Western Conference
The West just got more stacked.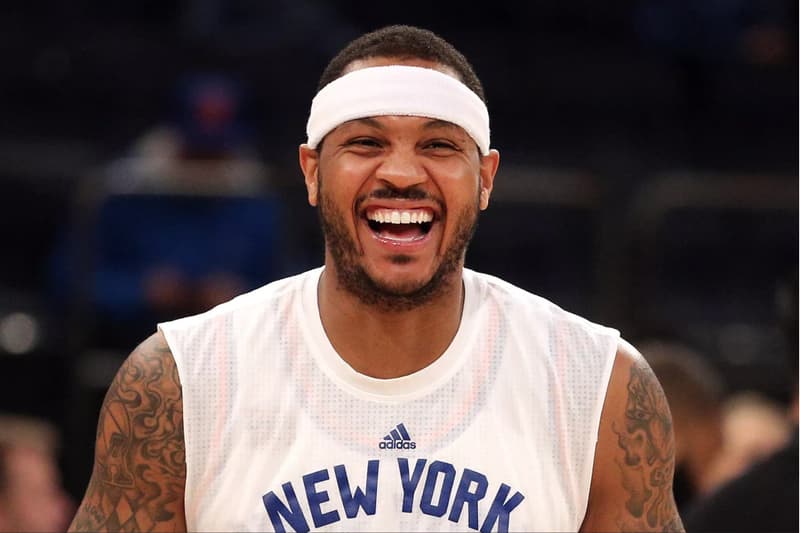 Besides Trump's recent verbal attacks on the NFL and NBA, news of Carmelo Anthony's trade from the New York Knicks to Oklahoma City Thunder has shocked the sporting world this weekend. League sources told ESPN that the 33-year-old veteran will be joining the Thunder in exchange for center Enes Kanter, forward Doug McDermott, and a second-round pick in the 2018 NBA Draft.
Anthony joins the already stacked lineup of OKC which includes reigning league MVP Russell Westbrook and four-time All-Star Paul George. This new roster now makes for one of the more interesting teams in the league. With Melo's trade over to the Western Conference, NBA fans couldn't help but to share their reactions on social media, focusing on the great divide that exists between the Eastern Conference. The gap between the two conferences is now being compared to the battles of HBO's hit series, Game of Thrones. Check out the reactions below.
Western conference games gonna be like game of thrones battles against the white walkers

— CJ McCollum (@CJMcCollum) September 23, 2017
Is LeBron really gonna go to the Western Conference after all this

— Jeremy Woo (@JeremyWoo) September 23, 2017
Melo to OKC. This is how the Western Conference Playoffs are going to look… pic.twitter.com/KeOFxGxS7f

— Jim Marek (@MarekJim) September 23, 2017
UPDATE: Your 2018 NBA All-Star Lineup after Melo to OKC.

Left: Western Conference Starters
Right: Eastern Conference Starters. pic.twitter.com/hPuVqpM2Mc

— Villaz (@ChrisVillaz) September 23, 2017
Sam Presti, Russell Westbrook, Paul George, Carmelo Anthony walking into Chesapeake Energy Arena like… pic.twitter.com/WVJhNCfgqp

— Randy Cruz (@randyjcruz) September 23, 2017
The west is sooooo Lit!!! Russ PG Melo!!! It's Lit!!!!!

— Brandon Jennings (@brandonjennings) September 23, 2017
Like I said … The Association crazy lol

— C.J. Miles (@masfresco) September 23, 2017
Okay?I can't wait for this WEST? #Ripcity

— Jusuf Nurkić (@bosnianbeast27) September 23, 2017
Gonna give Sam Presti my Nissan Sentra to see if he can trade it in for a Ferrari

— Leigh Ellis (@LeighEllis) September 23, 2017
Sam Presti after turning Cameron Payne, Victor Oladipo and Domantas Sabonis into Paul George and Carmelo Anthony… How in the hell.. pic.twitter.com/IkE23o3PXg

— Josh Eberley ?? (@JoshEberley) September 23, 2017
Live look at Sam Presti … pic.twitter.com/CGmHq0Pnj8

— Jacob Unruh (@jacobunruh) September 23, 2017
When the Knicks are gonna be even more trash but you have a shot at the No. 1 pick next Summer & you happy for Melo pic.twitter.com/vNV5bcXiNi

— CHELSEA PL CHAMPIONS (@New_Tape_City) September 23, 2017