The Best New Singles of the Week: Frank Ocean, King Krule, Travis Scott, Kendrick Lamar and More
Hot tracks to start September off right.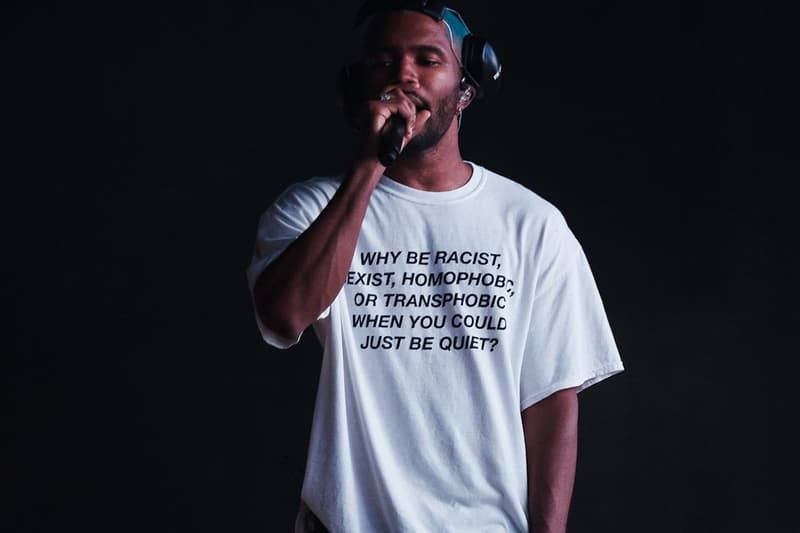 New album releases have dominated the headlines these past few weeks, but we also heard a number of fire singles hit the interwebs as well. Last week alone saw notable drops from the likes of MF Doom, Travis Scott, Kendrick Lamar, and Frank Ocean. Additionally, there were a handful of exciting new cuts from several up-and-comers, such Sloan Evans, Soso and Lil Pump.
Fans were also elated to see the return of King Krule, as well as the resurgence of the beloved alt-rock band Queens of the Stone Age, who released their critically-acclaimed seventh studio album Villains earlier this week.
Check out our picks for the hottest singles from the last week of August below and let us know what you think.
Frank Ocean – "Provider"
During the 2017 MTV VMAs, Frank Ocean dropped a new episode of his Beats 1 Radio show, Blonded RADIO, during which Ocean surprised fans with a new single titled "Provider." The track makes reference to Richard D. James' "Stiff smile just like I'm Aphex Twin," as Ocean sings it.
Queens of the Stone Age – "The Evil Has Landed"
Queens of the Stone Age released their acclaimed Villains album this week, and one of the instant hits off the project is without a doubt "The Evil Has Landed." The sprawling track is both sweet and sinister, peep below.
MF DOOM – "Notebook 03″
As part of his ongoing Adult Swim series, MF DOOM unleashed another part of the Missing Notebook Rhymes collection this week, titled "Notebook 03." The psychedelic cut continues to showcase DOOM's acrobatic, tightly-wound style and his unique approach to storytelling. Listen below and stay tuned for the additional 11 DOOM tracks still set to release.
Miguel & Travis Scott – "Sky Walker"
Miguel has linked up with Travis Scott for his new single, "Sky Walker." The singer-songwriter didn't waste anytime and released its music video shortly after. Helmed by Director X, the visual finds the singer kicking it with a bunch of pretty girls on a beach, before joining Travis on top of a police car.
Lil Pump – "Gucci Gang"
Having teased us earlier this year with a drop date of August, there's still no sign of an album for Lil Pump fans. Nevertheless, the South Florida rapper has been kind enough to give us a taste of things to come with the release of a brand new track.
Produced by Bighead and Gnealz, "Gucci Gang" mixes high-energy beats with low-key downtempo piano and Pump's trademark flow. Take a listen below and let us know what you think in the comments.
Kendrick Lamar, Mac Miller & Kevin Gates – "Cold Summer"
Pushing 30 plus years in the hip-hop game, DJ Kay Slay is still out here pumping out the exclusives. His latest combines the worlds of Kendrick Lamar, Mac Miller, Kevin Gates and R&B singer Rell, as they joined forces for this hard-hitting single, "Cold Summer." The song will appear on the veteran DJ's upcoming Big Brother LP, due out later this month.
Pharrell & Noreaga – "Uno Mas"
It's hard to believe their release of "Superthug" is nearing 20 years. The very record that not only scored a No. 1 spot on Billboard, but ultimately the defining moment that would help launch both their young careers at the time. Earlier this week, fans were delighted to hear about their reunion on a new single called "Uno Mas." Stream below.
King Krule – "Czech One"
Following a self-imposed hiatus of his King Krule alias, Archy Marshall has finally returned to release his first new music under the King Krule name since 2013. "Czech One" features the classic laid-back delivery and jazz-inflected music of older King Krule releases.
Soso – "Long Ride"
The Queens up-and-comer had the streets buzzing last year with the release of his syrupy slow-burning cut, "Closed Curtains." Despite the rumblings made, he took a slight hiatus to recalibrate, and he appears to be back and better than ever. Check out the first single from his upcoming album below.
Sloan Evans, AJ Tracey & Swoosh – "Apologies"
After killing it at HARDfest with AJ Tracey, Sloan is off to the U.K. to link up with AJ once again for some more performances, so fans might be seeing the song performed live sooner than later. Look out for Sloan's debut project next month.
Be sure to check out our previous music roundups for the best drops of weeks past.