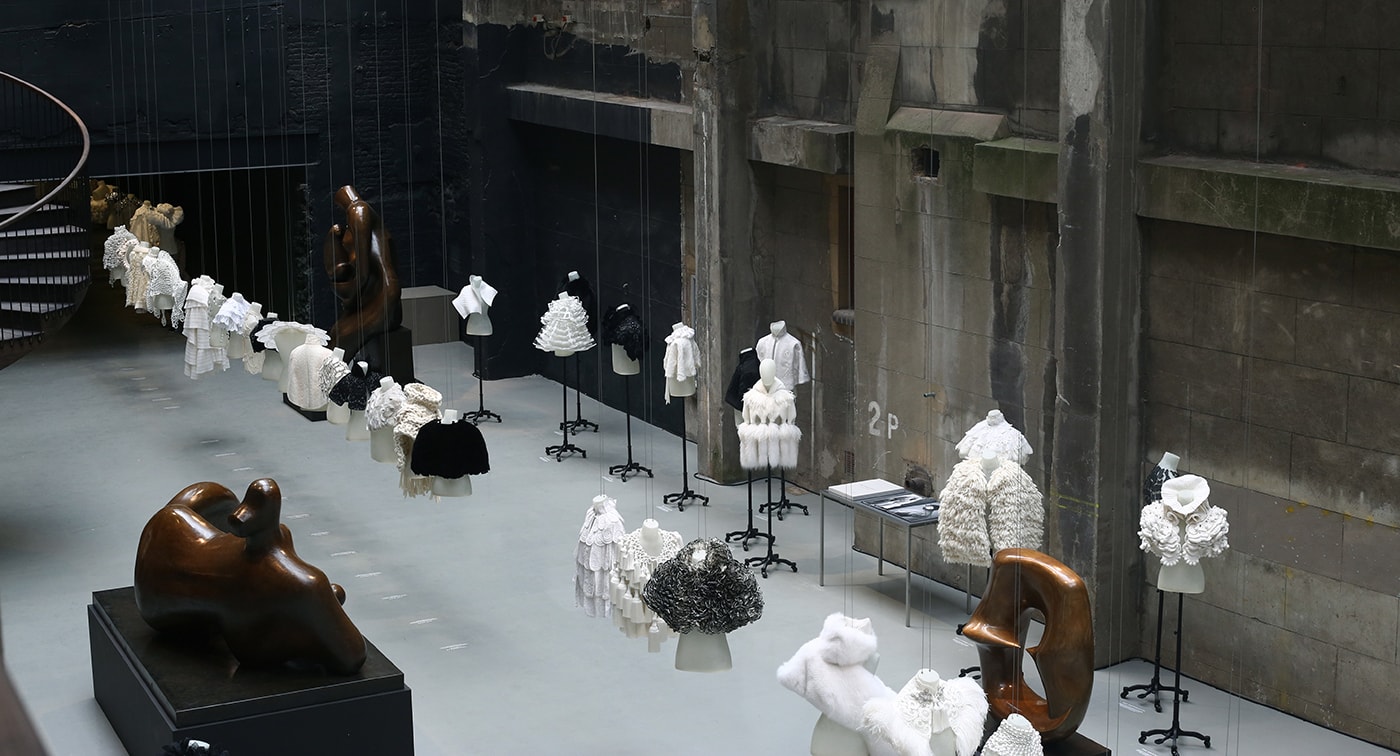 Burberry and the Art of Tenacity
We speak to the foremost gentleman on how he keeps it together in a mad world.
The images which come to mind when confronted with the household name Burberry presumably don't vary much from person to person – the brand enjoys its continual success due to an acutely honed aesthetic borne of British heritage and tradition. At the forefront of the British luxury giant is Christopher Bailey, who has been at the reins for the past 16 years and is responsible for the brand's current position as a leader in digital luxury. The president and chief creative officer, now 46, sports boyish, mossy hair and an easy disposition not unlike his designs – elegant, yet effortless; charismatic, yet familiar. True to Burberry's history of backing British talent, Bailey has chosen to pay an especial homage to Henry Moore, a sculptor often regarded as one of the founding fathers of modern art. We took the opportunity during their joint exhibition at Makers House London to speak to the industry veteran about neo-consumerism and what it means to be conscious in the digital age.
For a house whose DNA is stolidly grounded within British tradition, Bailey's artist-inspired collection uncharacteristically leaned towards the whimsical. Draconian curves in Rococo textures appear simultaneously heavy and buoyant, sharp and soft – sculptures in their own right set beside Moore bronzes slick with the unctuous glow of poured honey. Burberry's fashion-slash-art exhibition was a flawless marriage of process and product, as much about Moore's artwork as it was about clothing. Despite the combined price tags of several multi-million dollar Henry Moore sculptures displayed alongside the full looks and 78 couture capes from Bailey's latest collection, the exhibition was intended to be experienced, not merely seen. It was easy for attendees to palm the mammoth curve of a sculpture or run an errant finger along the cold ridges of a cape rendered in cast iron. Nary a velvet rope hung in sight, and only a marginal number of glass displays encased priceless sketches from the late artist.
"We want to get behind something – we want to understand it more; we want to ask why. Why this fabric? Why this construction? What was the influence? Rather than, 'I'm buying it just for the sake of buying it.'"
The exhibition reflects Burberry's current philosophy: commitment to the increased need for transparency from the brands consumers choose to support. Christopher Bailey emphasizes the importance of going beyond the product in order to show his ever-savvy customer base the hows and whys. "Take food, for example: we're all interested today in where it comes from, who's the chef, who's the farmer – not something industrialized through a machine." He continues, "It's the same with fashion, architecture, music, everything." Burberry was one of the first fashion houses to embrace social media and digitalization, quickly establishing itself as an e-commerce giant, and even reincarnating their latest show into a live screening-and-sales event. "The lines are just becoming more direct with what we create and what somebody sees," Christopher explains. "The people that love fashion, they want to know what lies behind a finished product." The Burberry and Henry Moore exhibition at Makers Place was an open house into the studio processes of both Burberry and the late sculptor; research, inspiration, samples and sketches that have traditionally stayed inside the studio put to use in fostering a greater understanding of the finished product.
The recent renaissance in consumer consciousness manifests itself as a need for lucidity and informed choices. "People have changed a lot, the way they interact with fashion and with any other medium. We want to get behind something – we want to understand it more; we want to ask why. Why this fabric? Why this construction? What was the influence? Rather than, 'I'm buying it just for the sake of buying it.'" We live in a time of blurred boundaries where corporations and individuals enjoy direct channels of communication, urging businesses to show what – or more importantly, who – lies behind their products. The consumers of today are connected, engaged, and educated within both virtual and physical spaces. As a result, they're less likely to blindly buy into dogmatic trends when influencers, independent designers, and other established brands all have access to platforms to engage consumers in their narratives in addition to products. "It's important we break traditions, that we're not afraid to try new things." His brisk, sunny tone slows to a thoughtful musing. "Sometimes I think change isn't only in the actual products we produce, but in the way we produce them and how we engage with the world."
"It's what resonates. It's what feels right. It has to be deep, authentic, meaningful – not just a commercial proposition."
"Streetwear has always been a big part of fashion," Christopher waved his hands as if the fact was obvious. "It's a push against policy, politics, government – and I think we're living in a period now where there's so much change in the world that streetwear has become more influential." If streetwear is a metaphor for going against the grain, it's often in deference to underground subcultures which developed from challenging the status quo. Given our world's current state of affairs, it's little wonder we're seeking ways to struggle west while the world spins east on its axis – luckily, there's more than one route to get there. While Burberry has been one of the most appropriated brands in street culture since the nineties – or simply one of the most appropriated brands, period – its unshakeable British sensibility also places it far from the regulars who currently occupy center stage in streetwear. When we mention the possibility of Burberry's involvement in streetwear, Christopher replies, "We're all multidimensional – and I don't rule anything out, ever, because everything is possible." He goes on emphatically, "But it's what resonates. It's what feels right. It has to be deep, authentic, meaningful – not just a commercial proposition." Burberry's commitment to authenticity reads like another part of their repute as a cheerful perpetrator of nontraditional methods, being among the first to adopt the see-now, buy-now model and show menswear and womenswear together. Often one of the first to break free of the rigid operational models of the fashion industry, the house of the ubiquitous check is, deep down, something of a rebel spirit.
Somewhere inside the hype-machine flash and fury, there will always be fixtures like Christopher Bailey who don't seek to pacify demand but aim instead to refine it. When we briefly touched on his position as a supremely accomplished industry figure, awarded Menswear Designer and Designer of the Year at the BFAs not once nor twice, but five times in total – effectively shaping fashion as we know it today – he only laughs. "An oldie," he says amicably, "You can say an oldie." The pedigreed, old-school charm of both the fashion house and its creative director balances against an aggressive loyalty to authenticity and to the shifting values within consumer culture. Christopher's latest may not be another proponent of today's innumerable designer-rapper-athlete-model collab frenzy – but strangely enough, that in itself is already something new.
This story was originally published in HYPEBEAST Magazine Issue 18: The Sensory Issue as "The Art of Tenacity" Find out more here.
---