World Famous Mascot Mr. Met Flips off Fan and Twitter Reacts in Support
But he only has four fingers.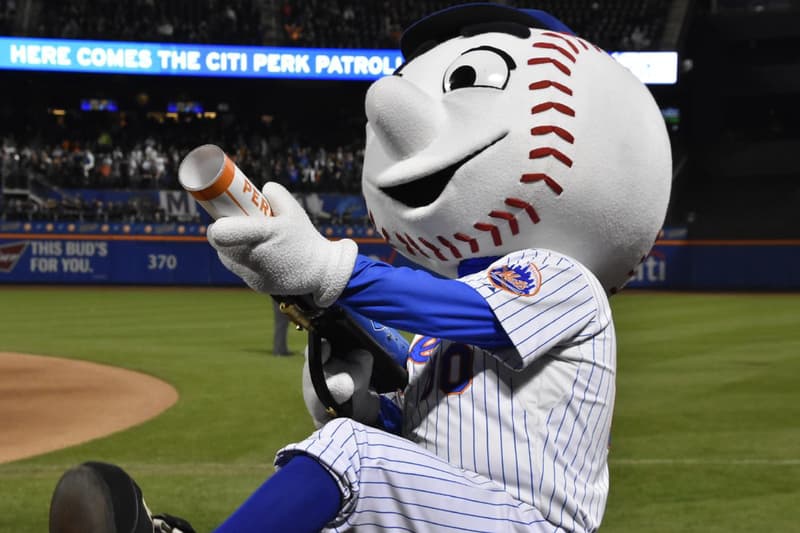 Mr. Met got into some hot water last night as he was filmed flipping off a fan after the Mets lost to the Brewers 7-1. The New York Mets mascot who you can recognize from his baseball-shaped head was caught in the act and a video by Tony T. (@tonyt3535) triggered an immediate response from the organization who tweeted that they are dealing with the matter internally. We're going to safely assume the person was fired.
@Mets ??? pic.twitter.com/tYuSIp8gCG

— Tony T (@tonyt3535) June 1, 2017
Statement from the New York Mets. pic.twitter.com/bRVvqZoqg8

— New York Mets (@Mets) June 1, 2017
This isn't the first time something like this has occurred as this fan compares Matt Harvey, one of the Mets starting pitchers to Mr. Met in a "who did it better" segment. Harvey infamously tweeted out the photo after he underwent Tommy John surgery in 2014.
Who did it better?
RT for Mr. Met
Like for Harvey pic.twitter.com/lGHuckwVRS

— Austin (@NotDWright) June 1, 2017
As public figures are always held on higher pedestals than others, we expect them to carry themselves and act in an appropriate manner, especially when they're an example and role model for children. But as evidenced last night, that doesn't always happen. At the same time, an argument can be made that enough is enough, maybe Mr. Met did it for the fans, maybe he gave the bird because he's tired and frustrated of the team and its incompetent management and inability to play up to the level of talent on the roster or stay healthy. Also, maybe everyone is blowing things out of proportion, after all, Mr. Met only has four fingers on each hand, so can we really say it was the middle finger he gave?
Either way, the Mets, who are second in the NL East at 23-28, have their work cut out for them to reach the postseason and Twitter reacted to the events of last night in the realest way possible. Check out the reactions below and let us know what you think.
Mr. Met flipping fans off really one of the funniest most symbolic things I've seen from this franchise in a long time.

— KFC (@KFCBarstool) June 1, 2017
The President is pleased to announce that Mr Met has accepted our offer to take over as WH Communications Director

— Sean Spicier (@sean_spicier) June 1, 2017
If this rogue Mr. Met wants to go full bad boy, he throws the giant black dildo at Terry Collins during tonight's press conference

— Clemzingis (@TheClemReport) June 1, 2017
So Mr. Met has…
?Had an affair
?Flipped off a fan
?Killed a guy

WHEN WILL IT END??? pic.twitter.com/G947kMnAC9

— Ben Livingston (@bliv94) June 1, 2017
Mr. Met a savage for this ????pic.twitter.com/PBLdlpwHEo

— Joe Kempsey ?? (@ESPNKemp) June 1, 2017
The 2017 Mets season wrapped up by Mr. Met: pic.twitter.com/gWFWf9n5Ig

— SportsBlogNewYork (@SportBlogNYC) June 1, 2017
Mr. Met is my hero. A Mascot represents it's team and fanbase. And if that doesn't represent every Mets fan right now I don't know what does

— Nick Silva (@nicksilva1) June 1, 2017
For the record, I am appalled by the video Mr Met took part in. It is clearly disgusting and inappropriate.My son Barron was deeply affected

— Andy Martino (@martinonyc) June 1, 2017
I don't want to live in a world where Mr. Met can't flip off a fan off once in a while just for the hell of it. #WhoCares

— CJ Nitkowski (@CJNitkowski) June 1, 2017
Mr. Met is out of control. pic.twitter.com/p9T4SfCyZI

— Brian Murphy (@bmurph13) June 1, 2017
When you realize Mr. Met doesn't even have a middle finger… ???@TheClemReport @KFCBarstool pic.twitter.com/ulCopEoLmE

— Jake Marano (@jakemarano13) June 1, 2017
Finally, if this is any consolation, MLB Jesus has forgiven Mr. Met for his actions.
Mr. Met is forgiven. ?

— MLB Jesus (@MLBJesus) June 1, 2017