Two More Artists Accuse Gucci of Copying Designs
Even more "homages?"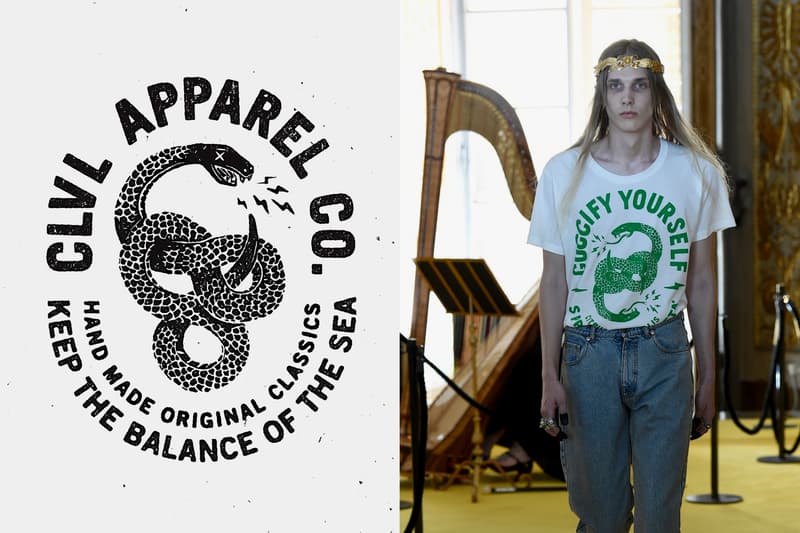 Bootlegging has been both good and bad for Gucci's latest collections — while the Italian luxury label has had a fruitful partnership with GucciGhost for Fall/Winter 2016, the imprint's recent copying of a 1989 puff-sleeve bomber jacket by Harlem designer Dapper Dan was met with sharp criticism. Now adding to the flame are two graphic designers from Australia and New Zealand, who claim their brand logo designs were copied by Gucci for its Cruise 2018 collection.
The first piece at issue is a white T-shirt featuring a graphic print of a snake inside an ovular typography frame that reads "Guccify yourself." The shirt appeared on the runway and on Alessandro Michele himself at the show's finale. New Zealand artist Stuart Smythe asserts that the Gucci snake graphic is a flipped copy of a logo he created in 2014 for his label CLVL Apparel Co. Specific details of the two designs, such as the scale pattern, shadowing, lightning bolts from the mouth, and a small white spot on the letter "R" (a specific detail of the font's vintage effect) are red flags that point to plagiarism.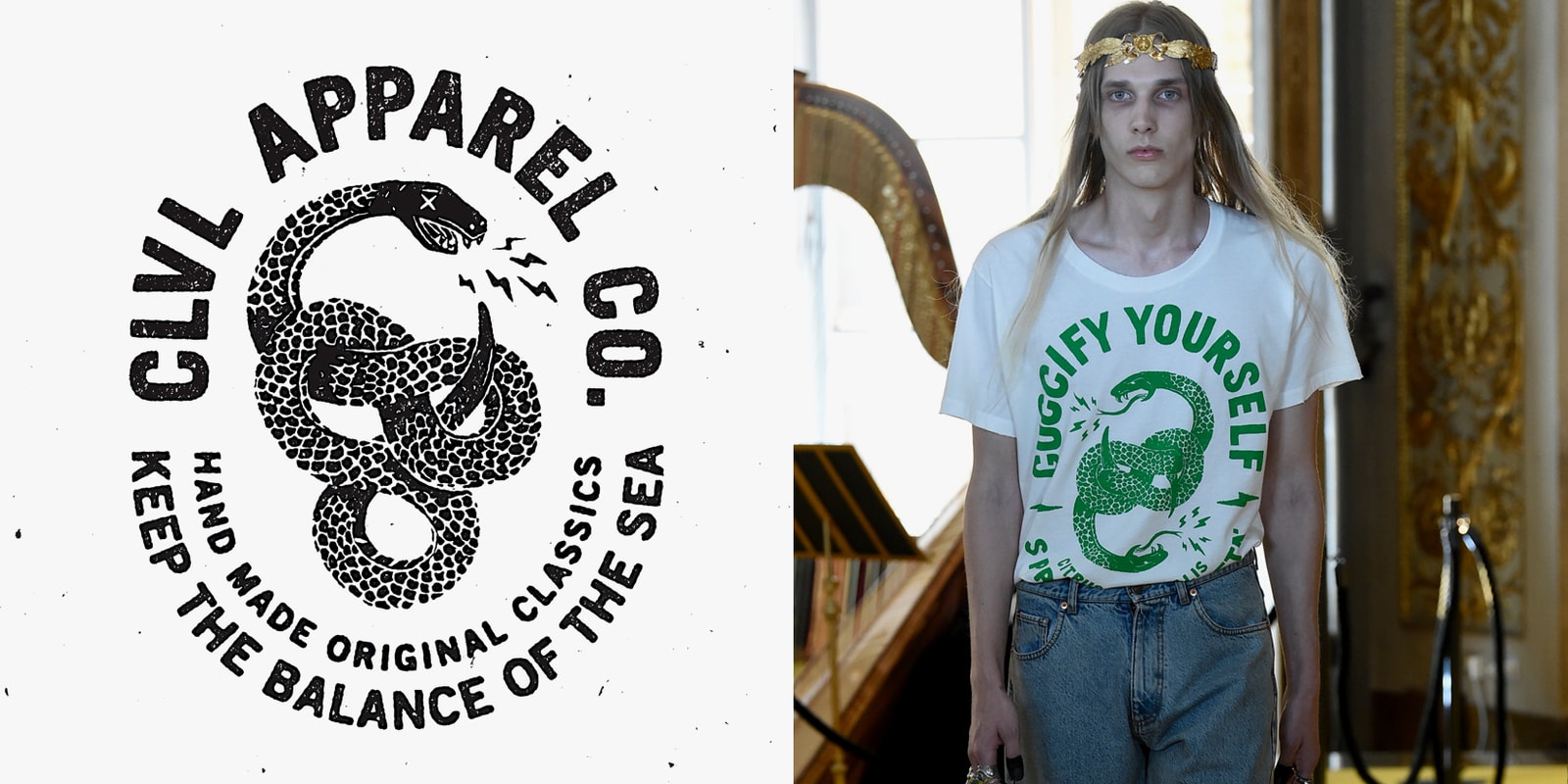 The second accused design, which appears on a Gucci tote bag, is a graphic of a roaring panther standing on a rock framed by text that reads "Guccification." Australian artist Milan Chagoury contends that the graphic is a copy of a logo he created in 2015 for the White Tiger Tattoo Co. tattoo parlor. Chagoury owns the rights to the original artwork, which has the exact same arrangement as the Gucci design, except that the original's feline silhouette boasts tiger stripes.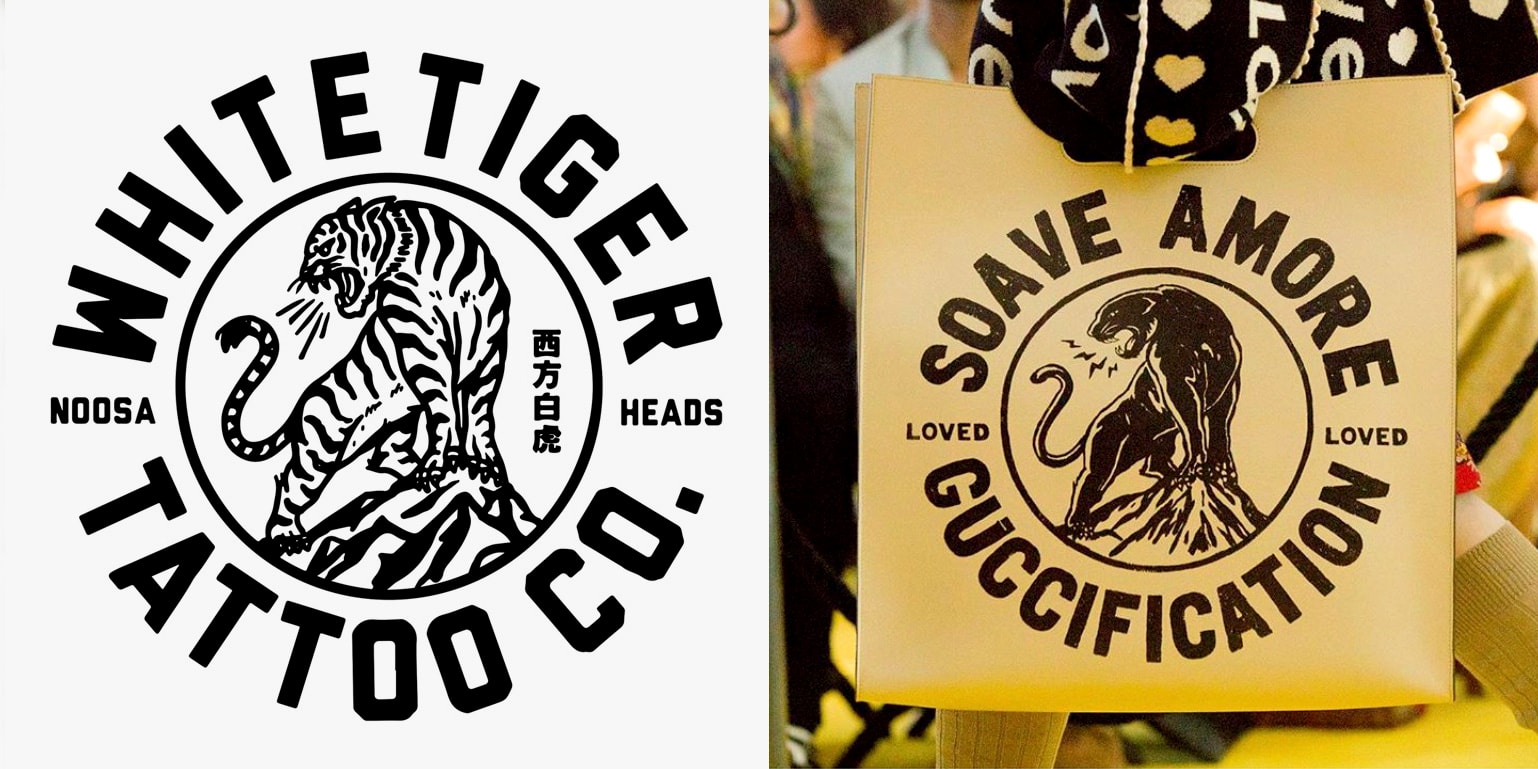 Gucci declined to comment on initial reactions to the accusations, however, a company spokesperson spoke to WWD about the seemingly artistic concept of bootlegging and street style vernacular. "The Gucci cruise 2018 collection saw a continuation of Alessandro Michele's exploration of faux-real culture with a series of pieces playing on the Gucci logo, under the themes of 'Guccification' and 'Guccify Yourself.' A creative exchange with street style and street vernacular using graphics and words that have been 'Guccified.' In the last two-and-a-half years Gucci has defined itself through a series of creative collaborations that have arisen organically, symbolizing a generational shift. Also in this instance, we are now in direct contact with the respective talents."
Both Chagoury and Smythe say that after the public statement above was made, Gucci representatives offered the possibility of future collaboration. Neither artists are interested nor impressed. "I'm not interested after what's happened," comments Chagoury. "They didn't respond to me for weeks. This is them covering [up] a massive wrongdoing in the art and design community and in the fashion industry full stop."
Smythe expressed similar sentiments. "They're meant to be the most creative, they set the level that everyone else looks at," said Smythe. "If they'd approached me earlier with a number then sure, I would have thought about selling my design. But now [I don't like] the way they've gone about it. They're not going to credit me as a designer for Gucci."'
Sound off in the comments below.