The David Lynch Effect: How 'Twin Peaks' Influenced TV, Film, Music and Fashion
The "Lynchian" formula will always be found in pop culture.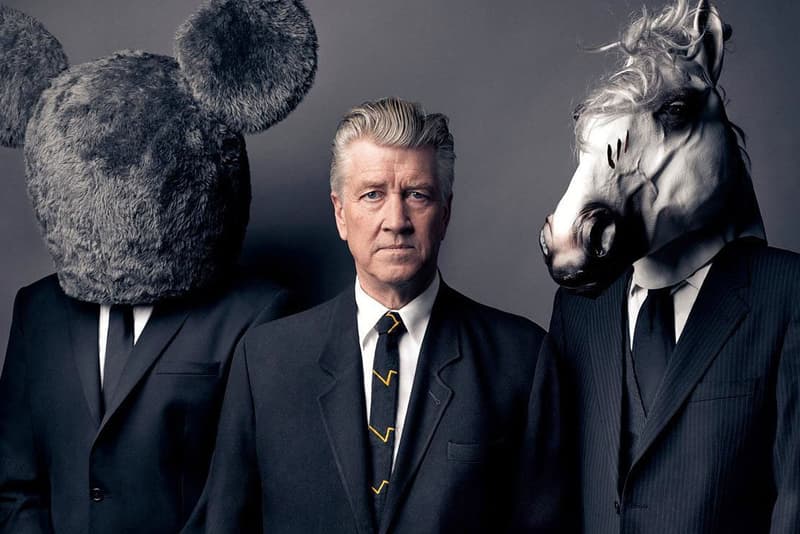 "That gum you like is going to come back in style." These were the words filmmaker and artist David Lynch chose to announce that his groundbreaking murder mystery series would be returning after more than 25 years off the air. They are also the ominously enigmatic words of a backwards-talking dwarf who lives and dances in a room adorned with red curtains. That sentence would sound like madness when used to describe literally anything other than Twin Peaks.
On paper, the story is simple enough: FBI Special Agent Dale Cooper is sent to the eponymous Northwestern town to solve the mystery of the murder of Laura Palmer. Over the course of just 30 episodes, however, the show manages to subvert and exceed expectations of both genre and form. An instant cult classic, the show predated the binge-watching phenomenon and gave rise to the era of artistic, auteur television. Without the influence and inspiration of Twin Peaks, there would be no Lost, no Leftovers, no Stranger Things. But aside from its direct lineage of filmic admirers and imitators, Lynch's seminal series has irreplaceably influenced art, music and fashion.
TV & Film
The Laura Palmer story upended the idea of what a television series could be and what directors could get away with and, ultimately, what they could not. While the first season of the show is tightly-wound, the second season quickly veers off into a more tangential, stream-of-consciousness narrative that alienated many viewers. Lynch's many artistic detours and dead ends were the results of his strained relationship with ABC, who were steadfast in having Lynch neatly wrap up the murder mystery with a classic resolution; Lynch disagreed and the show reflected this behind-the-scenes conflict.
Many a video essay has been dedicated to the enduring influence of Twin Peaks on television. Myriad shows have traces of Twin Peaks in their genetics: Stranger Things's youthful protagonists, eerie mood and suburban setting are all direct descendants of the denizens of Twin Peaks (the town); Donald Glover described his smash hit series Atlanta as "Twin Peaks, but with rappers;" Lynch's obsession with open-ended, unanswered questions is a direct antecedent of Lost's shopping list of unanswered questions. Even The Simpsons channeled Twin Peaks for its "Who Shot Mr. Burns" episode.
Defining what makes a film "Lynchian" is that for better or for worse, we know it when we see it: like interpreting the director's works themselves, the process of explanation is futile. In a 1979 interview, Lynch was asked about Eraserhead's tagline—"a dream of dark and troubling things"—and asked if he would like to "expound on that idea a little." Lynch responds bluntly: "No." The late author and noted Lynch stan David Foster Wallace notes that anything and anyone you run into at a bus station at 6 a.m. qualifies as Lynchian or, to put it more academically, "Lynchian refers to a particular kind of irony where the very macabre and the very mundane combine in such a way as to reveal the former's containment within the latter." Unlike Lynch, Wallace expounds on the idea, widening its scope to include anything and everything "Grotesque, enfeebled, flamboyantly unappealing, freighted with a woe out of all proportion to evident circumstances … a class of public-place humans I've privately classed, via Lynch, as 'insistently fucked up.'"
For lack of a better word, Twin Peaks's greatest contribution to canon might just be its vibe. The chunky sweaters, sweeping synths, and cotton-candy pastels are all dressing for an ominous mood that oscillates between dreamlike and nightmarish. In a report from the set of Lost Highway, Wallace once wrote that the Lynchian mood "may, in fact, be Lynch's true and only agenda – just to get inside your head. He seems to care more about penetrating your head than about what he does once he's in there." Twin Peaks' success, albeit brief, solidified Lynch's status as, as per Wallace's analysis, "The USA's foremost commercially viable avant-garde, offbeat director," opening up the format to weird, left-of-center artists and stories.
Music
In his book, Catching the Big Fish: Meditation, Consciousness, and Creativity, Lynch describes his working relationship with Badalamenti as such:
"I like to sit next to him on the piano bench. I talk and Angelo plays. He plays my words. But sometimes he doesn't understand my words, so he plays very badly. Then I say, 'No, no, no, no, Angelo,' and I change my words. And somehow through this process he will catch something, and I'll say, 'That's it!' And then he starts going with his magic, down that correct path. It's so much fun."
Badalamenti's own recollection of the creative process has found its way into mixes by Nicolas Jaar and soundtracked fashion shows by Raf Simons—more on that later.

That same feeling of "falling… falling, falling" found its way into the series' iconic theme of the same name, composed by Badalamenti and Julee Cruise. The theme song has crept its way into the collective conscious, most recently cropping up in Frank Ocean's Blonded Radio mix just before the reclusive artist debuted "Lens." Pitchfork once proclaimed that "it seems like no other single television show has inspired as much popular music as Twin Peaks." Noisey bemoaned how acts invoking the show's name have invariably cheapened its musical legacy.
Beyond the obvious homages and references (there is a band of the same name, after all), like El-P opened his second album with a Lynch sample while DJ Shadow closed Endtroducing with Lynch's haunting refrain; #based music producer Keyboard Kid's music video for "BASED EXORCISM" is an overt homage to the series; Xiu Xiu released their own creepily glittering ode to the show. Sky Ferreira famously cribbed a Laura Palmer line from Fire Walk With Me for the title of her 2013 album, Night Time, My Time, only to be cast in the series's reboot. And when Lana Del Rey made her SNL debut in January 2012 with a seemingly tranquilized performance of her viral hit, "Video Games," there was something unmistakably Lynchian in her swaying dance. Several albums later and LDR's next work, Lust For Life, taps a similar vein: a witch lives in the H of the Hollywood sign, citing that "an artist needs a place to cultivate a world of their own, far away from the real world." All of these references barely scratch the surface of the show's musical influence.
Fashion
Lynch's own personal style has attracted the attention of mens' magazines for years. Esquire dubbed him an Accidental Icon: "David Lynch dresses badly, but he gets away with it and you can't." His combination of worn chinos, buttoned-up button-down shirts, black suit jacket, blacker coffee, and an ever-present cigarette in hand have transformed into a workaday uniform; it has since been copycatted by aspiring filmmakers and quote-unquote creatives the world over. They rarely get away with it.
His own deliberate disheveled-ness aside, Twin Peaks has become a touchstone of sorts for fashion designers. Just as the show's mood trickled down throughout television, its costume design has found ways of invading both the runway and the high street. In his first post-Dior collection, Raf Simons distributed note-cards of his myriad inspirations: Lynch's series was listed alongside Scream, Halloween, A Nightmare on Elm Street, High School and Martin Margiela. As the models made their way around the catwalk—some several times at random—composer Angelo Badalamenti's voice narrated the proceedings, telling the story of how he and Lynch collaborated in composing the musical score for the series. Coincidentally, the show was held on Lynch's birthday. "I didn't know," Simons shrugged, before adding: "But I like to think that I am now dedicating this show to him."
Whether it be Audrey's chunky sweaters or James Hurley's shearling-lined moto jacket, the show's sartorial-savvy has spawned its fair share of imitators. Streetwear brands like Brain Dead have paid tribute to the show by re-releasing Agent Dale Cooper's "Diane…" tapes; Habitat Skateboards released a capsule featuring both Laura Palmer's iconic prom photo and her wrapped in plastic, as well as a run of decks.