Collector Henry Davies Walks Us Through Everything Vans
From the Era to the Half Cab.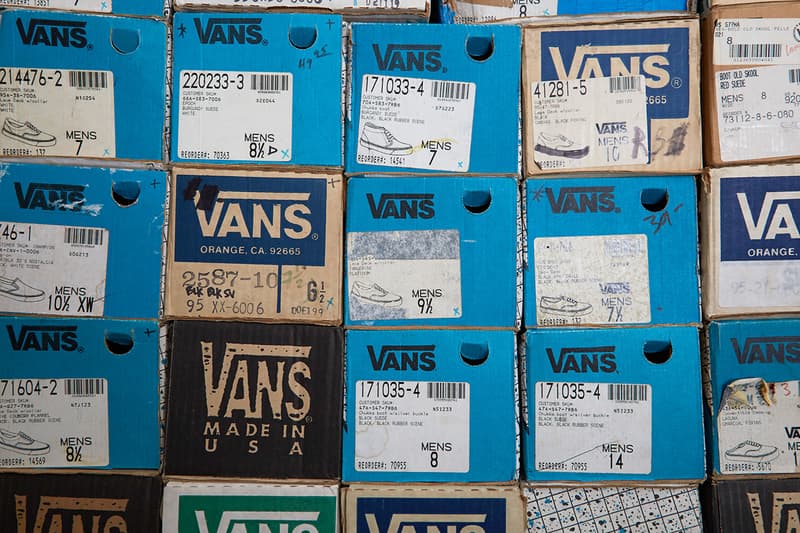 Vans are a staple of streetwear. Its simple shoes designed for skateboarders in Southern California have made such an impact on footwear and fashion that its waffle soles can be recognized a mile away. Goodhood talks to Henry Davies, arguably one of the most prolific Vans collectors out there, and they discuss everything from Vans made in the USA to the shoe company's implications worldwide. Check out the full interview here.
If you're into Vans, check out its latest monochrome floral collection.
GH: What is it about Vans that attracted you to them in the first place?

HD: Part of it is that southern Californian thing, it just resonates everything that that time encapsulated; surf, skate, snow, bmx, everything about that. The sun, the beach. More than anything it's the shoes, the quality, the shape and the integrity of the product.

GH: Tell us about the shape and that integrity, could you show us some?

HD: These were all vulcanized, all made by hand. Volcanisation is a method of bonding the rubber to the uppers. They cook the rubber in huge ovens and it creates this amazing bond, which creates like a tacky sticky rubber and an incredible bond between the upper and the sole. They still Vulcanize but the methods have changed a lot, the raw material has changed and so it's a different shoe, really. This is pure crepe rubber, whereas a lot of companies now add fillers which means it's a lot weaker and inflexible.

GH: Vans are no longer made in the USA. What do you define as the important factors of Vans being 'made in America'?

HD: So it's what we were talking about before, firstly the shape. It's the look; it was very different, the pointed toe is really important, the instep for me defines the shoe. The old world volcanisaton, the quality of the product and of the materials. The canvas was much better and the suede was incredible. So it's this hand made integrity that goes into it, and more than that it's the family values that came with it when the company was still family owned by Van Doren, so it still had that small business mentality.

GH: When I look back to the vintage Vans, the designs are way more out there. I don't know what the right word is…do you see a difference in the style of them now to what they were?

HD: Yeah, things were a lot more adventurous, people were more open minded. In the 80s there was this explosion and everything was big, hair was big, clothes were big, style was big, ideas were big, so the style was kind of anything goes whereas things are a bit more refined now. Back in the day you used to be able to rock up to Vans with your own fabric and get a pair made. This pair on the stool up there is a complete one off. You can tell by the feel of the fabric, it basically feels like a shirt. Really thin and often that is a tell tale sign but I've also come to know the spectrum of prints that they offered, so anything different. I kinda just know…