Cleveland Cavaliers Announce Jersey Partnership with Goodyear Tires
"The shoe fits perfectly."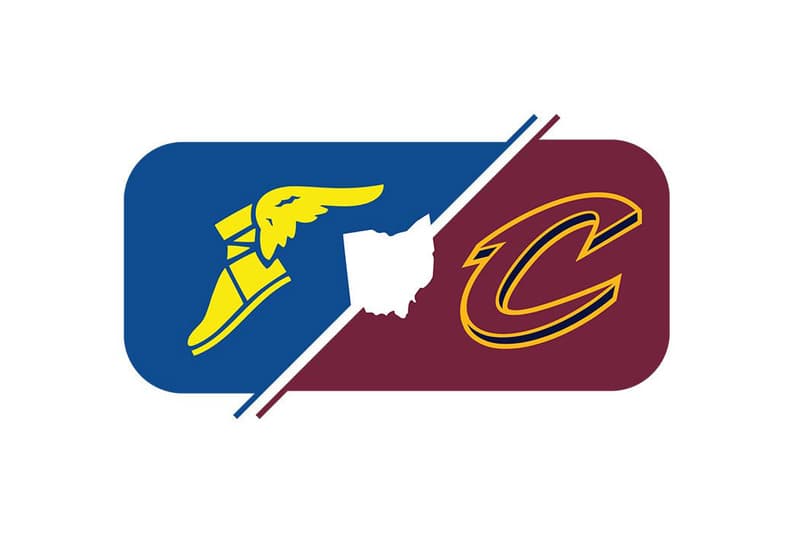 In a press conference this afternoon, the Cleveland Cavaliers became the latest NBA team to join the corporate logo sponsored jersey squad, announcing its partnership with Goodyear Tire and Rubber Company. The logo that the Cavs will don is the Goodyear Wingfoot and the team's Twitter account said "the shoe fits perfectly." Goodyear's Wingfoot will be yellow on the jersey but features a blue outline on the white jersey and a yellow outline on the red jersey.
Goodyear Tires is from Akron, Ohio where Cavs star and Nike athlete LeBron James hails, so the sponsorship makes total sense. LBJ had this to say: "Every Akron kid grew up seeing the Wingfoot in the sky on the blimp and feeling pride in our community. There is something special for me personally having that logo on the Cavs uniform." Cavaliers CEO Len Komoroski added, "We go together like peanut butter and jelly. It makes sense that we partnered with such a respected worldwide leader that is located in our backyard."
While the terms of the agreement were undisclosed, Eric Smallwood of sponsorship evaluation firm Apex Marketing Group estimates that $7-10 million USD a year will be generated by the Cavs TV exposure with an additional $30 million USD in revenue from video games, trading cards and social media.
The Cavs will be the sixth team in the league to test out the new jersey format which coincides with the return of Nike as the NBA's official jersey sponsor. The other five teams are the Boston Celtics (General Electric), Brooklyn Nets (Infor), Philadelphia 76ers (StubHub), Sacramento Kings (Blue Diamond Growers) and Utah Jazz (Qualtrics). While the advertising logo adorned gear will not be for sale on a national level, you can pick it up at team stores now.
Check out the new logo above and let us know what you think of the partnership.
Our neighbor. Now teammate.
In '17-18, we'll proudly wear @goodyear's Wingfoot logo as our jersey patch: https://t.co/LDAN3Ntx1f#MoreDriven pic.twitter.com/QceUocKoHG

— Cleveland Cavaliers (@cavs) May 15, 2017
"In The Land of the driven, hard work is an obsession."#MoreDriven | @goodyear x #Cavs pic.twitter.com/kQcDQ0XqCk

— Cleveland Cavaliers (@cavs) May 15, 2017
"The shoe fits perfectly."

Now that's blimp. #MoreDriven pic.twitter.com/MTM5kOXOs0

— Cleveland Cavaliers (@cavs) May 15, 2017
We are taking @goodyear and @cavs to new heights today! pic.twitter.com/pXvHUw9IUa

— Goodyear Blimp (@GoodyearBlimp) May 15, 2017