Tracks You Might've Missed This Week: Bones, Kaytranada, Oscar Jerome, $UICIDEBOY$, Ye Ali and More
In case you missed it.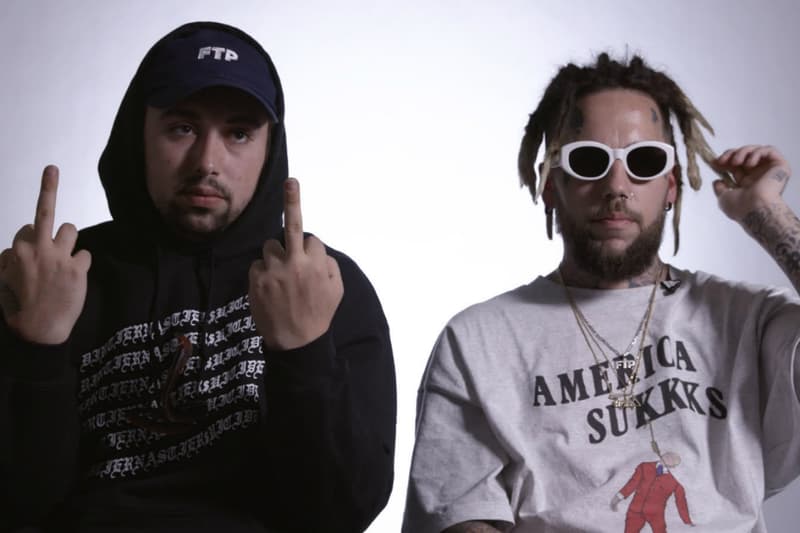 As May comes to end, we close out the month by highlighting some of the week's best singles that may've flown above your radar after a week dominated by Gucci Mane & Metro Boomin, Lil Yachty and Bryson Tiller. Needless to say, there were a lot notable new releases worth checking out throughout the week aside from the usual suspects mentioned above. This week we saw yet another emerging act out of South London by the name of Oscar Jerome, following impressive drops from SoundCloud kings Bones, $UICIDEBOY$ and Uno The Activist. Montreal's beloved sound-purveyor Kaytranada also dropped a new collaborative EP with Pharrell's newest signee, Buddy, while Brooklyn may be on the cusp of new star with the emergence of Ahsh Eff. Of course, we can't forget the two biggest records of the week courtesy of Kendrick Lamar & Future with the "Mask Off" remix, and 21 Savage, Drake, and Young Thug's banger "Issa." Check them all out below.
Bones – "YouMadeYourBed,NowLieInIt" & "TimTheToolmanTaylor"
Underground champion Bones has dropped off another pair of new records this week and with the continuing popularity and current rise of "SoundCloud rap" and the scene it inhabits, Bones is here to remind us all that he was one of the silent kings of this wave.
Oscar Jerome – "2 Sides"
This young South London musician was a finalist in Glastonbury's emerging talent competition of 2016 and has since used that buzz to launch his career. He's already dropped a slew of new singles, the latest of which is "2 Sides." His has a lot jazz influence, but brings the sound to 2017 with an added electronic flair. Very similar vein to artists such as Jamie Woon. Listen to the song below.
Future's "Mask Off" Remix Featuring Kendrick Lamar
"Mask Off" is already one of the biggest songs of 2017 and it's only going to get bigger with Kendrick on the remix. "Platinum, platinum, platinum, gotta look at yourself and ask what happened? / How y'all let a conscious n*gga go commercial while only making conscious albums?" Check it out below.
$UICIDEBOY$ – "NEW CHAINS, SAME SHACKLES"
Like many of the prior $UICIDEBOY$ records, "NEW CHAINS, SAME SHACKLES" is a dark, spaced-out cut reminiscent of Three 6 Mafia's early era and horrorcore's best projects. "NEW CHAINS, SAME SHACKLES" is being released to support the forthcoming project from $UICIDEBOY$, KILL YOUR$ELF.
The Pollyseeds – "Intentions"
Grammy-nominated producer Terrace Martin is debuting a new jazz collective made up of some of the most prolific artists of our era like Robert Glaspar, Kamasi Washington, Rose Gold and many more. Calling themselves The Pollyseeds, the group is made up of Robert Glaspar, Kamasi Washington, Rose Gold and many more. Listen to their first single below and stay tuned for the The Sounds Of Crenshaw Vol. 1 set to release on July 14.
21 Savage, Drake & Young Thug Share New Song, "Issa"
If you were posted up under a rock these past few days, we'll just leave this here. Undoubtedly the biggest release of the week (at least numbers-wise). Check out the CDQ version below of 21 Savage, Drake and Young Thug's new song, "Issa."
Ahsh Eff – "Staain""
Ahsh Eff is a new up-and-comer in Brooklyn that's beginning to draw comparisons to a hybrid mix of Lil Kim meets Cam'Ron meets Kurt Kobain. Her latest single, "Staain," is the campaign anthem of every person who is secure and confident in being their true selves everyday; peep below.
Kaytranada & Buddy – Ocean & Montana EP
The followup to Kaytra's acclaimed 2016 debut album 99.9% arrived as a new collaborative with EP this week with Pharrell's newest signee, Buddy. Check it out below.
24Hrs – Night Shift EP
24hrs continues to further establish himself as one the game's best songwriters, and while fans await the likes of his upcoming $24.00 project with Ty Dolla $ign, young 24 has dropped off a little something to tide fans over: a brand new EP dubbed Night Shift. Stream below.
Uno The Activist, Thouxanbanfauni & Lucki – "Beam Me Up"
Merging sedated, codeine-coated flows over dreamy, hazy melodies from Lil Skys, the trio of young rappers deliver the ideal new-school turn-up track for the Xanax and Percocet generation. For those keeping up with the wave of new releases and rappers flooding SoundCloud and YouTube, the three artists featured on "Beam Me Up" are definitely at the top of their class. Stream below.