Do-Rags, Gas Masks, Thongs and More: How IKEA Is Challenging Fashion's DIY Culture
Vote for your favorite now.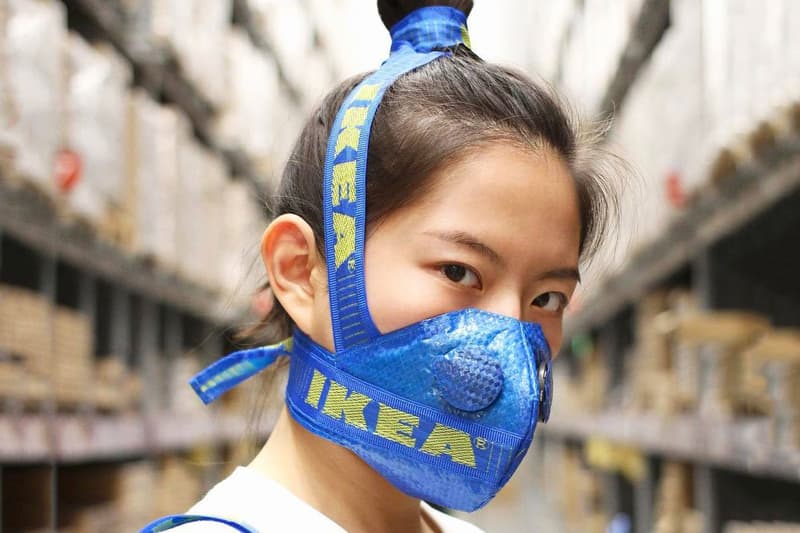 Fashion's IKEA obsession is at its tipping point but DIY enthusiasts are still looking into more creative ways to produce one-of-a-kind items inspired by the Swedish home goods brand. With the recent uproar of Balenciaga putting out its own $2,145 USD version of IKEA's $0.99 USD FRAKTA bag, it seemed like the majority of the DIY community wanted to prove something in response — if Balenciaga can charge thousands on an uninspired copy of a bag that costs less than a dollar then crafty creatives can somehow push themselves to try to make other products that are better and more economically attainable.
Fashion loves irony and practically almost anything kitsch as proven by brands like Vetements, Moschino, and all the parody labels that have come and gone. With the DIY community wanting to make a statement on the state of fashion, IKEA's FRAKTA bag somehow became not only the inspiration of choice but also the main material for constructing these eye-catching custom products. The 100% polypropylene-made bag symbolizes the power and ubiquity of this large corporation, but it also represents that "do it yourself/assembly required" attitude IKEA is known for which a lot of today's creative people can relate to.
Crafty individuals making products inspired by IKEA is nothing new. The current phenomena just didn't happen overnight because of an expensive bag. If anything, Balenciaga and IKEA just pushed more people to create — anyone with the right tools and know-how accepted a challenge they've brought on upon themselves and the results have been evident on social media. The trend has spread like wildfire and surely we'll see more than just sneakers, clothing and underwear being created in the near future. In fact, you can already infuse the FRAKTA BAG into your workout routine.
Check out some of the best and craziest items inspired by IKEA's FRAKTA bag below.
IKEA-Branded adidas Originals YEEZY BOOST 350 V2s
Custom kicks designer Mache saw IG user @brucehatoo's rendering of a YEEZY BOOST in IKEA colorways and branding. In response, Mache took the challenge and "destroyed" his own pair of V2 CREAM WHITES and made a real-life pair. He then went on to an actual IKEA store with a pair in hand to create a lookbook of sorts.
Nike Air More Uptempo "IKEA" Colorway
While we're on the topic of sneakers, IG account @brucehatoo also made a graphic rendering of the currently popular Nike Air More Uptempo model. The shoes, which Supreme had recently released their own version, is rendered here in IKEA's colorway and letters.
Balenciaga Speed Trainer "IKEA" Colorway
Leave it to a design firm to make a less-expensive version of Balenciaga's highly-coveted speed trainers. Rather than the costly materials the Paris fashion house uses, Studio Hagel took IKEA's plastic bag and constructed their own pair. For all we know, these might actually be more comfortable than Balenciaga's kicks.
IKEA FRAKTA Gas Mask
Zhijun Wang, renowned for creating numerous gas masks out of sneakers including a pair of YEEZY BOOSTS, went the IKEA route by making one from a FRAKTA bag. The result caused some noise when he initially posted it on his Instagram and surely some with an appreciation of off-kilter items would want this in their collection.
Thankinsomnia's Angel Frakta Hoodie
The fashion industry has seen the rise in popularity of the Champion x Vetements hoodie — the one with the extended sleeve straps. However, Jakarta brand Thankinsomnia gets a bit more imaginative by infusing IKEA FRAKTA bag straps onto the sleeves. It's definitely a parody piece, but also something brilliant in terms of going full DIY.
Pleasures x Chinatown Market Caps
Pleasures x Chinatown Market's FRAKTA-constructed caps are probably one of the easier items to make in this list. The creation however, makes an impactful statement and could be the standout piece you'll need in your street-centric wardrobe.
Chinatown Market Do-Rag
After the cap, Chinatown Market also came out with its latest IKEA-inspired creation in the form of this do-rag. While it looks like a simple solution, this piece might be one of the harder ones to construct when you need to measure out the lengths and make sure the seams stay together.
FRAKTA Backpack
This backpack is definitely meta — it's a bag made out of a bag. While IKEA fans already like the simple functionality of the FRAKTA, this backpack version takes things to the next level with straps for convenience. If you're a frequent traveler, this piece would be something you can get used to having around.
TRIWA Watch Strap
Even more established brands are getting creative with IKEA. While not a real thing, watch brand TRIWA thought it would be a good idea to get some social media buzz by creating a rendering of a TRIWA x IKEA timepiece strap. The accessory is attached to a very clean face, making the high-end/low-brow contrast work somehow.
Ballistics Waist Bag
Waist bags have been trending for a while now and Ballistics created its own version of the FRAKTA. Compared to the Supreme-branded accessory that came out a few months back retailing for $100+ USD, this version can be made from the $0.99 USD IKEA accessory, scissors, glue, stitchings and black fabric trims to put it all together.
Notable Mention
RSVP Gallery Tee
Although not exactly utilizing IKEA's FRAKTA bag, Chicago-based retailer RSVP Gallery took inspiration from the Swedish brand and reappropriated its logo. The result is a simple yet inconspicuous T-shirt that adds more fun to the current trend.
Poll
Which Creation Is Your Favorite?
IKEA FRAKTA Gas Mask
Thankinsomnia's Angel Frakta Hoodie
FRAKTA Backpack
IKEA-Branded adidas Originals YEEZY BOOST 350 V2s
None of the Above
Nike Air More Uptempo "IKEA" Colorway
Pleasures x Chinatown Market Cap
Balenciaga Speed Trainer "IKEA" Colorway
Ballistics Waist Bag
Chinatown Market Do-Rag
TRIWA Watch Strap