What Is Kendrick Lamar Releasing on April 7?
It's tomorrow.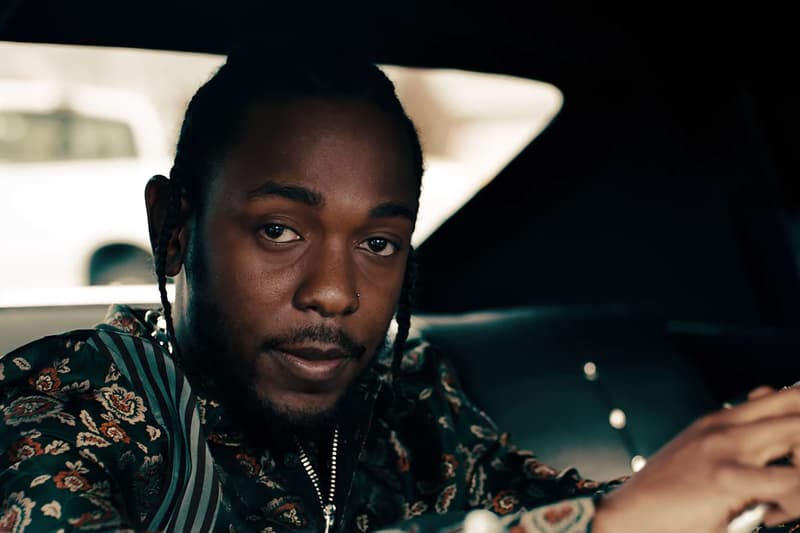 Two Thursdays ago, Kendrick Lamar took to Instagram to drop a cryptic "IV" photo. Many were led to believe that the Compton rapper was hinting at the release of his impending fourth studio album. Just as the clock hit 12 a.m. EST, K-Dot unleashed his first solo record in 2017, "The Heart Part 4," instead of an album Just like with the three previous parts of "The Heart" tetralogy, the Alchemist, DJ Dahi, Syk and Axlfolie-produced and Khalid and James Brown-sampling record finds Kendrick delivering heated rhymes. He brags about the $30 million USD he has made over the course of his career and how he has attained the titles of the "greatest rapper alive" and a "hip-hop rhyme savior." Lamar visited many topics and issues in the song, even firing a few jabs at Donald Trump and, allegedly, Big Sean and Drake. Perhaps the most notable part was the finishing line, "Y'all got 'till April the 7th to get y'all sh*t together."
Two days later, the tracklist to the forthcoming album appeared to have leaked. An anonymously uploaded file on Pastebin titled "KL-2017″ revealed 14 tracks with guest features from Kanye West, Andre 3000, Sampha, Thundercat, D'Angelo, Q-Tip, Anderson .Paak, Bilal, SZA, BJ The Chicago Kid, Robert Glasper and features from the likes of Flying Lotus, Terrace Martin, Sounwave, The Alchemist and more. While the lineup is undeniably impressive, there has been no real confirmation whether or not the tracklist and features are legitimate.
Exactly a week after he released "The Heart Part 4," Kendrick dropped a new song, "HUMBLE.," along with its music video. The visual, directed by Dave Meyers and the Little Homies (Meyers is also responsible for helming many classic rap videos like Lil Wayne's "The Block is Hot," Juvenile's "Back That Azz Up," DMX's "Party Up," Missy Elliott's "Get Ur Freak On" and many more) finds King Kendrick donning a Pope-type garment and leading a group of disciples. Biblical imagery like fire on heads and eating at the table of the Last Supper compliment the Compton rapper's self-proclaimed "hip-hop rhyme savior" status. The Mike WiLL Made-It-produced record is not listed on the alleged tracklist, which implies that either the song will not be on his forthcoming project or simply that the tracklist leak is fake.
At the moment, fans are split between two hypotheses for what's to come on April 7. The most popular guess is that Kendrick will unleash a new solo studio album. Lamar first spoke of its existence during a The New York Times T Magazine interview that took place in late February. Another is that Lamar will put out the impending project's first single — this would mean that "HUMBLE." does not count and would not appear on his new album. It's confirmed that "The Heart Part 4" is not on the LP based on a conversation Peter Rosenberg had with Anthony "Top Dawg" Tiffith. A less-likely possibility could be that April 7 is when Kendrick Lamar and J. Cole drop their collaborative album. Ab-Soul confirmed the existence of such project in an interview with The Breakfast Club. In Cole's 2016 tracks "False Prophets" and "Everybody Dies," it is speculated that the North Carolina rapper is dissing Drake, Kanye West, Lil Yachty and Lil Uzi Vert. If K-Dot's subliminals in "The Heart Part 4" were indeed aimed at Drake and Big Sean, the Kendrick-Cole tag team would certainly make sense, on some "us against the world"-type concept.
But then again, nothing is certain; the TDE camp have been keeping their lips pursed. On April 5, the folks at DJ Booth went on the International Standard Recording Code (ISRC) website to do some investigative work. The only Kendrick Lamar song from 2017 featured on the database is "HUMBLE." ("The Heart Part 4" doesn't even appear.) The reasoning behind this approach is that when a label registers an album's tracks in the ISRC database before the actual release of the LP, it's possible that some of its songs would appear on the search results 48 hours before its due date. It is now less than 24 hours before April 7 and there is still no sign of new Kendrick music. Nevertheless, DJ Booth notes that none of Joey Badass' All-Amerikkan Badass songs came up in an ISRC search results (the album also drops on the 7th), which could mean that their database has either not been updated or that both Lamar and Joey's labels have not registered the tracks from their projects onto the ISRC website.
From what's been gathered, there are several facts confirmed. The first is that Kendrick Lamar will for sure be delivering a solo album. We just don't know if it will happen tomorrow. Secondly, "The Heart Part 4" will not be the project. Third, the Compton emcee is set to headline Coachella Valley Music and Arts Festival on Friday, April 14. It would not be far-off to assume that a new album would drop sometime before his performance. Fourthly, a Kendrick-Cole collab tape exists, but details have been vague and it doesn't seem realistic that the project would be released tomorrow. Ultimately, fans will have to wait until April 7 hits to really know what's around the corner.