Erik Parker Discusses His Psychedelic Art & Trick-Or-Treating With KAWS
As he touches down for his first solo exhibition in Hong Kong.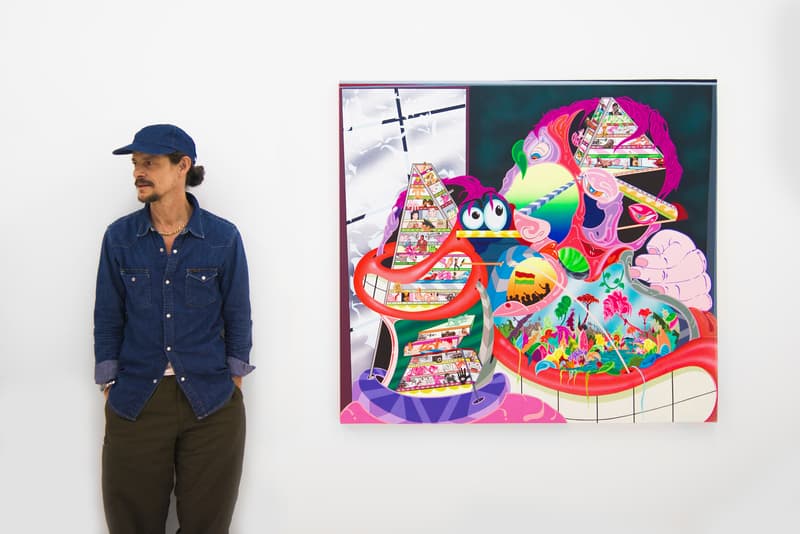 At first glance, Erik Parker's stimulating and highly detailed works of art showcase a stunning homage to the novelties of American pop culture. With clear psychedelic inspirations, Parker's upbringing on the sunny fields of south Texas has played an integral part on his bright and vivid paintings. But with a closer look at the detailed pieces, something darker can be found lurking within. Though the juxtaposition of "dark" and "light" are quite subtle at first, the two ends of the spectrum can be traced back to life itself. "Just like life, you can't be good all the time. No matter what I do, there's always some darkness to it," Parker states. Through these themes, Parker's satirical take on the hardships of today's political, societal and economical state are covered up with color, making it easier to digest and tolerable for our current generation.
During the height of Art Basel Hong Kong 2017, we caught up with Parker at emerging contemporary art gallery AISHONANZUKA. As Parker embarks on his first solo exhibition in the city titled "Run With The Hunted," we got a moment to talk creativity and his connection with KAWS. As the conversation commenced, a look at Parker's causal outfit and relaxed attitude is the exact opposite of what one can expect when comparing him to his loud, intricate canvases. And with his direct, candid way of speaking, his complicated trails of messages found within his works can sometimes be lost.
1 of 3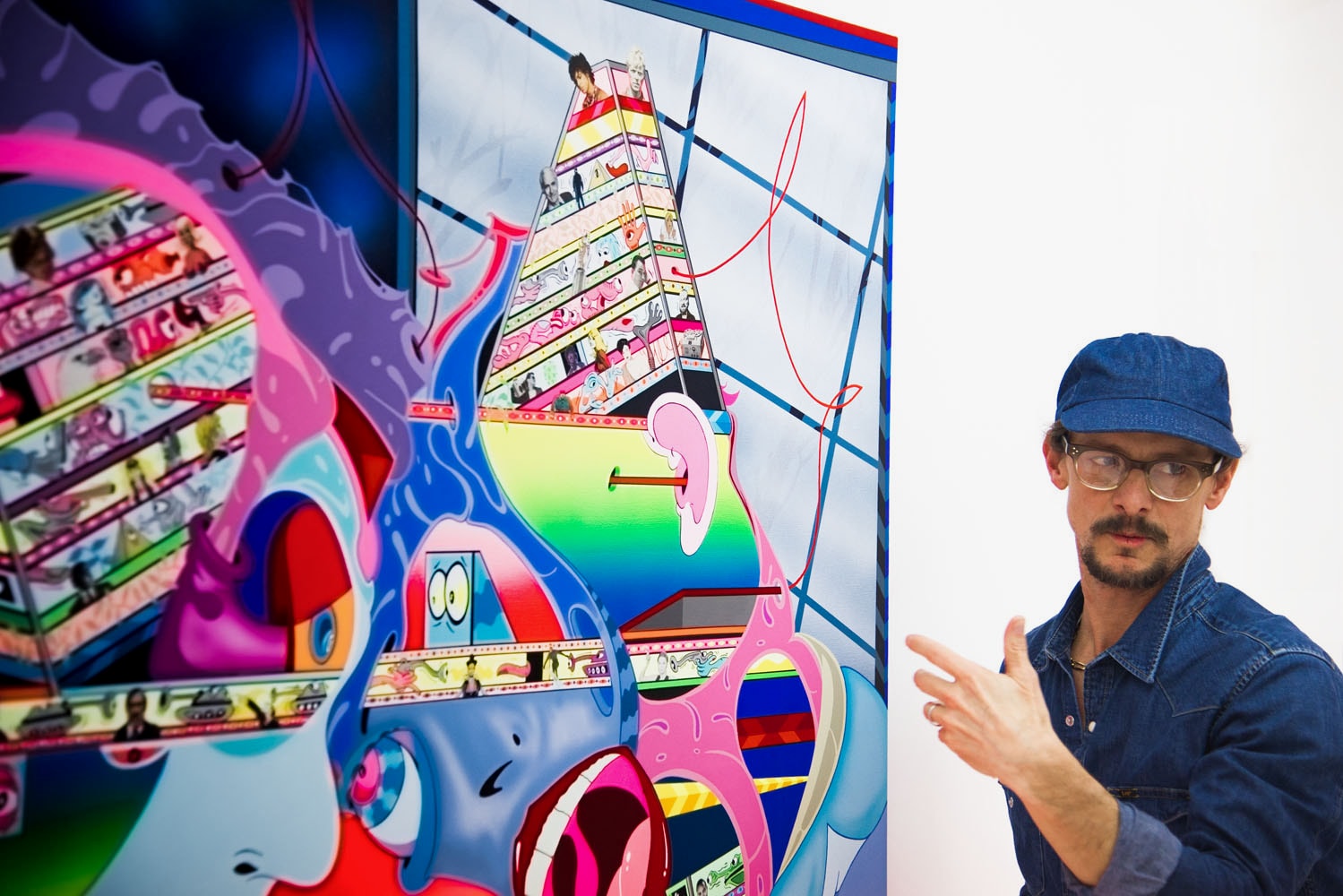 2 of 3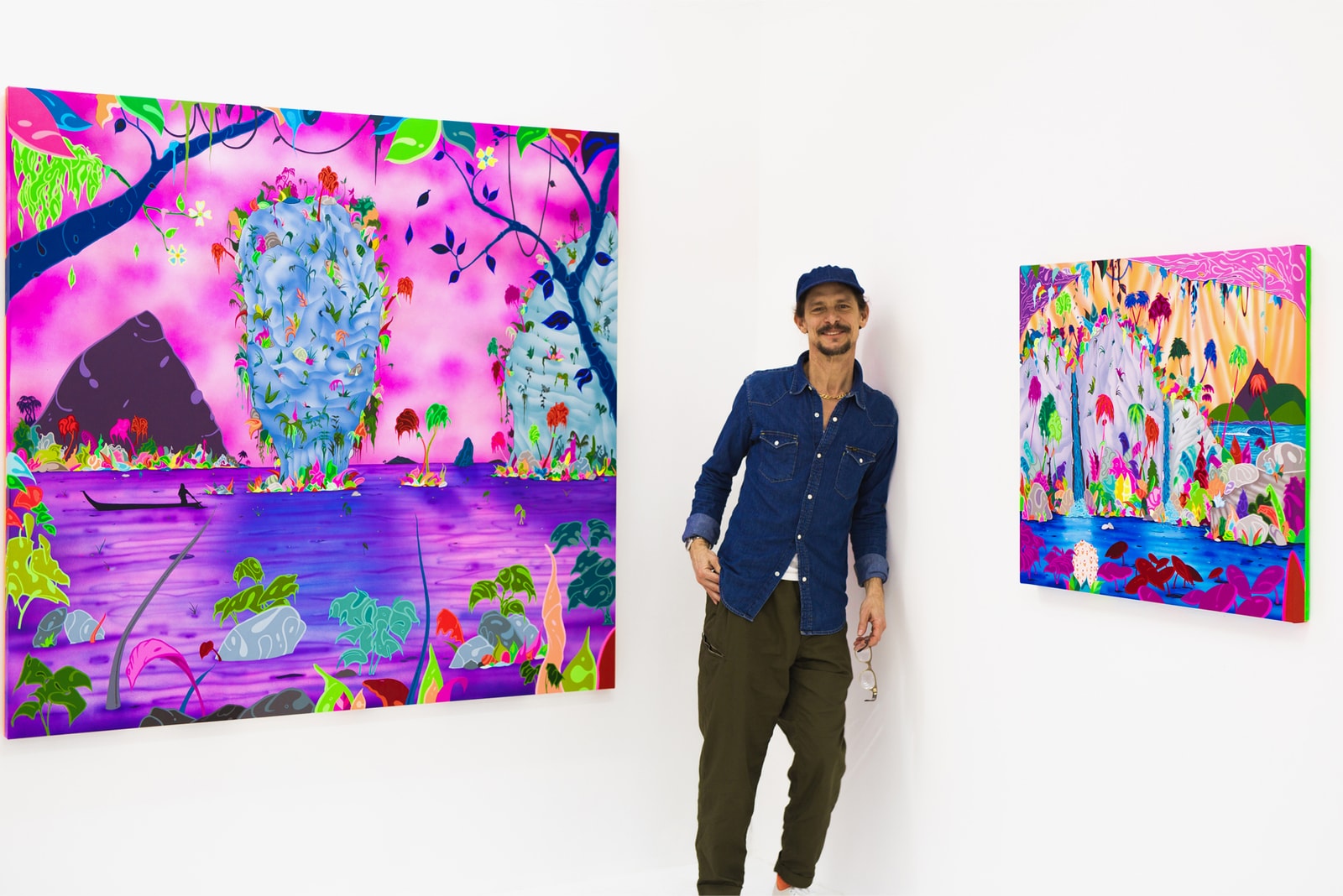 3 of 3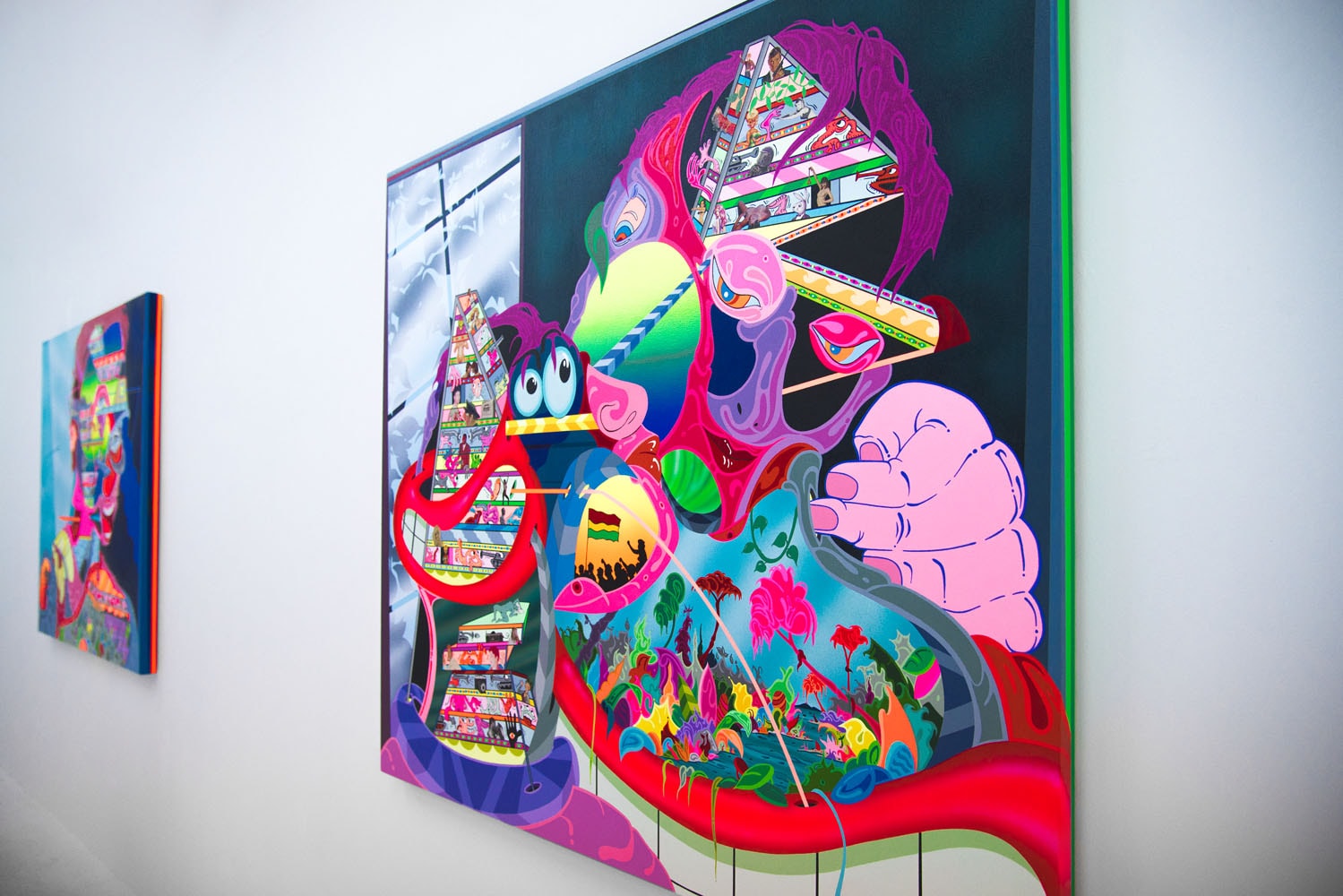 As an artist who has helped to take the helm of today's politically charged works, Parker never thought he could make a living at it, "I grew up really poor and I dropped out of school when I was 16. It wasn't until later when I went back that I realized I wanted to become an artist." With his new found ambition, Parker has diligently worked non-stop through countless days and nights to get to where he is today. "I'm always continually going, so I don't really know life without it," he declares. With his inner drive to keep pushing forward, Parker has not only found success in the art galleries but in the world of fashion, having also been a long time collaborator with the culture pushing KAWS.
As we walk around the gallery, Parker begins to share an anecdote on how the pair met, "I was trick-or-treating with my daughter in this New York City loft. When we rang the doorbell, Brian (Donnelly, professionally known as KAWS) answered the door. I was like 'Dude, I know your work.'" Pausing for a moment to laugh, he continues, "He didn't even pass out candy, he was just in there painting Sponge Bob paintings." With both artists having been notable players on the pop art scene, they instantly recognised each other. What followed from this new found friendship was a handful of projects and exhibitions, including the decorated "Pretty On The Inside" held at the critically-acclaimed Paul Kasmin Gallery back in 2011 — the show also happened to feature Parker's idol and mentor, American painter Peter Saul — and collaborations with KAWS's now defunct fashion label OriginalFake.
"A lot of my pieces can be idiosyncratic and private, but when I add icons in there, it's a way to open up the image and invite more people to participate."
The self-proclaimed COMME des GARÇONS enthusiast has long been working with such brands as Scandinavian imprints Norse Projects. But how exactly did Parker manage to transcend his work over to the more revered and culturally relevant brainchild of KAWS's OriginalFake? Reminiscing about a lunch he had with Donnelly, Parker states, "He just straight up said 'Hey, if you ever want to make something for OriginalFake, just let me know.' And I was like 'Yeah, dude.'" Though Parker quickly turned in the ink work, KAWS still needed to add his own touch to it. Laughing he states, "He was like 'You mind if I touch it up a bit?'" Suddenly becoming serious again, his respect for KAWS is quite clear, "I'm always interested in how he thinks and his eye is amazing. What I thought would look good on a tee, his little touch made it come alive a lot more."
1 of 4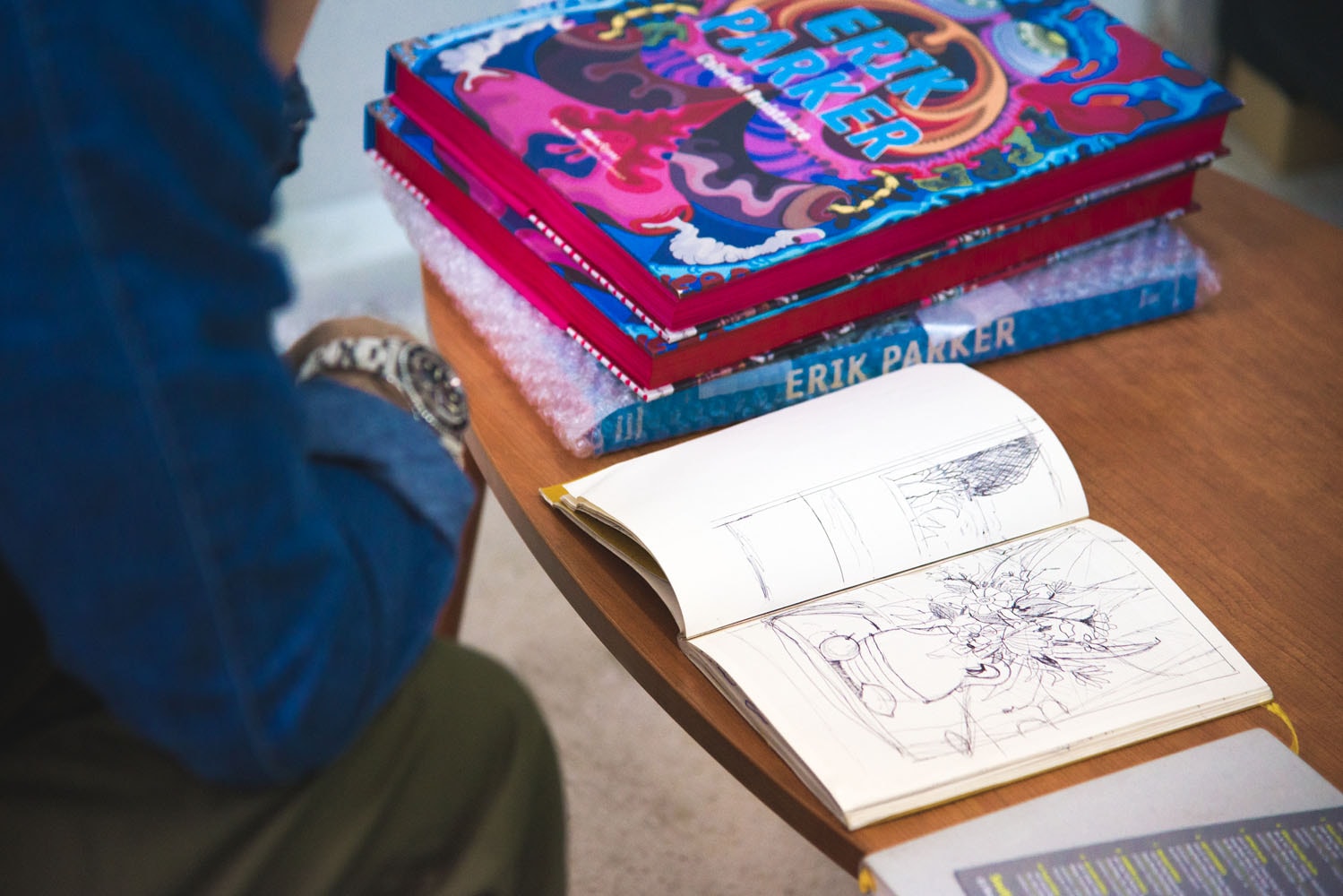 2 of 4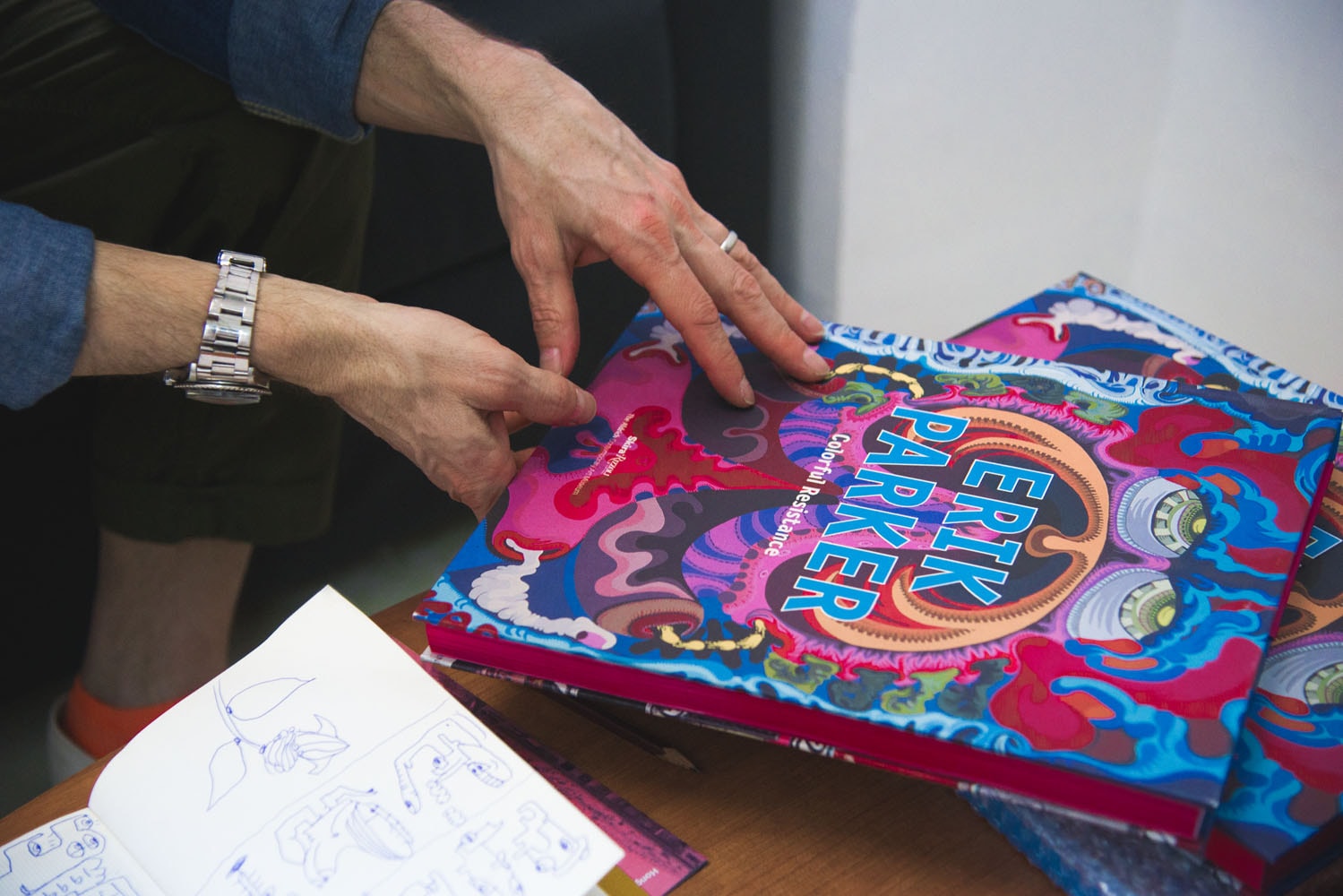 3 of 4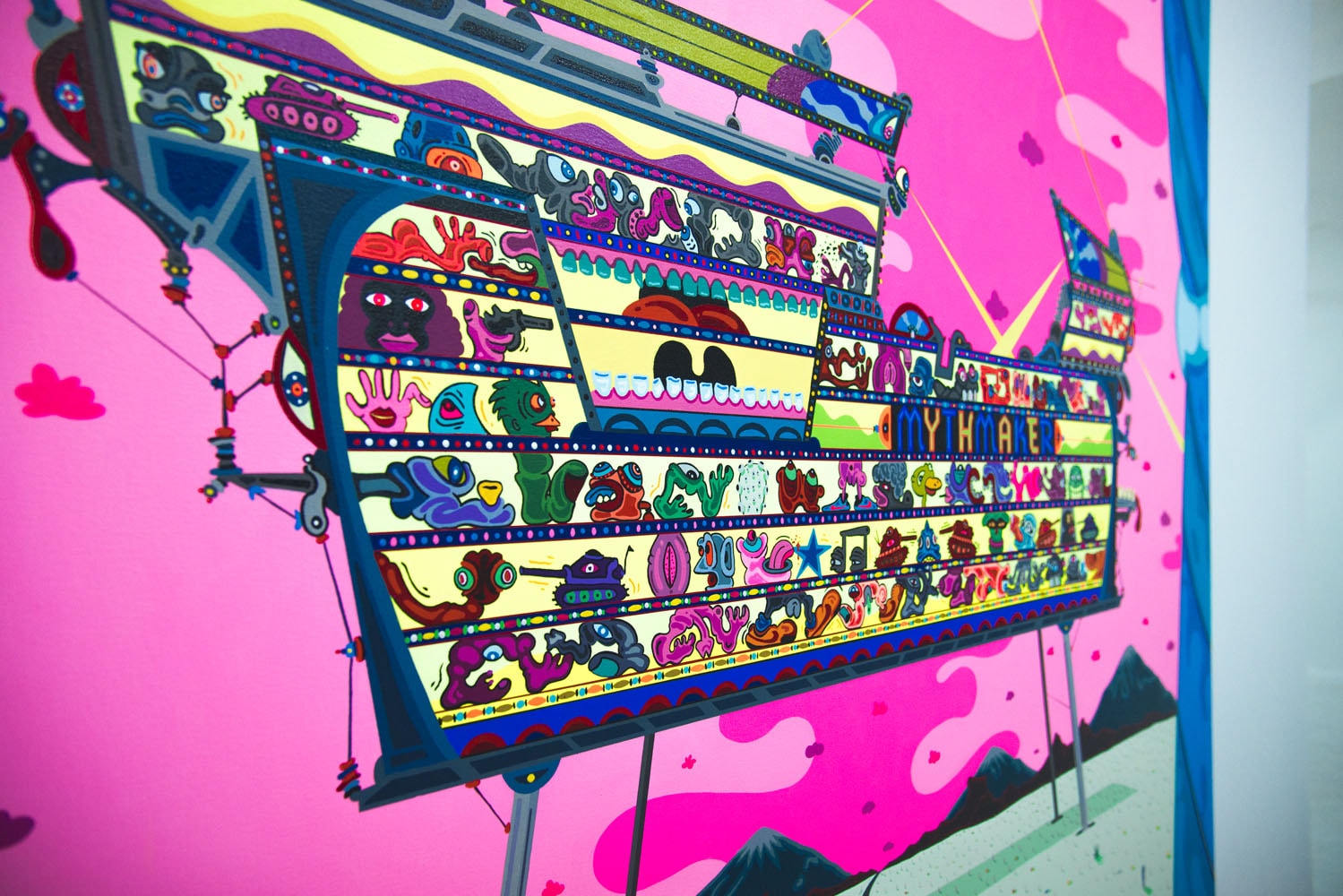 4 of 4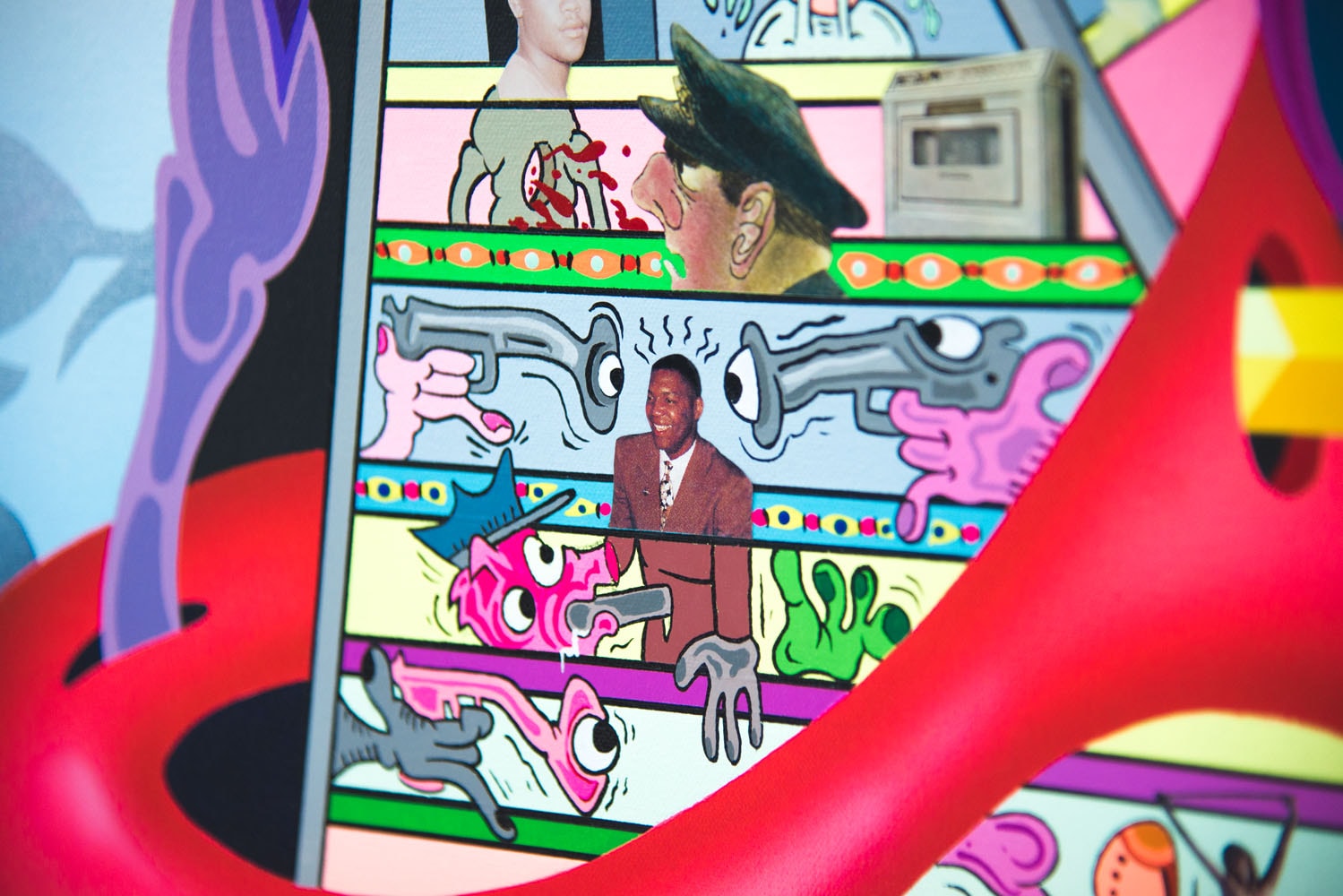 Through the years, Parker's bond with Donnelly has gone far beyond the world of design, having been cemented with physical perks. As a token of friendship, Donnelly recently gifted Parker with a pair of the highly sought-after KAWS x Air Jordan 4, which Parker took to Instagram to show off. "I live and work right by him and we both have small children that play with each other. I was over there one day and he just handed me a pair," Parker recalls. Letting out a slight chuckle, he proudly speaks about his 25-year-old daughter, who is very well-versed in the HYPEBEAST culture, "She was like 'Oh Brian gave you a pair of shoes. All my Hypebeast friends are hitting me up about it.'" When asked if he would ever sell the elusive pair, he adamantly sates, "Absolutely not!" After a few seconds of thought he continues, "I might wear them, but they are not the easiest shoes to want to wear because they are so special."
"Brian (KAWS) didn't even pass out candy, he was just in there painting Sponge Bob paintings."
Though both Parker and Donnelly are on a similar wavelength with their cartoonish visions, Donnelly's more subliminal dark undertones contrasts with Parker's abundance of obvious references. As Parker points out his favorite piece — a large portrait of two characters facing each other in conflict — the post-Trumpian painting points a clear finger at the country's current government and immigration issues. But of course a copious amount of obscure pop culture references are also strewn throughout. Hoping his audience will pick up on them all, Parker explains, "A lot of my pieces can be idiosyncratic and private, but when I add icons in there, it's a way to open up the image and invite more people to participate; Then you can hit them with more weird stuff." Impressed by those who do pick up on the hidden messages, Parker quickly states, "But I can't make up everything. Appropriation is fine."
With his seamlessly endless arrays of inspirations, Parker admits they also derive from taking a look at other artists, "I like to look at other people's art a lot. You definitely look at the cool moves they are doing and you end up finding something new for yourself." For someone who can't believe where his life as an artist has taken him, Parker lays done some advice for the similarly ambitious, "Just work all the f**king time."
Photographer

HEISON HO/HYPEBEAST
Join Our Discussions on Discord
The HYPEBEAST Discord Server is a community where conversations on cultural topics can be taken further.