Doritos' Latest Promo Bag Plays the 'Guardians of the Galaxy Vol. 2' Soundtrack
Plug in to your chips and recharge for repeat listening.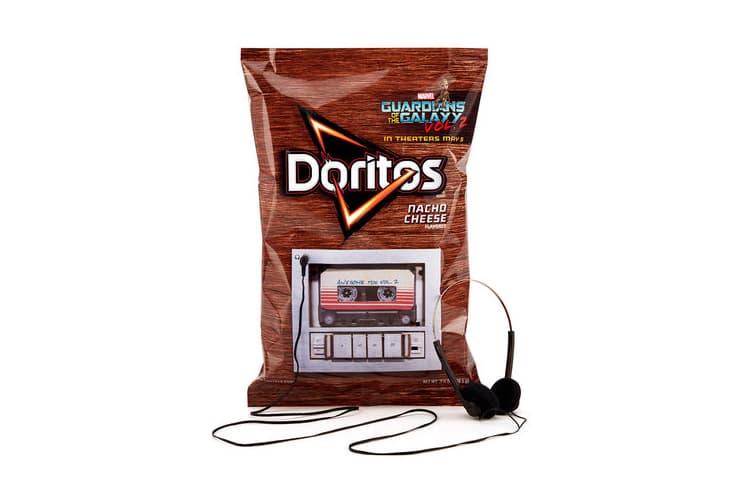 Ahead of its anticipated May 5 premiere, Marvel Studios' Guardians of the Galaxy Vol. 2 is teaming up with Doritos for a special promotion: a limited edition chips bag featuring a built-in cassette deck that will play the movie's complete soundtrack. Fans will be able to plug into the retro-looking cassette deck's headphone jack while enjoying their snacks and recharge it for repeat listening. The 14-track album features a wide range of '60s and '70s pop, R&B, country and rock tunes, and even includes an original song recorded by David Hasselhoff with the band The Sneepers (a Marvel reference). The custom music-playing Doritos bags will be available for purchase on April 28 at Amazon here. Take a look at the full tracklist below and let us know if you'll be picking up a bag.
"Mr. Blue Sky" – Electric Light Orchestra
"Fox on the Run" – Sweet
"Lake Shore Drive" – Aliotta Haynes Jeremiah
"The Chain" – Fleetwood Mac
"Bring It on Home to Me" – Sam Cooke
"My Sweet Lord" – George Harrison
"Brandy (You're a Fine Girl)" – Looking Glass
"Come a Little Bit Closer" – Jay & the Americans
"Wham Bam Shang-A-Lang" – Silver
"Surrender" – Cheap Trick
"Father and Son" – Yusuf / Cat Stevens
"Flash Light" – Parliament
"Southern Nights" – Glen Campbell
"Guardians Inferno" – The Sneepers, David Hasselhoff