A Roundup of Athletes and Their Bizarre Overseas Endorsements
From Ronaldo's weird facial contraption to Man U pawning tomato juice.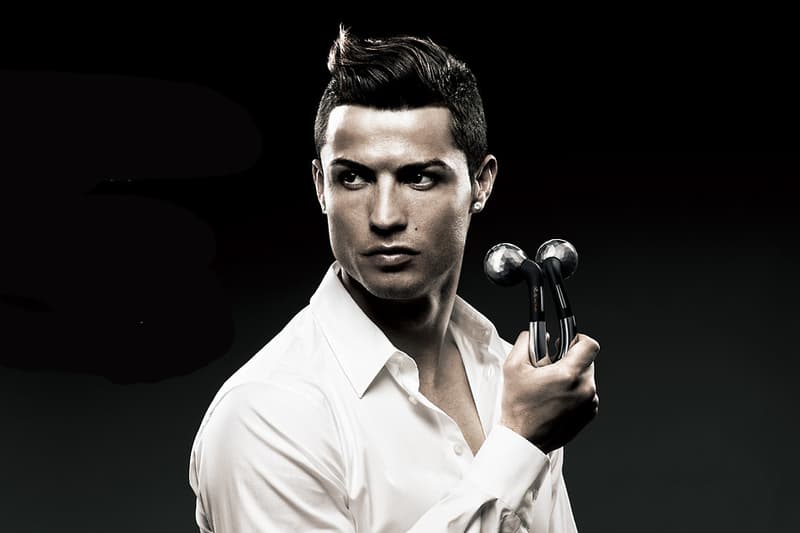 Athlete endorsement deals have long been the norm when it comes to the sporting world. With both Nike and adidas being two of the biggest and most prominent brands on the scene, it comes as no surprise that Michael Jordan's deal with the Swoosh was one of the largest deals worth over $500,000 USD. Happening only just 30 years ago, the G.O.A.T. still has his deal with Nike plus his very own Air Jordan trainer series which still bags Jordan around $60 million USD a year.
With these big deals coming and going, it's not so unfathomable to see why brands employ athletes to increase brand awareness, sales and ultimately profits. Over the years as athletes became more synonymous with celebrity status, endorsement deals have gotten more extravagant, featuring more creative, smart and visually stimulating advertisements. As we continue to be encompassed by these athlete endorsement deals, it's not hard to look back at the cool Gatorade ads and inspiring Nike commercials. But not all endorsement deals can stay true to this niche. As consumers become more savvy, it requires athletes to be authentic and believable in order for the endorsement to connect with consumers. However, it has become pretty clear that athletes are willing to endorse just about anything for an extra check and companies are just looking for a way to connect with free-spending sports fans.
With that being said, endorsements can go wrong for a variety of reasons and inadvertently become laughable. From Cristiano Ronaldo to Manny Pacquiao, here are 10 of the most bizarre overseas endorsement deals that feature professional athletes.
Cristiano Ronaldo — ReFa ACTIVE TVC
The Portuguese footballing superstar Cristiano Ronaldo is no stranger when it comes to the advertising world, having been seen in everything from Nike ads to a more off-brand look with Kentucky Fried Chicken. However, the Real Madrid forward really raised eyebrows when his face showed up in a Japanese advertisement for an all-over body massager contraption, that well… looks like another type of contraption. The ReFa ACTIVE TVC was created to help trim down and tone up your body, perfect for kneading muscles and improving circulation.
Cristiano Ronaldo — Facial Fitness PAO
And because he's considered as the king of the pitch, we had to spotlight him twice. This time Ronnie is featured in a Japanese ad for the Facial Fitness PAO, a facial massager promising to trim down those chubby cheeks for a more chiseled, Ronaldo-esque look. But in order to gain a great smile, you must endure being humiliated.
Manchester United — Kagome Tomato Juice
In this very awkward commercial for Japanese drink manufacturers Kagome, Manchester United's 2013 superstars Robin van Persie, Shinji Kagawa, Michael Carrick and Ryan Giggs are seen downing large classes of tomato juice in delight. What makes the commercial so bizarre is having to listen to the sound they make while they gulp it down. The players then go on to deliver their best Japanese phrases. Take a listen above.
Fernando Torres — Narub Dog Training School
Fernando Torres — shot while he was at Liverpool — definitely remembers to stick by his friends. Helping out his old buddy "Nacho," Torres stars in an advertisement for Narub Dog Training School found on the outskirts of Madrid. In the video, we get to enjoy Torres engage in a few basic canine activities like helping a Doberman jump through rings of fire.
Lionel Messi — Scalp D Face Wash
Trying to keep in par with his rival Cristiano Ronaldo, Lionel Messi took himself to Japan to hawk face wash to the masses. Inappropriately named Scalp-D, check out the two ads above where Messi also shows off his Japanese skills.
Hulk Hogan — Hitachi Bigflow Air Conditioner
Considered as one of the greatest professional wrestlers of all-time, Hulk Hogan is not only known for his signature leg drop inside the ring but also for his signature style on and off it. In this 1990s commercial, Hogan trades in his iconic tight briefs and bandana in yellow for white, as it appears he's in heaven. What makes the commercial so random is Hogan signing a song about the days of the week while a baby appears on screen as a voice over of a woman plays.
Kareem Abdul-Jabbar, Mario Andretti & Pelé — Atari 2600
This old-school commercial for Atari features legends Kareem Abdul-Jabbar (basketball), Mario Andretti (driving) and Pelé (football) all wearing their respective uniforms. Filmed in 1977, the commercial also features the guys doing their best Spanish… or if you look closely, it was just dubbed.
Manny Pacquiao — Datu Puti Vinegar and Soy Sauce
Professional boxer and politician Manny Pacquiao is such a huge star in the Philippines, his face can literally be seen everywhere, including a commercial for condiments brand Datu Puti. The ad, shot in a documentary style way, gives viewers a look into the boxer's eating regime which of course includes Datu Puti's vinegar and soy sauce. Though the majority of the ad is in Tagalog, Manny gives us a strong dose of wise words: "Boxing is not for killing." Watch the action-packed gem above.
Emmanuel Adebayor — Power Horse
Togolese footballer Emmanuel Adebayor — of former Arsenal and Manchester City fame — shows off his dribbling skills and awkward kiss face for Power Horse energy drink. Shot in the early 2000s, it's no wonder this commercial had long been buried. That is until it was dug up and shown to fans during Tottenham's 1-1 draw vs. Panathinaikos during the Europa League back in 2012. Check out Adebayor's inexplicable pouting face as he utters the words, "Take it on."
Wayne Rooney, Ryan Giggs and Patrick Evra — Casillero del Diablo
Not only is the storyline to this commercial a bit odd, it features very under par acting from current Manchester United captain Wayne Rooney and former players Ryan Giggs and Patrice Evra. As the players alluded to a new member joining the squad, turns out it's just a bottle of Casillero del Diablo wine.