Becca Longo Becomes First Woman to Earn a Football Scholarship at Division II Level or Higher
Will we ever see a woman sign an NFL contract?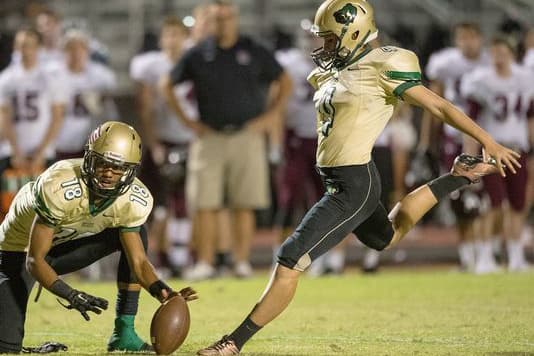 According to ESPN, there have been a dozen or so women who have played college football, however none of those athletes were on scholarship. Becca Longo will changed that. On Wednesday, Longo held an official ceremony where she signed a national letter of intent to play Division II football at Adams State in Colorado.
During her senior year at Basha High School in Arizona, the 18-year-old converted 35 of 38 extra-point attempts, and was good on her lone field goal attempt at 30 yards. Longo told ESPN that she feels comfortable on field goals from 45 yards and in, but her team usually went for it on fourth down because they had Arizona-signee Ryan Kelley at quarterback — a top-20 QB.
"It was like recruiting any other athlete," Adams State coach, Timm Rosenbach, told the Arizona Republic. "In Division II, we can see their workouts. To me, there is no doubt she can be competitive. She has a strong leg, and she can be very accurate."
Playing time is not guaranteed however, as the Grizzlies signed another kicker in February and have a returning sophomore already on the roster. "I'm ready to compete," Longo said. "I don't really have any expectations beyond that."
Longo will also play hoops at Adams State, but it's worth noting that she committed to the football program weeks before signing with the basketball team.
As we celebrate the 70th anniversary of Jackie Robinson breaking baseball's color barrier this Saturday, April 15, please keep in mind and show your support for the number of injustices still being fought in the world of sports, from race, gender and religion inequalities, to exploitation and child abuse.