Here Are Kobe Bryant's Most Iconic NBA Moments Shot by Andrew Bernstein
To honor the Black Mamba.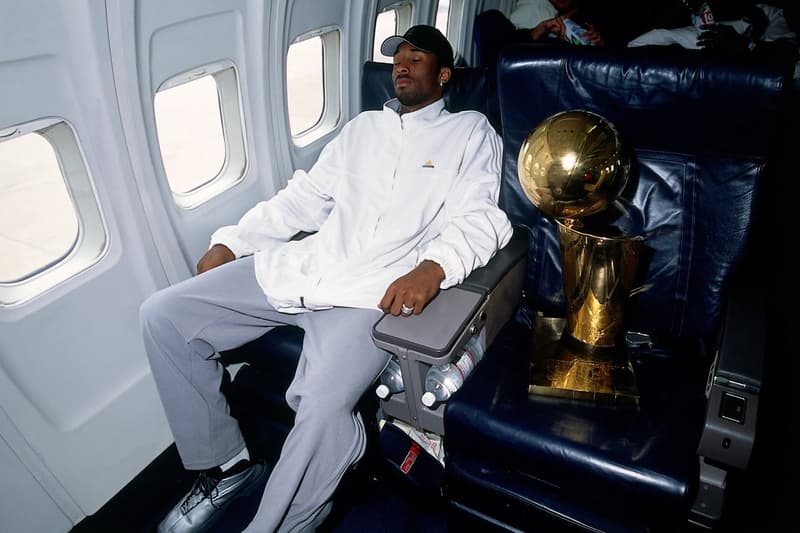 As the Lakers prepare to take on the Warriors tonight, a special ceremony will take place before tip off to celebrate one of basketball's biggest stars: Kobe Bryant. To honor the Black Mamba, the Lakers will be retiring two of his iconic jersey numbers, #8 and #24, and will raise them into the rafters. A special animated short film titled Dear Basketball, narrated by Bryant, will also run as part of the program.
Keeping up with the celebrations, famed NBA/Lakers photographer, Andrew Bernstein, has picked out a few of his favorite snaps of Bryant taken throughout the various stages of his career. Check some of Bryant's most iconic NBA moments below, which has helped to solidify him as a G.O.A.T.
"Kobe's first professional photo as a Laker shot on media day in 1996. Just turned 18, who could foresee a remarkable 20 year career was to come…" – @ADBPhotoInc #Ko8e24 pic.twitter.com/F0aJbn9oBc

— NBA History (@NBAHistory) December 18, 2017
"Teammate Nick Van Exel watches in awe as a young Kobe hangs in the air before slamming down a reverse dunk in a 1998 game at the Great Western Forum." – @ADBPhotoInc #Ko8e24 pic.twitter.com/H38hO0xzux

— NBA History (@NBAHistory) December 18, 2017
"I've always felt that the 1998 All Star Game at MSG catapulted Kobe into full-fledged stardom. This dunk may have been the moment that happened…of the seven other players in the photo, five became Hall of Famers: Payton, Malone, Jordan, Mutomobo & Shaq." – @ADBPhotoInc #Ko8e24 pic.twitter.com/U2s6UcGlTF

— NBA History (@NBAHistory) December 18, 2017
"Kobe flies in for a breakaway dunk during a 1999 game at Staples Center. This was a cool angle I used to do from a camera set on the floor in the corner. The Knicks on the bench don't seem too impressed…." – @ADBPhotoInc #Ko8e24 pic.twitter.com/vnxiqXPOCV

— NBA History (@NBAHistory) December 18, 2017
"Shaq gives his buddy a piggy back ride into the arena in Indiana prior to Game 3 of the 2000 NBA Finals. Kobe injured his ankle in the previous game but rallied and recovered to help lead the Lakers to the championship." – @ADBPhotoInc #Ko8e24 pic.twitter.com/BClhESt3WN

— NBA History (@NBAHistory) December 18, 2017
"Kobe delivers a seemingly impossible behind the back pass while airborne to Shaq during the 2000 NBA Finals vs. Indiana." – @ADBPhotoInc #Ko8e24 pic.twitter.com/O8paXVE64m

— NBA History (@NBAHistory) December 18, 2017
"Kobe, Phil and Shaq pose for the customary portrait with the Larry O'Brien trophy following the Lakers victory over Indiana to win the 2000 NBA championship. All three were exhausted but joyous and probably feeling good from champagne." @ADBPhotoInc #Ko8e24 pic.twitter.com/0jgD9sZ4RE

— NBA History (@NBAHistory) December 18, 2017
"Kobe & Shaq pose for a portrait during the 2001 media day in October. I was able to shoot 3 frames in about 90 seconds and they were out…this image ended up as the cover of the Lakers championship book "Close Two A Dynasty" following that season's Finals" – @ADBPhotoInc #Ko8e24 pic.twitter.com/0z4NuCV4LS

— NBA History (@NBAHistory) December 18, 2017
"Kobe and his seatmate Larry get in a snooze on the long flight back to LA from Philadelphia after defeating the 76ers in the 2001 NBA Finals." – @ADBPhotoInc #Ko8e24 pic.twitter.com/tuCAoPEf95

— NBA History (@NBAHistory) December 18, 2017
"In the training room prior to Game 4 of 2002 NBA Finals. Was rare to see Kobe, Shaq & Phil in training room at any time, but especially during the Finals. Gary Vitti is taping Kobe, Shaq reading notes & Phil is undoubtedly working on a crossword puzzle." – @ADBPhotoInc #Ko8e24 pic.twitter.com/Wj9NwbVUtq

— NBA History (@NBAHistory) December 18, 2017
"Kobe and MJ share a moment on the court during the 2003 All Star Game in Atlanta. Kobe always seemed to take advantage of any opportunity to pick Michael's brain." – @ADBPhotoInc #Ko8e24 pic.twitter.com/xIhzNyYQYI

— NBA History (@NBAHistory) December 18, 2017
"Kobe poses with his 2008 MVP trophy during a portrait session prior to the press conference." – @ADBPhotoInc #Ko8e24 pic.twitter.com/Sb5bGhoqgc

— NBA History (@NBAHistory) December 18, 2017
"The thrill of victory is all over as Kobe celebrates the Lakers 2010 championship vs. the rival Celtics. I get just as soaked as the players, but love the energy and fun of those first moments in a victorious locker room." – @ADBPhotoInc #Ko8e24 pic.twitter.com/z2jxh7Httl

— NBA History (@NBAHistory) December 18, 2017
"The moment Kobe realized he tore his Achilles during the Lakers game vs. the Warriors on April 12, 2013 at Staples Center. The Mamba came back and walked off the same court almost exactly three years later after scoring 60 points in his final game" – @ADBPhotoInc #Ko8e24 pic.twitter.com/ArryGovZMh

— NBA History (@NBAHistory) December 18, 2017
"Kobe's final NBA All Star Weekend in Toronto in 2016 was a tribute to his greatness and legacy. I could feel the love on the court and in the building. Pretty sure he did too." – @ADBPhotoInc #Ko8e24 pic.twitter.com/bSG6VBTiyi

— NBA History (@NBAHistory) December 18, 2017
"This happened while Kobe waited to attend a community event at the training facility. The team had the 5 trophies he won exhibited and I asked if he'd do a quick photo with them. Sometimes the best photos happen when you least expect or prepare for them." – @ADBPhotoInc #Ko8e24 pic.twitter.com/inkHX8Kgaa

— NBA History (@NBAHistory) December 18, 2017
"Kobe walks off the court for the last time on April 13, 2016. It was an emotional day for everyone, including me. I spent the whole day with him. So many amazing moments to document. This was the most important photo of the day for me to capture." – @ADBPhotoInc #Ko8e24 pic.twitter.com/IwJx64haRp

— NBA History (@NBAHistory) December 18, 2017
"Living in Orange County & commuting to LA is a tough grind. Not so bad when you have a helicopter! I was fortunate that Kobe allowed me to tag along on this trip to his game vs. Miami on March 30, 2016. He was reviewing some business papers along the way." – @ADBPhotoInc #Ko8e24 pic.twitter.com/PJeOzM50E8

— NBA History (@NBAHistory) December 18, 2017