Statue of Diego Maradona Ridiculed Following Unveiling in India
"It looks like someone's gran."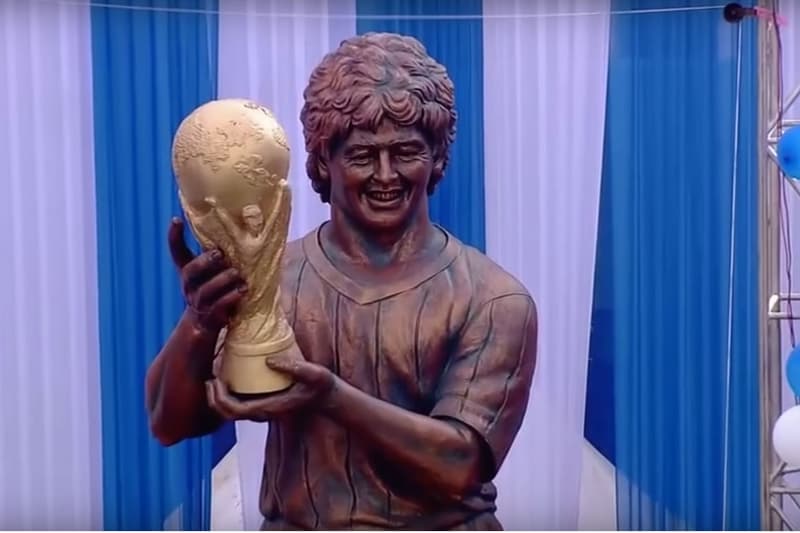 It seems as if bronze statues of iconic footballers are all the rage this year,  unfortunately, not for the right reasons though. The latest statue to catch some spotlight is that of Argentinian legend Diego Maradona that was unveiled yesterday in Kolkata. The 16ft bronze recreation of the former World Cup-winning captain has garnered a bemused response online given its dubious likeness to the then 25-year-old footballer.
Online commenters have claimed the statue has close similarities to Roy Hodgson, Larry Bird or simply "someone's gran" — probably not a look the sculptor was aiming to achieve. The viral reaction has been similar to the response that Cristiano Ronaldo's "bizarre" bust received earlier this year. Yet, regardless of public opinion surrounding the bronze manifestation of Maradona, at least it still remains in one piece — something that can't be said about Lionel Messi's statue in Buenos Aires. You can view some of the Tweets about Maradona's statue below.
In other sports news, LiAngelo & LaMelo Ball have signed to a Lithuanian team.
Diego Maradona is in India & a statue of him was unveiled at a charity event in Kolkata.
Good to see the chap that did the Ronaldo one is still in business pic.twitter.com/p5IDzgfExw

— Peter Coates (@golazoargentino) December 11, 2017
supposed to be maradona.. looks more like someone's gran pic.twitter.com/z3UO281AyX

— SPFL Banter *** (@splbanter) December 11, 2017
A statue of Maradona has been unveiled in India…

Or is that Roy Hodgson? We can't decide ?? pic.twitter.com/EQnRiMXfT3

— BenchWarmers (@BeWarmers) December 11, 2017
Statue of Diego Maradona unveiled in India. Is it me or could this be repurposed as Larry Bird ? pic.twitter.com/XJwPJzqSOY

— Maximiliano Bretos (@mbretosESPN) December 11, 2017