Update: Portugal Airport Unveils Hideous Cristiano Ronaldo Statue, Twitter Reacts and Sculptor Responds
"Not even Jesus pleased everyone."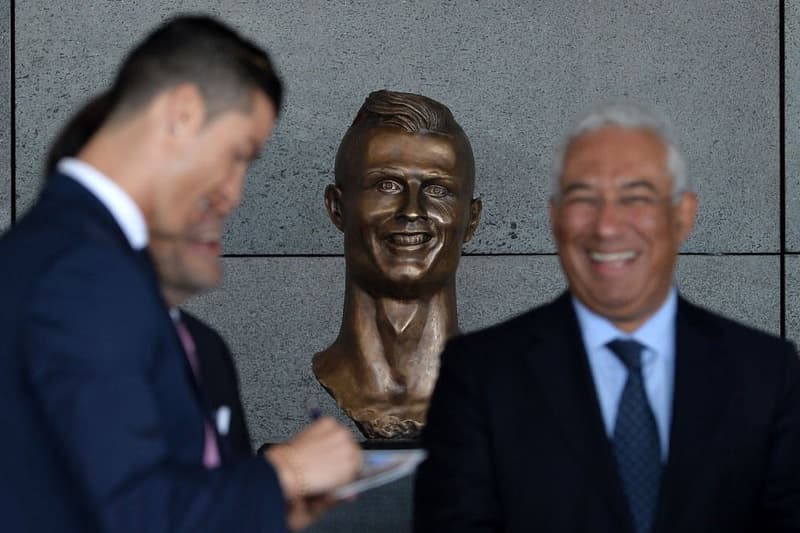 UPDATE: Globo Esporte caught up with the sculptor, Emanuel Santos, to ask him about his creation and the world's reaction, here's what he had to say:
It's impossible to please the Greeks and the Trojans. Not even Jesus pleased everyone. This is a matter of taste, it's not as simple as it seems. I have seen the work of great artists that follow this parameter. What matters is the impact this work generated.

There is always the possibility of producing something that looks different, I was already prepared for all of that. I used some photos of Cristiano Ronaldo that I found on the internet as a base, not one photo specifically. I put the photos by my side and started working on the bust.
3.29.17: A bust of Cristiano Ronaldo was revealed today at the renaming of Madeira Airport — now the Cristiano Ronaldo Madeira International Airport — on an island off of Portugal's coast, and it is already being denounced as "bizarre," "dodgy," "horrifying" and everything else it shouldn't be described as by major media outlets. It's true however: the statue looks less like the handsome Madeira native and more like Cristiano's once conjoined twin that has spent the last 32 years living in his parent's attic.
Although the Real Madrid star has had nothing but kind words to say of his latest tribute, the Twittersphere has some different thoughts. Enjoy.
The new Ronaldo statue looks exactly like him pic.twitter.com/3DqNhBj1Ay

— Footy Jokes (@Footy_Jokes) March 29, 2017
I believe there's been a huge mistake made on the new bust of Cristiano Ronaldo at the Madrid Airport: pic.twitter.com/h9Hu5PiM90

— Keith Olbermann (@KeithOlbermann) March 29, 2017
You Vs the guy she tells you not to worry about.#ronaldo pic.twitter.com/2bQWT9HBI3

— Cristian (@El__Superman) March 29, 2017
They've done Ronaldo so dirty with that statue. pic.twitter.com/XaTL1ldNSf

— Michael (@MichoB93) March 29, 2017
Ronaldo's bust sculptor says "I think it's a great likeness." pic.twitter.com/hYZB32eHQS

— ❄️ Real Pengy ❄️ (@RealPengy) March 29, 2017
You either die a hero, or you live long enough to see yourself become the villain. pic.twitter.com/XJP2Gjtbb3

— go90 Sports (@go90Sports) March 29, 2017
So, that "Ronaldo" statue, give the creator a break. They were clearly sent a blurry fax of Dolph Lundgren to work off of. pic.twitter.com/QPm90Zsaup

— Pete Kent (@NotPoshPete) March 29, 2017
I'm no rocket scientist but I reckon someone with a bit of time on their hands got to his statue first! #Ronaldo pic.twitter.com/Fr5ed6wQQQ

— BIRDIE (@DarrenBirdie) March 29, 2017
I honestly cannot get over how much Ronaldo's statue looks like Niall Quinn ???????? pic.twitter.com/C84G7CAWIi

— Sway (@Swayam_93) March 29, 2017
Bit weird of them to open the Cristiano Ronaldo Airport with a bronze head of Raoul Moat pic.twitter.com/mEcGGXFNXr

— GeorgeWeahsCousin (@WeahsCousin) March 29, 2017
The Cristiano Ronaldo bust at the airport carrying his name. This is Art Attack… pic.twitter.com/tTVmQBMgms

— Simon Peach (@SimonPeach) March 29, 2017
A painting of Cristiano Ronaldo has been revealed in Madeira airport #cr7 pic.twitter.com/WHgrgeYDoR

— Santeri Muoniovaara (@Santtudk) March 29, 2017
For a very handsome man, Ronaldo has had some appalling luck with statue-makers pic.twitter.com/M74YEDng4c

— Tom Williams (@tomwfootball) March 29, 2017
I don't know what you're talking about guys, I think the Ronaldo statue looks pretty good pic.twitter.com/JIUwQBuqUY

— keewa (@keewa) March 29, 2017
Are we sure that's Ronaldo? ? pic.twitter.com/BZzof1gY3H

— Lemon City Live (@LemonCityLive) March 29, 2017