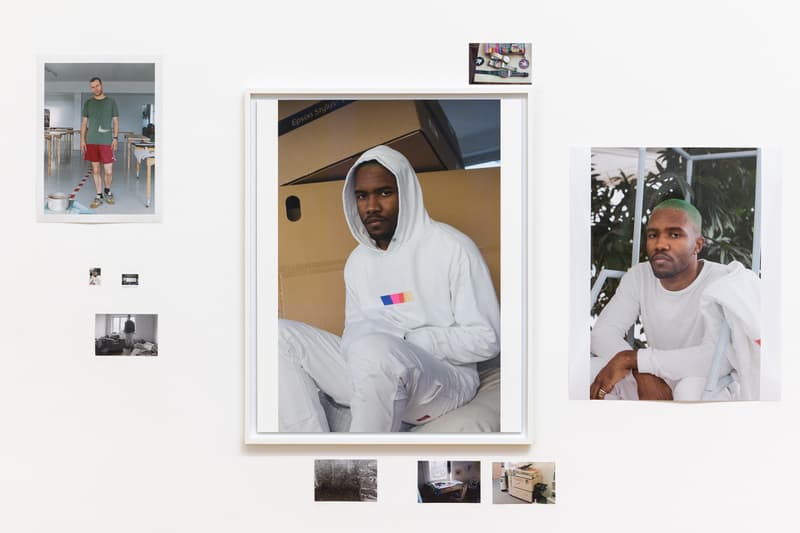 Frank Ocean Portraits, 21 Savage Sculptures & More Major Art Stories This Week
A slew of art and music collaborations.
---
The realms of art, music and fashion have intersected for years on end, but more recently, musicians have been joining forces with visual artists. This cross-exposure is a win-win for not only the collaborators but especially for us fans. We're exposed to new experiences and mediums that will surely be a catalyst for more elevated forms of creativity. Take for example Kendrick Lamar's "ELEMENT." music video from his most recent album, DAMN.: Lamar breathes life into the captivating work of photographer Gordon Parks throughout the video. This collaboration is what informs new fans and continues to excite his day-ones.
Peep the list of major art stories this week below and let us know of any other exciting shows you're checking out.
David Zwirner Gallery Launches Art Basel 2017 Exclusive Artworks
The David Zwirner Gallery recently added a slew of Art Basel 2017 exclusive artworks to its online viewing room. Select works of renowned artists such as Raymond Pettibon, Jeff Koons, Wolfgang Tillmans and more are currently available for purchase. Notable pieces in the batch include Tillmans's portrait of Frank Ocean captured in Berlin (17 1/2 x 13 1/2 inches) which is priced approximately at $10,000 USD, as well as Jeff Koons's Art Magazine Ads comprised of four offset lithographs (38 3/4 x 30 3/4 inches each) at around $50,000 USD. Visit David Zwirner Gallery's official website to view more works for purchase.
OSGEMEOS Teams up With Pharrell and JR for Limited BOOMBOX Release
Renowned Brazilian artist duo OSGEMEOS has teamed up with Pharrell and Social Animals' JR on a limited-edition offering that combines art and music. The special release, dubbed BOOMBOX, touts hand-numbering from the artists alongside exclusive tracks. The cassette case comes with 10 prints created and designed by all of the participants. Visit JR's Social Animals website to learn more about the collaboration.
Kendrick Lamar & Gordon Parks Foundation Launch "ELEMENT." Exhibit
Kendrick Lamar kicked off 2017 with his hard-hitting "ELEMENT." track alongside a gripping video for his recent DAMN. album. The visual sequences in the music video pay homage to renowned photographer Gordon Parks who is acclaimed for his photos of the Civil Rights Movement and portraits of African-American life in the 20th century. Recently, the Gordon Parks Foundation has launched an exhibit titled "ELEMENT.: Gordon Parks and Kendrick Lamar" that places side-by-side Parks's images with Lamar's sequences in his "ELEMENTS." video. The show is currently open to public up until February 10, 2018 at the Gordon Parks Foundation in Pleasantville, New York.
Gordon Parks Foundation
48 Wheeler Ave. #1
Pleasantville, NY 10570
RapCaviar Exhibit Displays Greco-Roman Sculptures of SZA, Metro Boomin and 21 Savage
The Brooklyn Museum recently joined forces with Spotify's RapCaviar to launch a show featuring robot-created sculptures of SZA, Metro Boomin and 21 Savage. Titled "RapCaviar Pantheon," the presentation commemorates the aforesaid hip-hop artists for their musical success in 2017. All sculptures draw inspiration from Greco-Roman style and were created by Neoset Designs' innovative Kuka robots. Each piece is made up of high-density polyurethane, natural gypsum, drystone and Venetian plaster. Visit the Brooklyn Museum's official website to learn more.
Brooklyn Museum
200 Eastern Pkwy.
Brooklyn, NY 11238
FACT. & Skateboardmuseum Berlin Launch Retrospective at Commonwealth
FACT. has teamed up with Skateboardmuseum Berlin and LA's Commonwealth on a retrospective titled "NO SHIITTY ADS." The showcase pays tribute to iconic skateboard publications from the early '80s to now, putting on a grand display of original zines from all across the globe. Skate Fate, Thrasher, alongside zines created by skateboarders GSD (Gary Skate Davis), Steve Caballero, Tod Swank, Claus Grabke and more are featured in the show. Conclusively, limited zine tees will be available for purchase. "NO SHIITTY ADS" is set to launch at Commonwealth's new Los Angeles store this December 16th from 6-9 p.m. PST. The show will be open to the public until December 31.
Commonwealth
2008 E. Seventh St.
Los Angeles, CA 90021