Rihanna's Best Rap Songs Before "Lemon"
Which one is your favorite?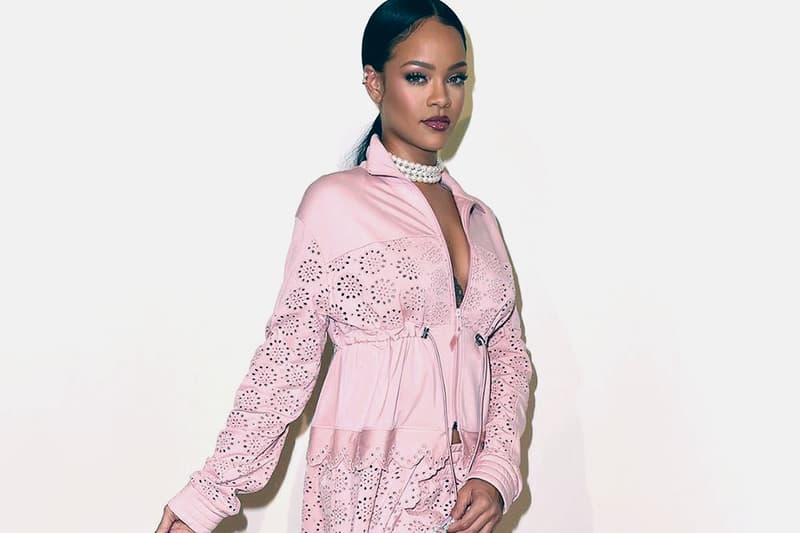 Rumors of a possible N.E.R.D. reunion started after posters appeared around Los Angeles earlier this week. Not long after, the trio officially released their new single "Lemon" and its accompanying video. Not only does the song feature Barbadian songstress Rihanna, it also finds Rihanna debuting her first entirely-rapped verse. Shout out and much love to Pharrell and his team, but it's safe to say that Rihanna dominated the song. Her delivery was so flawless, it's hard to believe (after selling 230 million records) that it's her very first time rapping entirely on record.
In celebration of Rihanna the Rapper, we take a look at all of her best rap or rap-influenced songs prior to "Lemon."
Rihanna featuring Young Jeezy – "Hard"
Release date: November 10, 2009
"Hard" came about after the peak of Atlanta trap music and features one of the genre's godfathers, Jeezy. It is the second US single on her 2009 album Rated R. The song, co-written by The-Dream and Tricky Stewart, finds RiRi dropping vigorous verses over a militant synth and piano-backed instrumental. "Never lying, truth-teller / That Rihanna reign just won't let up / All-black on, blacked-out shades, blacked-out Maybach," she croon-raps confidently. Although Rihanna sings more than she raps on the record, the songstress' delivery is definitely not lacking. The track is certified platinum by the RIAA was Rihanna's thirteenth top ten single on the US Billboard Hot 100.
Rihanna – "Phresh Out the Runway"
Release date: November 19, 2012
Off of her seventh studio album Unapologetic, "Phresh Out the Runway" finds Rihanna arrogant, melodic bars over a synth-laced beat produced by David Guetta. The song was released during a time where fusing rap and the electro house, dubstep and trap strains EDM was a common practice amongst musicians, and also when "fashion rap" started to become popular in the mainstream thanks to artists like ASAP Rocky and Kanye West. "Love it, then come and get it / I know that ya f*ckin' with it," Rihanna raps. "Ya see me, ya like it, huh? / Heels Givenchy, huh?" Although the track is not actually a single, it still landed at No. 21 on the Billboard US R&B Songs chart.
Rihanna – "Pour It Up"
Release date: January 8, 2013
Possibly the first true rap song in her career, "Pour It Up" is off of Rihanna's 2012 album Unapologetic. The Mike WiLL Made-It and J-Bo-produced song is a strip club anthem, in the same vein as Juicy J and Mike WiLL's "Bandz a Make Her Dance," which was released a few months before the song. "Who cares how you haters feel and I still got mo' money / Call Jay up and close a deal, I still got mo' money," she raps. "Pour It Up" debuted at number 90 on the Hot 100 chart and eventually peaked at number 19. The track is Rihanna's second number one single on the Hot R&B/Hip-Hop Airplay chart and hit No. 6 on the Hot R&B/Hip-Hop Songs chart.
Rihanna – "B*tch Better Have My Money"
Release date: March 26, 2015
"B*tch Better Have My Money" was likely Rihanna's most explicit single at the time. The song was written by a relatively large team of affluent musicians including Kanye West, Travis Scott and WonderGurl. The song developed after the producers worked with Bibi Bourelly, who freestyled the lyrics "b*tch better have my money" — which eventually became the title of the final track. The song peaked at No. 15 on the Hot 100 chart and No. 1 on the Dance Club Songs chart. The music video, inspired by Rihanna's real-life experience with an accountant who cheated her of her money, is a seven-minute long short film that got a MA rating for violence, nudity, and adult language.
Rihanna – "Pose"
Release date: January 28, 2016
"Pose" is one of three bonus tracks off of her latest album Anti, which was released in January 2016. Like "B*tch Better Have My Money," the song is written in collaboration with Bibi Bourelly and Travis Scott. Produced by Hit-Boy and Scott, you can hear really hear the latter's influence on the song. "And I ain't never liked a broke b*tch /
I don't never f*ck with ya hoe b*tch / Quiet down," RiRi raps. The song is classified as grime but incorporates R&B and trap sentiments. The track peaked at No. 1 on Billboard's US Dance Club Songs chart.
Mike WiLL Made-It featuring Rihanna – "Nothing Is Promised"
Release date: June 3, 2016
While "B*tch Better Have My Money" and "Pose" sound heavily-influenced by Travis Scott, "Nothing Is Promised," which showcases RiRi rapping non-melodically for the first time, sounds like it is inspired by Future. The song is actually co-written by Future himself, and you can even hear the Atlanta rapper on the adlibs. "Shoppin' in Paris (yeah)," Rihanna raps. "We gon' go shoppin' in Paris, n*gga (we goin', we goin') / They can't even compare us (no) / They can't even compare us, we're rarer than n*ggas." The song appears as the last track on Mike WiLL Made It's 2017 album Ransom 2, which also features appearances from Young Thug, Migos, YG, Kendrick Lamar, Rae Sremmurd, Chief Keef, Pharrell and more.
Kendrick Lamar featuring Rihanna – "LOYALTY."
Release date: June 20, 2017
"LOYALTY." is the sixth track from Kendrick Lamar's fourth studio album, DAMN. The song, which is seen to be one of the more radio-friendly yet standout cuts, was released on April 14 and is written by Lamar, DJ Dahi Terrace Martin and Sounwave. Although Rihanna only dropped eight bars of sung rap on the song, her delivery stood out, proving that she could drop some lyrical bars as well as she is able to turn up. "Been a bad b*tch way before any cash came / I'm established," she raps. "Hundred carats on my name / Run the atlas, I'm a natural, I'm alright." "LOYALTY." peaked at No. 14 on the Billboard Hot 100.