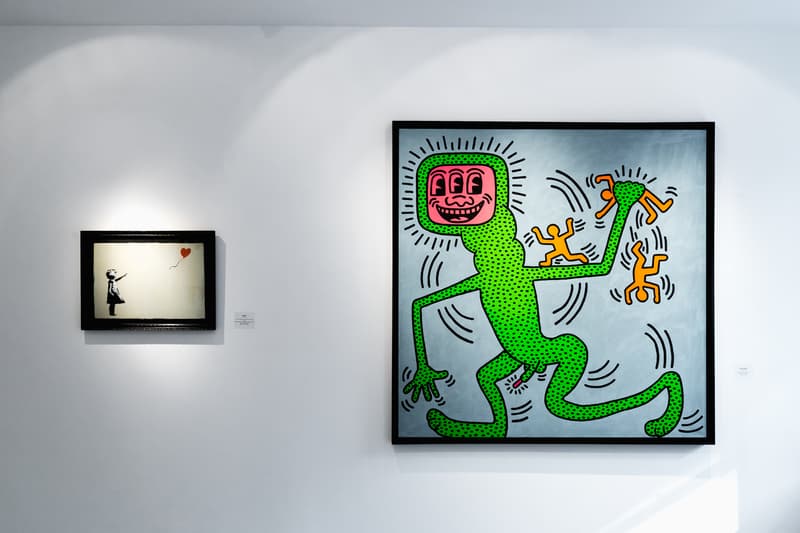 Ross+Kramer Gallery Spotlights Monumental Works by Keith Haring & Banksy
In a current exhibit entitled "In Behalf of Causes."
---
Seasoned art dealers Ryan Ross and Todd Kramer have recently opened a new gallery in New York City's Upper East Side district. For their first show titled "In Behalf of Causes," the duo presents a gamut of rare paintings, drawings and sculptures created by iconic artists Keith Haring and Banksy.
The exhibit is a really special one considering how prestigious art institutions normally don't highlight works from the elusive British artist and place his work side-by-side with pieces from Haring, who was once shunned by high-end art collectives for being too commercial. Collectively, the Ross+Kramer Gallery specializes in blue-chip art. For instance, works by Picasso, Warhol, Pollock, Lichtenstein, and more legendary artists that will increase in value despite the current economic conditions of the art market.
We sat down with Todd Kramer to discuss the show, the gallery's purpose, and why prestigious institutions should take street artists more seriously. "In Behalf of Cause" is currently open to the public until January 3, 2018. For those interested in visiting the gallery, please e-mail Ross+Kramer at info@rkgallery.com to make an appointment to check out the works.
Tell us about your new gallery and show.
As a gallery, we specialize in major works by artists from different genres. We deal in blue-chip artwork, but always have our ear to the ground for younger, living artists that we feel will become just as important over time. For "In Behalf of Causes", which is our first ever show at Ross+Kramer Gallery, it was extremely important to us to show someone like Keith Haring alongside Banksy. The pairing illustrates that exact concept of establishment versus non-establishment.
We see Banksy as an important artist who deserves recognition, in the same way, a lot of the other blue-chip artists we deal in do — and the public seems to agree with us even if institutions don't. They felt the same about Keith Haring at points as well. We wanted to tie these artists together to emphasize the street art background of both artists and give the political and social activism intended by the works a new backdrop.
Was it difficult to curate the show?
For starters the show is NOT affiliated with the Haring Foundation or Banksy. All the work came directly from private collectors, with some works from my partner's collection, as well as my own. Because we wanted to focus on significant original works from both Haring and Banksy, instead of doing a print show, which would have been much easier, it took quite some time to curate properly. What we ended up with is a really varied, interesting show that shows unique pieces from both artists.
What are you trying to accomplish with the show?
When we sat down to discuss our first show, we talked about artists we personally love and feel strongly about, not only for their place in art history, but also from an investment perspective. While we mainly focus on blue chip artists, both Ryan and myself have long been huge fans and supporters of Banksy. The similarities between Banksy and Haring became really clear, from their works' content and the way it tackles controversial political and social issues, to their initial (and ongoing, for Banksy) less-than-warm embrace from the institutional art community.
Placing the artists together is a new context for both artists' work — I don't think there's ever been a show like this with so many quality works by both artists in a single space, at the same time. Showing Banksy in the context of Keith Haring shows the rising of his conceptual and monetary value while showing Keith Haring in the context of Banksy brings his art back to its street art activist roots.
How is the art market treating works by Banksy now?
What is so interesting about Banksy is he has an almost cult-like following that has driven a steady incline of his prices since the beginning. I find that his core collector base is not your traditional collector. However, the pricing of Banksy works have become consistent with more strongly backed institutional artists. All this happening without any gallery or institutional support. In fact, Banksy even took a jab at the establishment and auction houses with his "Morons" print. An image of an auctioneer selling a painting that reads "I can't believe you morons actually buy this shit." I have heard of some Banksy prints generating sales in the six figures — very similar to Warhol prices, for perspective.
When were the pieces in the show made?
The Keith Haring works range from 1981 to 1989, keeping in mind he passed away in 1990. We have a really early Banksy work from 1998, and the latest Banksy is a piece from his Central Park spray art booth stunt in 2013.
What's your take on the younger generations appreciating art?
We live in a very interesting time with social media. Social media takes some of the power of taste making away from art institutions because everyone can have a platform, and potentially become an influencer. For example artists like KAWS whose work resonates well with young people are able to encourage interest in other artists and openings along with his own.
If you look at the Yayoi Kusama exhibits that opened last week at David Zwirner, the lines are around the block — and a lot of those people are very young. More and more young people are attending museums and galleries. Social media and the generational change overall is shifting the way the art world works. The success of Banksy, who is so anti-establishment, is a great example of the younger generation's appreciation of art making a specific artist become extremely popular in a totally untraditional way.
We would like to be known as a gallery that shows special, historically significant art, which in return tends to appeal to an upscale crowd while at the same time embracing the younger art enthusiasts.
Ross+Kramer Gallery
14 E. 63rd Street
New York, NY 10065