G-Shock Unveils Gold & Black "Gold Tornado" Collection
To celebrate the Japanese brand's 35th birthday.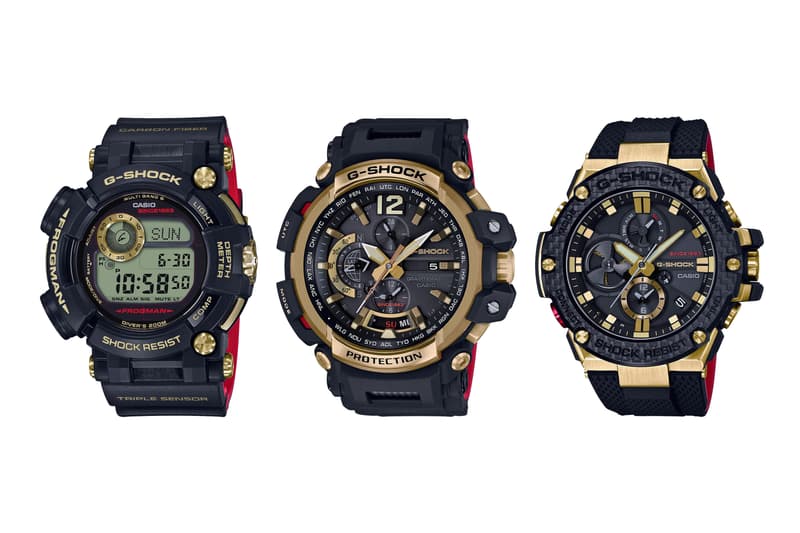 G-Shock celebrated its 35th anniversary earlier this month with festive event at Madison Square Garden. One of the highlights of the exhibition was the brand's Gold Tornado Collection, a trio of limited edition, gold and black G-Shocks that pay homage to its classic silhouttes.
According to Hodinkee, the Gravitymaster (middle), which goes for $750 USD, is a 51.7mm that features both an analog and digital display. One of its capabilities is Connect Engine 3-Way, which means it includes GPS, Bluetooth and solar connectivity onboard.
The $900 USD G-Steel (right) is another digital analog hybrid that comes in a gold and black case, and features a 53.8mm dial and a carbon fiber bezel. The watch comes with an automatic time adjustment feature that updates to the correct timezone without having to adjust it manually.
The priciest of the trio is the Frogman (left), the only all-digital model of the three. It's a 53.3mm diver's watch with many features including radio connectivity, dive data logging, a digital compass, thermometer, moon data and tide graphs.
These watches will be available next month at various G-Shock retailers. For more information, visit G-Shock online.