Rick Owens and Michèle Lamy Discuss Collaboration & Their Relationship
"I'm a fifty-two-year-old man trying to pretend that I'm a sixteen-year-old skate punk."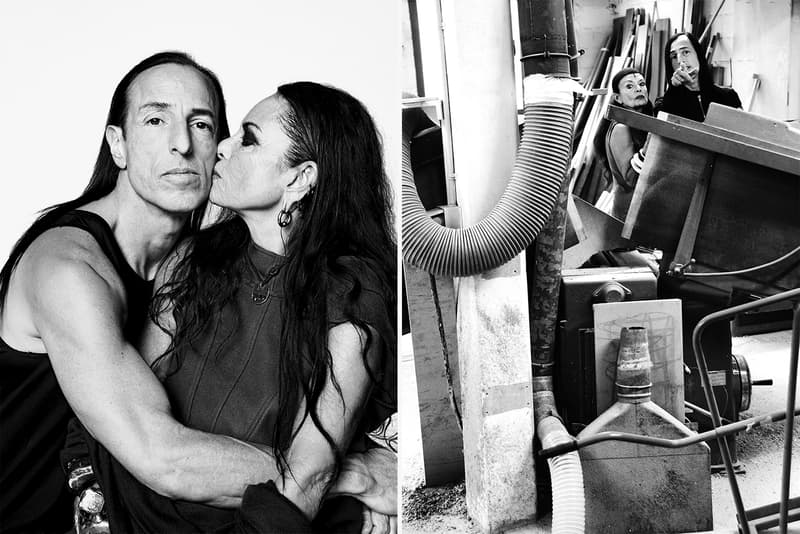 Since meeting in Los Angeles back in 1990, Rick Owens and Michèle Lamy have become known as one of fashion's most influential couples. Their work — both for Owens' namesake label and on joint collections of furniture — has become some of the most recognisable in the world. Even their house in Paris has been poured over by fans. With this in mind, the husband-and-wife team were perfect subjects for a new book from Rizzoli and SHOWStudio's Lou Stoppard that looks at some of fashion's most important and iconic duos. Titled Fashion Together: Fashion's Most Extraordinary Duos on the Art of Collaboration, the book also features conversations with Louis Vuitton's Kim Jones and his long-term collaborator Alister Mackie and J.W. Anderson and French stylist Benjamin Bruno.
You can read an exclusive extract from their conversation with Stoppard — in which they talk about everything from how they first met to the appeal of their collections — below.
People find it quite hard to describe what someone in your role, Michèle, does. It's interesting that you said "developer" before. People often call you a muse. Do you find that quite annoying?
Michèle Lamy: I think they should Google "muse," because people say that a lot. But I think people just say it when they don't know what to say. Etymologically it implies someone who lounges around. That's not what I do. It's better to escape this word.
Rick Owens: But you won't, so you'd better get used to it. Like I had to get used to "Goth." I think it's more "mate" than "muse." "Mate" suggests you are doing something together.
Michèle, given that you had your label first, are you frustrated when people focus on Rick and then paint you as the mere muse?
Owens: If I were in Michèle's position, I would get irritated. So I assume that sometimes it's annoying.
Lamy: It does not irritate me out in the world. The irritation is with him. Because we have been together for so long, I have the feeling that people think I'm not doing anything or I don't know what I'm doing. But there is always the tribe.
I think when a woman has a complex, indefinable role in a relationship, people can't explain it so they rely on stereotypes—they think of her as a passive muse.
Owens: I don't think anyone would ever think of Michèle as a passive muse. I think that's why she sparks people's interest—because she doesn't fit the typical role of a muse.
Lamy: I can be proud of that. That's why I don't get annoyed that the name is Rick Owens. What does it mean to know each season who decided what? We see the bigger picture.
Did you used to hang out with each other in the restaurant all the time?
Owens: Yes, we were living together by the time the restaurant had started. It was our dining room.
Lamy: The restaurant was our dining room, but it was also a melting pot for our world. That was my little theatre.
Owens: The whole thing has always been about how to have a good time. How can we enjoy our life and have beautiful dinners with the right silverware? It's still about that. A lot of times the clothes are just my poetic fancies on my own, and then sometimes they are more about our life. The furniture is very much what we want to live with. It's our dream environment.
The brilliant fashion journalist Jo-Ann Furniss once said to me that you're like Ralph Lauren, because you're a lifestyle brand.
Owens: She's said that to me, too! It's funny because I was always horrified by Ralph Lauren trying to pretend to be WASPy gentry. I've been repelled by that whole snob fantasy. It's the most pretentious thing. And then I realised—
Lamy: That we are doing the same thing?
Owens: I realised that I'm a fifty-two-year-old man trying to pretend that I'm a sixteen-year-old skate punk and I'm just as fake as Ralph Lauren is. I have my own kind of ideal that I am trying to emulate. Everybody's as fake as Ralph Lauren. I'm just as bad.
Lamy: No, no! He's not just as bad! We have to figure out why this is more authentic, because it is.
Owens: You know why—because it's more tongue-in-cheek. It's more campy. It's a little bit more ironic and it's a little sillier. It doesn't take itself as seriously
The people who buy your work are so committed to you.
Owens: You're right. You can buy great clothes in UNIQLO. If I were a young person, that's where I'd shop. But labels are very much about buying into a poetic vision and being part of something.
What do you think people see in your vision?
Owens: If I could find it, then I could put it in a bottle and sell it, which I kind of do! But the recipe is unknown. That mystery is the magic of fashion.
---
This interview was extracted from Fashion Together: Fashion's Most Extraordinary Duos on the Art of Collaboration by Lou Stoppard which is published by Rizzoli and priced at £55 GBP (or $75 USD). Fashion Together is set to release on October 17 and will be available from retailers including Waterstones. As well as the book, Lou Stoppard recently launched an exhibition that looked at some of the duos featured and their creative work.