Meet BewhY, the Gucci-Obsessed Korean Rapper Taking Over America
"I'm not really into mainstream streetwear brands like Supreme and BAPE."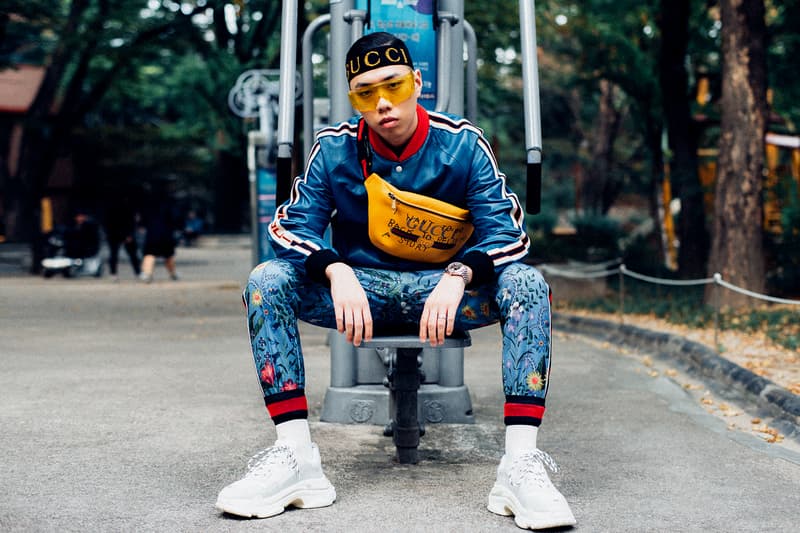 Hip-hop has become one of the world's most universal music genres. While its roots remain firmly planted in America's urban landscape, countries like France, the United Kingdom, Brazil and Haiti have spawned countless hip-hop artists who've achieved considerable fame beyond their provinces of origin. However, in other parts of the planet, the genre is still considered quite niche, recognized predominately by household names like Kanye West, Tupac Shakur, Eminem and A$AP Rocky.
Lee Byung-yoon, aka BewhY, is here to change that. Born and raised in Incheon, South Korea, the artist became a national sensation after winning the fifth iteration of rap competition TV show Show Me The Money in 2016. Since then, BewhY's fame has reached unprecedented heights thanks to his catchy chart-topping hits, unapologetic taste for luxury designer threads and outspoken Christian beliefs (which has also ignited considerable controversy in the media).
With a debut USA tour spanning over six cities — Los Angeles, Dallas, Atlanta, Chicago, Washington D.C. and New York — set to kick off in November, we caught up with BewhY during Seoul Fashion Week to hear more about his future career plans, gaudy sense of style and thoughts on Korea's fledgling rap scene.
When did you first get into hip-hop?
I first fell in love with hip-hop music when I was in middle school — in the 10th grade. I really liked this Korean hip-hop group called Dynamic Duo and was really impressed that they actually wrote their own lyrics. I then became friends with a Korean rapper named C Jamm, and he introduced me to the local hip-hop scene.
Who are some of your biggest hip-hop influences?
Kanye West and Kendrick Lamar.
How would you describe Korea's rap scene?
I think there are many Korean hip-hop artists who deserve more spotlight. Many people in Korea think that American hip-hop artists are way cooler than Korean hip-hop artists. Of course, hip-hop was born in the States and we're greatly influenced by those American artists, but I believe that Korean rappers have their own unique sound.
But hip-hop music isn't that mainstream in Korea, not like how it is in the United States at least. It was really trendy last year, but then sort of faded away. I'm not too sure how long this music will last here, to be honest.
Describe your personal style. What are your favorite brands at the moment?
I like to keep it simple and clean cut. My favorite brands right now are Gucci, Balenciaga, Burberry, The North Face, Kappa, Hummel and Stone Island. I'm not really into mainstream streetwear brands like Supreme and BAPE.
Would you say that Korean fashion is influenced by hip-hop?
Yeah, a bit. Hip-hop style was super fashionable in Korea last year, but I'm not so sure about now. I do think that hip-hop artists can make anything look cool; it's a culture that can absorb many different styles pretty well.
What has been the biggest moment of your career so far?
Last year was when people were first introduced to me – when hip-hop was "in."  Luckily, people still love my music, but the people who love my music only know three songs – "Forever," "Day Day" and "The Time Goes On."  But I haven't done much media since last year, so I suppose right now is the time for me to start.
How does Korean rap culture differ from that of America?
I think that the rappers here have a similar attitude to those in America, but I think the listeners are different. I haven't lived in the States so I can't speak too much on how it is over there, but in Korea, people take lyrics very seriously. Even if I post something on IG for fun, or like do something silly, people take it very seriously – it's like they are trying to judge what is right or wrong. Koreans are very judgmental and personal image in the entertainment industry is everything.
You're very outspoken about your Christian faith. Have you faced any criticism with this? How do you find a balance between your personal beliefs and the lifestyle commonly associated with hip-hop?
I do get so much criticism about how religious my music is. However, I will not change my style in music nor life, because this is the reason that I started doing music. But you know, haters will always hate. Actually, I think I'm the first person who makes this type of music in Korea.
About three years ago, there was so much Korean rap music about money and hoes, and I'm not judging it, but it's just not my type of music and I don't want to rap about those types of things. To be honest, I don't really want or need to compromise because I just want to rap about what I think; I'm still doing the same thing, but now, I'm just thinking how I could rap about it in new and better ways.
What's next for you in your career?
The most important thing right now is my United States tour, which kicks off November 1st and will stop in Los Angeles, Dallas, Atlanta, Chicago, Washington D.C. and New York. Other than that, I just plan on making more music and being able to become more established both in Korea and abroad.
For more on Seoul Fashion Week, check out our streetsnaps with 99%IS founder Bajowoo and MIDNIGHT STUDIOS' Shane Gonzales.