We Test Drove the Rolls-Royce Dawn and It's Everything You Want in a $400k USD Drop-Top
Drivable, configurable, and now aiming towards a younger demographic.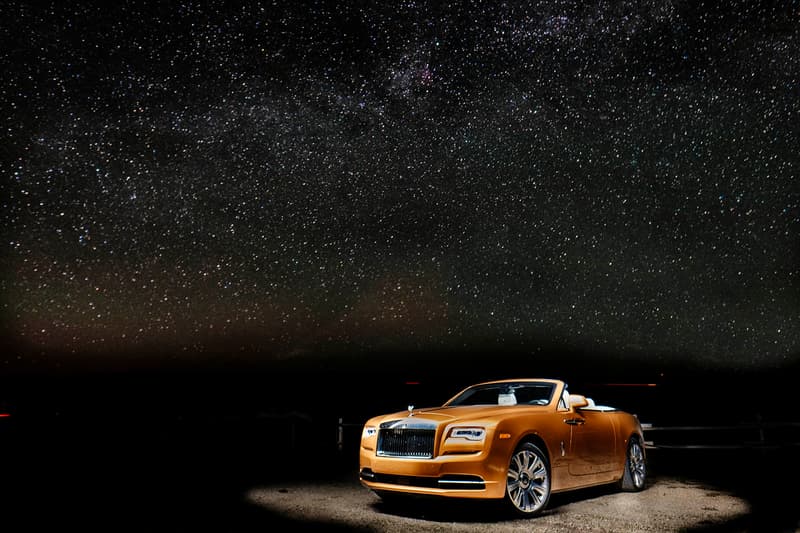 Approaching V-max—gracefully covering ground somewhere at 220 feet per second across the western plains leaving Sheridan, Wyoming with enough kinetic energy to rival an atom bomb—we're poised to conquer roughly 400 miles of some of the country's greatest landscape in one day; the thought of wealth, power, aspiration, and the "magic carpet ride" becomes food for thought in this $400,000 USD drop-top Rolls-Royce. The Dawn, a rare drophead in Rolls-Royce's 110-year history, is an exciting proposition for the upper echelon marquee and their hopefully younger, more diverse group of buyers moving forward.
Buyers who know what they want—and want the best—choose Roll-Royce.
Rolls-Royce knows that the new Dawn is a vehicle that will not be cross shopped with others, including other luxury heavy hitters such as Bentley. According to them, buyers who know what they want—and want the best—choose Rolls-Royce. This is a status car through and through, which will see the shoreline of Monaco and the expanses of Beverly Hills; this time with the top down and clearly a better view.
1 of 2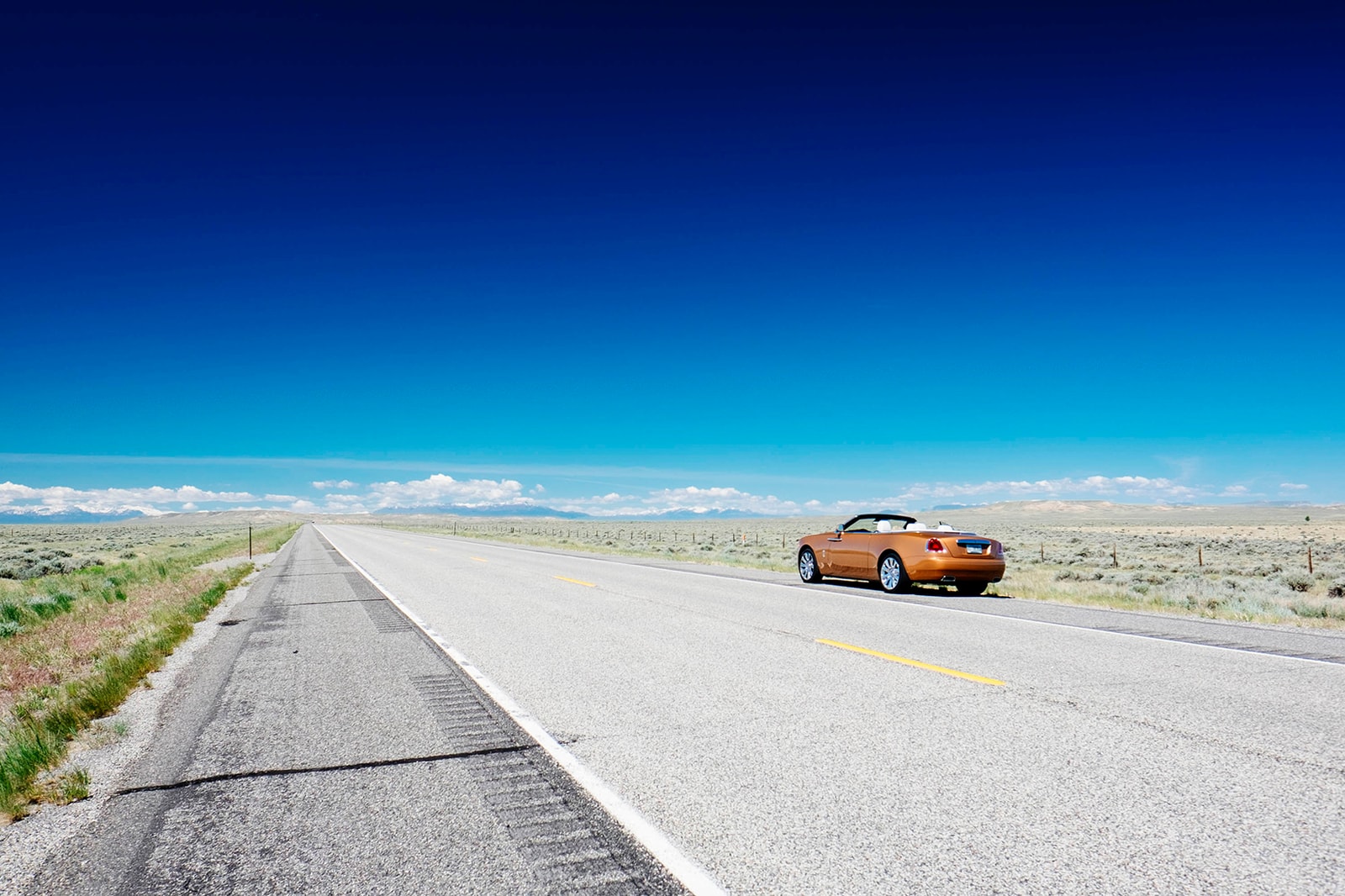 2 of 2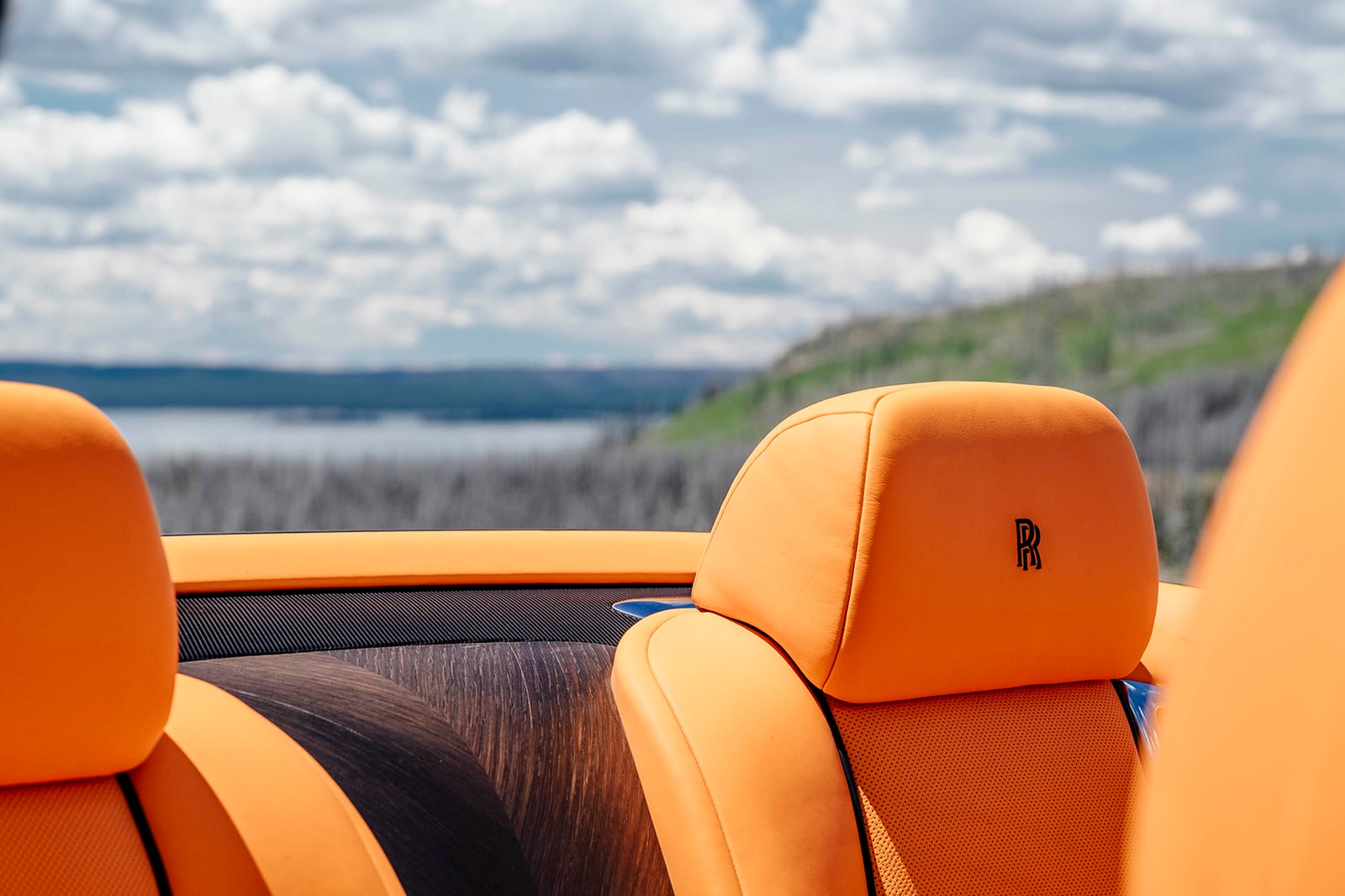 Based on their stylish Wraith, the Dawn has 80 percent new body panels, teasing the connection to its rakish sibling, but drastically veering away from its enclosed shell with an entirely new open-top convertible. The Dawn is no small car, but its proportions appear smaller from the outside. Like a basketball center wearing ballet shoes, the sheer size and footprint is apparent, but there's an overwhelming grace to the over 17-foot façade: this svelte behemoth is a looker that stands out beyond comparison.
It also hustles with quite the intent, if not unremarkably free of drama, due to the subtlety of delivering power via its 6.6-liter twin-turbo V12, which has been finessed by the hands at RR. There are whispers of the powerful V12 in front, but there's no commotion here. The only thing you hear on the way to triple digits is the wind enveloping you.
"The Dawn is an experience in motoring unlike most everything else."
Touting their 'magic carpet ride,' the Dawn is an experience in motoring unlike most everything else. Using a bespoke suspension system and tires configured specifically for the Dawn, you push the throttle down on the 563 horsepower, 575-lb.-ft V12 and the momentum of the ride will continue until you drop the massive anchors; literally gliding over anything in your path with the utmost respect for your backside. The composure and softness of the ride gives a special sense of luxury.
In order to make one of the most sublime drop-tops in the world functional—should you not be able to coerce the sun out of hiding—Rolls-Royce engineers built a seven-layer fabric top capable of opening or closing at 31 mph in 22 seconds. Sure, the cabin is quiet with the top up, but the Dawn is emotionally at its best with the top down, allowing you to hear gawkers gasp in your wake.
1 of 3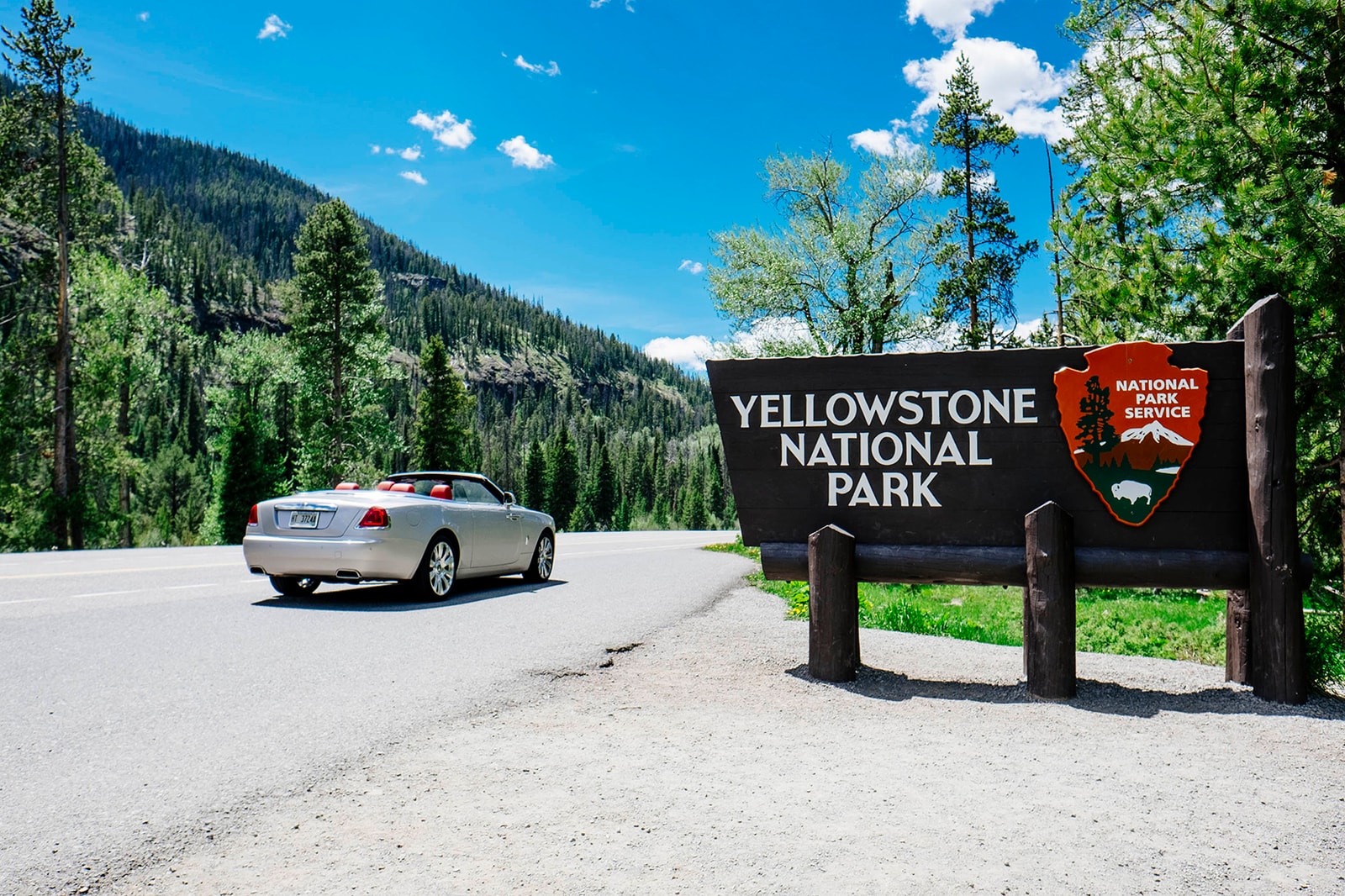 2 of 3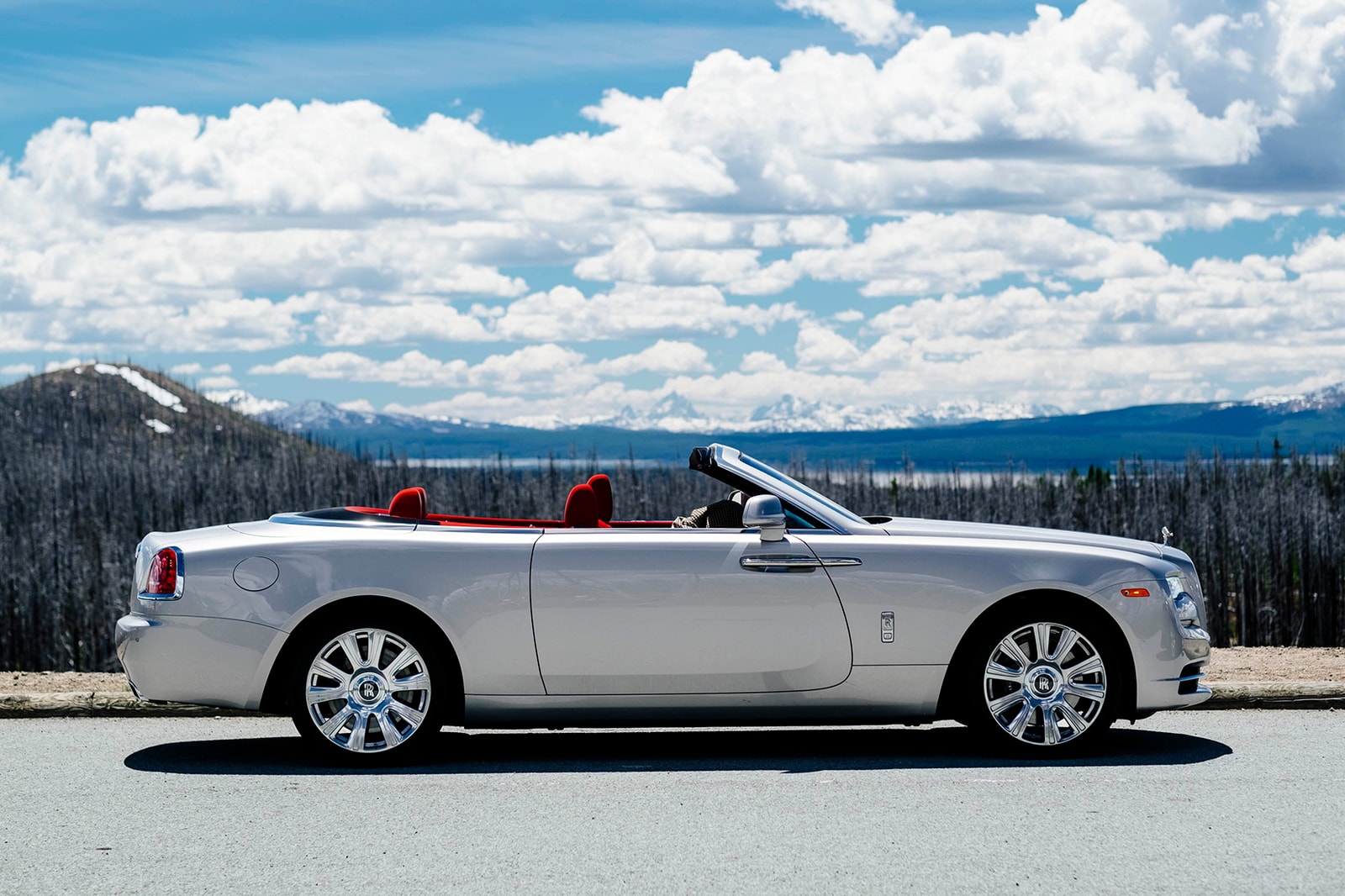 3 of 3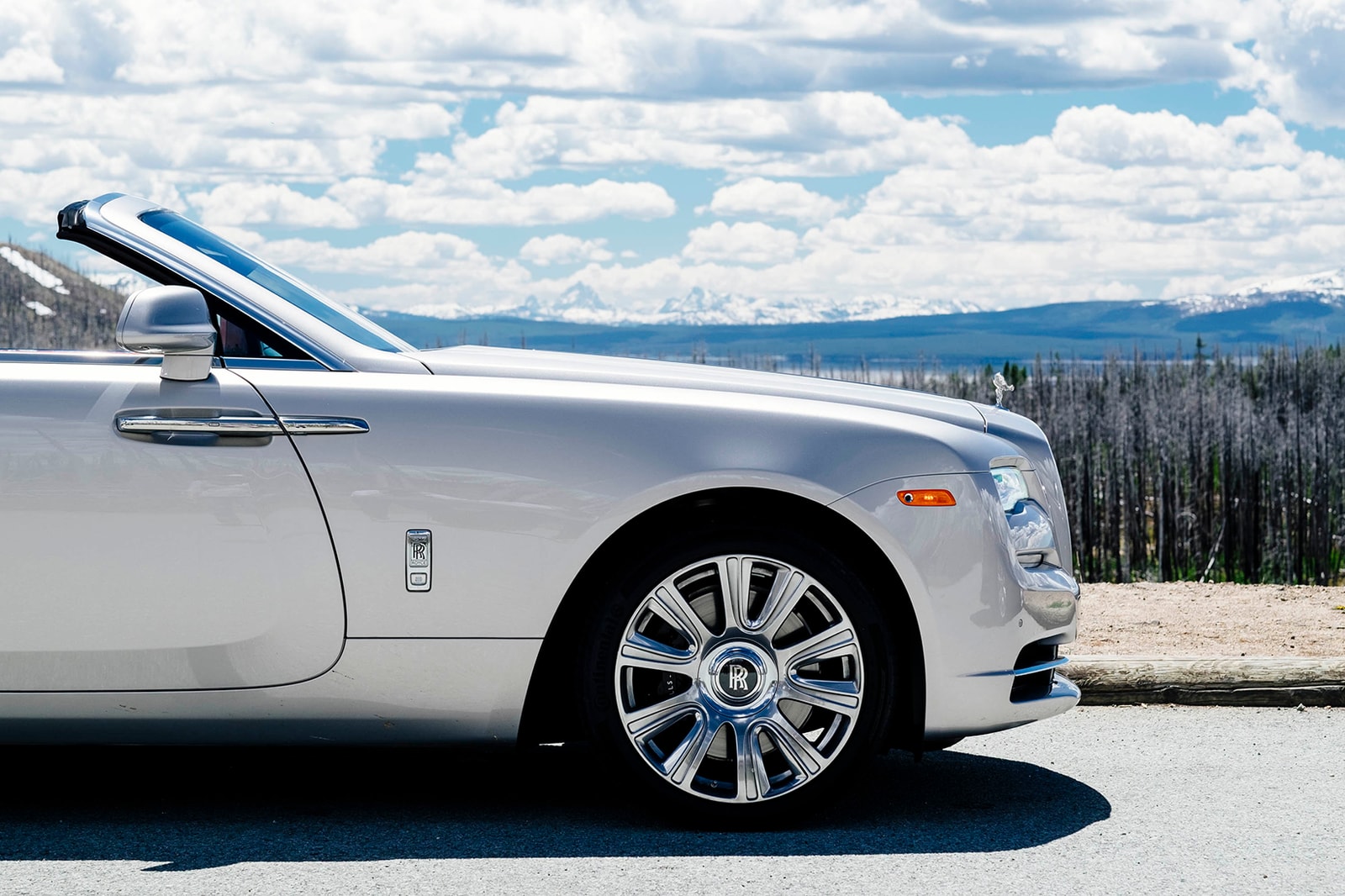 For such a capable and effortless driving experience—one that few automobiles in the world can emulate in terms of maximum comfort—the Dawn has a simplistic elegance to it. It's not as intuitive as a Tesla; nowhere near as sporty as a Continental GT; and a BMW 7 Series will trump it with technology, but the fact that it doesn't become overbearing with modern gadgets makes it entirely refreshing, and therefor unique. Rolls-Royce is proud, and they will admit, that they didn't want to overload it with technology. They keep it simple because "Rolls owners are busy." There's no 'sport' mode, no paddles, and truly no place for them here. Getting to the destination is what this car is about.
And in driving the Dawn, it becomes an event in getting from A to B. You have an air of confidence stepping out. It's comfortable, stylish, and void of fiddling with modern systems that can sometimes make you miss the point of driving. Even as I lift my feet off the thick wool carpet (which is way nicer than any rug in my house) and step out in New Balances and J.Crew jeans in Yellowstone National Park, the theory works the same because getting there was so enjoyable.
1 of 4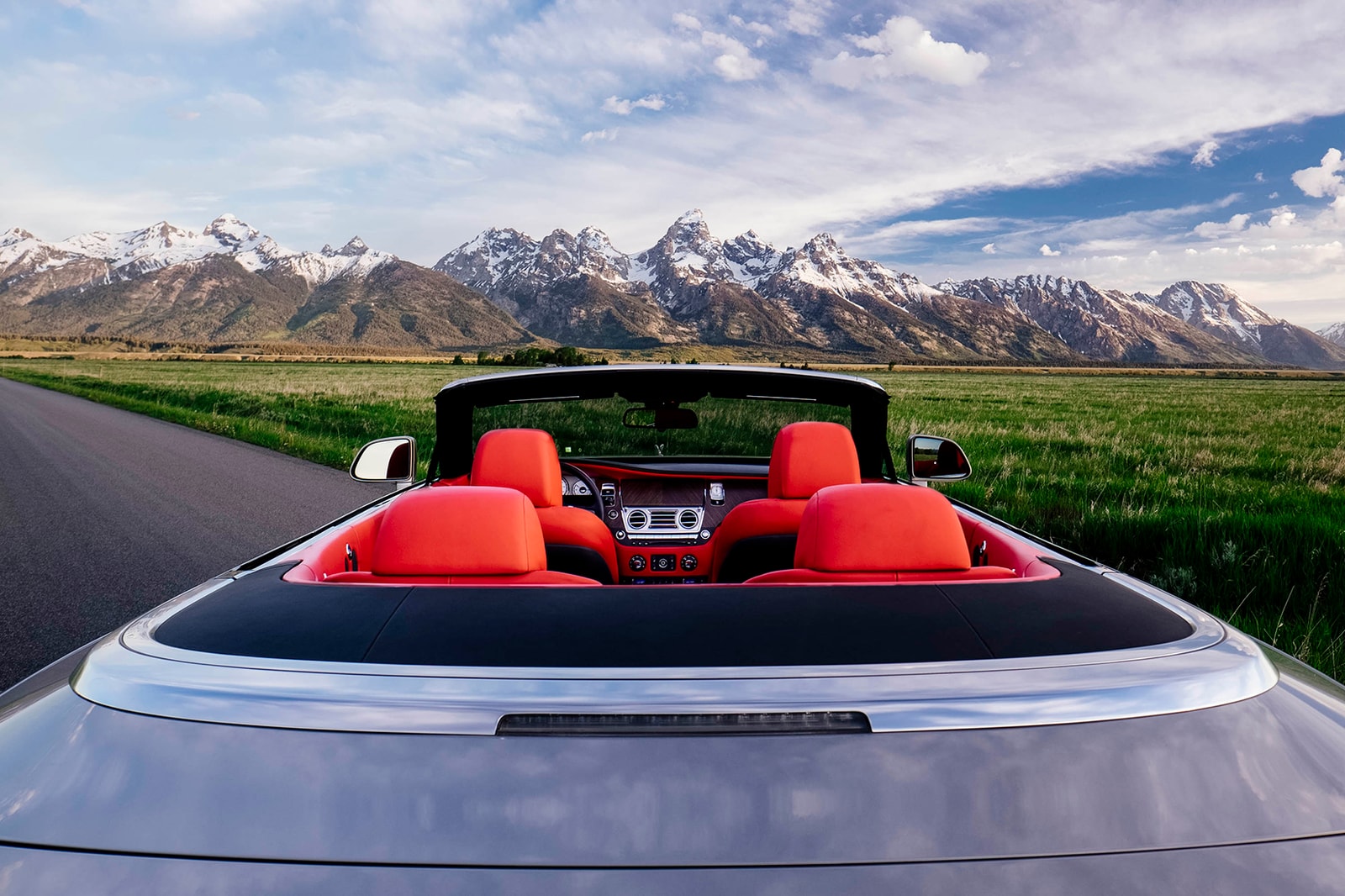 2 of 4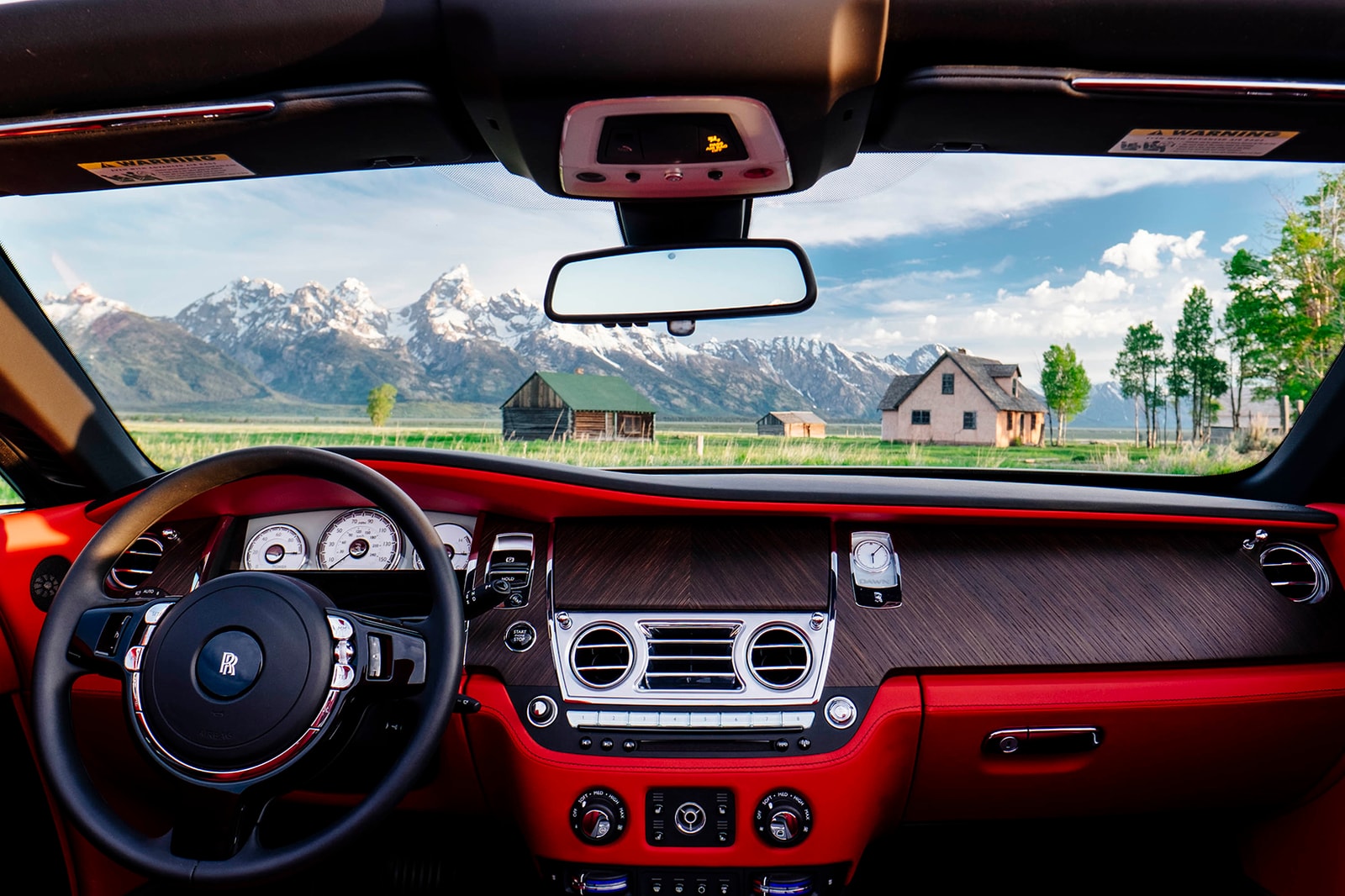 3 of 4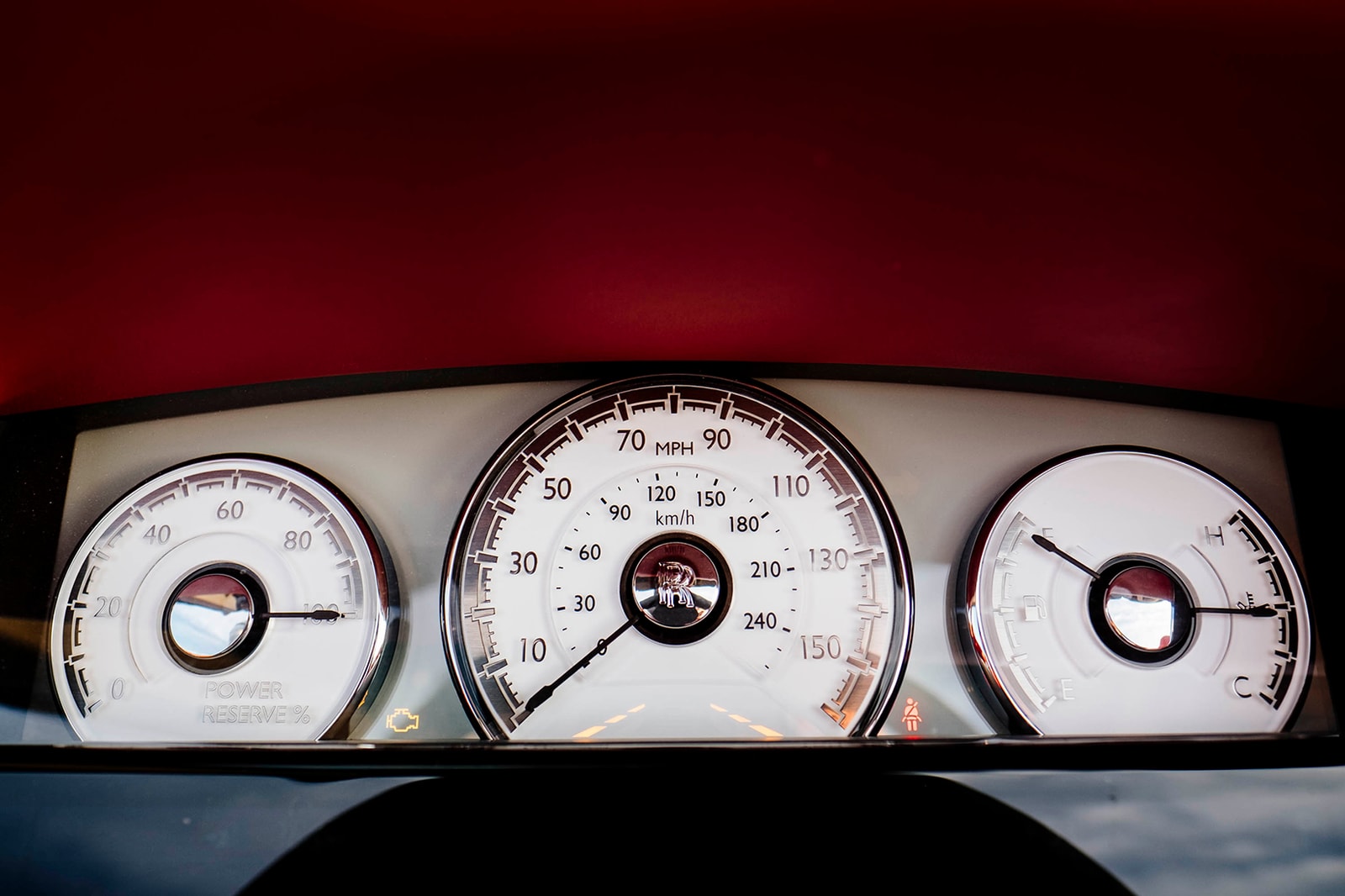 4 of 4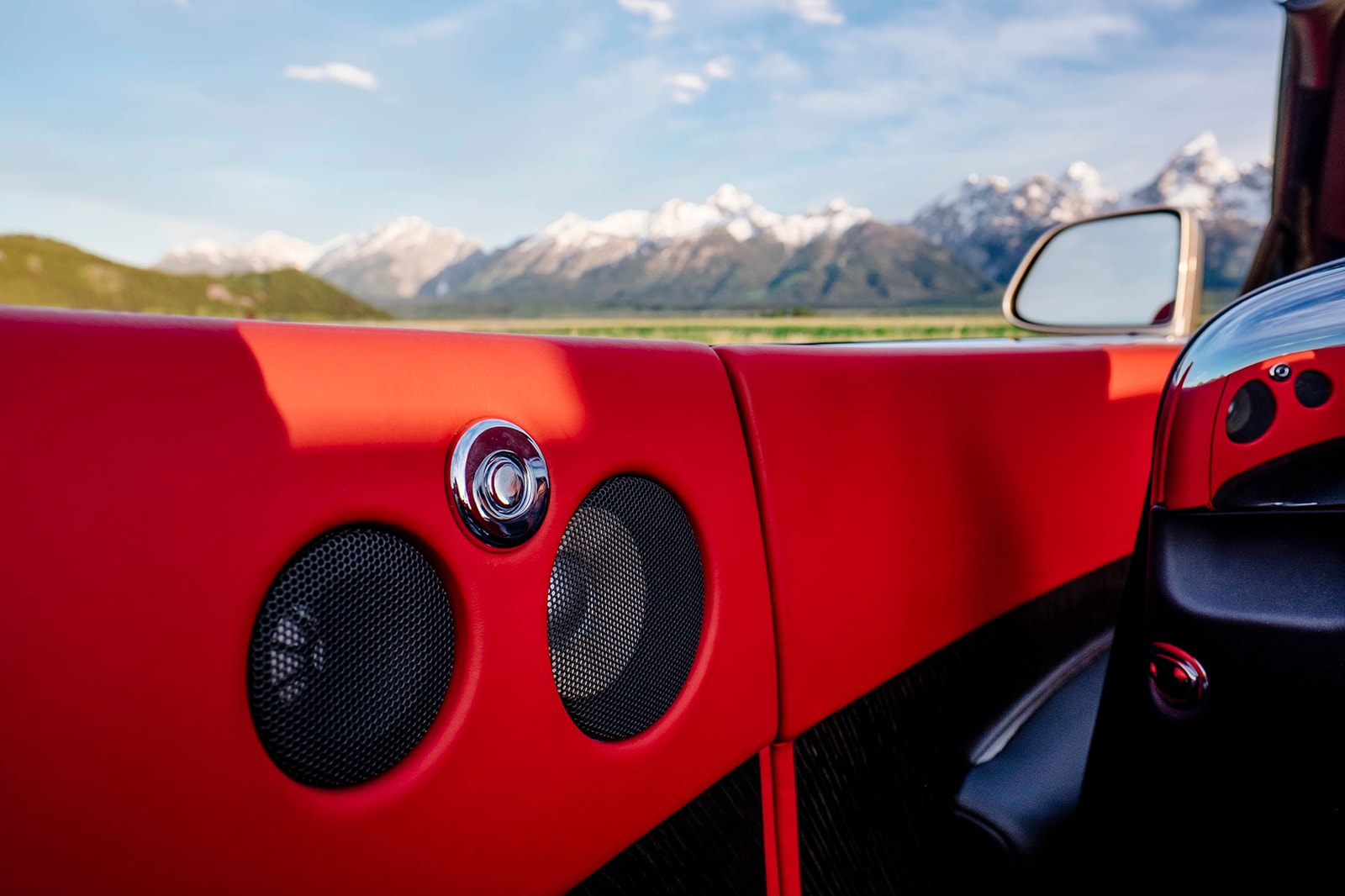 If you have the means, Rolls-Royce has a way.
Everything is up for customization. The wood, leather, carpet, paint… everything. Go ahead, configure the Dawn, but then realize you're barely scratching the surface of what can be done. If you have the means, Rolls-Royce has a way.
Even the bespoke speaker system—a mysterious mix of high-quality components that are sourced from many different prolific brands, but not branded as one make—has clarity on par with the best systems in the world. And the word Dawn, a departure from their current ghostly offerings, is meant to convey a new way forward. It's a proposition that you ponder when traversing large swaths of this country with the top down and seemingly endless natural beauty in your face that only a convertible can accomplish in conveying.
The Dawn's formula is actually quite simple: leave the driving to you and let the driving be the experience. The age demographic for this Rolls will target some of the youngest buyers ever, with a purchaser of a median age in their 40s. Bay Area techies and entrepreneurs barely scratching their mid-20s will make appearances in this decidedly free-spirited driver; Arab royalty will collect sun at an astounding rate; and the Dawn will make topless appearances on Bond Street. Traversing the vastly wild, and Western-spirited expanse of Wyoming, people no matter what the income range understand and appreciate the Rolls for what history has made the name stand for. It's a traveling showcase of carnal desire that they project with a thumbs up and a "nice car." It's a formula that will continue into Rolls-Royce's future with their Project Cullinan—a four-wheel-drive vehicle that is beyond all reproach not an SUV. It's a Rolls-Royce.
1 of 3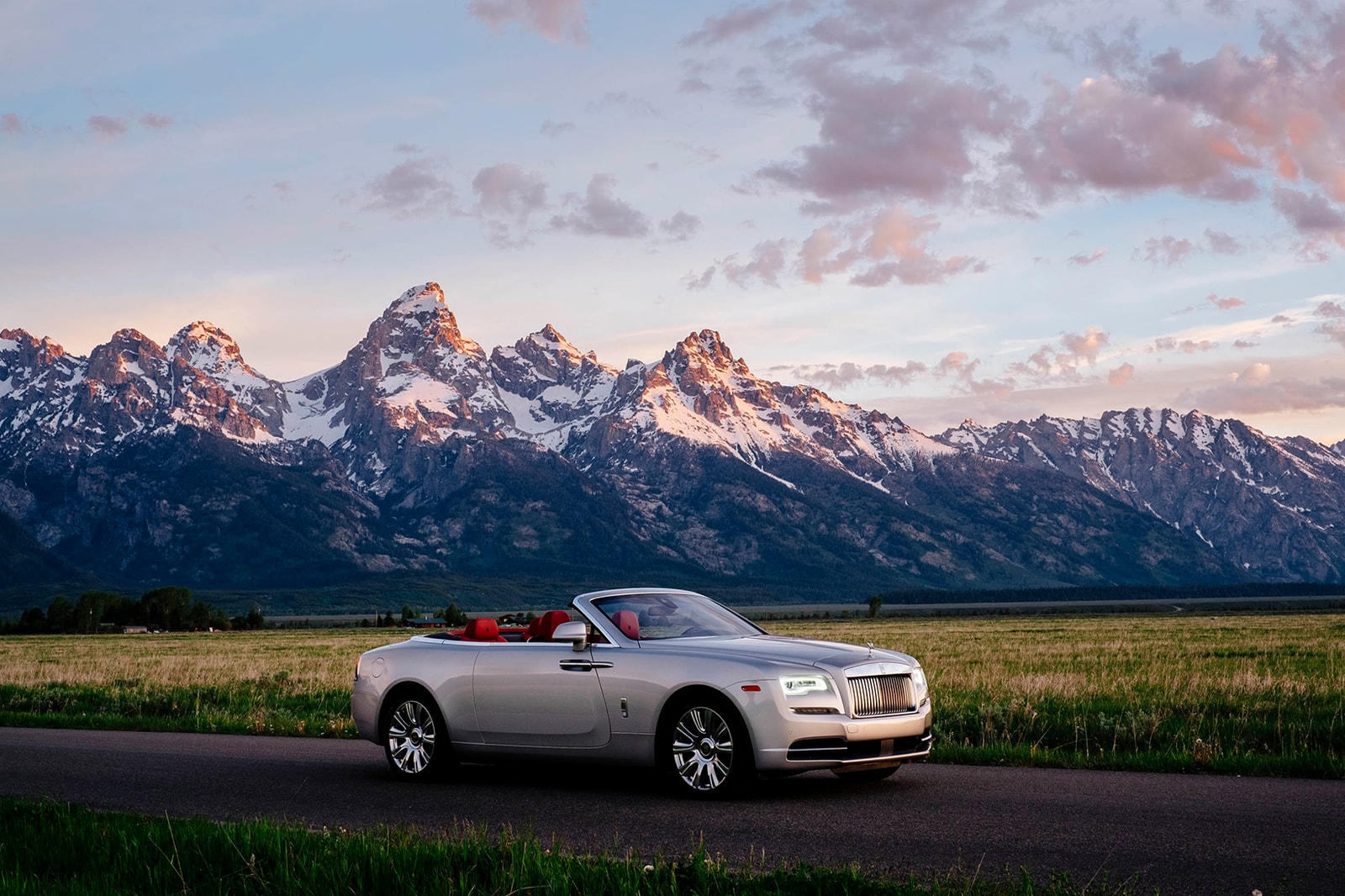 2 of 3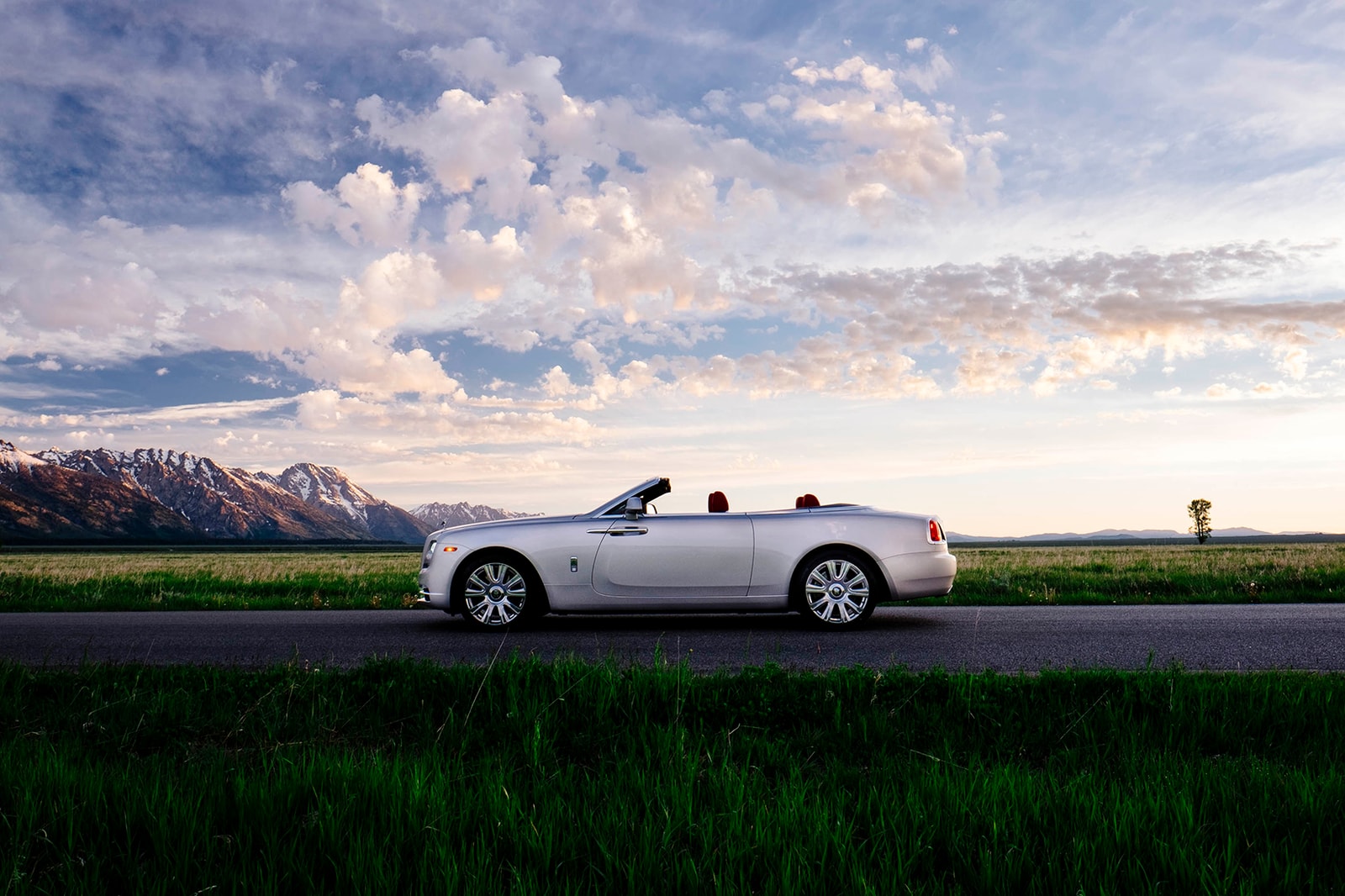 3 of 3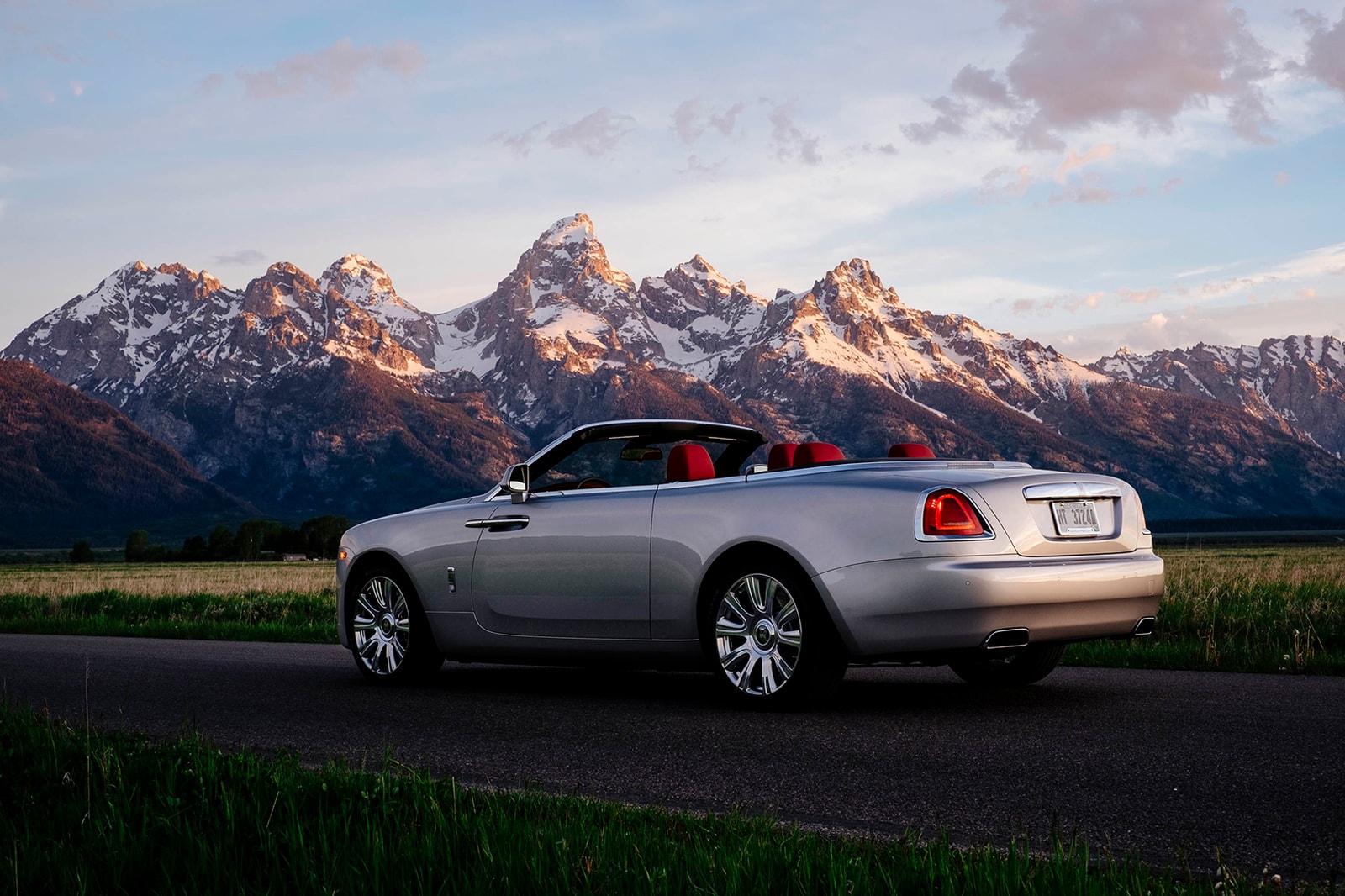 While the term "bespoke" is thrown around at will like construction workers catcalling passerby, Rolls-Royce is intent on separating themselves from their bigger German authorities with unique, thrilling and engaging products.
The Rolls-Royce Dawn is in an entire class of its own.
The front doors are not suicide; they are coach-built. Every Dawn is a custom build. Any lesser definition would be a travesty, and quite honestly, a disservice to what the Dawn, and Rolls-Royce stand for. Rolls-Royce doesn't care about sales figures—though they will get them out the door in record numbers—as no statistical analysis was ever brought up. They care about an experience you can't get anywhere else. It's why private jets and yachts are considered competition. It's why the Rolls-Royce Dawn is in an entire class of its own.