A Conversation With Paul Pogba: Soccer's Next Superstar
Why the French player is making a boom in the football world.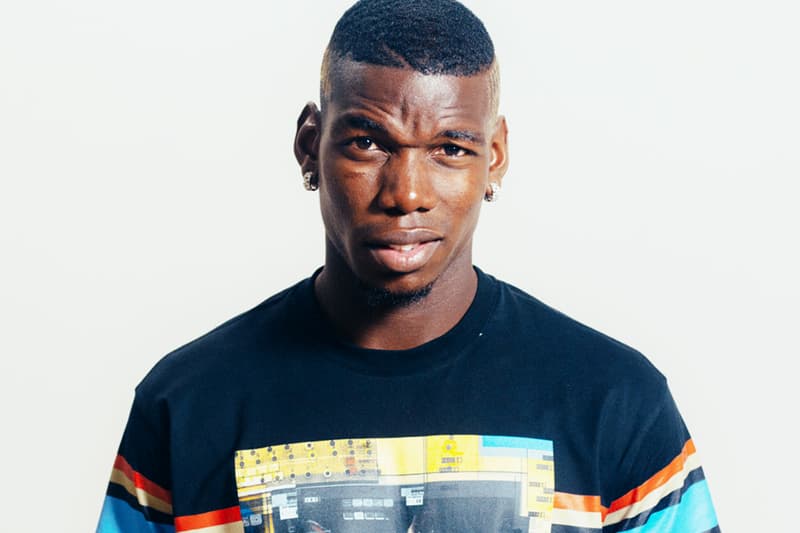 "People call me crazy but I want to make history and become the strongest midfielder ever," Paul Pogba said earlier this year. "I want to be the midfielder who can do everything, and at the highest levels: shooting, dribbling, scoring, defending. I want to be like [Frank] Lampard, but better."
With the Euro 2016 kicking off this weekend, all eyes are on the rising French professional football player, even in realms other than soccer; having secured an adidas sponsorship with a $44 million USD deal and being widely recognized for his signature style, the 23-year-old Juventus midfielder is a running candidate for the FIFA Ballon d'Or award this year for his incredible box-to-box IQ that doesn't make his dreams of surpassing Lampard seem that unrealistic. Complex UK recently sat down with Pogba for an insightful conversation that reveals the athlete's early days with Manchester United, his favorite songs to warm up to and recent signing with the Three Stripes, just ahead of his highly-anticipated performance with team France at the Euros. Find our favorite excerpts from the interview below and catch the full piece over at Complex.
You're at the end of another successful season with Juventus, how are you feeling both physically and mentally ahead of what most be one of the most important summers of your career?

I just feel great, we [Juventus] didn't start in the best way but we finished it well, winning the league and the Italian cup. I can still play and I'm excited to get going straight away in the Euros. Mentally, I'm good – I just won the league and I'm always looking ahead to the next one. We just made history at Juventus – no team has ever done the double in Italy two times in a row – now I'm fresh for France.

How do you look back on your time in Manchester?

I really miss Manchester because it's where I made the most of my teenage years and I had lots of friends there. It's a different culture, I found they're more open than French people. I was in digs with a family and they treated me like their son.

Euro 2016 will be the first tournament France has hosted since the 1998 World Cup, how important was that tournament to you as a young boy growing up on the streets of Paris?

Of course I remember, when we won the World Cup I was running down the street with my friends celebrating. I'll never forget the two goals Zizou scored against Brazil, it was the perfect final. To win the World Cup by 3-0 against a team like Brazil in front of your country really made it the perfect final.

Do you think you can replicate the success of France 98 at Euro 2016?

I certainly hope we can follow the likes of Didier Deschamps in lifting a trophy in front of our own fans. It could be beautiful. In 1984, we won in France. In 1998, we won in France and now we have the chance to do it again and follow our heroes of the past. Rating our team now, we have a great team. It's a younger team but of course we can do it, we have the quality and the right spirit and we're at home.

This tournament comes less than a year after the terror attacks in Paris last November. You played against England in a friendly days after that, what sort of atmosphere was in the air that night?

Seriously, it felt like the English people were with us that night. We felt everyone's pain in France and so did England. The Paris attacks didn't just affect France, they touched everyone in the world because these problems are everywhere. We were thinking about all those people but we have to fight this – we can't just stop the way we live, we have to move forward and for us that meant playing football. We try to not think about the bad things happening, but we'll never forget the people who died that day. Football can make people smile again.​

Was playing on the streets of Paris a big part of your life growing up?

Yes, everyday. Everyday we'd go on the street to play 5v5 or futsal. That's Paris, when we play football that's how it is. We started out in the hood and we'd play between cars and stuff, it was never glamorous.

Talk about the huge deal with adidas that you signed earlier this year. What was it about adidas that made it the right place for you?

Since I was young, I was always playing with adidas – it's crazy. I always played with Predators, just like the ones Zizou used to wear. I chose adidas because of the product – I love the shoes and they just fit me. Once I wore adidas, it reminded me of when I was younger.

Pusha T recently posted a photo of your boots on Instagram, saying he was a gifted a pair by you. Do you know how that came together?

Pusha T actually helped me get with adidas, he made a nice video to encourage me to sign with adidas – and through that I saw adidas were genuinely interested in me, too. I thought I had to give him a little something, and the boots were a good place to start.

Pusha T and Kanye have both been very hands on in their roles with adidas. Would you like to follow their lead and work on the creative side of the company, too?

Yeah, that's the objective and it's what I want. It would be a good challenge for me, to make something outside of football and that's why I like adidas. It's about more than football. They want to make an impression on culture, too.

What are you bumping on the pre-match playlist right now?

I love American music, of course. Artists like Future, Drake, Fetty Wap, Young Thug, Travis Scott…U.S. hip-hop is my thing. Not a lot of the other players like it but I put it on anyway. They're too old, I'm trying to educate.

What's the ultimate goal for Paul Pogba?

Holding up the Ballon d'Or, of course. That would be a dream, the Ballon d'Or is something else, I'd love it. But I'm still far away and there's work to do.