Dr. Romanelli Is the Mad Scientist of Vintage Clothing
Finding new context.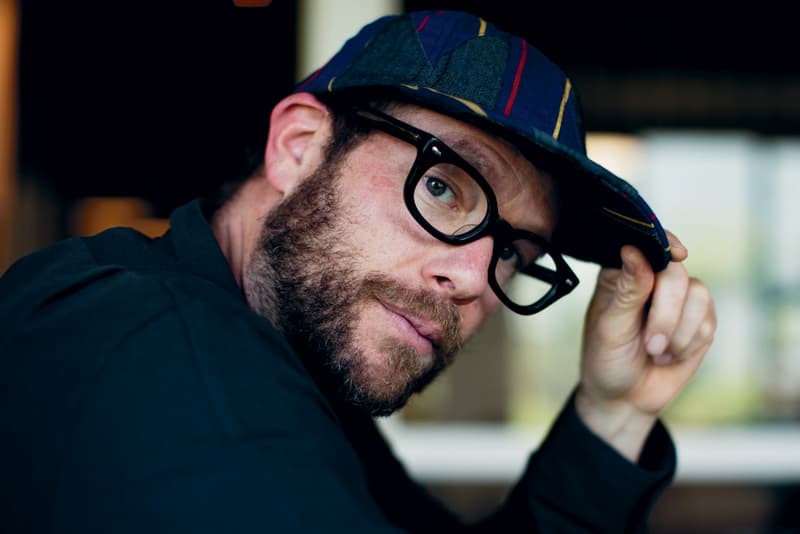 For many mad scientists – or perhaps the more popularly known Dr. Victor Frankenstein – the act of dissection, experimentation and reconstruction is what satisfies the heart of their passion. That desire to understand where something came from and what further potential it has pulsates through their veins in a way many may never come to experience. Curiosity is human nature, however it takes a certain level of drive and focus to build a career from it.
Californian native Darren Romanelli was born with the same geist as the mad scientists we hear about. Without truly understanding – nor needing a reason to – Darren found a deep desire to explore his interests to the nth degree; to anatomize, analyze and reimagine a project. During his years in college, Fashion played the muse for his fascination, and from then on, Darren Romanelli came to be known as "Dr. Romanelli," subsequently naming his brand the abbreviated "DRx" in 2000. Through his brand, Darren worked on projects which allowed him to delve into a myriad of fabrics and garments from other brands, and through collaboration, he singlehandedly crafted new pieces that can be argued as an elevated product; the best pieces from several merged into one coherent item of style.
Adjacent to his passion for breaking down and building up new narratives for clothing, Darren also had a thirst for coffee. On top of that, he also loved the idea of creativity, so he put the two together in 2012 to create The Pancake Epidemic, a café and creative safe haven that started off as a place for him and his staff, but quickly developed into a think-tank sanctuary for family, friends and likeminded others. His official pursuit for creativity came 11 years before, when Darren helped start the network agency StreetVirus. Operating as a marketing hub that seeks out the perfect match of tastemaker and brand, StreetVirus offers the tools needed for creative exchange which serves as somewhat of an extension of the doctor himself.
Darren Romanelli's love for in-depth exploration and creativity inspired our own deeply vested interest in the same two things, which is why we sat down with him at his office in Los Angeles to do a bit of dissecting ourselves. We wanted to open up Darren's head to better understand his personal reasoning behind what he does, why someone finds interest in seeking out his own version of something already established, and what he personally gains from doing so. In our bid to figuring out how his mind works, we were able to piece together an interview that describes a man with the utmost sense of curiosity, with a little bit of madness thrown in.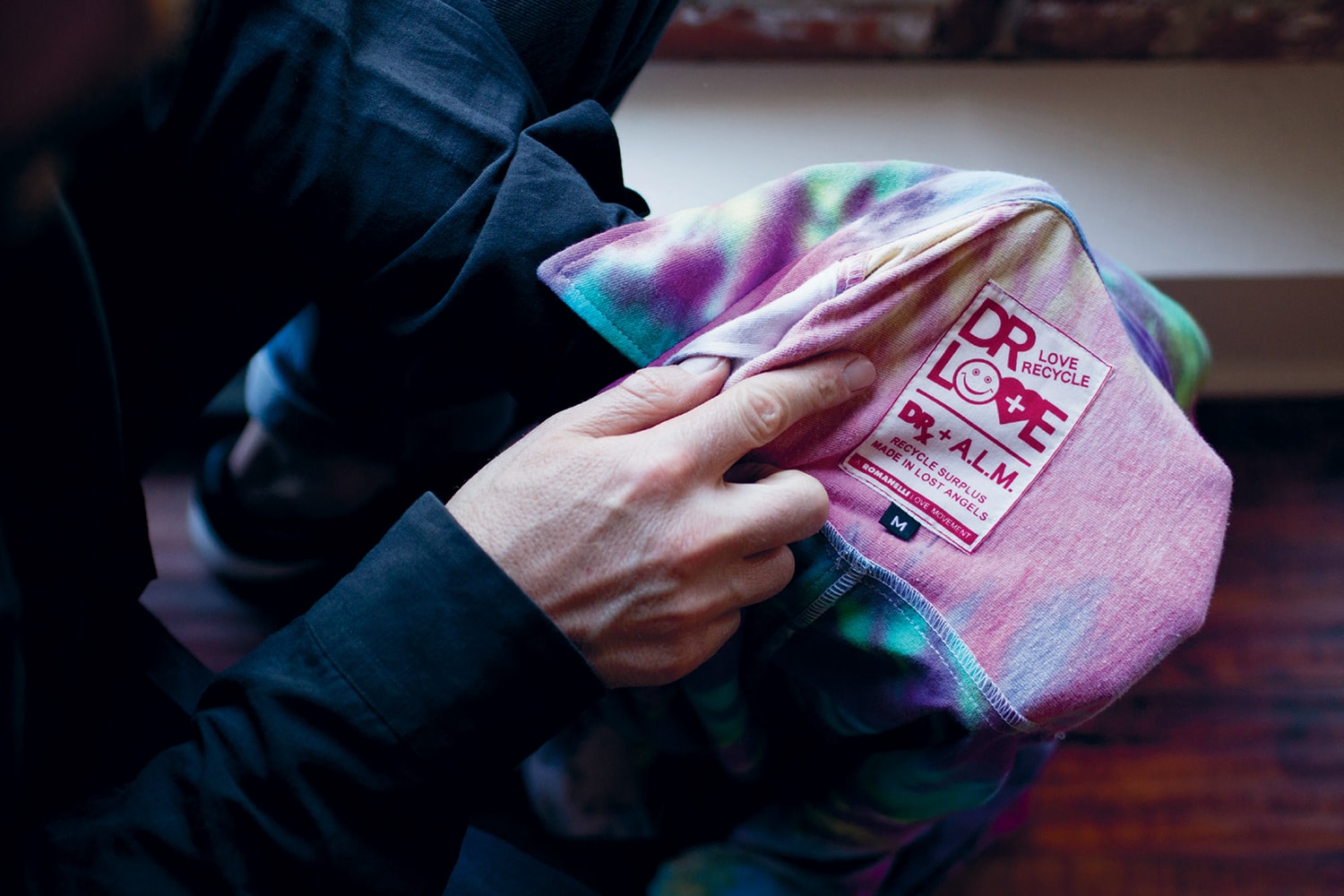 The truer I am to my gut and my intuition, the better the project turns out.
Starting from the beginning, where did the act of repurposing fabrics originate from? Why do you find it interesting?
It sort of just happened. Creating original gear for myself was appealing to me in college, and I was intrigued by the idea of recycling and remixing fabrics; the unknown of what the future will hold. I've always had this fascination of playing with storytelling. Reinterpreting, deconstructing and resurrecting these fabrics gave them new context.
Has your initial approach to new projects changed over the years? How so? Can you describe how you used to creatively explore a project to how you do so now?
In the beginning, I was figuring out who I was as a creative, trying to absorb as much as I could. These days, my approach is more structured. The project incubation stage is incredibly layered, and more effort goes into the planning process than I could have ever imagined earlier in my career. The truer I am to my gut and my intuition, the better the project turns out. I'm finding my best creative work comes from a place of being inspired.
In understanding the way you work, how do you envision whether certain materials, colors or styles work well together? What goes on in your mind when you start off with multiple items/fabrics to work with?
That's an interesting question, because for me, when I'm going into a collection, I'll have existing piles of vintage pieces that I'll pull inspiration from. Usually there's an anchor piece to carry each creation – or a main textile in my eyes – then I accentuate it with different pieces of vintage and leather, which come together in the midst of designing. It's hard to describe, but usually I'll envision in my head how everything will piece together once it's laid out.
So why do you research and destroy, to then rebuild? What's the mentality behind this?
I'm a collector. I've always collected things my whole life, whether it was Air Jordans or 501s, art, watches, books, clothing, Grateful Dead memorabilia. There are so many things that I've personally enjoyed the process of collecting. Having a goal, looking for it, collecting it, finding different variations, to me, that process is so important.
The idea of destroying that collection, whatever it may be, then reimagining it, recycling, and reintroducing it; I love it. I like the notion of before and after, experimenting and deconstructing something that involved so much time and energy collecting. There's that mad Frankenstein element that goes into my approach to projects and products. I approach life with a very similar curiosity and determination.
Before, DRx Romanelli was specific to clothing or products, but now it's more about space as a whole and personalizing environments. I like to think of myself as an alchemist: I take a room at the agency and turn it into a lab experiment.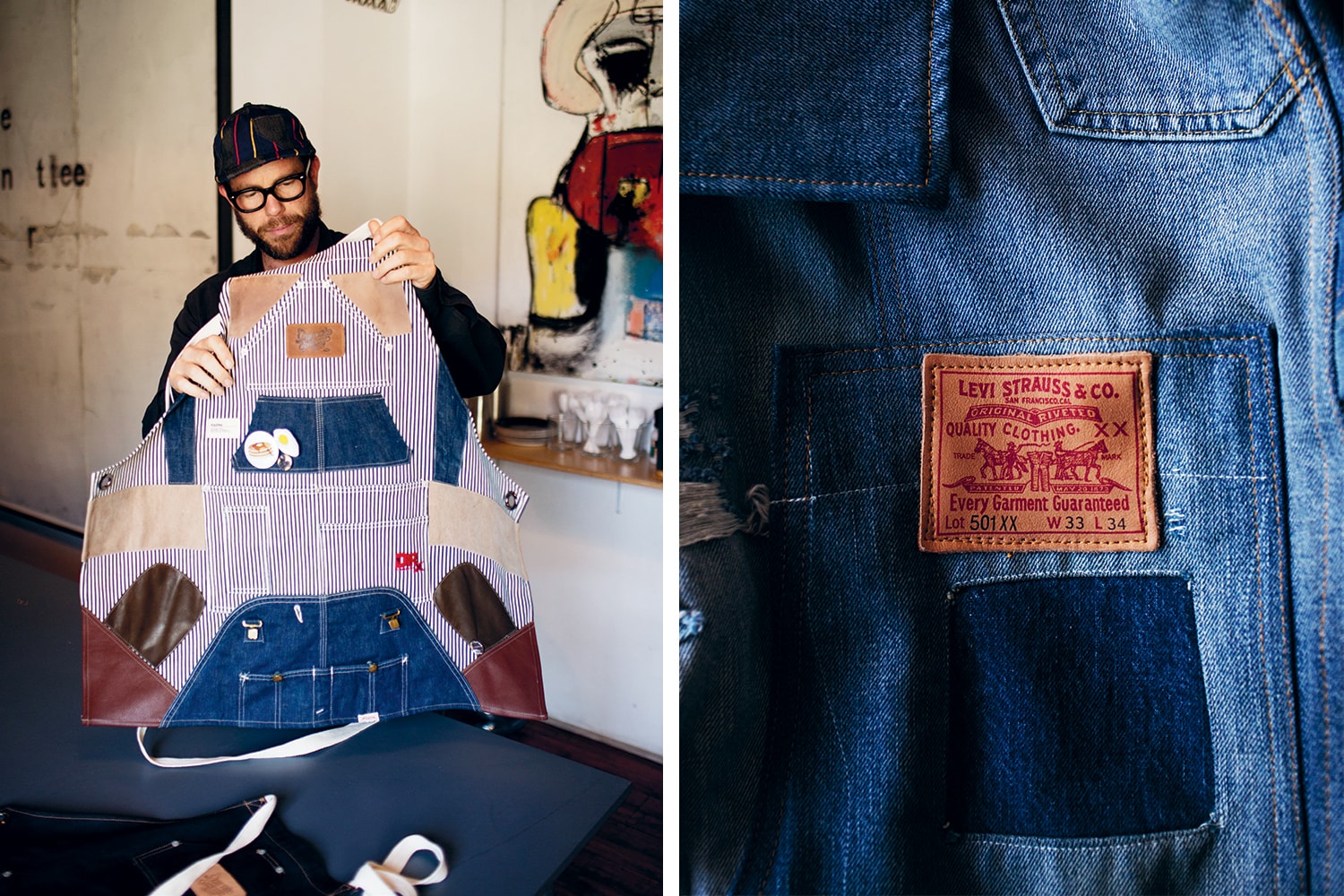 To me, being creative is tapping into your inspiration on the daily, going deep and almost getting lost in it.
Having worked with numerous brands, talk to us about the process behind going into the archives, breaking apart products and tapping historic items to rebuild them, and the reward/satisfaction you gain from doing this.
There's something attractive about working with a brand that has over 100 years of history. The research phase is intensive so there has to be passion from day one. There's something to be said about journeying into a company's archives, deconstructing its identities, seeing how something is so classic yet disconnected, but with the right recipe, can be so relevant again. To me, that process and dialogue is interesting.
What are some of your favorite brands and materials to work with and why?
It usually boils down to vintage military for me. The distress, the wear and tear, and story behind it is amazing. I've always loved denim, specifically Japanese Boro and vintage Levi's. You can tell so much about someone's personality from the jeans they wear: the natural distress, where the fade stems from, and the aging. It's so interesting to me. Whether it's Levi's or Carhartt, there's so much history there. I'm fascinated by the iconography as well. I'm also drawn to vintage sport as a whole: vintage ski apparel, old jerseys, vintage Nike, Coca Cola streetwear, early Polo, COMME des GARÇONS, visvim and Double RL.
From all of your projects, what is the most unconventional repurposed fabric that you have enjoyed working with? What was its history?
Nick Wooster invited a handful of designers to create capsule collections for PROJECT WOOSTER, and I sourced a bunch of old sails from Captain Alexander Pincus's Atlantic Yachting business. It was a challenge to clean, cut up and reconstruct the material – some dated back to the late '80s – but I was drawn to the idea of it being distressed by the sun and sea. I pulled inspiration from its initial life as a sail and made a blazer short suit and a backpack with sheer striped lining.
What do you currently find most challenging for you? How does it compare to what you used to find most challenging earlier on in your career?
Time. More than anything, there's just not enough time. I'm presented with so many great projects and opportunities that I have to be selective and smart about what I take on, since I want to have time for my kids and time for my brand, DRx.
Moving to the bigger picture of what you do, you have a lot of inspirationally creative ventures under your belt, from the Romanelli brand to the marketing agency StreetVirus to the creative house The Pancake Epidemic. What does it mean to you to be "creative?"
To me, being creative is tapping into your inspiration on the daily, going deep and almost getting lost in it. It's the idea of recognizing your creativity, getting to know it and building with it. It's what I chase everyday: that rush of locking in.
At TPE, we've created a safe place to be creative. Whether we're rotating the art collection, working on playlists or enjoying coffee, I'm inspired and I like to think my staff are inspired. There's a feeling everyone can tap into here at the office; you'd be surprised how authentic the creativity feels to us as an agency.
I look at what Eames built with their office in Venice way back in the day. It was such a unique environment, and I remember reading about it and being inspired by how there were no boundaries behind their approach to chairs. They embraced ideas. We're the same way with how we approach branding and storytelling.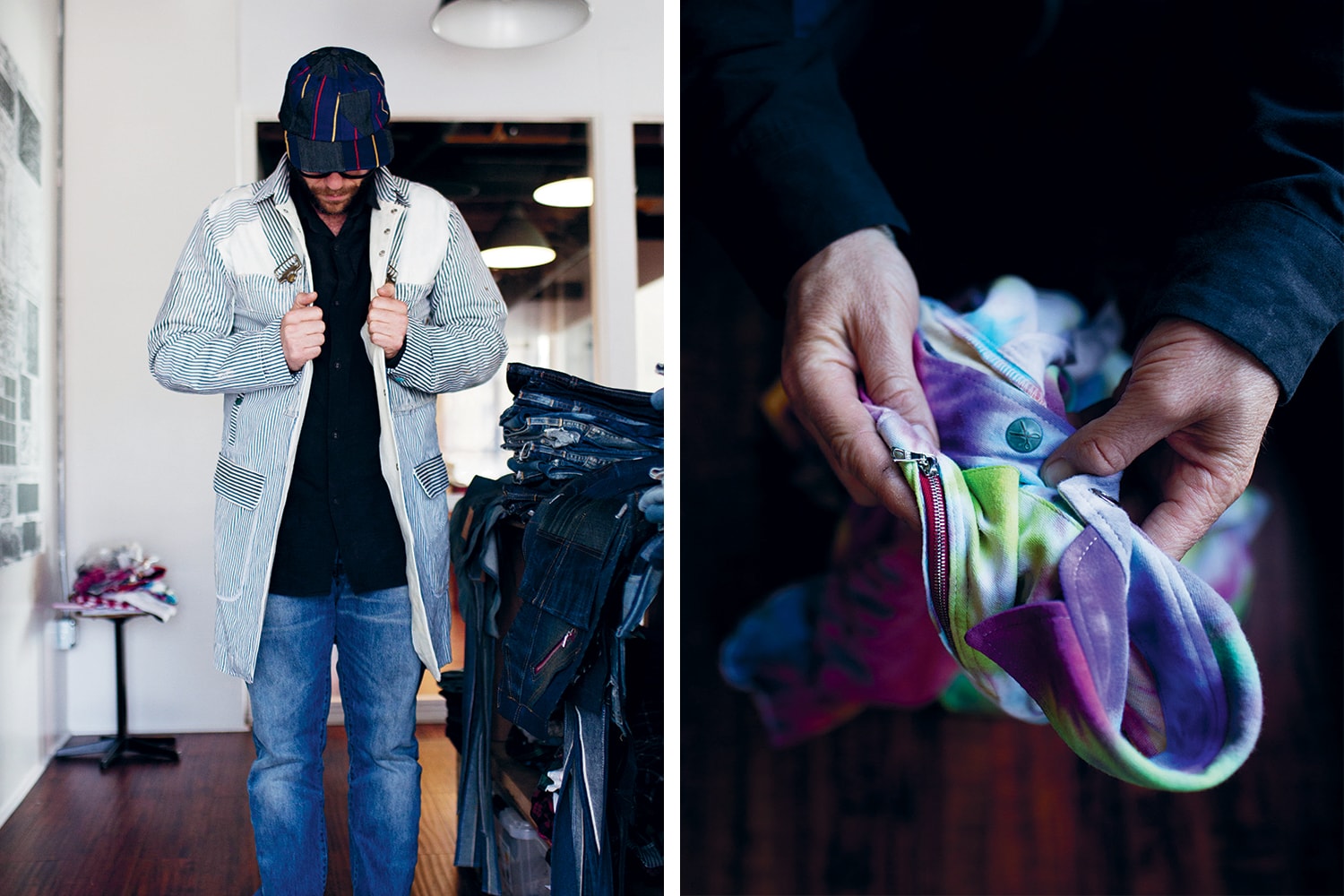 It sounds cliché but performing surgery on vintage clothing, resurrecting them and bringing them back to life, the medicinal side of fashion to me sounded very relevant.
Talk to us about StreetVirus and how it connects influencers and tastemakers alike with brands to rejuvenate their image, making them relevant to consumers.
I always talk about the moment of impact – being able to research what consumers are wearing at that moment, what they're drinking, what they're listening to, and what art is on their walls. I don't think we set forth to do what we do, it's something that came organically from our practice as marketers and branders.
What we've created here is a little pocket of culture and we're super protective of it, constantly developing it, and pushing ourselves to pull off challenging projects. From this approach, an electricity is formed, a dialogue, that to me is invaluable – authentically attracting tastemakers. This creative exchange is what's critical for me to keep the energy relevant, especially to me living in Los Angeles. The city is bubbling right now and we're in for a big chapter here with the arts. We couldn't be exploding at the seams at a better time. It's the perfect setup for us to really do important work.
For DRx, why are you drawn to the medical aesthetic that you incorporate into a lot of your work (even your name)?
Everyone called me "Dr." growing up because of my initials. It was a natural fit and I ran with it. I liked the idea of prescriptions working as collections. It sounds cliché but performing surgery on vintage clothing, resurrecting them and bringing them back to life, the medicinal side of fashion to me sounded very relevant at the time. I don't tap into it as much as I did, but there's still something interesting to me about a medical aesthetic.
How is The Pancake Epidemic doing? How important has its space been in bringing creatives together and inspiring them to come up with ideas/creative opportunities?
Initially, I created the space to inspire myself and my employees. We began to invite people to stop by. People invited their friends and it spiraled into this weekly Friday coffee grinder. We did it religiously every Friday for a year, but it's more sporadic now. It was never meant to be a think tank, more an idea to craft a space for my community, which was the perfect fusion of contemporary art, brands and coffee. That's been the mix. When we began, there wasn't an outlet to be creative and connect, especially in LA, so it's a great way to break bread each Friday morning and spark dialogue among my friends.
What are you currently learning about?
For me, I'm learning about being more present. Being more aware of my surroundings instead of getting lost in the vortex; I'm stepping out and observing it. Before, I'd get lost more and more in the moment – now I can better flow with it, I'm more aware. Simplifying what's happening around me.
Are there any future ventures that we can look forward to from you?
Pancake Epidemic 2.0 is popping off in the fall. It's going
to be a consumer facing café and its location will be announced soon. We've also been working on reintroducing Felix the Cat for DreamWorks and I have a DRx Romanelli x Cali Thornhill DeWitt release at UNITED ARROWS with Poggy, as well as an upcoming collection with SURFER Magazine.
---
The above editorial is featured in HYPEBEAST Magazine Issue 11: The Restoration Issue, available at select stockists worldwide.