FIFA Reveals FIFPro World11 2016 Player Nominations
The best of the best.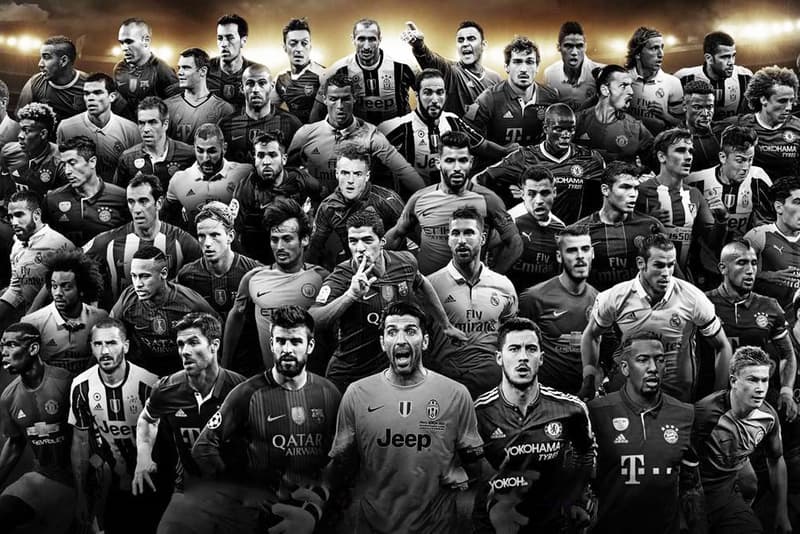 The shortlist for the FIFA FIFPro World11 2016 has been announced today by FIFA, FIFPro and the Worldwide Players' Union. What makes the FIFA FIFPro World11 special is that it is decided by the players for the players. With more than 25,000 professional players from around the world, each player nominates their top goalkeeper, four defenders, three midfielders and three forwards. The final FIFA FIFPro World11 will be awarded at the inaugural The Best FIFA Football Awards ceremony being held on January 9, 2017 in Zurich.
Goalkeepers

Claudio Bravo (Chile/FC Barcelona/Manchester City)
Gianluigi Buffon (Italy/Juventus)
David de Gea (Spain/Manchester United)
Keylor Navas(Costa Rica/Real Madrid)
Manuel Neuer (Germany/FC Bayern Munich)

Defenders

David Alaba (Austria/FC Bayern Munich)
Jordi Alba (Spain/FC Barcelona)
Serge Aurier (Côte d'Ivoire/Paris Saint-Germain)
Héctor Bellerìn (Spain/Arsenal)
Jérôme Boateng (Germany/FC Bayern Munich)
Leonardo Bonucci (Italy/Juventus)
Daniel Carvajal (Spain/Real Madrid)
Giorgio Chiellini (Italy/Juventus)
Dani Alves (Brazil/FC Barcelona/Juventus)
David Luiz (Brazil/Paris Saint-Germain/Chelsea)
Diego Godín (Uruguay/Atlético Madrid)
Mats Hummels (Germany/Borussia Dortmund/FC Bayern Munich)
Philipp Lahm (Germany/FC Bayern Munich)
Marcelo (Brazil/Real Madrid)
Javier Mascherano (Argentina/FC Barcelona)
Pepe (Portugal/Real Madrid)
Gerard Piqué (Spain/FC Barcelona)
Sergio Ramos (Spain/Real Madrid)
Thiago Silva (Brazil/Paris Saint-Germain)
Raphaël Varane (France/Real Madrid)

Midfielders

Xabi Alonso (Spain/FC Bayern Munich)
Sergio Busquets (Spain/FC Barcelona)
Kevin De Bruyne (Belgium/Manchester City)
Eden Hazard (Belgium/Chelsea)
Andrés Iniesta (Spain/FC Barcelona)
N'Golo Kanté (France/Leicester City/Chelsea)
Toni Kroos (Germany/Real Madrid)
Luka Modrić (Croatia/Real Madrid)
Mesut Özil (Germany/Arsenal)
Dimitri Payet (France/West Ham United)
Paul Pogba (France/Juventus/Manchester United)
Ivan Rakitić (Croatia/FC Barcelona)
David Silva (Spain/Manchester City)
Marco Verratti (Italy/Paris Saint-Germain)
Arturo Vidal (Chile/FC Bayern Munich)

Strikers

Sergio Agüero (Argentina/Manchester City)
Gareth Bale (Wales/Real Madrid)
Karim Benzema (France/Real Madrid)
Cristiano Ronaldo (Portugal/Real Madrid)
Paulo Dybala (Argentina/Juventus)
Antoine Griezmann (France/Atlético Madrid)
Gonzalo Higuaín (Argentina/Napoli/Juventus)
Zlatan Ibrahimović (Sweden/Paris Saint-Germain/Manchester United)
Robert Lewandowski (Poland/FC Bayern Munich)
Lionel Messi (Argentina/FC Barcelona)
Thomas Müller (Germany/FC Bayern Munich)
Neymar (Brazil/FC Barcelona)
Alexis Sánchez (Chile/Arsenal)
Luis Suárez (Uruguay/FC Barcelona)
Jamie Vardy (England/Leicester City)