The Best Albums of 2016
We pick our 20 favorite projects of the year.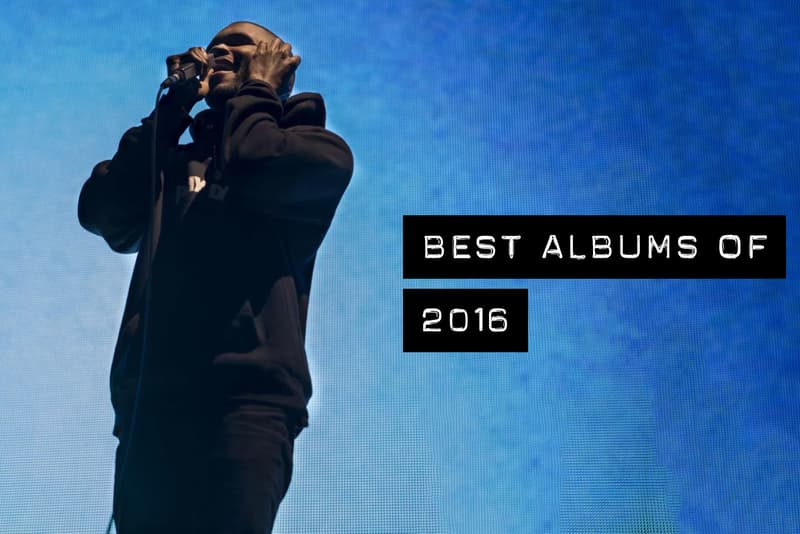 Although 2015 was considered the most dynamic years in recent music history, it is without question that 2016 tops it. Not only did music's biggest stars drop impressive, sometimes unpredictable releases, there were countless tasteful comeback albums from veterans as well as debuts from newcomers. This year was filled with so many compelling releases that even a top 20 roundup is fairly difficult to put together. We witness history being made this year as streaming only free albums are now considered for GRAMMY awards, ultimately placing a gravestone on the traditional record-release model.
For many aspects, 2016 was a not-so-great year. For music, however, it was beyond outstanding. Check out HYPEBEAST's handpicked list of best LPs, EPs and mixtapes of the year.
20. BADBADNOTGOOD – IV
IV is BADBADNOTGOOD's fourth studio album, following the band's 2014 LP III and their 2015 collaborative project with Ghostface Killah, Sour Soul. It's the Toronto outfit's biggest, jazziest and most daring release yet, spotlighting an eclectic assortment of guest features like Sam Herring, Colin Stetson, Kaytranada, Mick Jenkins and Charlotte Day Wilson. BBNG started off as a hip-hop cover band but with IV they've established themselves as adept, sophisticated musicians with refreshing interpretations of jazz music.
19. Danny Brown – Atrocity Exhibition
It was announced during the summer this year that Danny Brown signed to WARP Records. The move couldn't have been better as proven in his latest album, Atrocity Exhibition. Primarily produced by Paul White, the album features guest appearances from Kendrick Lamar, Ab-Soul, Earl Sweatshirt, B-Real, Kelela and Petite Noir. Brown's maturing sonic aesthetic is heard throughout the LP, which features a mix of post-punk, techno and soul. Paired with his recognizable voice and rapping style, the LP is a flavorful, forward-thinking experience.
18. Kendrick Lamar – untitled unmastered.
Because untitled unmastered. is but a compilation album that consists of unreleased demos, it's nowhere as masterful as its 2015 predecessor, To Pimp a Butterfly. With that being said, however, the project is still one of the year's best and most impactful. Lyrically, the work explores politically and psychologically-charged themes that could not be more relevant in 2015-2016 America and like TPAB, has an experimental yet luscious sound. With its incorporation of free jazz, soul and funk styles, untitled unmastered. can barely be classified as a hip-hop album.
17. ScHoolboy Q – Blank Face LP
Although Blank Face LP is the fourth studio album by ScHoolboy Q, the project is only his second release under a major label following 2014's Oxymoron. Guest feature and production-wise, Blank Face tops its predecessor with prominent artists like Kanye West, Jadakiss, Tha Dogg Pound, Miguel, Swizz Beatz, Metro Boomin, Southside, The Alchemist and more. Even thought the album runs 72 minutes long, it does not feel dragged or forced. The LP's eclectic range of sonic and lyrical content makes it one of the most captivating releases of the year.
16. Rihanna – Anti
Rihanna finally released her eighth studio album Anti at the end of January this year, after a series of delays. The album has been in the making since 2014 after she left Def Jam to join Roc Nation. The 13-track album features production work from Boi-1da, DJ Mustard, 40, Hit-Boy, Timbaland, No I.D., Tame Impala and more, and only contains two features — from SZA and from Drake. Anti is her most progressive record to date, as its title suggests. It showcases a rawer and more unguarded side to the songstress.
15. Drake – VIEWS
Albeit most fans and music critics would not consider Drake's VIEWS to be his best release, with its 4x Platinum certification it's certainly one of his most popular. Drizzy's fourth studio album is the most-streamed album on Spotify and its single, "One Dance" is the most-streamed track on the platform. VIEWS is also the first album to get one billion streams on Apple Music. While there are certainly outstanding elements and moments throughout the project, Drizzy seems to be artistically stagnant, unadventurous and overall, the LP lacks a strong, cohesive theme.
14. Skepta – Konnichiwa
UK grime became commercially recognized in 2015 with the assistance of rap superstars like Kanye West and Drake. After numerous delays, grimes biggest artist Skepta finally dropped his highly anticipated fourth studio album, Konnichiwa. It features guest appearances from JME, Boy Better Know, D Double E, Novelist, Wiley, Chip, Pharrell Williams, A$AP Nast and Young Lord aka A$AP Bari. Konnichiwa is a milestone in British street music; it is a catchy, accessible record that did not have to sacrifice authenticity and street rawness to compromise. It won the 2016 Mercury Music Prize, beating David Bowie and Radiohead.
13. Lil Uzi Vert – Lil Uzi Vert vs. The World
Up until the end of last year, very few people knew who Lil Uzi Vert was. However within a few months the Philadelphia rapper established himself as one of the most buzz-worthy, controversial and popular up-and-comers in music. Uzi's biggest release thus far is his fourth mixtape, Lil Uzi Vert vs. the World, which he dropped in May of this year. Featuring productions from Cubeatz, Don Cannon, Lyle LeDuff, Maaly Raw, Metro Boomin and WondaGurl, the project contains popular tracks like "Money Longer," "You Was Right" and "P's and Q's."
12. Donald Glover – "Awaken, My Love!"
In 2015 there was speculation that Childish Gambino has quit rap to pursue endeavors outside of music, namely his hit FX TV series Atlanta. However, throughout 2016 he has teased the possibility of new music and finally released some in the form of his third studio, "Awaken, My Love!" earlier this month. It's the first time Glover has veered away from hip-hop completely; tracks are sung and its sonic influences include psychedelic soul, R&B and funk. This album proves that Donald is not only a talented comedian, actor, director and rapper, he is also a virtuoso multi-instrumentalist and artist.
11. A Tribe Called Quest – We got it from Here… Thank You 4 Your Service
Many legendary hip-hop groups have made comeback albums in the past but none are quite as epic as A Tribe Called Quest's. We got it from Here… Thank You 4 Your service comes 18 years after their last release The Love Movement and a few months after the death of founding member Phife Dawg. The LP features guest appearances from André 3000, Kendrick Lamar, Jack White, Elton John, Kanye West, Anderson .Paak, Talib Kweli, Consequence and Busta Rhymes. The project sonically retains the classic '90s indie East Coast hip-hop vibe that ATCQ originated but is presented in an experimental and fresh new approach.
10. James Blake – The Colour in Anything
The Colour in Anything is James Blake's third studio album and follows his Mercury Prize-winning 2013 LP Overgrown. Featuring contributions from Frank Ocean, Justin Vernon, Rick Rubin and more, the 17-track LP contains some of the best, darkest and most tear-jerking work he's ever released. Blake exhibits a dismal, dark vibe throughout the project; his signature voice over the looming bass and airy piano is a fail-proof recipe for some of the most beautiful music one will ever lay ears on.
9. Bon Iver – 22, A Million
2016 was a good year for artists to experiment and release raw, unpolished bodies of work. Bon Iver did so with his latest album, 22, A Million. While his debut, For Emma, Forever Ago and its followup, Bon Iver, showcased very refined and pretty melodies and soundscapes, his latest, which premiered at Justin Vernon's Eaux Claires Music Festival, record contains fragmented and fractured moments. It captures the sentiment of personal issues in an accurate yet totally new way, purposefully exposing Vernon's vulnerable side.
8. Kaytranada – 99.9%
Kaytranada has been buzzing in the beat scene for a few years now, and his incredible debut 99.9% helped position him as one of the most talented and forward-thinking producers of our time. The 15-track album features guest contributions from the likes of Craig David, Anderson .Paak, Vic Mensa, Little Dragon, Syd, AlunaGeorge and BADBADNOTGOOD amongst others. While his foundation is hip-hop, the music is mixed with disco, funk, R&B, electronic and other elements. It's the ideal album to chill to with friends or introduce funk, soul and jazz music to for those who are unfamiliar with the genre.
7. Solange – A Seat at the Table
Solange has always been overshadowed by her superstar sister, Beyoncé, but her latest album A Seat at the Table proves that she is a worthy Knowles contender. It's her first No. 1 album on the Billboard 200 and is widely acclaimed by music critics. Solange explores a mellow R&B aesthetic and examines the pluses and downsides of being black in America. A Seat at the Table is an essential album for 2016's sociopolitical climate and discussions.
6. Anderson .Paak – Malibu
Anderson .Paak is another up-and-comer who went from obscurity to being one of the most exciting new acts in recent years. The Oxnard singer-songwriter's sophomore album, Malibu, is his strongest release to date. The 16-track record features BJ the Chicago Kid, ScHoolboy Q, Rapsody, The Game, Talib Kweli and more, and production from Madlib, 9th Wonder, POMO, Kaytranada, Hi-Tek, Hiatus Kaiyote, himself and more. His masterful yet relaxed combination of hip-hop, soul, gospel and electronic vibes is refreshingly unique.
5. Radiohead – A Moon Shaped Pool
A Moon Shaped Pool follows a five-year gap between Radiohead's last album, The King of Limbs. The band's ninth studio album not only features new music but includes several songs written in the past like "True Love Waits," "Burn the Witch" and "Present Tense." Although the album was not promoted until the week before its release, it debuted at No. 1 on the UK charts, becoming the band's sixth UK No. 1 album. A Moon Shaped Pool is one of Radiohead's most emotionally captivating and vulnerable albums, exhibiting a melancholic, comforting aesthetic throughout.
4. Chance The Rapper – Coloring Book
Coloring Book, the mixtape formerly known as Chance 3, is Chance the Rapper's most progressive yet accessible project yet, with such good quality it's befuddling why it's not considered an album. It spotlights production from The Social Experiment, Lido, Kaytranada, and others and features an eclectic range of artists including Kanye West, Young Thug, Francis and the Lights, Justin Bieber, Ty Dolla Sign, Kirk Franklin and more. It's the first album to chart on the Billboard 200 entirely on streams. With its incorporation of soulful, gospel and electronic vibes, Coloring Book is not only one of the best rap tapes, but overall releases of the year.
3. Beyoncé – Lemonade
Regarded as one of her most progressive, conceptual and controversial albums in her career thus far, Lemonade is Beyoncé's second "visual album" following her eponymous 2013 record. Accompanied by a one-hour film premiered on HBO, Lemonade features guest vocals from James Blake, Kendrick Lamar, The Weeknd, Jack White and more. Sonically, it infuses an assortment of genres like rock, blues, reggae, soul, funk and more. Content-wise, the album addresses personal, raw and relatable subjects such as her husband JAY Z's alleged infidenilty, socioeconomic matters and more. Like Rihanna with Anti, Beyoncé ventured into a deeper, more experimental and rawer route without losing her pop appeal.
2. Kanye West – The Life of Pablo
Kanye West's seventh studio album, The Life of Pablo, had possibly the most confusing rollout of 2016. Originally premiering on February 11 during West's Yeezy Season 3 fashion show, West then continued to make alterations to the music following the release, dubbing it "a living, breathing, changing creative expression." Despite having an unfinished feel to it, it debuted at No. 1 — his seventh consecutive. The compositions messiness and choppiness feels like it was created that way on purpose, in order for listeners to figure out and put the pieces together themselves.
1. Frank Ocean – Blonde
Frank Ocean's second studio album Blonde makes the top of our list this year. Following many delays and one of the most dragged-on processes of anticipation (remember staring at the warehouse video on his website for a week straight?), the LP was well-worth the wait. Not only does the album feature guest vocals from Yung Lean, André 3000, Beyoncé and more, production is tackled by Malay, Om'Mas Keith, James Blake, Pharrell, Ocean himself and more. Similar to Kanye West's The Life of Pablo, Blonde had obvious, purposeful loose ends, but that rawness rendered as a strength instead of a flaw. It's hands down the most emotional, deep and alluring record of the year.