Artists to Watch Out For in 2017
10 names you should keep on your radar.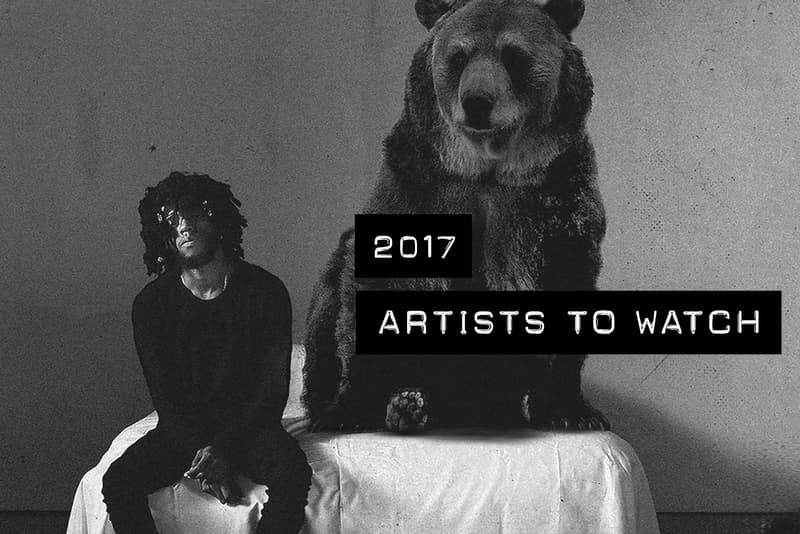 2016 may have been, to some folks, the worst year ever with the untimely passings of many famous figures, but in terms of music, 2016 has been nothing less than outstanding. While this was a huge year for big name artists such as The Weeknd, Drake, and Frank Ocean—who all broke historic records—there were plenty of up and coming acts making some huge waves of their own in the music scene. With that said, our list was incredibly difficult to narrow down, but we're looking ahead at 2017; in doing so, we've come up with a list of 10 new young talents who will hopefully make 2017 their big year in Hip-Hop, R&B, Jazz, Grime, Pop and Indie-rock. Let's hope all these artists live up to their potential.
Divine Council
If Andre 3000 will make a rare appearance on your behalf, you know you're doing something right. The Outkast legend gifted his talents to Divine Council's $ilk Money-powered "Decemba" remix, capping off an already stellar year for the cult-favorite crew. Composed of Cyrax!, Lord Linco, $ilk Money and ICYTWAT, Divine Council stands as one of the rap groups poised to have one of the biggest impacts in the new year. Riding off the momentum of the aforementioned Andre 3000 collaboration and the incredible Council World EP, the fast-rising crew needs just a few more solid records to become a media mainstay. For those who enjoy the melodic sounds that permeate today's production but aren't quite sold on the lyrics and flow, Divine Council is here to invade your speakers.
Explore their music on SoundCloud.
A Boogie Wit Da Hoodie
2016 was quite the year for A Boogie. The 21-year-old Bronx native dropped three releases, including his first mixtape, Artist, in February; he clocked three opening dates on Drake and Future's "Summer Sixteen" Tour; he got signed to Atlantic Records in July and had a single, "My Shit," hit the Billboard 100 that same month. Since then, he's collaborated with Philly's PNB Rock on a few notable singles and seems well positioned for a stellar 2017, since he's already hinted at a Drake collaboration coming down the pipe and announced a mixtape with Zaytoven coming early in the new year.
Explore his music on SoundCloud.
Dave
Sometimes credited as Santan Dave, this mostly-mononymous rapper from South London is making waves and catching the attention of those across the pond. While many Stateside first heard of Dave when Drake dropped a remix of "Wanna Know" on OVO Sound Radio in October, the Streatham native had been steady building a buzz in his own ends for some time. He jumpstarted his career with some well-received appearances on Charlie Sloth's "Fire In The Booth" on BBC's 1Xtra and SBTV's "Warm Up Session" series, and performed at a number of high-profile events including Bestival and the Red Bull Music Academy UK tour. At just 18 years old, Dave has already caught the attention of some pretty influential figures early on in his career. He definitely has youth on his side as well as talent—in addition to rapping, he's an accomplished piano player—so it will be interesting to see how he plays all those cards in 2017.
Explore his music on SoundCloud.
Charlotte Day Wilson
The 24-year-old Toronto-based songstress may be new to the game, but she's got an extraordinary grasp on Jazz and R&B that's timeless. What makes it all special is the approach: no marketing, quiet releases, and just letting the music speak. After her impressive debut of "Afterall" in January, followed by "Work," she eventually caught the attention of BADBADNOTGOOD who featured her on "In Your Eyes," which became an overnight hit off their critically acclaimed IV album that's become a contender for one the best albums of year. Back in August, she released her debut EP, CDW, further solidifying her movement, all-while shaking up the Toronto music scene in the process. With just one solid year in, it's safe to say she's just getting started.
Explore her music on SoundCloud.
H.E.R.
Her debut project, Vol. 1, went to number one on iTunes' R&B charts, and Alicia Keys and Bryson Tiller were just a few of the big names who publicly supported the project and reposted its songs—and all of this happened with no face or name to match the soulful-yet-sexy vocals on the seven-track EP. In fact, when RCA Records first sent out the press materials for the project, they were adamant that the identity of the singer remain secret. Though it hasn't been officially confirmed by anyone, many believe that H.E.R. is in fact 19-year-old California native Gabi Wilson, and while Vol. 1 marks her greatest mainstream success to date, she's has been chipping away at a music career for years. She appeared on The Today Show, Good Morning America, The View and the BET Awards before signing to RCA in 2015. Now is "H.E.R." time though, with many already looking forward to what's next from this mysterious rising star in 2017.
Explore her music on SoundCloud.
24hrs
Reinventing himself as 24hrs, Royce Rizzy has effectively created a path to stardom that could place him next to superstars like PARTYNEXTDOOR, Jeremih and Ty Dolla $ign. The Private Club crooner has already had the "Uber Everywhere" moment MADEINTYO previously had, mostly due to his OVO-approved records and the breakout success of tracks like "Body" and "You Know." 24hrs has already worked with Wiz Khalifa, Post Malone, Hit-Boy, Yo Gotti and Murda Beatz, with a joint project with Ty Dolla $ign on the way. Having already set the wheels in motion for a successful new year, the "Gucci Flame" artist is already at the top of rap and R&B's new school coming into 2017.
Explore his music on SoundCloud.
6lack
Back in May, Zane Lowe got ahold of a song from an unknown 23-year-old in Atlanta and debuted it on his Beats 1 radio show. Little would 6lack know, that song would catch on and eventually change the course of his young career. Since its debut, "PRBLMS" has amassed over 6 million streams and has rested on top of charts and playlists all across the board. Things would only get better when he released his debut project Free 6lack, which has garnered critical acclaim and reached top spots on Billboard's R&B/Hip-Hop Albums and the Billboard 200. To think that all of this may not have even happened after he signed a shady record deal in 2011, but 6lack is now making his own rules and poised to become a musical force in 2017.
Explore his music on SoundCloud.
Ugly God
If Lil B and the Based God's movement had a heir apparent, Ugly God would be in the running to take over the reins. The SoundCloud champion has amassed tens of millions of views and listens across the internet, and received the support of fellow youth champions like Famous Dex. Along with the wildly-successful Lil Yachty, Ugly God is part of a new group of artists aiming to inject some lighthearted, easily-enjoyable fun back into hip-hop's mainstream. If songs like "Water" were underground success stories, expect Ugly God's next round of hits to become mainstream hits.
Explore his music on SoundCloud.
Nav
Nav maybe one of the biggest sleepers in 2017. The mysterious rapper has quickly gained notoriety after releasing his Take Me Simple project last year. He would eventually follow up with more bangers in 2016 with songs like "The Man" and "Ten Toes Down" that would further cemented his ability as a hitmaker. Of course, it wasn't long after OVO took notice and featured him on OVO Sound Radio. Before you knew it, he was signed to The Weeknd's XO imprint and began collaborating with some of the biggest names in hip-hop, including Travis Scott on "Beibs in The Trap" and Metro Boomin, who he plans on releasing a joint album with in 2017. Based on what he's accomplished so far in 2016, he's in great position to take off in 2017.
Explore his music on SoundCloud.
NBA YoungBoy
A product of Baton Rouge's war-torn battlefield of rappers, NBA YoungBoy has distilled the visceral menace, melodic sensibilities and street stories of his scene's contemporaries into a stardom-ready package capable of producing a regional, viral anthem. While the possibilities for his career in 2017 remain undetermined, the success of songs like "38 Baby" and "What I Was Taught" might just make NBA Youngboy the closest thing we have to a new Lil Boosie. At best, the success of NBA YoungBoy's movement might shine the light on equally-talented Baton Rouge rappers like TEC, Maine Musik, Scotty Cain, Geaux Yella, Teflon Mula and others.
Explore his music on SoundCloud.