Dwyane Wade Finally Speaks Candidly About Offseason Move From Heat to Bulls
And his relationship, or lack there of, with Pat Riley.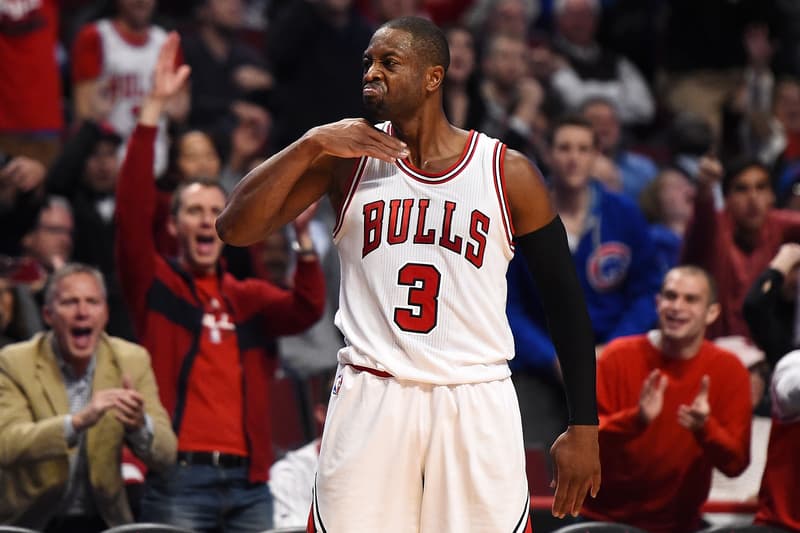 After 13 seasons and 3 Championships in Miami, superstar guard Dwyane Wade left the Heat for his hometown Chicago Bulls this summer, leaving us wondering 'what happened?' It was a very awkward divorce to say the least, where it seemed as if Miami's front office completely ignored the future Hall-of-Famer's free agency appeal, subsequently allowing him to walk away. And yet, both parties have been particularly quiet about last offseason's events, until Wade broke the silence Tuesday night in an interview with CSN Chicago's Vincent Goodwill. "I thought it was an opportunity I would be there forever, but shit happens… And when shit happens, you gotta be prepared to (move on). I found out very quickly that this is a business," said Wade.
He continued on to talk about how he, Bron, Bosh and the Heat handled contracts and free agency during the "Big Three" years:
"The biggest thing, is all about the way you communicate. I understand this business just as good as anybody. But it's a way, someone like me, a way you communicate what you're trying to do, and how you're gonna do it and what it looks like for me.

That's it. When you get respect, that's what you get back… I've given nothing but respect. I feel like a lot of things in this world and this league are mishandled from the notion of communication. That's it.

At the end of the day, I talked to those guys and I told them, 'It's free agency. I understand y'all have a job to do, and I have a job to do as well.' I let it be known I was going to be a free agent and I wasn't waiting by the phone for them to call me."
Wade continues on to talk about Hassan Whiteside receiving a max deal:
"And I did my homework because I understand Hassan was a priority, which he should've been… I understood that they were trying to go out and get KD, because that's something they wanted to do. But I had to look out for myself and put myself in a situation that I wanted to be in, if things didn't work out the way I wanted them to work out and they didn't.

You do things because you want to do them. All those things I did to stay in Miami was because I wanted to do them… When I made the sacrifice, when I could've gotten $127 million and I took $110 million to make sure LeBron and Chris (come) but I also have UD (Haslem) stay, those were things I wanted to do. I didn't want to be in Miami and enjoy the success and not have UD there."
The Chicago native then mentions LeBron's departure served as an obvious turning point for everyone:
"That's when things started changing… They decided to max out Chris, which I was all for. And then it became a situation with me from that standpoint and I wasn't happy with it. I ain't gonna say, oh, I was happy-go-lucky… Then I opted out again and the next year I signed the one-year, $20 million deal because I never made $20 million in a season. I wanted multiple years, they wanted to be players in free agency, I understand that.

It might've been different. I don't know. It could've been. It never happened… It's hard to say because it never happened. I was never put in that position, and I wasn't the first option. I'm not sensitive to say, 'If I'm not the first option, I'm leaving.
Lastly, here's what Wade had to say about his relationship with the Heat's front office and Pat Riley:
I've kept in touch from everybody there besides Pat. From the owners on down… It's nothing but respect, and I have no hard feelings. I understand what Pat is, he's a competitor. I've been knowing him for 13 years so I expect no different. People might not believe me, but I have no hard feelings toward Pat. Everything happened the way it was supposed to happen, everything happens for a reason, so I'm fine.

Life is too short to be holding grudges. At the end of the day, Pat has helped me become a very rich man… Me and Pat have won championships together. We've both helped each other's legacies. I love that guy. I know how he is. He's stubborn just like I am.