MLB 2016 Gold Glove Winners
San Francisco Giants Catcher Buster Posey finally snagged one, among 8 other first-timers.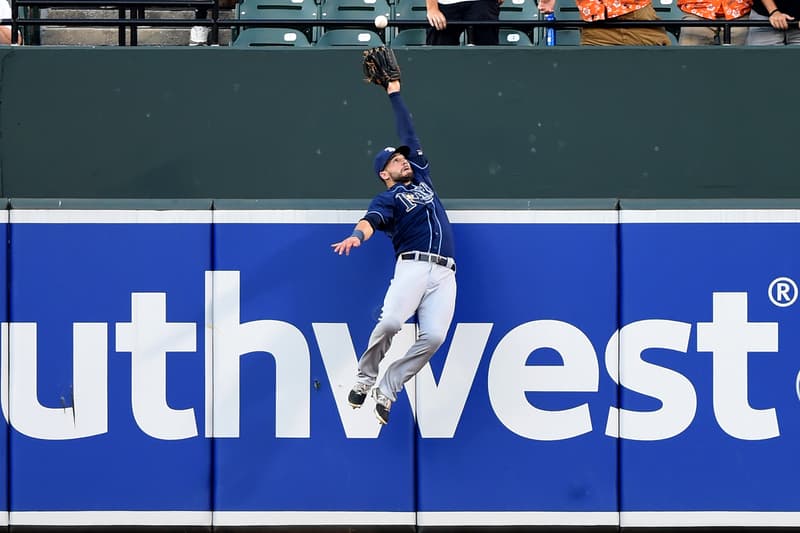 For those of you just trying to cope with the very stark realization that the MLB has departed to its winter cave, Rawlings has announced 2016's Gold Glove honorees. There are 9 first-timers this year, while defensive stars like Royals Catchers Salvador Perez, Rockies Third Basemen Nolan Arenado, and right fielder of the World Series champion Cubs, Jason Heyward, all snag their fourth nod. Adrian Beltre — third basemen of the Texas Rangers — leads the way with his fifth career award. It may be important to note that San Francisco Giants Catcher Buster Posey put a halt to Yadier Molina's run of eight straight Gold Gloves. However the win for Posey completes his trophy case, as the 29-year-old has won a Rookie of the Year award, a batting title, three Silver Sluggers, a National League MVP and three championship rings.
You can vote for each league's Platinum Glove winner here.
The 54 finalists (with winners in bold):
American League
PITCHER
R.A. Dickey, Blue Jays
Dallas Keuchel, Astros — 3rd career Gold Glove Award
Justin Verlander, Tigers
CATCHER
James McCann, Tigers
Carlos Perez, Angels
Salvador Perez, Royals — 4th career
FIRST BASE
Chris Davis, Orioles
Eric Hosmer, Royals
Mitch Moreland, Rangers — 1st career
SECOND BASE
Robinson Cano, Mariners
Ian Kinsler, Tigers — 1st career
Dustin Pedroia, Red Sox
THIRD BASE
Adrian Beltre, Rangers — 5th career
Manny Machado, Orioles
Kyle Seager, Mariners
SHORTSTOP
Jose Iglesias, Tigers
Francisco Lindor, Indians — 1st career
Andrelton Simmons, Angels
LEFT FIELD
Brett Gardner, Yankees — 1st career
Alex Gordon, Royals
Colby Rasmus, Astros
CENTER FIELD
Jackie Bradley Jr., Red Sox
Kevin Pillar, Blue Jays
Kevin Kiermaier, Rays — 2nd career
RIGHT FIELD
Mookie Betts, Red Sox — 1st career
Adam Eaton, White Sox
George Springer, Astros
National League
PITCHER
Jake Arrieta, Cubs
Zack Greinke, Diamondbacks — 3rd career
Adam Wainwright, Cardinals
CATCHER
Jonathan Lucroy, Brewers (traded to Rangers on Aug. 1)
Yadier Molina, Cardinals — snapped eight-year run as the top NL catcher
Buster Posey, Giants — 1st career
FIRST BASE
Paul Goldschmidt, Diamondbacks
Wil Myers, Padres
Anthony Rizzo, Cubs — 1st career
SECOND BASE
DJ LeMahieu, Rockies
Joe Panik, Giants — 1st career
Jean Segura, Diamondbacks
THIRD BASE
Nolan Arenado, Rockies — 4th career
Anthony Rendon, Nationals
Justin Turner, Dodgers
SHORTSTOP
Brandon Crawford, Giants — 2nd career
Freddy Galvis, Phillies
Addison Russell, Cubs
LEFT FIELD
Adam Duvall, Reds
Starling Marte, Pirates — 2nd career
Christian Yelich, Marlins
CENTER FIELD
Billy Hamilton, Reds
Odubel Herrera, Phillies
Ender Inciarte, Braves — 1st career
RIGHT FIELD
Carlos Gonzalez, Rockies
Jason Heyward, Cubs — 4th career
Nick Markakis, Braves