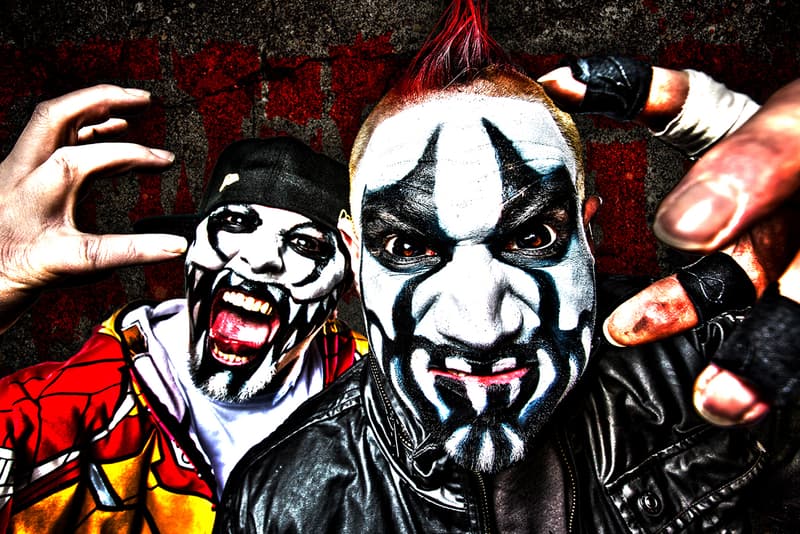 A Brief Overview of Creepy Clowns Adopted by Street Culture
Spanning music, movies, sports and fashion.
---
Given the recent hysteria of the so-called scary clown phenomena, much has been made of these creepy-costumed pranksters luring innocent children into dimly-lit forests. Already proven a safety concern for distressed parents far and wide, some have even taken matters into their own hands — conducting vigilante style "witch-hunts" in efforts to thwart such acts. For a character so deeply rooted in amusement and cheerfulness, how did the clown transform its once jolly image into one of villainous fright?
In taking a historical look back into time, kings and noblemen throughout the middle ages employed their very own clowns, Court Jesters as they were known then, to offer entertainment by way of song, dance and acrobatics. Shakespeare himself too cast a positive light on clowns — offering speaking parts while on the old English stage. Used as comic relief in between tragic mishaps, such jokesters did well to lighten the mood, much like they did in Hamlet and Othello. Although open for debate, a young Charles Dickens has on more than one occasion been credited with introducing the very first scary-themed clown. In his 1836 work The Pickwick Papers, Dickens tells tales of an off-duty clown, who through constant inebriation portrayed a darker, more sinister side.
While many of us — without digging too deep — can still echo cheerful memories of such personalities as Bozo, Crusty and Ronald McDonald, the '80s birthed a return to the creepy kind with Stephen King's horror novel It and of course Jack Nicholson's riveting rendition of The Joker leading the way. Throughout the course of mainstream street culture, many clowns have come and gone who in one way or another left their very own lasting mark. As if almost to question the underlying personality and ulterior motive behind the face paint, perhaps it's a gripping fear of the unknown that renders these characters so impressionable. Let's now take a look back at some creepy clowns who have over the years been embraced by mainstream street culture.
Clowning
As the story goes, Tommy Johnson, upon accepting his coworker's invitation to entertain her child's birthday party dressed as a clown, unintentionally created a performance genre that would forever alter the course of urban dance. Incorporating hip-hop music into his act, he would execute sharp body movements which later would become known as clowning. Well-received by those in attendance, Tommy the Clown Johnson then formed his very own crew called Hip Hop Clowns, who would perform dance acts all throughout the greater LA area. Quickly aligning to the oft aggressive nature of the music, a new style called krumping evolved, this form much more rugged and energetic in comparison. Quick to catch on nationwide, support for clowning has since spanned various entertainment channels, from appearing in music videos for the likes of Madonna, Missy Elliott and The Black Eyed Peas to receiving in depth coverage in David LaChapelle's documentary film Rize.
Insane Clown Posse
Hailing from the streets of Detroit, Michigan, is resident hip-hop duo Insane Clown Posse. Around since the early '90s, ICP have become known for their eccentric style of music known primarily as horrorcore. Embracing supernatural terror-laced lyrics, Violent J and Shaggy 2 Dope have successfully carved out their own niche — distinguishing themselves stylistically from all else within the industry. Through elaborate face paint, audacious outfits and wild stage performances, ICP amassed a small, albeit loyal following that rapidly solidified in size and strength, enough so to warrant their own designation — juggalos. Prior to even pursuing music, both members were avid wrestlers who each spent time climbing the professional ranks in countless independent promotions. Working their way up to the WWE and the WCW, the Insane Clown Posse then formed their own organization called Juggalo Championship Wrestling.
Juggalos
First mentioned while appearing live on stage, Insane Clown Posse's Violent J addressed those in attendance as Juggalos, while performing the song "The Juggla." Immediately following the show, the duo made consistent efforts in referring to friends, family and label mates as Juggalos — striking accord with the group's hardcore fans. Since that fateful night in '94, the name has since stuck with members eventually developing their very own idioms, slang and characteristics. To help commemorate their own status, The Gathering of the Juggalos or "The Gathering" was established by the group and the record label as an annual festival including performances from the entire Psychopathic Records roster with many special guests such as Busta Rhymes and Ice Cube partaking over the years. The popular subculture has even made its way up the entertainment ladder with such personalities as Chuck D and Charlie Sheen identifying themselves in the past as Juggalos.
Doink the Clown
Aside from Insane Clown Posse making a name for themselves in the ring, another beloved character by the name of Doink the Clown also found his stride mixing it up in the World Wrestling Federation. First used as a gimmick to play pranks on the crowd, Doink quickly gained traction with the audience, in turn forcing the organization to include him in the main draw ring battles. Since making his first appearance in 1992, the oddball clown as originally played by Matt Osborne has gone on to star not only in the WWF, but the NWA, ECW and various independent promotions. Plagued with substance abuse issues throughout much of his personal career, Osborne spent time in and out of costume as did others who also contributed to the growth of Doink's persona.
Twiztid
Not to be confused or outdone by Insane Clown Posse, Twiztid is yet another hip-hop act originating from Detroit's inner city. First forming under the name House of Krazees with then member R.O.C, Jamie Spaniolo and Paul Methric then formed the duo Twiztid in '97 to continue on with their brew of hardcore hip-hop. Eventually crossing paths, ICP ended up signing its rap clown brethren onto its own Psychopathic Records team after being sent a demo tape. When asked to describe their style of music, Spaniolo was once quoted saying "Think of it as if there was a Halloween or Friday the 13th on wax and Jason and Michael Myers could actually rap, this is what their vibe would sound like."
Givenchy 2011 Spring/Summer Pierrot Collection

Over the years, fashion too has played into the clown motif uprising through various themed pieces and collections. For its 2011 spring offering, high-end fashion house Givenchy released a slew of graphic tees titled "Pierrot." With an evil clown face set as the inspiration point, items in the range centered in on a harrowing face — giving way to this French pantomime character. The word Pierrot is rooted in the late seventeenth-century Italian troupe of players performing in Paris known as the Comédie-Italienne. Part of early contemporary pop culture, the character as so used in poetry, fiction and visual arts is that of a sad clown pining for love while being left heartbroken. Applying a diabolical spin, the luxe label chooses to pair the face with other such symbolic elements.