UPDATE: Here's the Store List for the Upcoming BAPE x adidas Originals Collection Release
BAPE Stores, adidas Originals Flagships and select adidas retail locations.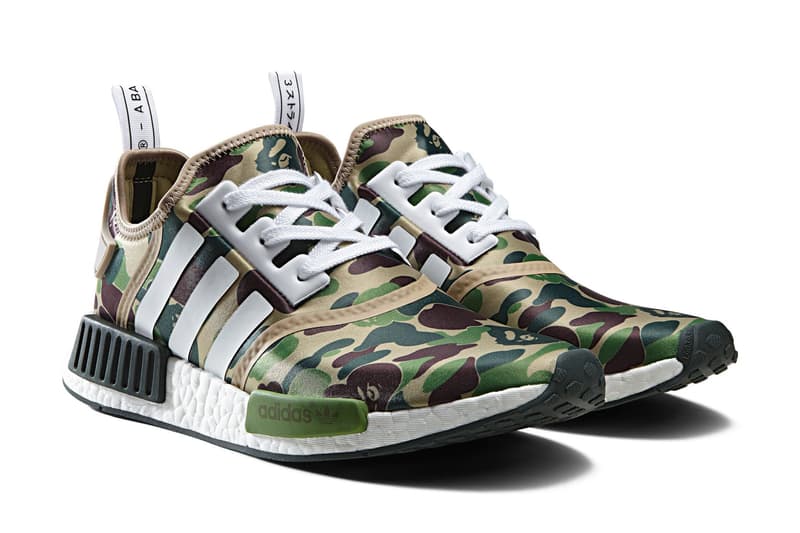 With the recent announcement of the newest collaboration between BAPE and adidas, eager fans wanting to grab pieces from the range will be on the hunt to see which shops will carry them. We've already revealed that there will be two exclusive versions of the NMD, two Firebird track jackets, and the ID96 down jacket. Now to help make your hunt a little less laborious, we're revealing which stores across the globe will be offering the special items.
Included below are the official BAPE stores and adidas Originals locations worldwide where you can see the BAPE x adidas Originals collection release on November 26.
UPDATE: We've just received the final official list from adidas. Check below and be sure to call your local shop for final confirmation before queuing.
adidas Originals Flagship Locations
adidas Originals Flagship Store Shanghai
Shanghai China
adidas Originals Flagship Store Paris
Paris France
adidas Originals Flagship Store Berlin
Berlin Germany
adidas Originals Flagship Store Hong Kong
Hong Kong Hong Kong
adidas Originals Flagship Store Milan
Milan Italy
adidas Originals Flagship Store Mexico City
Mexico City Mexico
adidas Originals Flagship Store Moscow
Moscow Russia
adidas Originals Flagship Store Seoul
Seoul South Korea
adidas Originals Flagship Store London
London UK
adidas Originals Flagship Store New York
NYC USA
adidas Retail Store Locations
adidas AU, Melbourne, Emporium
Melbourne Australia
adidas AU, Sydney, Westfield Sydney City
Sydney Australia
adidas BE, Antwerp, Kammenstraat
Antwerp Belgium
adidas Ipanema, Rio De Janeiro
Rio De Janeiro Brazil
adidas CA, Montreal, 2042
Montreal Canada
adidas CA, Toronto, 2041
Toronto Canada
adidas CA, Vancouver, 2040
Vancouver Canada
adidas CL, Santiago, Costanera
Santiago Chile
adidas CL, Santiago, Plaza Vespucio
Santiago Chile
adidas CN, Beijing, Guomao
Beijing China
adidas Chengdu – CD Taikooli OCS (open in 2016)
Chengdu China
adidas CN, Chongqing, Paradise Walk
Chongqing China
adidas Guang Zhou GZ Parc Central (open in 2016)
GuangZhou China
adidas CN, Shanghai, PD SuperBrandMall
Shanghai China
adidas CN, Shenzhen, COCO Park
Shenzhen China
adidas Calle 82, Bogota
Bogota Colombia
adidas CO, Medellin, Mayorca
Medellin Colombia
adidas DK, Copenhagen, Pilestraede
Copenhagen Denmark
adidas FR, Paris, Le Marais
Paris France
adidas Beer Sheva
Beer Sheva Israel
adidas IT, Rome, Porta di Roma
Rome Italy
adidas MY, Kuala Lumpur, Pavilion
Kuala Lumpur Malaysia
adidas MX, Mexico City, Perisur
Mexico City Mexico
adidas NL, Amsterdam, Leidsestraat
Amsterdam Netherland
adidas PA, Panama, Multiplaza
Panama City Panama
adidas PT, Lisbon, Colombo
Lisbon Portugal
adidas RU, Moscow, Tsvetnoy Bulvar
Moscow Russia
adidas RU, Sankt-Peterburg, Galereya
Sankt Petersburg Russia
adidas SG, Singapore, Pacific Plaza
Singapore Singapore
adidas Mall of Africa; Johannesburg
Johannesburg South Africa
adidas KR, Busan, Seomyun
Busan South Korea
adidas KR, Daegu, Dongseongno
Daegu South Korea
adidas KR, Seoul, Timesquare
Seoul South Korea
adidas ES, Barcelona, Avinyó
Barcelona Spain
adidas ES, Madrid, Fuencarral
Madrid Spain
adidas TW, Taipei, Nan King O-Store
Taipei Taiwan
adidas TW, Taipei, Tun Nan O-Store
Taipei Taiwan
adidas TH, Bangkok, Siam Center 2
Bangkok Thailand
adidas Istanbul
Istanbul Turkey
adidas AE, Dubai, Al Wasl
Dubai UAE
adidas UK, Liverpool, Whitechapel
Liverpool UK
adidas US, Chicago, Rush Str. IL
Chicago USA
adidas US, Costa Mesa, CA
Costa Mesa USA
adidas US, Los Angeles, Melrose Ave. CA
Los Angeles USA
adidas US, Miami Aventura, FL
Miami Beach USA
adidas US, Miami Beach, FL
Miami Beach USA
BAPE Store Locations
BAPE STORE® SANLITUN BEIJING
Beijing China
BAPE STORE® GALERIES LAFAYETTE BEIJING
Beijing China
BAPE STORE® CHENGDU
Chengdu China
BAPE STORE® GUANGZHOU
GuangZhou China
BAPE STORE® QINGDAO
Qingdao China
BAPE STORE® SHANGHAI XTD
Shanghai China
BAPE STORE® SHANGHAI Citic
Shanghai China
BAPE STORE® SHENYANG CITY
Shenyang China
BAPE STORE® HONG KONG
Hong Kong Hong Kong
BAPE STORE® EXI.T SILVERCORD
Hong Kong Hong Kong
BAPE STORE® SEOUL
Seoul South Korea
BAPE STORE® SINGAPORE
Singapore Singapore
BAPE STORE® TAIPEI
Taipei Taiwan
BAPE STORE® BANGKOK
Bangkok Thailand
BAPE STORE® SELFRIDGES
London UK
BAPE STORE® LOS ANGELES (open in 2016)
Los Angeles USA
BAPE STORE® NEW YORK
NYC USA