The Respect Is Mutual: A Complete Timeline of BAPE x adidas Collaborations
On the eve of the Japanese label's next ultra-hyped project with the Three Stripes.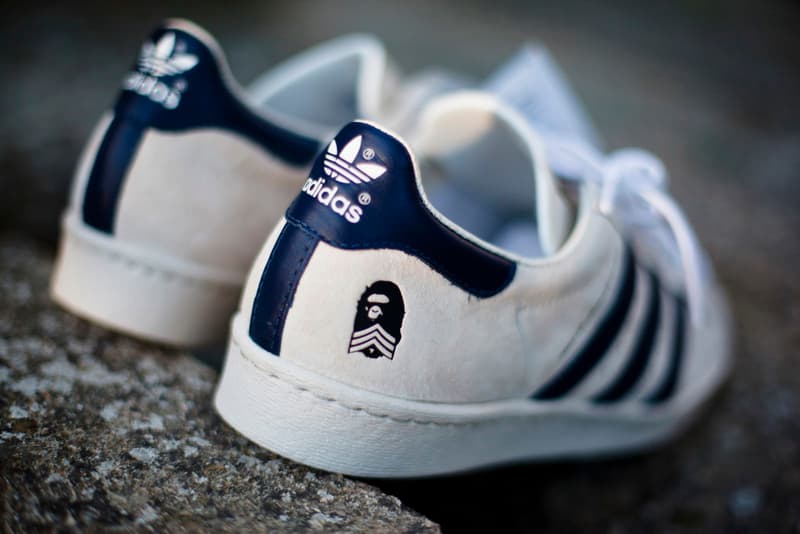 NMDs have taken 2016 by storm — ever since the shoe was unveiled late 2015, its unique silhouette, unrivaled comfort and lightweightness has given adidas fans the perfect formula for the most well-rounded casual lifestyle. Rumors and mock-ups started it all, but once adidas dropped official word of the collaboration with the Tokyo cult classic, adidas fanatics everywhere knew it was something special that doesn't come around often.
In fact, A Bathing Ape and adidas have only crossed paths a handful of times, with each iteration striking a hyped chord with any sneakerhead, Japanese streetwear fan or collaboration stan each time it hit shelves. The collaborative projects always seem to have a particular theme in mind, whether it stems from a respect for tradition and history or a cross-pollination of both brands' underlying designs and aesthetics. Nevertheless, the releases are easily recognizable and were without a doubt highly coveted.
Starting from the most recent project, HYPEBEAST has rounded up the brief-yet-powerful history of BAPE x adidas collaborations, reaching as far back in the archives as 2003.
BAPE x adidas Originals NMD_R1
1 of 2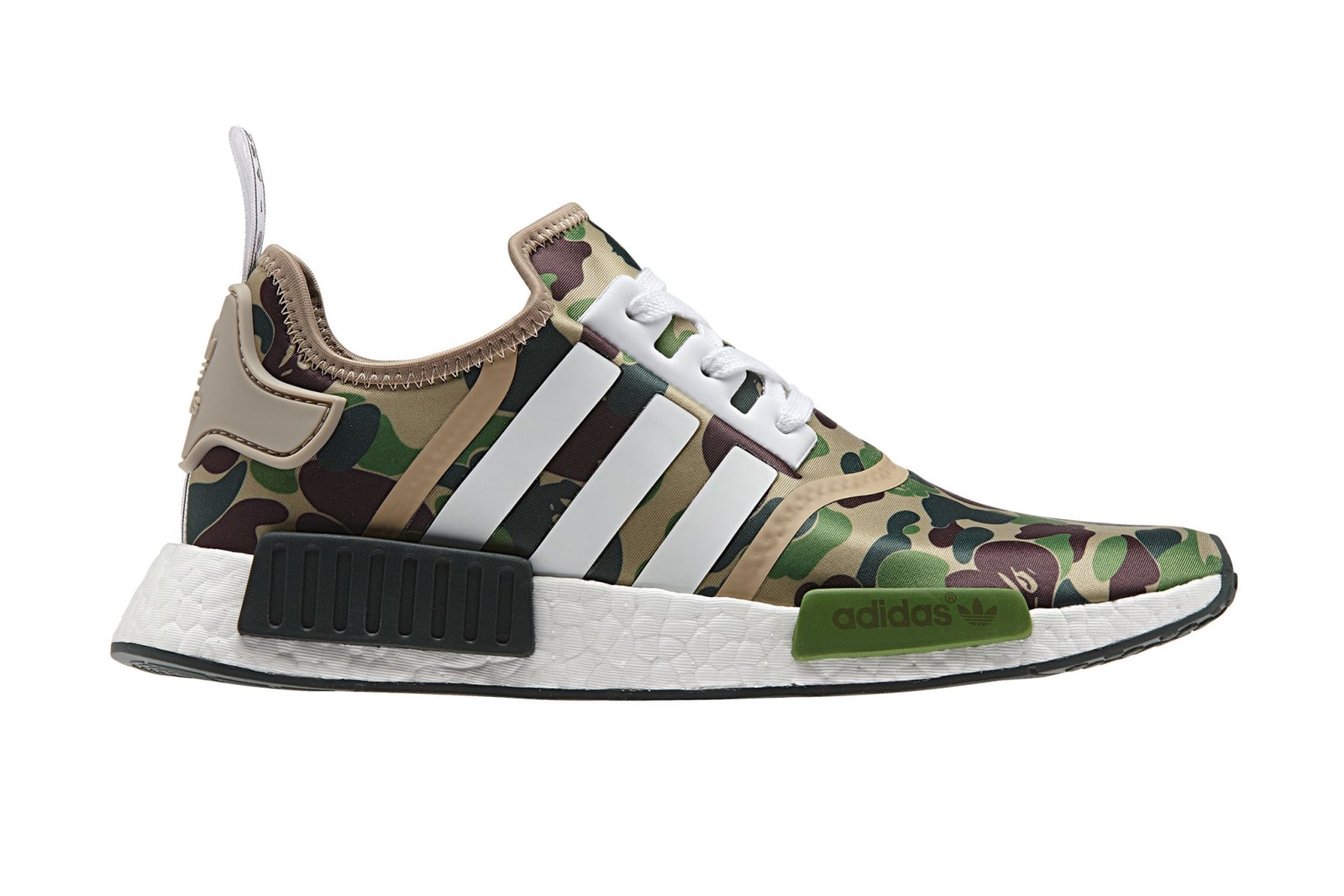 2 of 2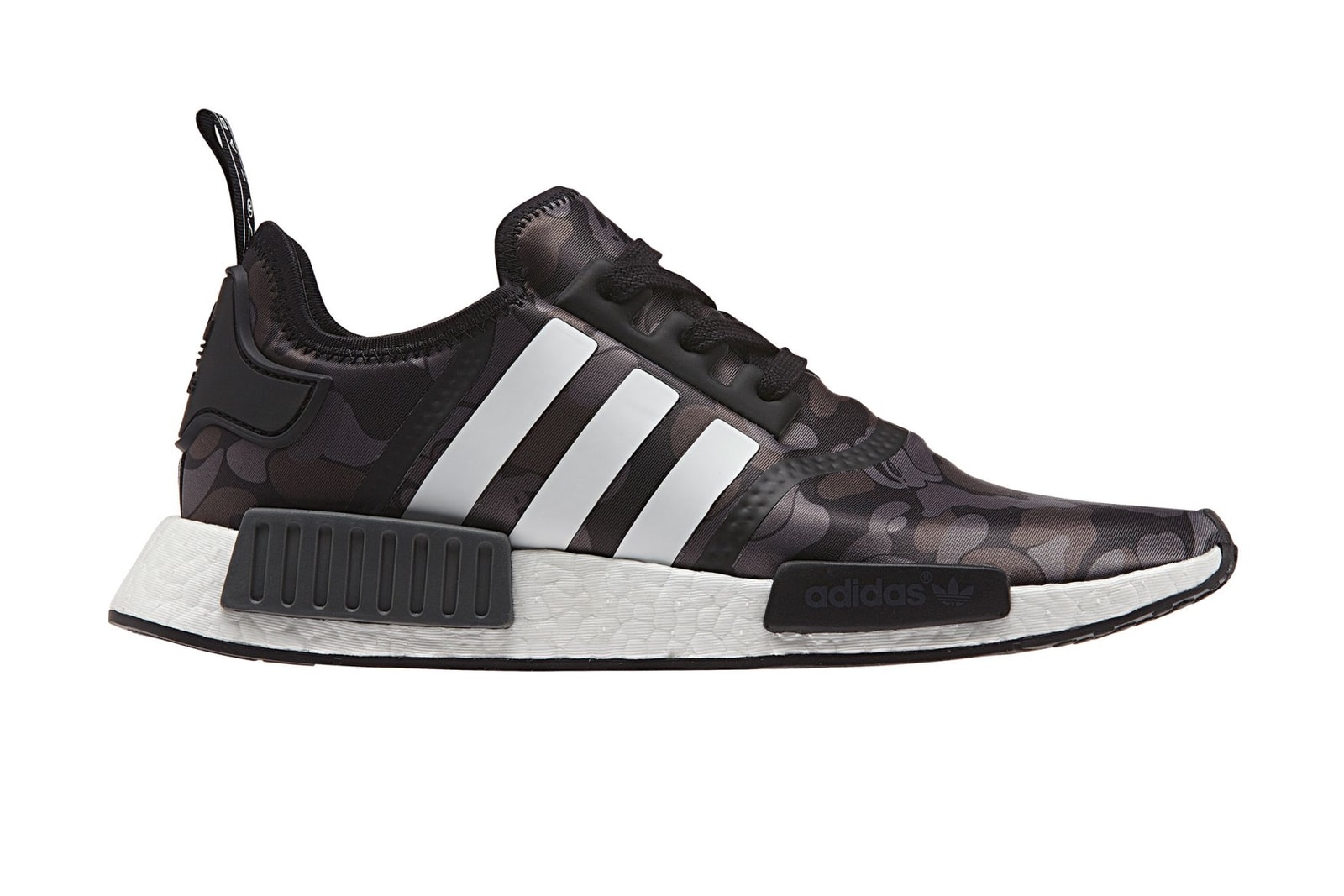 Releasing: November 26, 2016
BAPE's latest collaborative work with adidas Originals combines both stunning visuals with comfort and casual lifestyle in mind. While the upper utilizes a nylon synthetic material not often seen on NMDs, its unique sheen plays well with the detail required to make the BAPE Camo truly pop from the technical upper. Both colorways — olive and black — are contrasted with solid white tape stripes, and all of which sits atop a white BOOST midsole with coordinating EVA plug inserts. The shoes will also release with a collection of apparel.
BAPE x UNDFTD x adidas Consortium Superstar 80s
1 of 4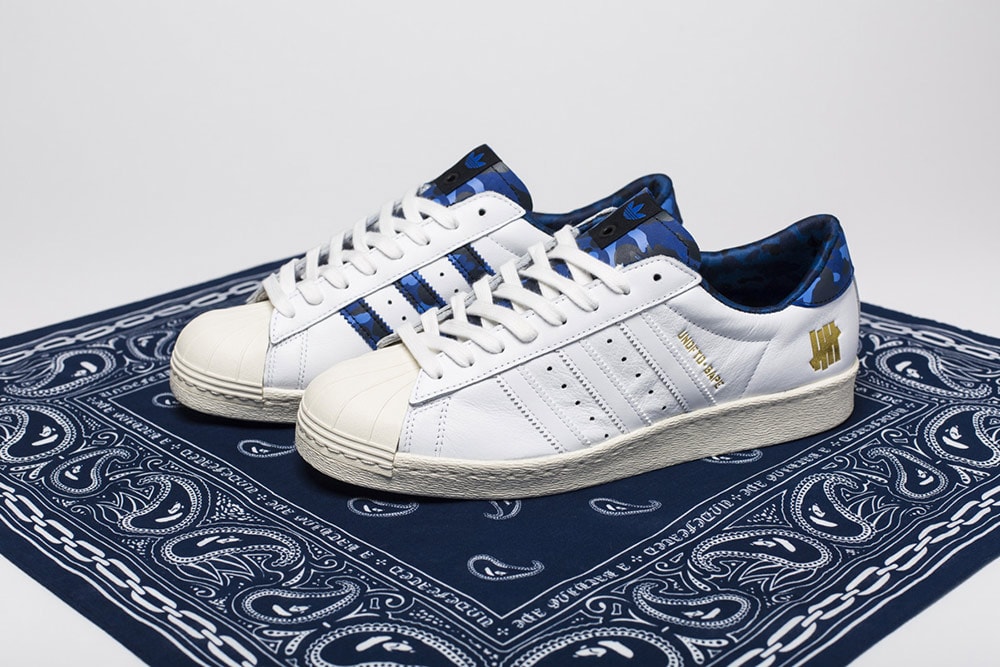 2 of 4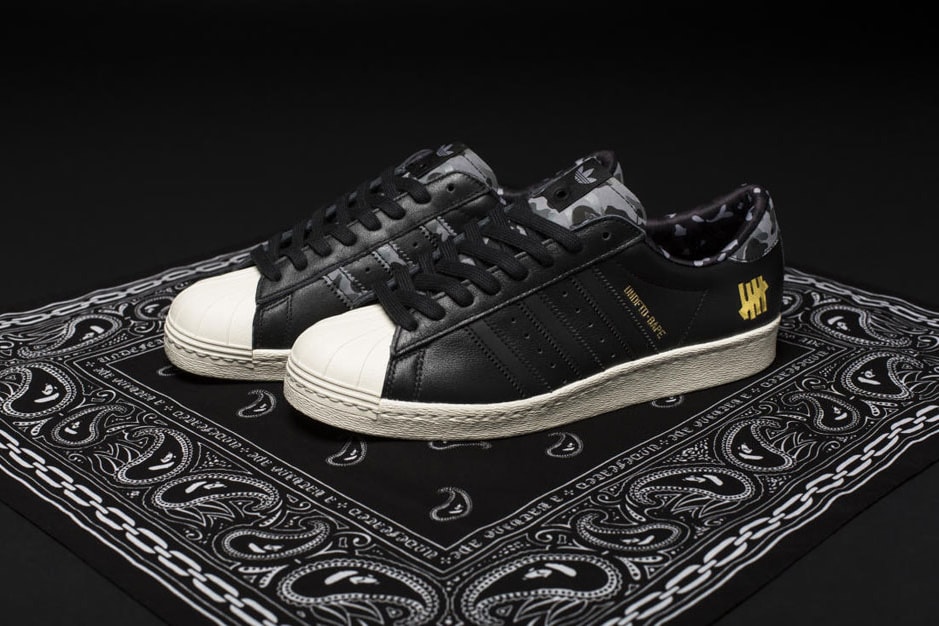 3 of 4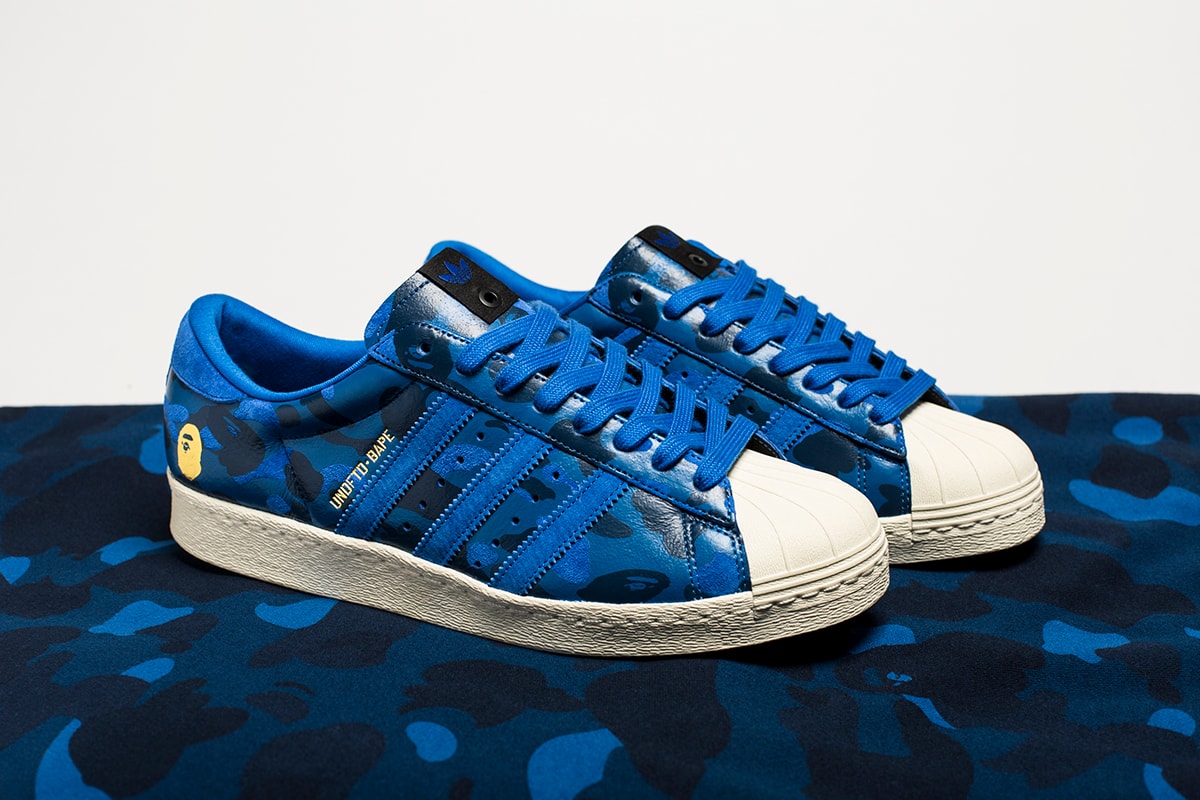 4 of 4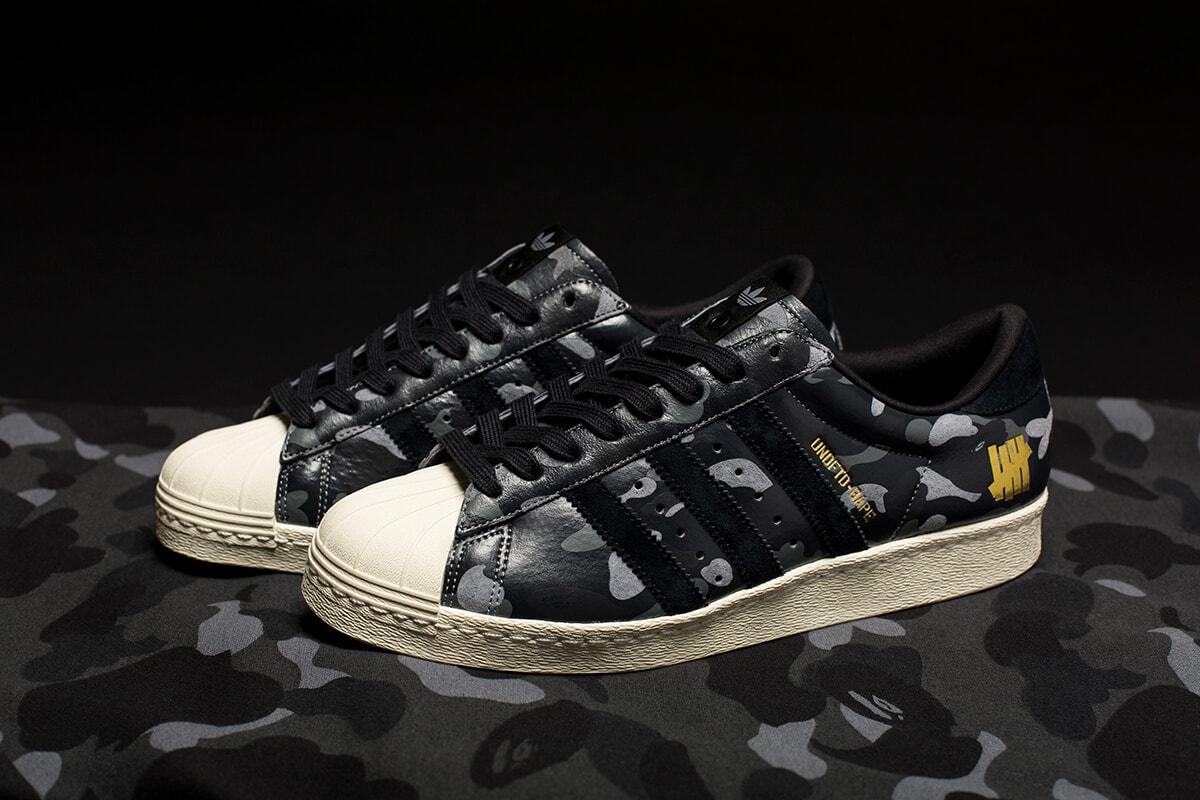 Released: April and September 2015
The tradition and history behind one of adidas's most iconic silhouettes has caused BAPE to collaborate on the lifestyle sneaker on three consecutive occasions; this iteration perhaps had the least "impact" on the sneaker community, but sold out nonetheless. Four different colorways released for the triple collaboration (California's Undefeated was involved with the design and distribution) in blue and white variations — a white solid upper with blue camo accents as well as a black upper with grey camo accents adorned a rich, smooth leather set against an off-white shelltoe and midsole. Subsequently, two louder colorways released as well a few months later, as blue camo and grey camo were tonally matched with solid color internals, thus flipping the previous subtle leather versions.
BAPE x UNDFTD x adidas Consortium Campus 80s and ZX5000
1 of 3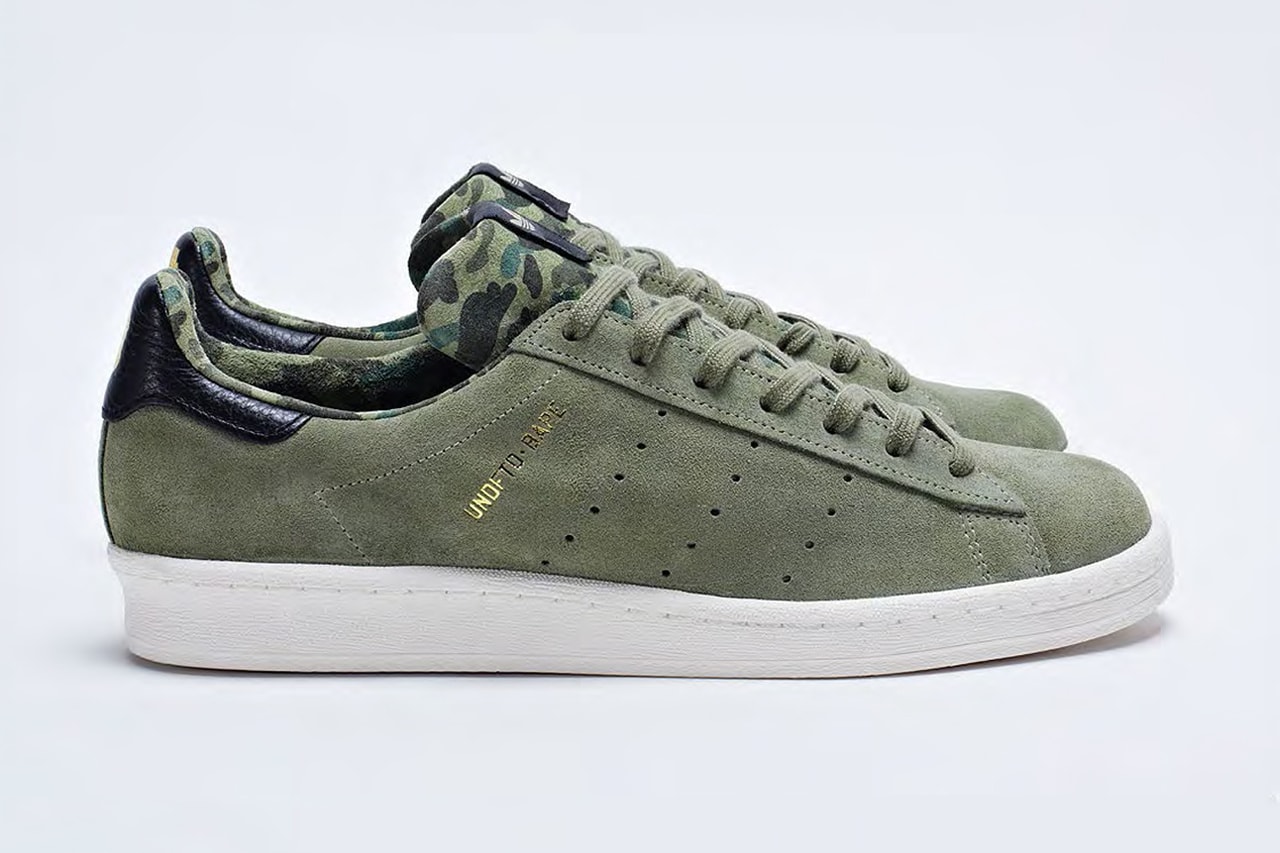 2 of 3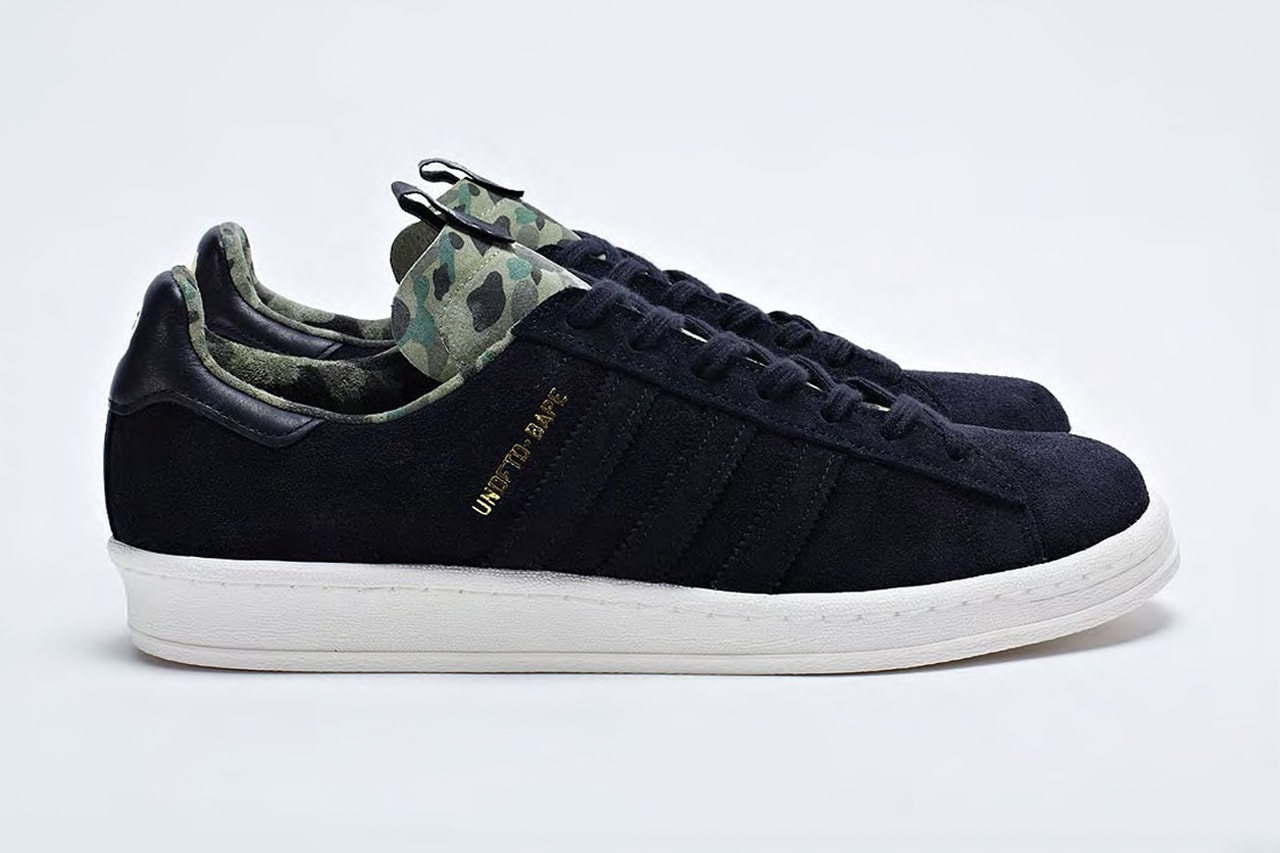 3 of 3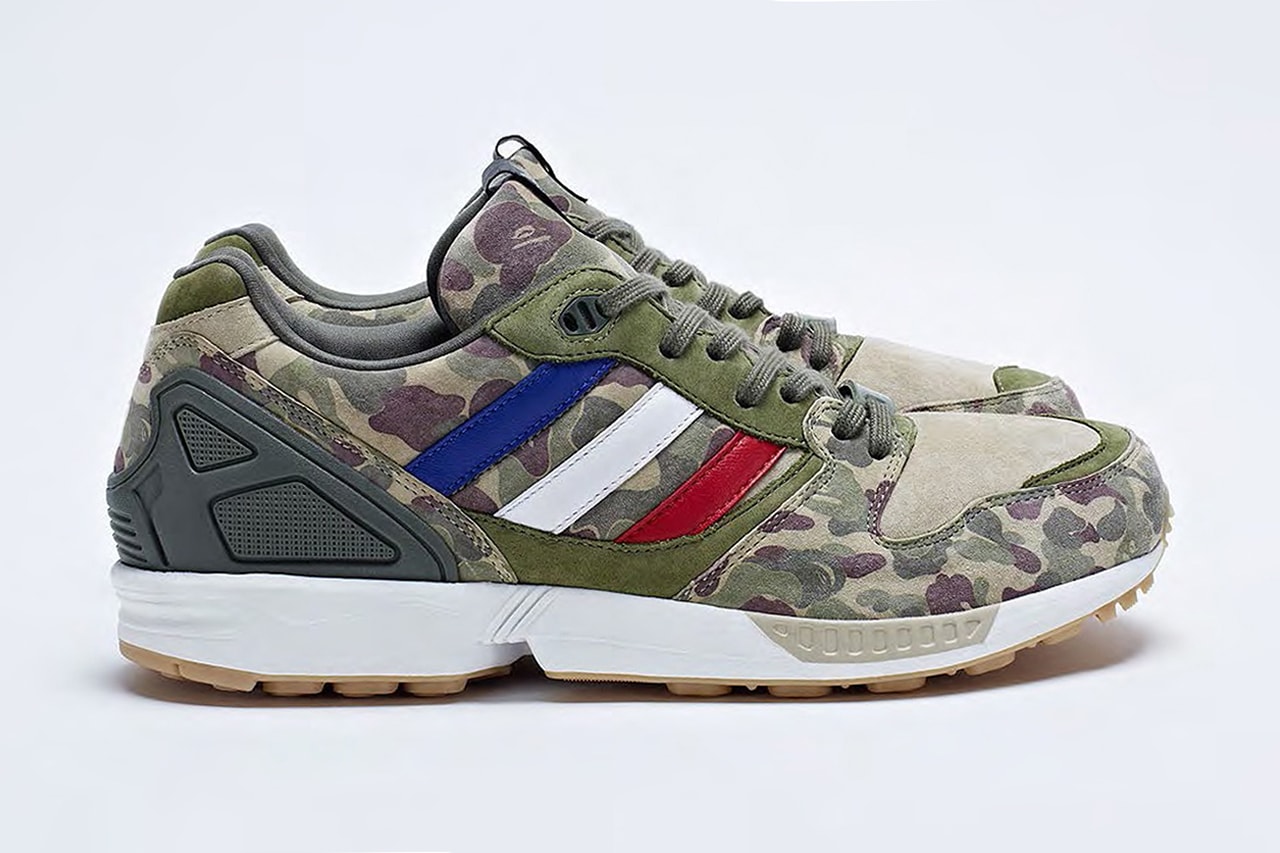 Released: April 2013
BAPE and Undefeated would begin their Consortium efforts with adidas in 2013, of which included two pairs of adidas's low top classic silhouette: the Campus 80s. Going with subtle over loud, two colorways included a black upper with olive camo tongue and camo interior sockliner, while the opposite choice was all olive. Fans truly appreciated the subtle details only owners would notice for this release; the tongue's camo lacked the presence of any Apeheads while the footbed's camo did, as well as three stripes in suede adorning the black pair while the olive pair goes stripe-less with perforations. Subtle aside, fans were delighted to see a seemingly random third shoe in the release, taking on adidas's athletic ZX5000 runner. This pair has foregone the little details and splashed BAPE camo across the majority of its upper, along with a tricolor striped lateral to break things up. Consumers thus had a great variety as to what to purchase, but nevertheless all pairs sold out fairly swiftly.
BAPE x adidas Superstar "B-Side"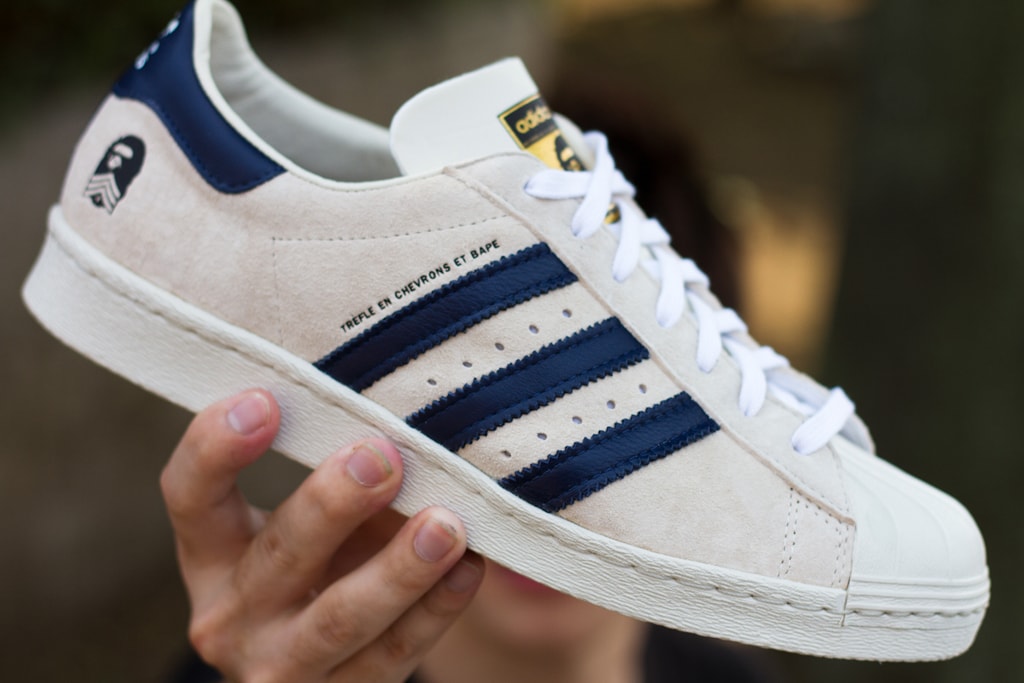 Released: August 2011
An iconic shoe like the Superstar mixed with the quality and design elements brought to the table by A Bathing Ape for the second time resulted in predictable lines and fans doing whatever it takes to purchase their next holy grail. Case in point; one patron who had queued for hours in 90-and-above degree summer heat fainted in line and was rushed to emergency services at the adidas Originals Store in Harajuku, Tokyo, Japan. The shoe in question is that of the "B-Side," a remix of sorts for BAPE x adidas's first collaborative effort. Its off-white super soft suede upper was matched with slight navy stripes and accents, while a new Apehead insignia saw the rear heel. Camo lining, gold foil detailing, and a French "TREFLE EN CHEVRONS ET BAPE" — which can be loosely interpreted as a respect for both adidas' Stripes and BAPE — made this one of the duo's cleanest collaborations in the history of sneakers.
BAPE x adidas Super Ape Star and Super Ape Skate
1 of 6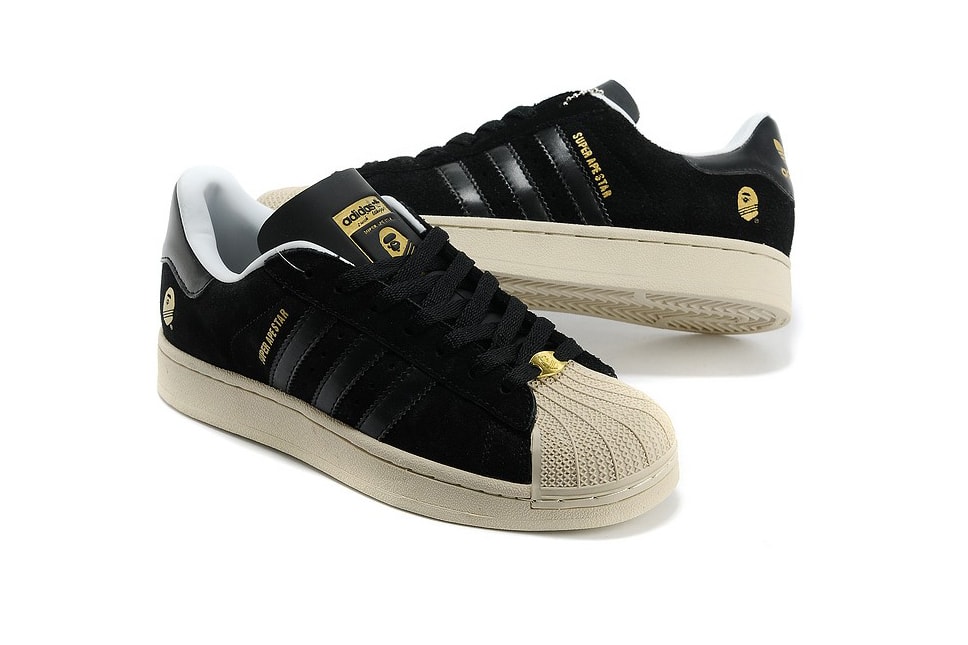 2 of 6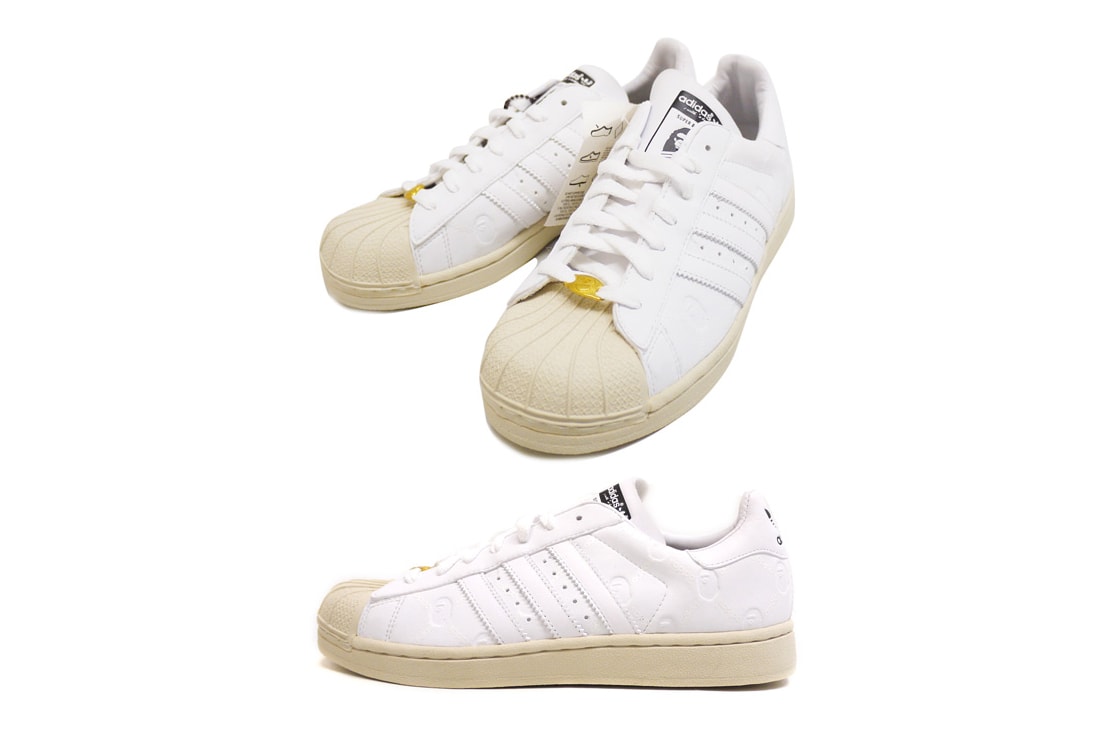 3 of 6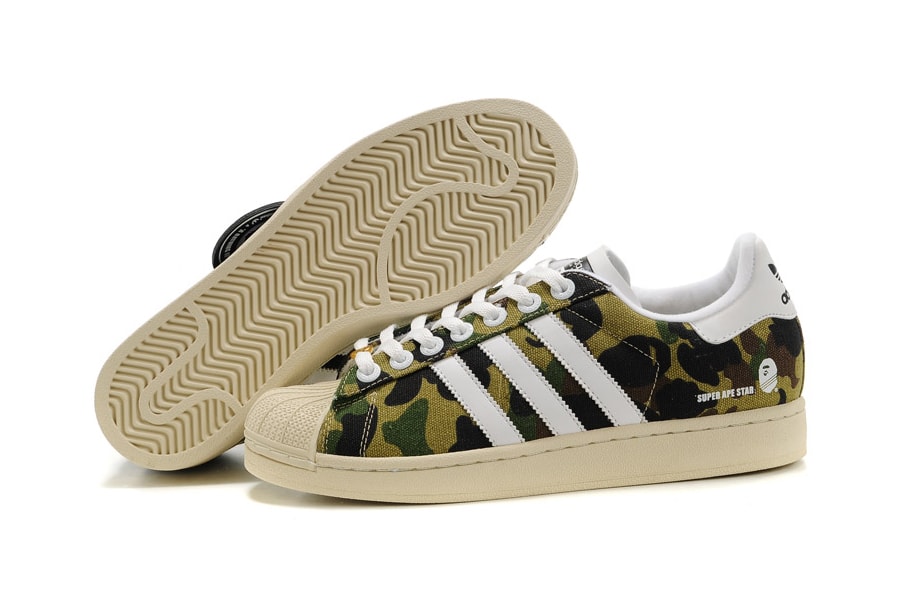 4 of 6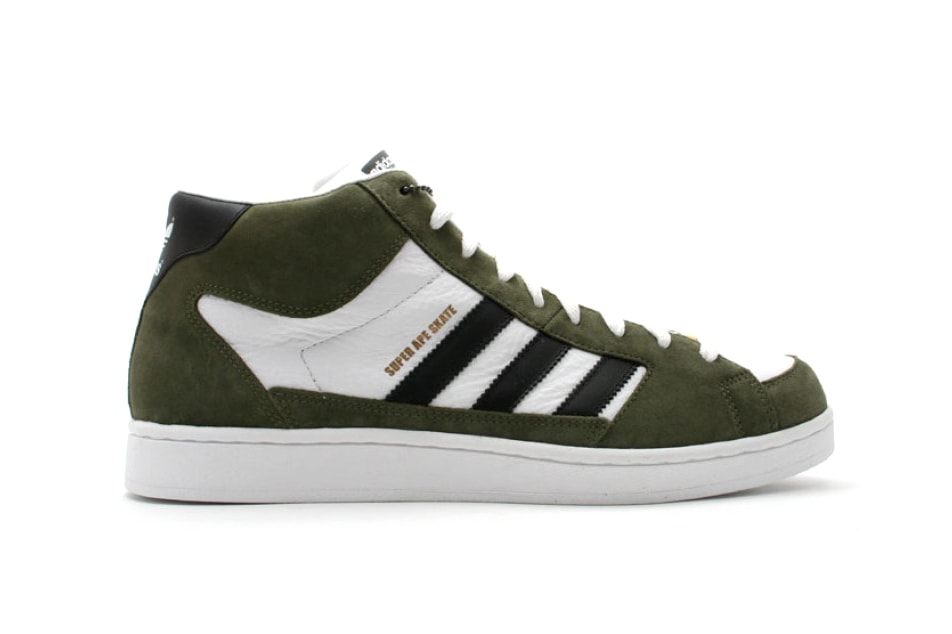 5 of 6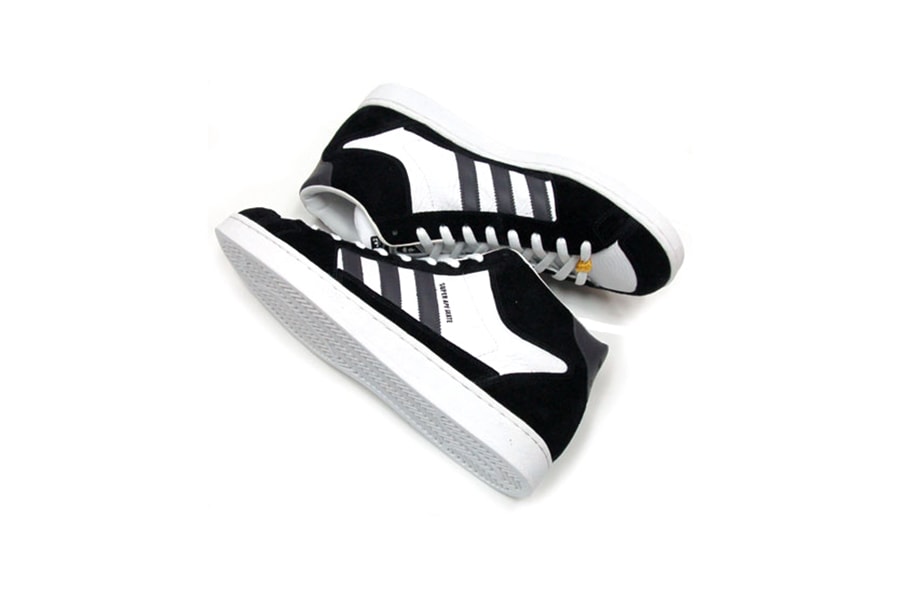 6 of 6
Released: April and September 2003
The genesis of BAPE's work with adidas, however, is unfortunately the most difficult to acquire. The duo's first set of releases — promoted through a powerful "The Respect Is Mutual" slogan — came in the form of a modified Superstar silhouette, of which when combined with A Bathing Ape created the "Super Ape Star." Clean pairs reached the hands of consumers in the form of both white and black rich leather uppers, subtly embossed all over with repeating Apeheads of the utmost quality. A clean black suede pair with gold foil details also released to much fanfare, while a loud all-over BAPE Camo canvas edition gave those seeking broken necks rounded out the four-pair pack.
Later, fans would discover another four pairs would release, this time in a mid-cut silhouette aptly named the "Super Ape Skate" to capitalize on the growing skateboard trend. For this quad-kick release, an olive green rendition was supported by a black and grey issue as well, followed by a wild snakeskin with white detailing black pair that, along with the releases mentioned previously, were limited to 500 pairs only — you knew because each pairs' rear heel would have "1 of" and "500" across its spine. All shoes came with three separate laces for maximum variety, two of which were even BAPE Camo pairs to the finest detail.
The fourth pair of the "Super Ape Skates" however is that of near mythical status: BAPE x adidas created a special "Staff Only" pair of the snakeskin mids, with an incredibly vibrant iridescent sub color to its upper, blacked out lettering, and a strict edition limited to only 100 pairs. Most pairs were gifted to influentials and staff members to promote the release of the coinciding Skates, but a few pairs did end up making it out unworn. Like its other pairs of the same model, the "Super Ape Skate Staff" edition came with three laces and, to this day, is viewed upon as the holiest of holy grails between the Japanese lifestyle brand and the sportswear giant that is adidas.
The BAPE x adidas Originals NMD_R1s release on November 26. Are you looking forward to the next chapter in the BAPE x adidas story? Choose which colorway of the NMD you're after and see how it stacked up in our Facebook Live video poll.