Palace Skater Jamal Smith Speaks on Going Viral
"His hair?! WACK."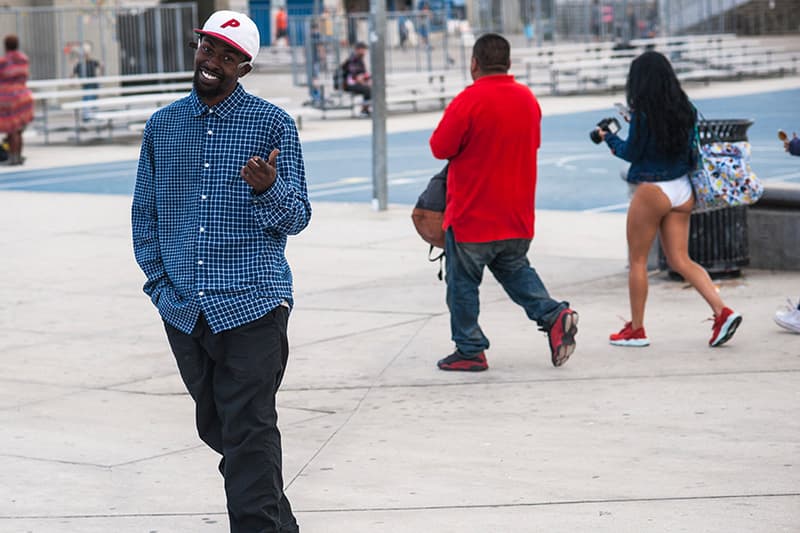 You may not be familiar with Jamal Smith's name, but chances are you've seen him on your timeline: maybe you know him from his hilarious Tornado Spin tutorial video; or maybe you know him from that video of him eating his cereal while looking all sorts of crazy in the face; most recently, Smith went viral with a short clip of himself dissing a SKATE opponent by calling everything about him WACK in all capitals before proclaiming himself "TIGHT AS F*CK." Well, Jenkem caught up with Smith to see how going viral has effected his life, how he ended up getting signed by Palace, and what it was like living with fellow pro Ishod Wair. He spilled a little bit of info on the upcoming Palace video, too.
When you see your crush and her boyfriend together pic.twitter.com/Q5ZWvbfUpc

— loser ass nigga (@frenchtoastpapi) September 18, 2016
Check out some select quotes below and make sure to check out the piece in its entirety here.
Jenkem: Yooo, what are you up to man?
Smith: I'm looking up pictures on Google of goats, cause people keep calling me a goat, so I'm trying to make the connection. I got a selfie up and a goat, and I don't get it… these goats got crazy ass eyes man, my eyes are beautiful. I don't look like that. [laughs]

Jenkem: I heard Palace picked you up pretty much just off recognition of the Tornado Spin. How'd that happen?
Smith: It was just a random day in like 2013 or so, I was just talking shit on Twitter and I had just started following Lucien Clarke and I hit him up. I was like, "Yo, you niggas need to get Palace shit in Philly, I'm trying to cop." Not even asking to get on, I just fucks with it. I wished I had the option to buy it if it was available, and he just @'d me and Palace's Twitter, and the fools hit me back with "Send us your size and address, we got you."
Since then, they've just been hooking it up, and I was so confused for the longest time, dude. I thought it was just some homie shit, just because they fuck with the Tornado Spin video, but I didn't wanna ask because that's just some noob shit to be like, "So uh, hey, am I sponsored by you guys?" I was just like, "Fuck, what do I do?" So I just kept skating.
At the time, I was just making beats. I wasn't even putting out skate footage. I was filming for Sabotage a little bit, but for the most part I was just working. I knew Palace was an opportunity that I couldn't pass up. It was my favorite skate company. Between them and Hopps at the time. That was my inspiration to even come back to this shit because for the longest time I was just like, fuck skateboarding. The whole sponsorship shit, it's so much unneeded stress, but these dudes don't give a fuck. It's the best situation.

You recently just had another video go viral.. how did that happen?
Smith: [Clicks tongue] Fuck! I have no clue. This whole shit is so confusing. It was filmed as a promo for my game of SKATE versus Wade Desarmo in the Dime Glory Challenge. I knew skateboarders would like the video. It was well received and everyone was quoting it when they'd see me and whatever, but as soon as it got taken out of context, I didn't expect any of that shit.

Where did you first see it get attention?
Twitter, really. Somebody @'d me in a tweet, that had trimmed out a section of my video and the dude added a caption: "When you see your crush and her boyfriend together". It had 1,000 retweets and 1,000 likes and I instantly just saw the future. I was like, "No, this is gonna become a meme." Literally the next day it had like 40,000 retweets and like 65,000 likes. I knew it was going to be [DJ Khaled voice] another one.

Palace is working on a full length skate video right? Any updates?
I just went out to London two times over the summer for three weeks each time just filming for the video. I was tripping like, "Fuck, how am I going to get footage in this video if I live in Philadelphia?" I didn't really even think that it was an option that I would go to London. Then these fools told me like, "Yo, we want you to have a part in the video. Come out and get as much footage as possible, eat all the chicken and Nando's that you want, just get that footage."
It seems like it's about to be done. They don't really have a set date or anything, but I know the deadline for footage is coming up in a month or so, so pretty much whatever I got on those two trips is going into that video.
It's going to be one of the best videos. Just the way the footage looks, all London, all grey and sad on some Blueprint shit, just like the saddest skate video but actually upbeat as fuck.