A Guide to London's Frieze Art Fair
Insider tips, advice for first timers, and artist recommendations.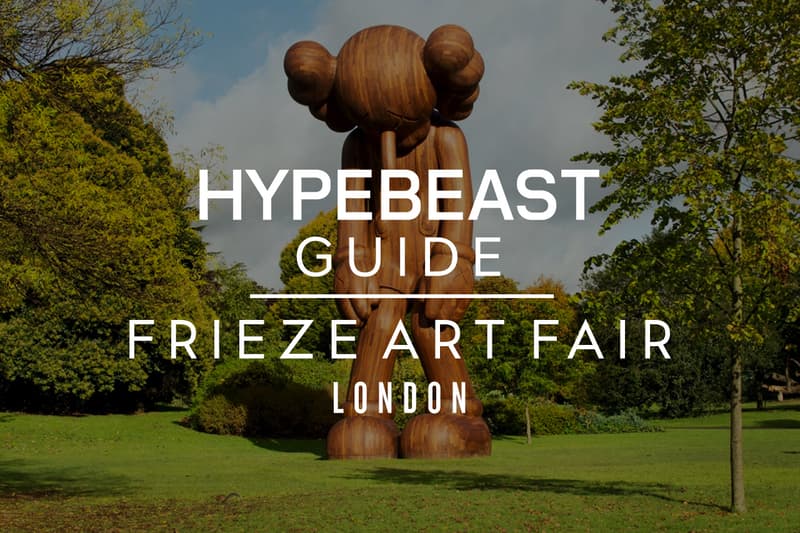 Frieze, the premier art fair in London, returns once again on October 6. Like all trade events, Frieze can seem impenetrable to the outsider. So, for a guiding hand we spoke with menswear stalwart and art collector, Raimund Berthold. The designer, who just launched an e-commerce store, knows everything there is to know about visiting Frieze, so we spoke with him for insider tips.
Advice for the First Timer
If you're planning on attending Frieze this year, Berthold's main advice was "Just go with an open mind and go and check out everything." Frieze is split into different sections for younger artists and galleries, with a separate section for more established artists. "If there's something that's really interesting, don't be intimidated, talk to the gallerist" says Berthold. "At the end of the day they're glad to meet new people and young collectors, so it's not a place to be shy. [Once you] introduce yourself, you'll often find the gallery might have twenty artists on their roster and only have four at the booth. Then, eventually, hopefully, you buy something and they'll take you a bit more seriously."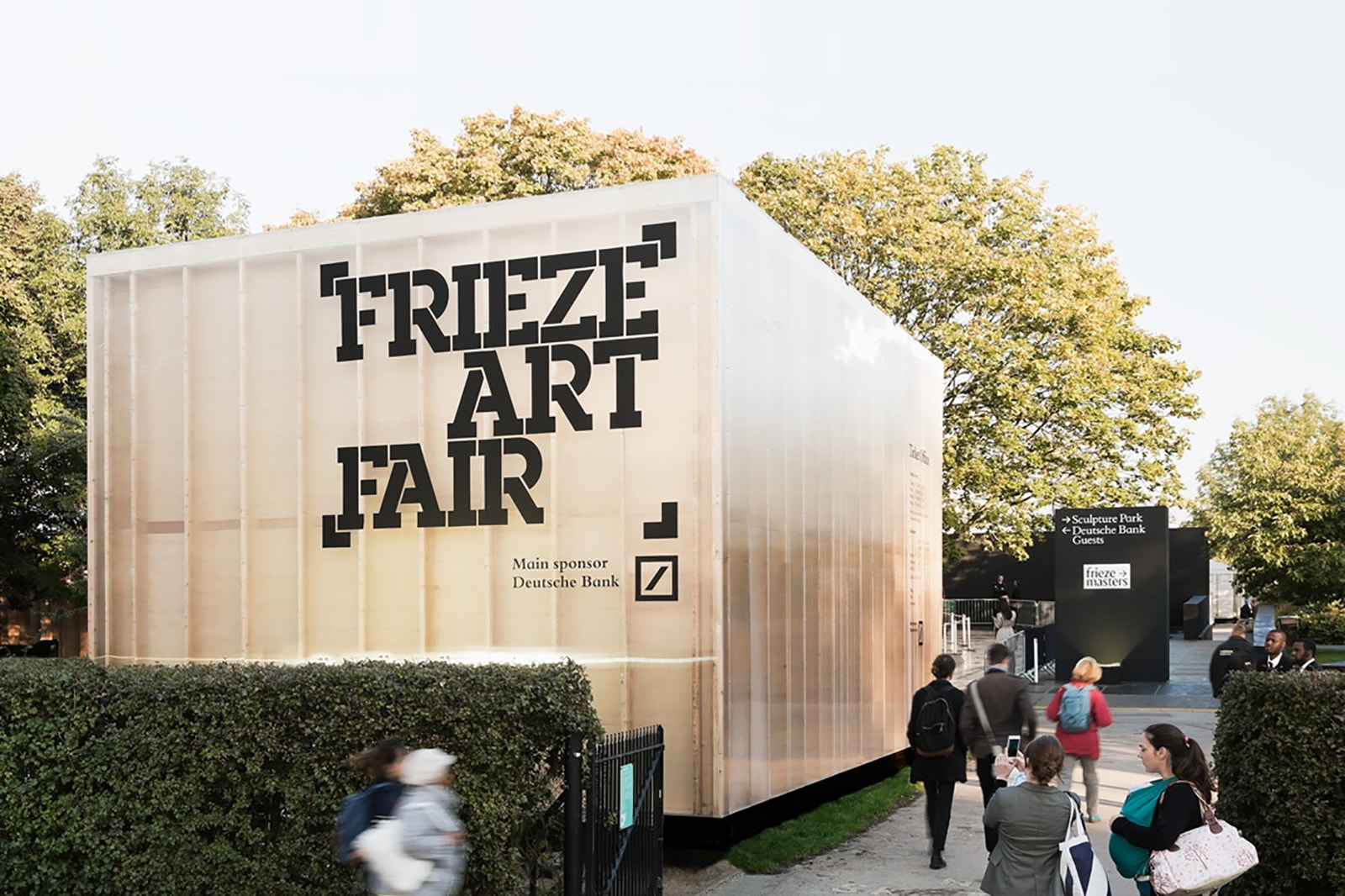 Tips for Prospective Buyers
If you want to look like an insider at Frieze, then, according to Berthold, "The first step is to take the day off. If you go there with a view to buy, you have to do it on the first day realistically because most of the business gets done on the first day." The first day is split up into three sessions, there's an 11 a.m.-2 p.m. showing, which is for the VIPs. Becoming a VIP usually means you're invited by a gallery, and galleries only receive five VIP tickets, so some serious networking will be necessary for one of these. But Berthold states that this is when the best art pieces are bought. The second showing is the 2 p.m.-5 p.m. preview, which is available to attend without a VIP ticket. The last showing of the first day is the evening opening, which is more widely attended.
The other main tip is to pre-research. "Most of the galleries will send a PDF of what they're taking to Frieze before they go to Frieze, so you already have an idea of who is showing what and what's going on." You're allowed to pre-reserve a piece of art but the window is incredibly small — actually, only an hour to be precise.
How Frieze Differs From Other Art Fairs
London's reputation in art is very similar to its reputation in fashion. "London is quite fun, it's a bit cooler," says Berthold, "because the daddy of them all is Art Basel in Switzerland. It's very serious. The art there is probably the best of all the art fairs, but it becomes a bit serious. And then it's in Basel, which is a bit boring — a lot boring actually. Then there's Miami, where a lot of people go because the weather is great and there's party after party. In Miami no one takes the art too seriously, so I think London is a bit of a hybrid between Switzerland and Miami."
Must-see artists
Yuri Pattison
Dublin-born, London-based Pattison is the winner of the 2016 Frieze Artist Award. He'll be creating a new installation as part of Frieze projects. His most recent show "user, space" was at East London's Chisenhale Gallery and was sponsored by Berthold. His work takes an interest in homogeneity of design and during an interview with Financial Times, he stated, "You can go to a laptop café in Hong Kong and it looks the same as one in Hackney, as they employ the same austere industrial aesthetics, I'm interested in the effect of the internet and how, instead of making the world a more interesting and vibrant place, it is currently having a flattening effect."
Timur
Si-Qin
Timur Si-Qin is a German artist who deals in hyperreality and subverting advertising. "They look like photographs but nothing is real in the picture" says Berthold. In an interview with Artspace, Si-Qin says that "I'm really interested in how matter recursively feeds off of itself, which is how life arises. Contemporary mediated culture also builds its structures in similar, iterative processes. It's an allusion to climate change as well, which is also a kind of feedback mechanism."
Magali

Reus

Magali Reus is Dutch born, living and working in London. Her current show, "Mustard," is on show in Amsterdam's Stedelijk Museum. When asked by Hepworth Wakefield about her inspiration, she replied "I often make use of familiar or functional objects — which are only ever a starting point — to ground the works in a real experience of the world. Objects like fridges, seating and street curbs are lodged in our minds as we depend on them providing us with living architecture, or as facilitators of our everyday actions. In reality, however, these objects act as physical receptacles for our bodies, as passively grounded things until we fill them with use-value. I'm interested instead in them becoming more consciously active or frenzied objects: to position them not just as shells or providers, but as objects imbued with their own inherent sense of personality."
Helen Marten
Helen Marten is perhaps the biggest name on this list, seeing as she's nominated for The Turner Prize and recently had a large solo show, "Drunk Brown House" at the Serpentine Gallery. In an interview with Interview Magazine, Marten said ""I suppose I'm trying to upset the expected rhythms of daily circumstance, exploring what it means to be a tribal human preoccupied with the status of toothpaste, the floppiness of pasta, eroticism of rubbish, or tedium of hair."
Korakrit
Arunanondchai
Korakrit Arunanondchai is a Thai-born, New York-based rapper-turned-artist who works across many art disciplines. In an Interview Magazine feature, Frieze Projects curator Cecilia Alemani said that "What's interesting about his work is that there is something bodily and corporeal in it, the chairs combine painterly elements and performative elements." Another big fan Arunanondchai has is Berthold, who has a room in his home dedicated to displaying works of the artist.
Nicholas
Cheveldave
Nicholas Cheveldave is a Canadian born, London-based artist. He was most recently part of a show at the White Cube Gallery called "History of Nothing." In an interview with ATP Diary, Cheveldave said "I thought that using things that were very mundane, regular, everyday things, would become the best way opposed to try to find something that was the next weirdest, strangest thing."
Lynette
Yiadom-Boakye
British artist Lynette Yiadom-Boakye is another established name on this list. With a Turner Prize shortlisting back in 2013. Her influence has crossed boundaries, recently cited as an influence on the visuals of Solange's A Seat At The Table album. In a New York Times article, Yiadom-Boakye stated that her works are all of fictional people, saying they are "suggestions of people…They don't share our concerns or anxieties. They are somewhere else altogether."
Dustin
Pevey
Texas Born, Brooklyn-based Dustin Pevey is an artist who dislikes over explanation. He recently sent an email stating that "I'm more into the idea of the work speaking for itself, which, to me, is a more relevant idea".
Ones to watch
Alicja
Kwade
Polish born, Berlin-based Alicja Kwade is a newer name who is one to watch. She was recently commissioned by the Whitechapel Gallery to create Medium Median, a work that's on show until June 2017. In an interview with Contemporary Lynx, Kwade said that "My interests focus on all the 'paths' which lead us towards the question — or have this question as their starting point — of why the world is just the way it is. This is the oldest question in philosophy: why does the world exist, why is the Earth turning around, what are atoms… Why do we call a table a table if it usually is a piece of wood? Do we really exist the way we see ourselves or do we only think that we exist, but, in fact, our existence is mere illusion? Is the reality, which we believe to be experiencing, objective or subjective? Or, perhaps, we are under an illusion? These are the questions that I work on."
Borna
Sammak
Philadelphia born, Brooklyn-based Borna Sammak currently has a show at Sadie Coles Gallery until November 5. Berthold says of him "I saw his work a few years ago and I think he's really extraordinary. He's uses street iconography and is very cool. He does a lot of video art and physical installations but paints as well. I'm really excited about his work actually."