Yeezy Season 2 and the Political Undertones That Were Hidden Within
"[It] didn't feel like an empowered army but an imprisoned one."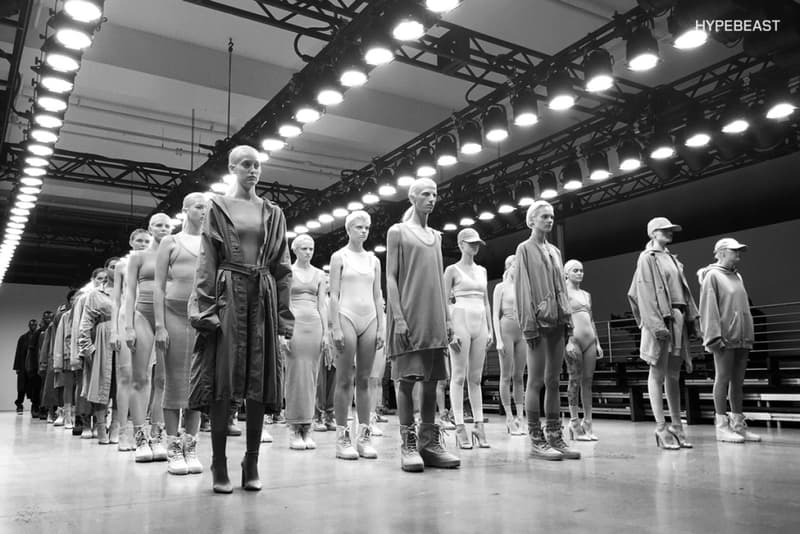 While everyone is still sifting through closeup shots of everything Yeezy Season 2 had to offer, underneath the fashion and showcase lie a more intriguing story; there may have been a more political meaning behind Vanessa Beecroft's performance.
Attendees to Kanye West's long-awaited fashion show for Yeezy Season 2 took place September 16 to a packed audience of press, influencers and celebrities, all of which were awe-inspired by a showing that had rows of models marched on and off the floor, aligning to a perfect five-row grid. Susie Bubble of Dazed interprets this quite differently, in an op-ed piece where she attempts to dissect the undertones that may have been hidden in plain sight that Wednesday afternoon. Her opinion states that the exhibition was more to the theme of imprisonment rather than a militant one, that the race of model along with the color to which they were modeling told a narrative of class, stereotypes and conformity.
Read an excerpt from the article below, and be sure to visit Dazed for the full piece.
The Yeezy army metaphor was taken a step further by both Kanye West and artist Vanessa Beecroft, who also created the performance of the inaugural show. The first group of models in ballet beige – deliberately platinum blonde and eerily Aryan looking – filed out and fell in line in accordance with their drill sergeant barking at them. The second row, gradated in a darker beige and matching up with the Asian and brunette models, also fell right in line and marched forward. The third line-up of all black models in their darker taupes and light browns, when asked to fall in line, meandered forward in haphazard fashion. The final group of darker-skinned black models dressed in dark browns and blacks trudged out lifelessly. When the entire cast filed out together in their utilitarian garb, shaded like a skin foundation counter, this didn't feel like an empowered army but an imprisoned one.

There was something uncomfortable about the set-up. The choreography seemed to deliberately conform to stereotypes that West himself has fought through his lyrics to dispel. Most markedly, Ian Connor, was singularly and very purposely smoking like he didn't give a shit, as his model cohorts stood deadly still. Lo, the lone rebel, who won't fall into line, and happens to be black. It couldn't be more overt in its reference to the racial inequalities of America and beyond.

In a brief backstage interview with vogue.com, West insisted he was just creating a "painting" where the clothing became a canvas for colour. And yet it's hard not to read into the choreography of the show as West's personal piece of social commentary. The blackest of black people enslaved. The whitest of white people following orders like minions. And in between, dissidents flouting the rules.
Join Our Discussions on Discord
The HYPEBEAST Discord Server is a community where conversations on cultural topics can be taken further.