Essentials: Astrid Andersen
Essentials fit for any fashion designer.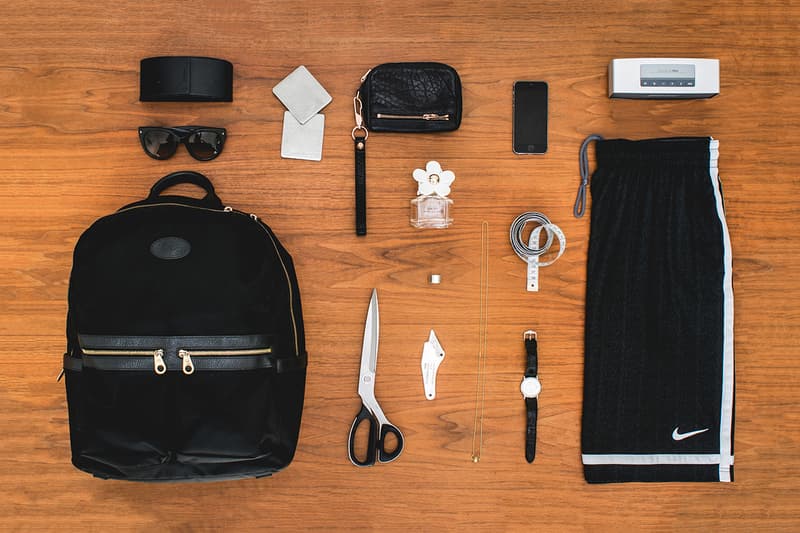 2015 has been a big year for Astrid Andersen. The London-based, Danish designer took the fashion world by storm with her 2016 menswear collection presentations at LC:M. Alongside her mainline runway show short film, Water, with A$AP Ferg caused quite a stir within the blogosphere, thrusting the humble Royal College of Art graduate to the limelight. Andersen's trademark is embedded within luxe iterations of typical sportswear silhouettes rendered in fine silks and jersey mesh. Her affinity for sportswear is prevalent in her Essentials, exhibited above.
As a designer, Andersen keeps a handful of essential tools required for pattern constructing: a measuring tape, metal weights, a fur knife, and German fabric scissors are always with her on-the-go. "Bad scissors are like a flat tire… not even an option," remarks Andersen. Outfit essentials include black Prada sunglasses, a black Alexander Wang leather clutch, and a pair of Nike LeBron basketball shorts — forever "the most important piece of clothing I own." Jewelry is kept to a minimum with the Astrid Andersen x Black Dakini gold necklace and her Omega wrist watch with a crocodile leather strap, which she inherited from her father. Andersen keeps all of her favorite items in her trusty Mullberry "Henry" Nylon Backpack that carries the same name as her father. Check here for Essentials to other creatives from our culture.