Third Time Lucky: How to Get Your Hands on a Pair of Yeezys
Want to get your hands on a pair of Yeezys during its next drop? Check here.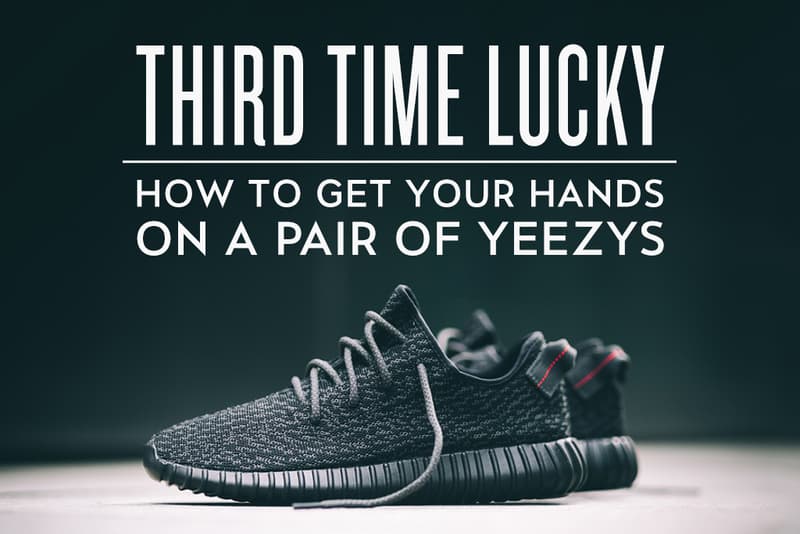 Copping a pair of Yeezys may seem like an impossible feat by now — from unfulfilled promises by Kanye saying we'll all get a pair if we want one, to notice from adidas that not everyone can get a pair. Well, a lot of you may be discouraged from the seemingly tough task, as there were people lining up for days waiting for the last drop of the "Black" Yeezy Boost 350s. However, third time's a charm, and you'll likely be able to grab a pair soon. Here's a break down on how to grab a pair during the next drop.
Download the adidas Confirmed App
Earlier this year, adidas introduced the Confirmed app specifically for the release of the Yeezy Boost 750. It allows users to reserve a pair to pick up at a local adidas retailer. Reservations open prior to each drop, so you'll have to keep your eyes peeled a few days prior to the official release date to have a chance. Additionally, the Confirmed app also connects with key sneaker retailers (such as Champs, Foot Locker and Finish Line), so that'll check a few retailers off your long list of visits.
So far, confirmed has only been used to reserve the much-hyped Yeezy sneakers, in an effort to keep frantic fans at bay.
Sign Up at Yeezy Supply
Click here, and sign up. It's the Yeezy Supply official website, and was launched after the "Black" pair of Yeezy Boost 350s hit shelves. It also boasted an online store, but of course, it's all gone now. However, if you sign up, it promises "restock alerts and exclusive news." Oh, and a chance at winning the "Black" pair.
Know which retailers are stocking
Check here for the list of stockists for the "Gray" Yeezy Boost 350 and the "Black" Yeezy Boost 350. Prior to each launch, adidas will release an official list of retailers that will be carrying the coveted shoe, taking out the hard work for you. With a range of stockists worldwide and a variety of different stores (from the higher end to the run of the mill), the list seems almost random. You have adidas Originals (of course), sneaker boutiques such as KITH and Livestock in Canada, more general footwear chains like Foot Locker and Finish Line, but also higher end department stores such as Lane Crawford in Hong Kong and Galeries Lafayette in Paris. Everyone's clamoring to become one of the retailers that will sport lines spiraling out its doors.
While the list is long and varied, adidas tends to offer the sneakers to accounts based on three reasons. Firstly, the Consortium accounts are on the top of the list as they've had longstanding relationshops with adidas. Secondly, strategic locations also contribute to where Yeezys are carried. While the likes of Hanon would not be considered as a Consortium account, in Berlin, there is no store nearby, hence they'll stock the Yeezys. Thirdly, overarching relationships. An example could be seen with size?, a chain which is owned by sportswear retail giant JD sports. In order to not jeopardize the rapport with the greater brand, size? will stock the Yeezys.
Specialized sneaker stores are an obvious first stop, however, the list goes on and hits upon some retailers that may not be sneaker-oriented in the first place. These are the places you might want to hit up on your early-morning trek to a Yeezy Boost retailer, as other people who didn't do their research may not even know these places are stocking. For example, Pac Sun, MR. PORTER and Barneys are unlikely suspects.
Once you've rounded out a list of retailers near you, make sure to give them a call and get an idea of how they're organizing the release. Most stores have released the shoe in-store only, at a first-come-first-serve basis, and it would be good to note when they begin accepting line ups or when doors open on the day of release. However if you're lucky enough, you may want to try your luck on an online release, but if the past releases are any indication — it's going to be messy.
@adidasoriginals I got charged 1200 for 6 trys… you better send me 6 pairs

— Johnny (@FollowJohnny16) June 27, 2015
For some retailers, the shoes never even make it to the floor as they've all been reserved by their top customers. At the end of the day, the retailers decide how they want to sell their stock, so it's pertinent to have this information beforehand.
Line up or raffle?
Now you've got your information on where to go — you'll want to enter as many raffles as possible. Many retailers have resorted to raffling off pairs to avoid hectic line ups at their doors. This makes for an arguably fairer and less demanding release. Once again, it depends on how the retailer wants to release the shoe — whereas some might find lineups to be chaotic, others may see them as free advertisement to passerbys.
In some regions and for some retailers, all pairs were given up to raffling to avoid the problem of resellers. According to an adidas representative in the China region, they've done without any in store releases — simply offering all pairs up for raffle. This was done to avoid random people lining up with the sole aim of reselling. While your best bet is to sign up for as many raffles as possible, AND line up — there are pros and cons to each.
The Standard reports that a teenager in London said, "Then last, everyone was started crowding around and about 100 people turned up. I had never seen their faces before. It was really disorganised. Most of us did not get a place in the line. It was just bullies [who pushed in]. There was an intense atmosphere." Additionally, if you make the trek to the line — you may not get the size you want since it completely depends on what sells out faster. Unbeknownst to most (although unsurprisingly), each retailer was only allotted 12 pairs of the coveted shoes for each previous release. With both the "Gray" and "Black" iterations selling out instantly, it's no wonder so little people could get their hands on a pair. Our advice is to enter as many draws as you can, and try your luck.
Additionally, plenty of retailers, magazines and outlets offer giveaways. For example, HYPEBEAST offered a giveaway for both pairs, and Fruition held its own giveaway as well. For the next release, keep your eyes peeled at the social media outlets of retailers such as BAIT, Villa, Ubiq, KITH, Concepts, MR. PORTER and Matches Fashion. If you're willing to give up some time (and followers) to repost something on social media, like a page, or participate — why not? You never know what might happen. If you're dead set on getting a pair, it's not impossible. In fact, it's not hard to cop a pair — it just depends on how much you're willing to shell out.
Which resellers are your best bet?
If lining up, entering raffles and giveaways didn't work out, or if price is not a concern. The next best thing is to hit up some resellers or eBay. Check out some go-to eBay resellers, such as solesupremacysales, croatianstyles, thecoolshoeshine or uniqosolecom. Of course, the prices are going to be astronomical — but are there for purchase depending on how much you are willing to give up for a pair. With prices ranging around $1,000 USD and higher, your first stop would be eBay to peruse pricing and see how much you're willing to shell out for a pair. Perhaps bid on a few, but here are a few resellers to take a look at for an easy one-stop shop– Flight Club, Kix-Files, or Grailed.
The Next Release
However, according to several retailers (who would like to remain unnamed), the next drop of Yeezys will be much less limited. Each buyer was able to order 120 pairs of the sneaker (as opposed to 12 from the past releases), which means adidas has seriously widened the window — maybe everyone who wants a pair will actually get a pair this time. Not only that, but as reported, Kanye has been spotted wearing two new colorways — a beige and white. No surprise here, but these are the next two colorways on the roster. Named "Beluga" and "Silver," the two are supposedly dropping in October — which means you'll have to make a choice as to which pair you'd like to cop. But that's not your only choice – retailers' order sheets also included the winter boot (aptly named the Yeezy Boost 950). This will be the first time the boot is hitting the market, however we don't know in which colorway yet. With winter just around the corner, this seems like a perfectly timed release by adidas.
With tenfold the chance of getting one, you're likely going to be luckier this time around. Or if you weren't planning to get one due to the unparalleled hype — maybe this time's your chance.