Kanye West Wins FNAA "Shoe of the Year" Award for the Yeezy Boost
A fitting way to top off a year of Yeezy.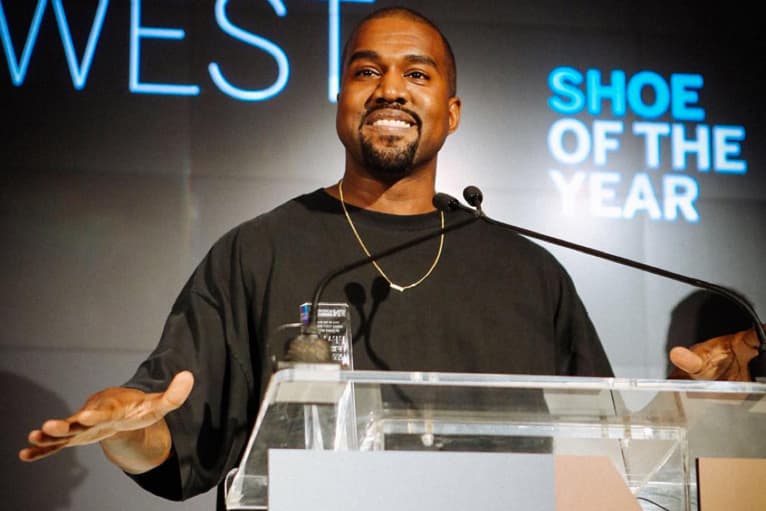 For all the spectacle and furor that it has caused throughout this year, there was only really one choice for Footwear News to name for their "Shoe of the Year" Achievement Award: Kanye West's Yeezy Boost. The rapper took to the stage in New York City tonight to receive the award at Footwear News's Achievement Awards ceremony, which honors the footwear industry's cream of the crop.
It was only in February that Kanye revealed the 750 Boost at the Grammys, but sneaker culture has been fixated on them ever since, helped in no small measure by the fact that Kanye threw his (and his family's) entire celebrity behind promoting the shoe. Sparking unparalleled demand that crashed servers and drove resale value to astronomical heights, the commotion was sustained throughout the whole of this year, with strategically timed releases for the 350 Boost in June, and subsequent "Black" and "Moonrock" colorways in August and November ensuring that the silhouette never left the spotlight. Scenes of organized chaos became regular occurrences at their in-store releases worldwide. The sheer dominance of Kanye's influence throughout multiple cultural spheres was fully felt through the Yeezy Boost, which became a staple choice of footwear among the top tier of pop stars, fashionistas and sneakerheads, with Kanye gifting two pairs to President Obama as well.
This is adidas' second time in winning the honor, the first time being awarded to the iconic Stan Smith last year, when the man himself stepped up to the stage to receive the award.