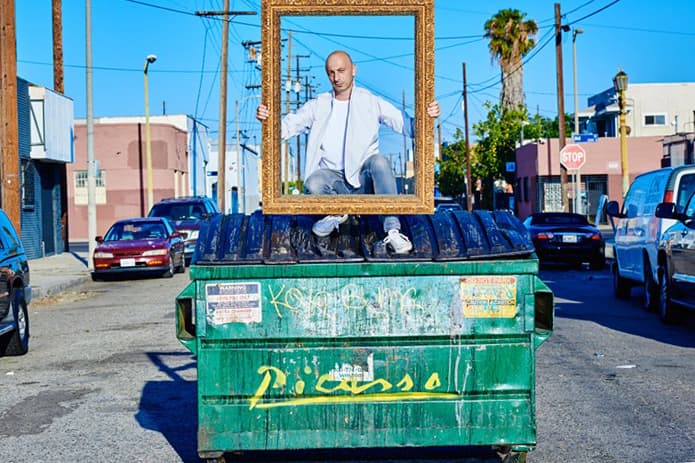 Jason Alper Is the Undisputed King of Irony
An interview with the man notorious for styling Borat's mankini.
---
Pop artist Jason Alper is widely recognized for juxtaposing iconic logos with familiar imagery from pop culture, fashion and fine art. For instance, he flipped the "Mona Lisa" and René Magritte's "The Son of Man" by draping the subjects in monogrammed Louis Vuitton print, and altered Robert Indiana's legendary "LOVE" sign to read "IRONY" instead. He is also responsible for putting Sacha Baron Cohen in a lime green mankini in the movie Borat, in addition to styling Cohen's other alter egos like Brüno and Ali G. His lighthearted approach to fashion and costume design has largely translated to his artwork, shaped by his satirical sense of humor. In a recent interview with Dylan Jones of GQ, the British-born designer gives a glimpse into his thought process and inspiration behind his craft. In addition, Alper discusses his childhood, career history and upcoming screenplay. To read the full interview head over to GQ.
On his logo art:
"Coming from the world of costume design, I was thinking about working on the idea of embracing logos and art. I've always been a kid at heart. For instance Lego has always been prominent in my life…When you look at a pixelated version of the Chanel logo, I thought it could transfer to Lego in a heartbeat. So I made a prototype and loved what came out of it."

On art today:
"Art has become much more attainable for everybody. Long gone are the days when you had to spend $50,000 on a great piece. I think people are now just buying art because they like it, which I think is a lot healthier than just investing. The centres of so-called excellence are changing, too. There is another branch of Lab Art in Dallas, as there is a massive appetite for modern art there. It doesn't look like the recession's really hit Dallas. You go to their malls and everything is so high end there. We shot Brüno in Dallas, and I hadn't been there before, and I was amazed just how well everyone's doing. There's a huge appetite for cool stuff there."