Gimme That Fire, Stand Back And Watch Me Burn: A Conversation With Koncept & J57
"Ten beats a day for ten years, go 'head and do the math. Gave up on a social life, sharpening my swords…"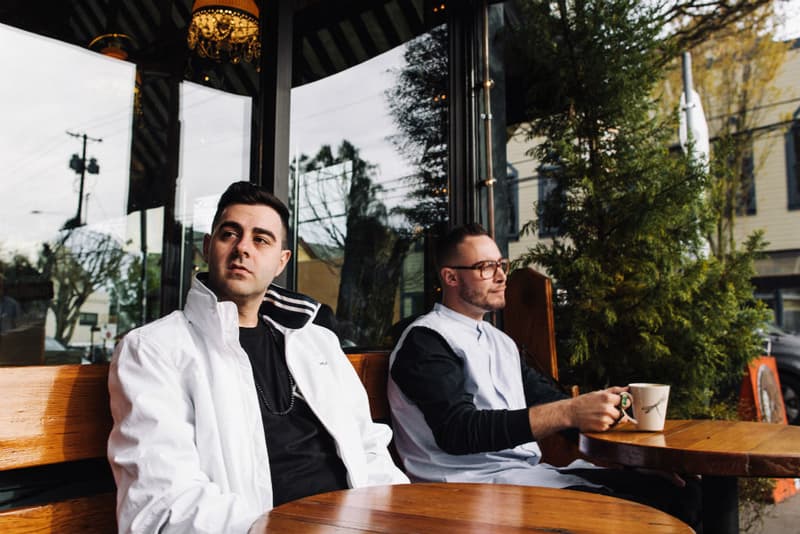 "Ten beats a day for ten years, go 'head and do the math. Gave up on a social life, sharpening my swords…" rapper/producer J57 expresses in a track from his 2014 released Wax Aesthetic EP.
Fast forward one year later, to this moment right now, and J57 and his business partner, Koncept, have found their artistry at an undeniably exciting and favorable crossroads. When reflecting on their work from the past couple of years, as created together as Koncept & J57, both musicians are at a place of passion and conviction, while looking limitlessly ahead.
Save for their collective work as members of New York City's The Brown Bag AllStars, the story of Koncept and J57, as a duo, is technically still being written. Both artists have proclaimed and showcased the way this specific release is changing, and has changed, their lives thus far and through their music, listeners can see it, believe it and most importantly, feel true motivation from The Fuel's message and mission, in order to be able to adapt it to their own lives.
Koncept & J57's latest project, The Fuel EP, is not only humbly and honestly worth the two years time it took to create but is also merely the tip of the iceberg of what's to come next. The Fuel EP is definitive by nature in that it is as much an introduction to the collaborations between Koncept and J57 as it is a balanced example of their established sound and their self-declared lifetime guarantee to continue evolving as artists.
With a handful of features, including audible blessings from Akie Bermiss, Dice Raw and an exceptionally talented 11-year-old singer named Nevaeh, to name a few, the eigh-track Fuel EP fits loosely into the underground hip hop category. The vocal range is as equally impressive and unique as the production itself, and together Koncept and J57 have found what they are looking for in each other musically, while also maintaining open minds creatively. The Fuel EP is as adaptive as it is definitive and listeners will find themselves refreshed, if the positive response from the first single, "Porcelain" (featuring Hollis) is any initial indication. Again, with one listen, Koncept and J57 will have you believing to your absolute core the best is yet to come – It's that good.
In advance of The Fuel EP's exceedingly anticipated release this November, Koncept and J57 happily let us pick their brains about their creative process, what inspires them and how they got started.
Introduce yourself – your name, where you're from & where you're at now.
We are Koncept & J57. Koncept on the vocals. J57 on the production. A duo, a team, a family. We create all aspects of the music together.
Koncept, born in Queens, has lived in Warwick, NY, Vermont, Brooklyn, and now Portland, NY, and LA. 
J57, born in Long Island, and currently stationed in Brooklyn.
When did it hit you that you identify with being a rapper/producer/artist?
J57:  When I started rapping back in high school and nothing meant more to me than it did; expressing myself creatively/artistically. A few years later I started making beats and realized that the rapper/producer life was my calling, for sure. 
Koncept: I've been writing graffiti since I was 7 years old. I got the name Koncept given to me at 9 years old by my older brother (figure) who used to take me out writing with him when he would watch me while my parents went out. At age 11, I got my first turntables, so technically at that point I was "DJ" Koncept. I've always liked writing short stories and poetry, so once I turned free-styling for fun over instrumentals I had on vinyl into writing verses, I couldn't stop.
How did you get started both individually and as a team?
Koncept:  As individuals, we were made for this. We worked hard, and were part of different groups in the past, as well as individually working on solo material, that helped us learn everything from the ins-and-outs of the industry to who we are as people, and as artists. It all leads to where we are now, as Koncept & J57. 
Tell us a bit about yourself and your creative processes. What does your favorite environment to begin writing new lyrics or working on a new track look like?
J57: I've been living in Brooklyn for a very long time now, but growing up in the suburbs of Long Island, I was exposed to and fell in love with so many different types of music, which inevitably lead to me becoming a versatile/eclectic producer. Koncept and I listen to a wide array of different genres, so it only makes sense that we're creating soundscapes that sound like different genres fused into one. My process starts with me listening to a song or two that makes me feel inspired/want to make a beat or write a rhyme. Once I find a song that really "hits me," I then immediately start creating. I like to do this at my little home studio with no one else around, so I could really zone out and have no distractions. I turn my cell off, I stay off social media/email and I just work/release what I'm feeling creatively.   
When does a new song feel finished to you?
Koncept:  I'm just going to give you an example. "Excitement" (on The Fuel EP) was a song that we worked on for about 15 hours until we thought it was (about) finished. We got everything sounding where we thought it needed to be – the drums, synth, hook, drops – and decided to take a break and clear our heads. In that break process, and a little extra remedy, Joe Roger (producer/singer/engineer – which you'll hear all over the record) pulled out some old analog equipment and we started just playing with some noises. We then decided to re-open the "Excitement" session and see what we had. Needless to say, we had the idea to try tweaking some sounds, which then lead to about 5 more hours (until 6am), and resulted in a completely new song. We then knew that the song was right and finished.
What helps inspire your music?
J57:  The fact that my music will make someone's day better. That's the entire reason I make music – to give someone an escape or a sense of worth. Koncept feels the exact same way; you can hear it in his vocals – we want to heal you, we want to dream with you, we want you to know that we have your back, all while we entertain you. We want you to know that you belong.  
What advice has really stuck with you and what was the source?
Koncept:  My godfather told me to go after what I want and believe in, and to do it now while I can. He told me this on the day that I graduated with a graphic design degree knowing I was clearly focused on nothing but my music.
What I really took from that was to never wake up and say I should have, or could have done that, but I didn't attack it. Never to say that I didn't really chase it. Never settle. 
Your own happiness is the most important thing there is. If you're not happy in what you're doing, in where you're at, then change whatever is needed, and get there.
We wake up every morning and go after what we believe in. We're trying to make our lives better by 1pm, every day.
Fill us in about your latest project.
J57:  The idea for The Fuel EP came about during our flight back to NYC after recording our album, Flight, at Red Bull Studios LA. We didn't realize how much bigger/better our sound has become until we sat back and reflected. We took meetings with A&R's at a couple major labels that week, and they all told us the same thing; our sound is way bigger and that we have hits.
We've always been meticulously calculated and strategic with everything we've released in the past, but we realized that we're going to have to be more strategic than ever, in order to execute perfectly. So, we decided to create an EP (The Fuel) to release as a pre-cursor, to ease people into our bigger/new sound and to prepare for the journey we're going to take them on with Flight.
What inspired the decision to self-release The Fuel? Where do you see the future of Kon57 going, i.e. releasing all your music in this manner, releasing other artists, pressing vinyl possibilities, etc.? 
We've been doing this for a while now, and not just the part that's creating the music. We've been running our whole brand since we've started. We worked at Fat Beats record store for years, we've done our own marketing and PR, our own bookings playing around the US and overseas. We worked every aspect of it. After evaluating our situation, and knowing how hard we worked, and how much this new music means to us, we knew we had to do it on our own again. Just this time, do it bigger and better, and more powerful then we've ever done it before.
This is the best music we've ever made, and every part of it, from the videos, to the artwork, to how it's released will be the best we've ever done it. This is our real beginning, our real debut.
For now, it will just be our releases. Can I say all of our music forever, that I don't know, but The Fuel EP, and Flight LP will be on KON57 Records.
Eventually we may release other artists, but for right now it's just for our own music as Koncept & J57. I would love to some day be able to help artists and musicians reach their goals through it. Right now we're attacking ours full force.
Any reoccurring themes or specific messages you are hoping to express in your latest EP?
Koncept:  Every song is different, all while still fitting the sound and the cohesion of the body of work. The main focus, the main theme, that can be seen and heard is to keep pushing, keep driving, keep moving forward. Fight through the pressures, through the barricades, and give it everything you have. 
What gives you #TheFuel to keep going? What are you listening to right now?
J57:  For the past few weeks I've only been listening to the "Recently Added" section on my iPod, which consists of: Sia 1000 Forms of Fear, Koncept & J57 The Fuel EP, songs from Mike Two's Thoughts of a Beautiful Dream and a Yanni song.  Okay, I was kidding about the Yanni song, but everything else is the truth. 
Who are your top five artists, either visually or musically these days?
Koncept:  I'm not sure if you've heard of these artists as they're up and comers, but Pablo Picasso, Jean-Michel Basquiat, Nicolas Cage, John Travolta, and Wham! Real answer is Nas, Black Thought, Tyler The Creator videos, Justin Bua, Mia Khalifa. 
If you can pick any artist or photographer to put together your album art, who would it be and why? 
J57:  Well, we did have that option and we picked Chris B. Murray, to do the artwork for The Fuel EP. Chris has been a long time fan of the group Koncept and I come from; Brown Bag AllStars, and Koncept and I have been a fan of Chris' art for a very long time, as well.  A real mutual respect/a new friendship. Very brief background on Chris; you can see his work in Marvel Comics. Yup, he's a beast!
–
The Fuel EP is now available on a pre-order basis via iTunes.
Words by KC Orcutt
Photography by Matthew Sorensen