Jordan Brand Looks to Improve on Retro Quality with New Remastered Line Starting Spring 2015
Sole Collector recently sat down with Dave Schecter, VP of Jordan Footwear, and Jeff Atienza,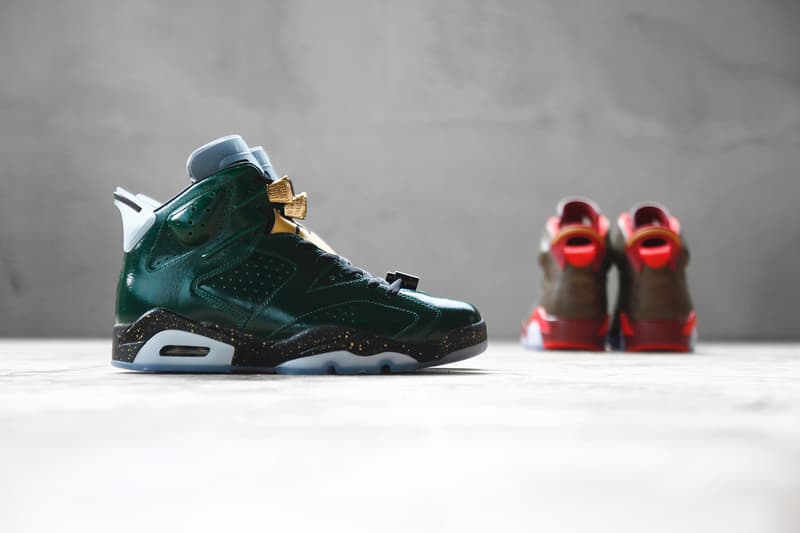 Sole Collector recently sat down with Dave Schecter, VP of Jordan Footwear, and Jeff Atienza, Jordan Brand Product Line Manager, to talk about Jordan Brand's remastering initiative. Set to officially start in 2015, the 30th anniversary of the original Air Jordan, the initiative will focus on remastering the Jordan retro line with a focus on using better materials and producing the shoes as close to their original designs and specifications. It will focus first on the AJ4, AJ7, and AJ10 silhouettes but will encompass every retro shoe that JB produces. Check out some excerpts from the interview and head to Sole Collector to read the full piece.
Why was Spring 15 chosen as the time to launch this new method?
DS: There are a couple reasons. One is that is the fastest we could do. Over the years, original tanneries have closed, so we can't have the exact same materials, because the vendors don't exist. There's been consolidation in the industry. We have to test all of those materials for wear and tear and performance and colorfastness. There are all kinds of things we have to go through in order to get ourselves geared up. We had to work with all of our factory partners and get all of the stuff ordered.

There's a lot of lead-time when we take on something of this magnitude. It happens to coincide with the 30th anniversary, which is great. But we were moving as quickly as we could, and quite honestly, we're always looking for ways we can improve. And we are all very away here at the brand of some of the perceptions of the valued consumers that we have, and they felt like some things had been slipping. And in some cases that was true.

One of the biggest things we've heard over the years is that everyone wants our product to be in its best possible state. We've been doing a really great job, I believe, as evidenced by the support that we have for the brand. But we looked around, and looked at what was going on, and asked, "Can we a better job?" And the answer was "Yes."

Is this remastering of the retros limited to particular shoes, or is it the way they'll all be done?
Dave Schecter: We are going to be remastering our whole retro line starting Spring 15. It's comprised of a couple different factors. One, we have the most highly qualified colleagues in Asia at the factory level who are working on our retro products. We have really high standards for production and quality controls. That's one big part of it, and that kicked in last year actually, so we've been doing that for a while. And then the next piece is that we're going to be, starting with Spring 15, all retro models in men's are going to be redone, meaning new materials and getting as close to the original construction as humanly possible. It's a pretty big deal.

This sounds great, but the biggest question now, is how is it going to impact the price?
DS: That's a great question. In order to upgrade the product, there's going to be a price increase. It's anywhere from 10%-15%. It depends on the model.

I think you're hitting on something that's really important. This is MJ-approved. When we decided that this was something that we wanted to do, we went and asked key stakeholders. First, I asked him straight out: "What do you think about this?" And his response was, "Great. Get it as close to it was when I was playing as possible." And we said, "OK." He said not to get too far away from it and go crazy. We said, no problem, that we were trying to make it as close to original as possible. His point was not to make it calfskin. It was a thumbs up from him, anything to make the product better for the folks that support the brand.

We also spoke with 20-30 of our independent retail partners from across the country. They know the business inside and out, and they've been with us since the beginning. And a lot of them are the consumers themselves, and they hold us to the highest standards. This goes back to last August, and I met with them in Vegas and asked what they thought. And they said, "Absolutely, 100%, go! If you can make the product better, make it better." Because that's what they hear. So we said OK.

We got all of the signoff internally. Everyone is very proud of what we do here, and it's a positive move that we're making. And most importantly, we showed it to kids. And they were like, "Are you kidding me? This is what it's going to be?" We said yes, and they thought it was fantastic, because we were doing something that they want.

The result is that it costs us a little more, but 10%-15% is worth it. If everyone said, "Don't!" we wouldn't have done it. But when everyone said to do it, we decided to go for it and do the best we can.