The 101: Wingtips
Popular as a men's shoe style for centuries, the wing-tip traces its origins to the 1800s in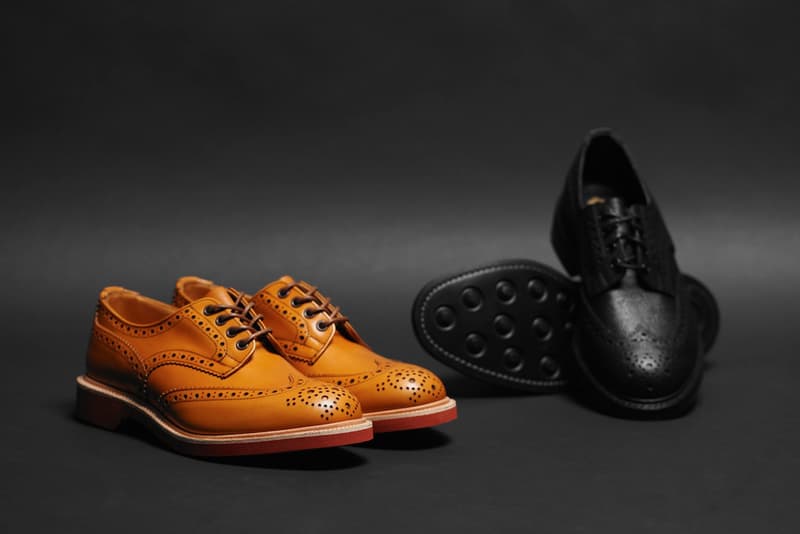 Popular as a men's shoe style for centuries, the wing-tip traces its origins to the 1800s in Scotland and Ireland where shoes typified by the layering of untanned leather panels gained popularity at the time. Acting as early-modern outdoor footwear, this style was called the brogue and laid the foundation for later re-appropriations of the same shoe. Perforations on the toe and lower profile of the brogue allowed any water to drain from the shoe itself when worn in wet conditions. A shoe was needed that could effectively stand up to wet environments and the brogue fit this niche. In Highland tradition, a ghillie brogue was often worn in combination with a kilt. Wider crossed lacing and the lack of a conventional tongue characterized this adaptation, which was also constructed from leather and often detailing in the form of a wing-tip. Even a specially designed version of the ghillie was used by women for traditional Highland dancing, created from soft leather and featuring similar lacing. The informal term wing-tip would go on to become commonplace as a term used interchangeably with the brogue. The style and usage of the shoe departed from this point and has taken shape in a comparable form we know today.
Traditionally the perforations on a brogue consisted of a stylized toe cap and matching details along the profile. The term wing-tip originates from the wing-like appearance of the toe cap. Layered leather was added to parts of the toe to create a more ornate appearance, and classically a derby lace enclosure was used also. Often a detailed sawtooth edge was added to the overlapping leather to make the shoe more distinctive. Several variations on the brogue have carried over from the shoe's initial design; these variations include the longwing brogue featuring perforated designs that follow the full profile of the shoe meeting at the heel, the half-brogue that boasts a similar ornate toe cap but without a wing-tip design, and the quarter-brogue that features a single line of perforations along the toe cap and not in the centre.
In 1829 Joseph Tricker founded Tricker's shoes in Northampton. Bridging many trends over 180 years since its inception, the brand has played a role in the popularization of certain styles in the UK. Tricker's manufacturing processes have not changed dramatically over the years; the label still releases classic brogue-style shoes as part of the "Country" collection. With the industrialization of Northampton beginning in the 18th century, local established leather and footwear purveyors experienced a considerable degree of success; even to the point that Northampton was considered by many to be the shoe making capital of Europe. During this period other shoemakers that manufactured brogue-style shoes such as John Lobb, Grenson, and Church's also made names for themselves in the area of Northampton. Thomas Church, who established his business based on almost 200 years of family experience, founded Church's in 1873. Church's was one of the first brands to offer the innovation of left and right shoes in 1881; before this point many shoes were sold as 'straights' – identical shoes for each foot.
Today, interpretations of the wing-tip have also left their mark on street fashion and high fashion. Sneaker brands such as Clae and Vans have picked up the style and refreshed it – aiming at a younger audience. Clae imagined the shoe in its own way in a hi-top version as well with a few revamped longwing brogues, while many editions of the Vans Era have been adorned with a recognizable wing-tip toe cap. Most memorably Vans teamed up with Marc Jacobs on a slip-on Vans Era featuring a wing-tip design. This collaboration was a perfect example of what is known as an austerity brogue; a shoe featuring an imitation wing-tip but no perforations. Late spring of 2012 marks the release of the Lunargrand from Nike and Cole Haan. For this shoe the unmistakable wing-tip style with derby lacing comes matched with a Lunarlon cushioning system. The same futuristic feature is found in Nike's baseball and running shoes such as the Nike Lunar Huarache and Lunar Trainer series respectively. Other modern examples of the same style have also come from brands such as Doc Martens and Junya Watanabe, who imagined the brogue in a contemporary sense – often integrated with a workwear aesthetic. Fashion houses such as Hugo Boss and Prada have also translated the wing-tip, incorporating the brogue-style into both men's and women's footwear. In this sense the shoe has come a significant distance from its beginnings as a men's outdoor footwear shoe. Current brands have adapted a traditional style and will continue to do so in this way.
Conceived from a functional perspective of footwear, this style developed into what are now commonly referred to as wing-tip shoes, which evolved from a strictly rural form of footwear to a more formal style today. Simultaneously the function of the shoe has changed from outdoor-oriented to a dress shoe correlating to a business setting. Taking part from these origins, today we see sneakers, formalwear, and workwear all taking cues from the brogue. Created as an integral part of Scottish and Irish heritage and as a reaction to the terrain the people inhabited – these aspects of the wing-tip demonstrated how its roots were firmly placed in both culture and necessity.
With a plethora of "vintage" and "heritage" design elements playing an ever-increasing role in contemporary fashion aesthetics, it is often easy to loosely associate visual tenants of a brand or style with a certain era, and yet far too easily pass over the rich history of both the design and designer found in each element. Passed down through the ages, there is a vast array of patterns, prints, models, and textiles that have stood the test of time and seen their way through to new applications and uses in both modern street and high fashion spheres. Likewise, the relevance and resume of some of the world's most pioneering designers, brand founders, and prolific artists often suffers as a result of the desensitization that can come from a now surging industry. Our latest feature The 101 aims to bring to light some of the foundational components of a range of iconic design elements as well as highlighting a series of personas who have played a substantial, albeit in some cases, a less publicized role in the creation and growth of a culture and lifestyle that many of us now live.