Inventory: Stumpdown by Danner Boots
Inventory Magazine make the trek to Portland to visit as the Canadian outfit speaks with local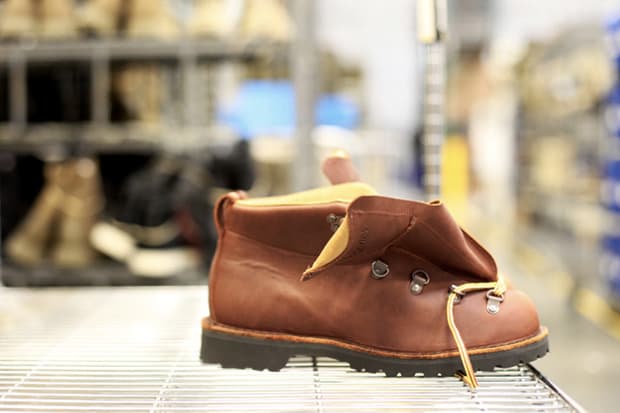 Inventory Magazine make the trek to Portland to visit as the Canadian outfit speaks with local brands Danner and Tanner Goods on their recent partnership on the Stumpdown by Danner Boots collection. Some pleasing imagery accompanies the interview that discusses the importance of leathers and their experiences working together. Several interview excerpts have been posted below. The full piece can be seen over at Inventory.
How did you decide on which models you were going to make with Stumptown then? How have you guys approached the design process for the line?

MS: With Stumptown we started out right away with two of our iconic styles, the Mountain Light and Danner Light originals because those are really what this is all founded on. From there we added what we call the Mountain Light Stark and the Mountain Light Overton and then the thought process there was that people want a lighter weight boot. They're not wanting to necessarily go hike in this product exclusively, but rather just walk around town in and use in everyday life — something that'll go with their work shirt or high quality denim and embrace that lifestyle and that's where Stumptown has evolved from.

After that we looked back at our catalogues and wanted to create a product similar to that of what we had in the 1970s. That ended up being what we call the Mountain Trail Light. A big reason for it was that it's a leather lined boot, which isn't something that we do much of so we're really excited about it. We're just loving going out into the factory and playing with the materials on all of these boots and hopefully the result is something that our customers like too.

Basically the relationship we have with the factory and it being so close and being able to talk to workers like Alfredo who's been there for 39 years, and asking him things like "hey this felt and this leather, can they go together? Do we need to back it with anything? How can we come up with this in a comfortable way?"

So that's how we've been 'designing' new things. We're just using different materials in new ways for us and that's how we're going to be going forward in the next little while. We're really excited though because we've got another developer working with us on new styles and patterns for the future so we can start to think more long term.

Before Stumptown then, I can't imagine you were bringing in too many different leathers. It must have been the same stock hides that you've been using for however long right?

MS: Yeah and that's been the biggest challenge to us as a company, really going out there and getting all the different leathers. Luckily we've been able to partner up with people like Tanner Goods and understand where they're getting leathers from and some of the suppliers we can go forward with in the future.

How did that relationship with Tanner Goods come about?

MS: They actually came on board way before Stumptown ever existed. They started out with one of those original styles in their shop…

Sam Huff: Yeah it was the Mountain Light, which is such a beautiful silhouette. You don't really need to re-design that because it's such a classic.

MS: Yeah the Mountain Light is really the iconic boot. About 5 years ago it just started to swing up and there was a drastic increase for it. Really it was just because of people looking at the Made in the USA story and people wanting that classic vintage look.