Behind the Lens with Jason Goldwatch
The landscape of the music game has taken on a new breed of creatives over the years – musicians,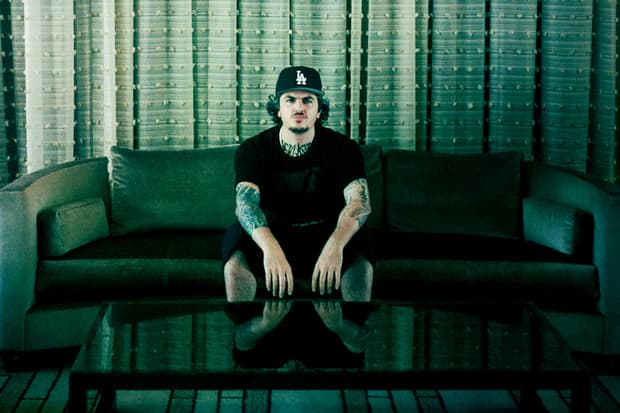 The landscape of the music game has taken on a new breed of creatives over the years – musicians, producers, video directors. You listen to your go-to artists of choice and realize the sounds have taken a route somewhat off course from its respective music styles, yet approaches a hybrid crossroad of sounds that inspire from different musical genres and elements beyond the musical world. This is the new generation of ideas and visions, when artists take on no formality or predetermined labels – it's nonconforming and quintessential of the saying "thinking outside the box." This is this "new school" of director Jason Goldwatch as he gives us some background on some of his latest works.
Aceyalone – I Think (Analog Video)
My first official music video was for Aceyalone's "I Think." I was fucking geeked just to meet him. He came up to the CalArts film studios and we shot in a few hours. I remember once it was edited and colored, I drove down to Project Blowed on a Thursday night and gave him the video on a 3/4 tape. We played it on the projection screen. I was so nervous. A young white boy in the hardest most legitimately judgmental spot in LA. Once it was over, everyone chanted "again" and we played it again. Afterwards, he walked me out to the trunk of his Impala and gave me an old Freestyle Fellowship poster and a handful of "Mic Check" stickers…and to me, I had arrived. Sixteen years later we're still smoking together at Project Blowed, and I always feel like family with all those dudes where ever we "be."
Dilated Peoples – Work the Angles (8mm film)
I shot this up in Valencia my first year at CalArts. We shot on Super 8mm. I stole the film from Costco, and transferred it by projecting it onto a white wall in my dorm room, and re-video taping it. I edited it on a 3/4 editing bay. That's analog tapes!!! We edited it for free in the empty film school over the summer. I remember we smoked something awesome in Ev's beat up Honda in the parking lot. We were walking into the school, it was at least 100 degrees up there, and I was worried the tapes were getting too hot… man… Rakaa said with a calm voice, "Man, were making history right now…" And I thought I knew, but now I know.
Kool Keith – Plastic World (16mm Film)
We shot this in downtown LA on the top floor of a halfway house. It was so hood, there was this old lady on one of the upper floors throwing feces on the grip trucks parked in the lot below. I loved it though, it was almost my first taste of Travel Filming, it felt like we were on another planet. Back then any white kid on a bike was getting duffed in downtown LA, it was far from how it is today. My producer hated that I wanted to shoot in an actually shit bag hotel. But, the cast of characters in Keith's strange circle was so fascinating to me, and his "thing" so authentic, I wanted to shoot how it deserved. I was 20, the prostitutes found out I was the director and were hitting on me. There were a few hallways and rooms we didn't shoot and the whole place just felt rotten on every level, and really so far from "home." It gave me a sense of what could be found and captured visually with a little sense of adventure, an open heart, and some balls.
Somehow Keith and I ended up hanging out a bunch after this video. LA was new to me, and he was an interesting under current in Hollywood. He used to invite me to his crib, just off Sunset Boulevard. Sir Minelek was always around, DJ Kioki, Ice-T… It was a strange mixture of porn stars and drugs and rap music, and seltzer water, and HUGE bowls of macaroni and cheese. He used to collage in his living room, cutting up the nastiest porno magazines I've ever seen, and pasting the indecipherable pink parts together with Purple Glitter Glue. He would never clean up after himself, there were thousands of tiny pink paper snippets everywhere…
Common – 1999 (35mm Film)
Shot in NYC with Zoo York Media Group, back when ZOO YORK was the SHIT. Harold Hunter (R.I.P.) flew out from LA and actually made his flight. We shot this on a Super 35mm rig with these huge lenses. The morning of shooting the opening shot with Kweli and Harold, the weather was negative 27 degrees with the wind. The liquid in the lenses froze solid, making focusing impossible. I was still at CalArts when this dropped. I had no idea that video was getting CRAZY burn on TV. I had no idea. I remember hearing from EVidence that Defari didn't believe that I directed it. So I made sure I was getting credited, and found out my name was spelled "GOLDWATCH." Im pretty sure this is the first time I adopted what was given, and threw it to the wind.
Dilated Peoples – Worst Come To Worst (Super 35mm Film)
This was my first "big" video with Dilated. The idea was to connect the coasts and just get past all that bullshit back then. Dilated was the LA band, it was an awesome statement by them. I mean they were already working with ALC and Primo, and the influences on Dilated are clearly traceable to NYC. It was kind of a no-brainer. We shot the WTC shots on September 7th, 2001. I was sitting in my crib in Venice Beach, California editing the footage on my Avid system on September 11th with the burning and collapsing towers on my television. INSANE memories. Changed my life. I remember they were in Europe on tour, and actually got stuck over there for quite a few weeks. Once we all finally got on the phone together all we kept repeating to each other, "Crazy," "Crazy," "Crazy," Crazy" in both a statement and a response. It was incredibly real and incredibly fucking crazy.
Evidence – Solitary Confinement (HD)
Ev thought this song was so weird, layered and strange that he told me I had Carte Blanche. Sometimes my ideas come from an art film place and EV wants to come from a boom-bap place. We always meet somewhere towards the center, I think usually a little slanted my direction. So for this, he set it free, "Do what ever you want for this one…. Drug SHit" he said. Once I turned in my treatment to Ev, he kinda bugged. The story goes, he called Alchemist and was like "Yo…. I just got this treatment from Goldwatch with me rapping in the desert and there a topless girl with a gun to my head, wearing a bunny mask…" And I guess ALC was like, "That sounds kinda dope." Hahahahahahahah YES! When I was 4 I had a dream about being in an open endless orange space and seeing art critics with clipboards looking at an espresso machine on a pedestal… This was before I knew anything about ART, or coffee or anything. I dunno, I think there's some strange connection here I cant find.
88-Keys featuring Kanye West – Stay Up! (Viagra) (HD)
I remember being worried we didn't have enough time for this piece. Once the makeup was applied – which took four hours to put on – 88 and Kanye had to eat and drink through a straw. Their faces would start to "melt" after 12 hours, but most people "cant stay in it that long," said Tony Gardner, the dudebro who did the makeup as well as the famous makeup for MJ's "Thriller." However, the second Kanye and 88 stood up from the chairs and looked at themselves in the mirror, the mood change was not only instantaneous, it was completely contagious. The two had four hours in a makeup chair to come up with "Rufus" and "Clifford," and by the time the transformation was complete, it became a forest fire.
This may have been one of the funniest shoots I've ever been on. The structure was so solid, and the characters were so amazing, we had a solid crew, and the treatment was such that with all was in place, and we got to fucking horse around all day. Improv and "hunt and gather" in complete disguise. No security, no groupies, no hassles. Just two old ass scumbags. It was complete tomfoolery throughout Hollywood. The realization that we were making something really special set in early and the cohesive energy on set was palatable, it was like a wild fire. Each character developed and I gave them motives that the others were unaware of. It was magical. This was shot on the 7D and was really taking full advantage of the smallness, and somewhat subtleness of that camera's un-intrusive and non-commercial appearance, and overall size.
88 & Kanye were so honed into their characters that even as the camera department wrapped, the two kept the prosthetics on, staying in character, dance battling, hitting on girls, riffing on each other…. "Man, you been stupid since the '50s…" and doing interviews ONLY as "Rufus" and "Clifford." MTV was there doing a sit-down and the two wouldn't break character to save their lives. The interview pushed on asking Kanye to comment on some of his personal shit, to which he responded "Fuck you. I'm an old ass man, I don't give a fuck… Ask me some more dumb shit and see what happens." The two erupt into old man chuckles, the friendship so genuine it was almost like actually seeing these two buds 40 years in the future.
I always say the best video concepts should be able to be conveyed in four or five sentences. This is a perfect example of how this is true.
Kid Cudi – Soundtrack 2 My Life (HD)
I love this dude. In my dying moments on Earth, I know I will flash back to quite a few awesome moments Ive had. But most definitely and without doubt. I will always remember these runs with Cudder. His fans would jump off a bridge for him, and I'm a huge Cudi fan myself. And it's fucking midnight, and we're on stage, and the energy is fucking so thick. Everyone is tuned in. And I'm raging, and shooting, and I'm singing along, and the kids are fucking screaming along, and Cudi is steering this enormous spaceship of amazing moment-ness. It's something only comparable to tripping LSD in large groups. And there's that point of mutual singularity. When you glance up at your friends, and you guys make eye contact and just know… If you haven't been to a Cudi show you're tripping. A lot of the shit I love from these type of videos are the energetic connection you can feel with your eyes.
The Alchemist & Oh No (Gangrene) – The Sickness (HD)
Years later ALC and I were talking about making some weirdo joints from Gangrene. And he was like, Carte Blanche my guy, anything you want. So I really tried to flip this twice over, and step up the strange imagery and dreamlike vibes. I had heard of this place way out in the California desert that was described as "ALL BAD EVERYTHING." This was in the Salton Sea. A terrible place I suggest you never visit. It was 134 degrees with the heat index. Everything is dead. The rotten lake is so salty the fish can live only long enough to spawn before beaching themselves, creating an endless cycle of rotting fish on the water banks for miles. The stench is unreal. The fish feed the flies, which attack you by the billions, burrowing into all your open pink areas, eyes, ears, nostrils… There was the largest dust storm of the decade that day, and to top it all off, on the drive out there we pulled the cube truck over on the highway and we picked up a dead pitbull I spotted. He was about three days old, pretty much intact and was just too fucking perfect for the "Gangrene" piece we were shooting, so I pulled the parade over and we loaded him up into the cube truck. Unfortunately the only vehicle with working AC was, of course, the fucking cube truck. So even the AC was horrifying, with the rotting dog and maggot water coming out of the cold vents. Amazing video BTW. "The Sickness."
Kid Cudi featuring Kanye West – Erase Me (Red)
Again, a concept described briefly, that opens a world of imagined scenarios and improvisational awesomeness.
Cudi and I were at his crib, trying to figure out what to shoot for this as he strummed on his new guitar he was learning. The idea of a rock show came up, and then who's in the band… Clark Duke and Chris Mintz immediately came to mind, and it was just magic. The group were all in wardrobe together riffing and goofing, and Chris opens a large hat box he brought himself. Inside were dozens of wigs. The energy was coagulating even this early in the day, and as Cudi threw on what looked like a cheap prostitutes wig, he INSTANTLY was Jimmy Hendrix.
Cudi is one of those dudes who is just not scared, and sharp as a razor. Giving him a few directions to go, and a few places to play, he runs with it. Enter two of the funniest human beings on the planet, Chris and Clark and we have fun times all day. Each one's riffing and adding to the idea, developing scenes further and further, often until the camera rolled out, as I didn't wanna yell cut, I just wanted to keep watching them go.
To me, it so important to create an atmosphere of RAD when working with talent. The linguistics in my treatment, hands-on with the crew, the food we order, the way the crew/friends interact and communicate on set, my sailor mouth. All these things bring a certain sincerity to the efforts of the entire crew and cast. A feeling of cohesive creation, and the manufacturing of history.
There is actually an 11-minute short film around the "Erase Me" video, with actual scenes of the band fighting with the promoter, recording, lost back stage, and eventually breaking up years later. As with all things great, this will come to the light soon. Plain Pat what up.
Jay Electronica – DMT (HD)
Jay tests my bravery. He's always making up these stories to see how far I'll follow, telling me he has "shrooms is his jacket, ecstasy pills in his bag, a salvia sack or a rock of DMT." He has his hands on these door knobs, pushing further, seeing who holds the bravery, and who's willing to go.
Photography: Antonio Scarlata